Dae-woong:  "At first, when my clothes were wet with your tears, I told myself I would just wait until they dried. But then, the clouds grew bigger, the skies darkened, and rain that blocked my path came down. Rain that can't be stopped, can't be avoided, falls down on me… Where do I go? I've lost my way. Though I try to run far, I keep coming back. I want to protect you, and treat you well. I must've been rained on… and lost my mind."
I thought after watching Coffee House, I'd be in a Kdrama hiatus.  But less than a month after Coffee House, the drama drought kick in.  Good thing, My Girlfriend is a Gumiho quenched my thirst.   Wednesday and Thursday of this year became my favorite days because of Lee Min Ho (Personal Taste). And now I'll add Lee Seung Gi as a reason to love Wednesday and Thursday too!!
I really fell in love with Lee Seung Gi as time pass by because I find him very SINCERE.   With that, his acting comes out naturally and genuinely! All of his scenes with Shin Mina are so heartfelt that I wish I can be Mi-ho.  Seriously! Lee Seung Gi seems to live and breathe Dae Woong.  As an actor who can bring to life a character like he does (and KANG JI HWAN, really HAD to mention him!), always is a BIG PLUS for me.  Because NOT all actors will be able to do that, with heart.  Some are merely acting superficially, it's good to see BUT its feeling-less, atleast to me.   I guess, Shin Mina is also to blame, she is a BIG factor why Lee Seung Gi became better with his role.  They really have one of the best on-screen chemistry I've ever seen and felt. I'm easily drawn in when characters are able to make a connection with me. Here in MGIAG, my HOI couple is soo adorable that their scenes are so aww-inducing with pure sweetness exploding onscreen!! Add to that, whenever Mi-ho leans over or hugs Woong-ah, my heart simply flutters and giggles like crazy!! I'm so in love with the HOI couple to bits!!
I easily cry BUT NOT all leaning to a tear-jerker scene can easily connect with me or move me into tears.. but here in MGIAG, Lee Seung Gi and Shin Mina did a great job!! Their emotional scenes targeted my heart! I know that this series has a fantasy-feel into it. I mean, its fiction but Mi-ho and Woong-ah's story makes it REAL. Their emotions are so relatable and honestly, they've shown a more humane side than any other kdrama could ever show. I've noticed that here, situations are dealt outright. No need to do the usual lying just to protect someone or so much beating around the bush. They go directly to the issue, most of the time. I love how the story is very direct with how Woong-ah deals with Mi-ho. The innocence of Mi-ho and her purity must have done it since she's very outright and very honest with her feelings towards Woong-ah that he became true to her as well. I LOVE THAT!!
Woong-ah is now one of my favorite Kdrama lead! Lee Seung Gi literally became one of my favorite actor to date because of his role.  Also, he's now included in my list of actors I don't want to see cry because I'd simply cry with him, no matter what!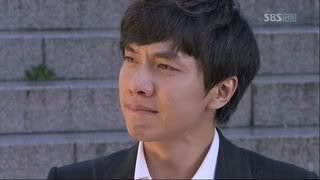 Lee Seung Gi successfully connected with all viewers with his performance.  I love the change and growth of Dae Woong, even visually.  He used to wear hero-designed clothes, with all the batman glory!  But then, as the tone of the series shift, Dae woong went with it in style.  I like how Dae Woong became a responsible man.  Unbeknownst to him, his decisions are leading him to become unselfish, mature and love Mi-ho in the process.  At first it was out of fear that Dae Woong sticks with Mi-ho.  Eventually, they both learned from each other that life is so much better TOGETHER.
I won't leave out Shin Mina on the side line!  She is so adorable as Mi-ho!!  I mean, how can an actress pull off this scene and appear so cute still?
Shin Mina made Mi-ho one of the best kdrama heroine just because Mi-ho is TRUE to herself and to her INNER feelings. No sugar coating, innocent but with depth, quirky with heart, and loves Woong-ah, period.  I love that Shin Mina can be scary at one point and so adorably cute the next.  She totally imbibed the two sides of a Gumiho perfectly!  I like that her mindset is simple and pure.  She simply wants to be with her Woong-ah, and nowhere else.
I love that the story made the usual boy-meets-girl-and-fell-in-love DEEPER.  Since this series touched the life-and-death angle with tension making it more heart tugging.  It's not merely making Dae Woong and Mi-ho sacrifice their love but more so their OWN life that made it more meaningful.  It made us hopeful that in this world, someone can still make the ultimate sacrifice for LOVE and that is the willingness to give even ones own life in exchange for it.   This series interestingly made that happen.  It can only make a viewer like me happy!
I was able to really sit back and relax watching this series. I savored every single episode and did not worry much with what will happen next. But even if so, this show kept me at the edge of my seat until the very end. Never did I lose interest, I am simply hooked and there was no way of escaping! A series that keeps me thinking is also a BIG PLUS. This series delivered that too. Although MGIAG has a simple story, I tremendously enjoyed this series still. My heart became happy and content.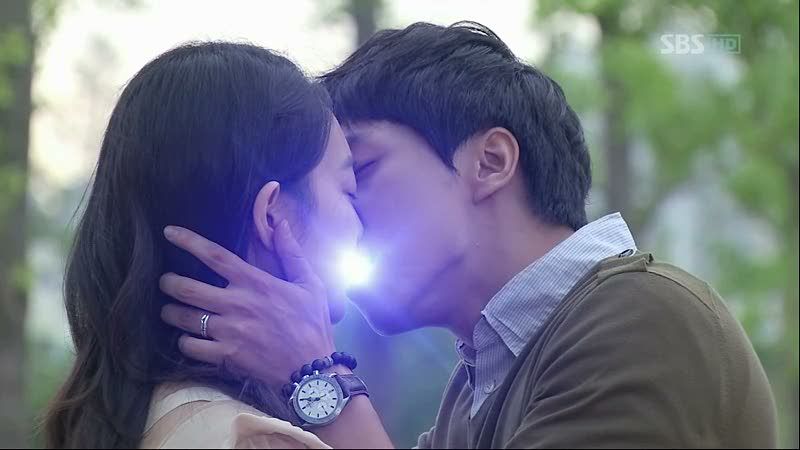 I will MISS MGIAG badly! My weekends will never be the same since it occupied it.
And Woong-ah, I LOVE YOU so so so so so so so so so MUCH!!!