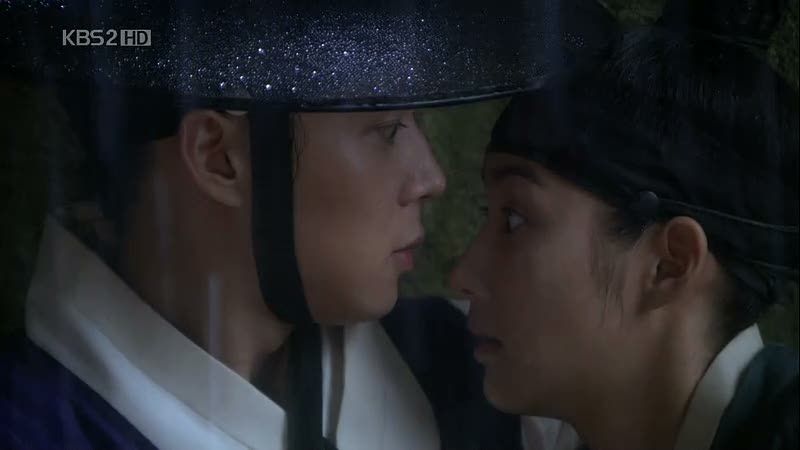 I'm not really a fan of Sageuk drama or historical dramas. But as I look back, I was able to appreciate and I enjoyed watching Dae Jang Geum or Jewel in The Palace. It is a historical drama about Korean cuisine and Jang Geum's life story while serving inside Korea's palace who eventually became Korea's first female Royale physician. Having that in mind, I gave Sungkyunkwan Scandal a shot.
I think it takes some getting used to as I familiarize myself with Korea's tradition and formal language. I like the visuals of Korea's culture and the glory of their old days.  Moreover, I always love a story where characters are of a different mold, a cut above the rest type that seem to bring out my thinking cap. I'm intrigued from the very start. So without further ado, let us begin.
I always give importance to characters, their mold or built, their depth and overall persona.  So I think its best that I introduce this series by the characters that envelopes it.
Kim Yoon-hee is disguised as a man in the story who struggles in life together with her family. She's in dire need of finances in order to stay afloat and pay debts. But since her family is poor and her younger brother is sick, Yoon-hee is relied on taking good care of everything. Good thing though, she has a bright mind to boot.
I love Yoon-hee's character because she knows her worth and she knows her capability.  She has her own principles and its so sad that her own mother does not support it making her feeble in the inside.  I mean, with such a determined mind, she's taken aback by her own mother to pursue and sharpen her capabilities.  But then again, her will can really take her a long way together with her wit.  So two W's for girl power!
Yoon-hee first met Gu Yong-ha in a bookshop.  Well, they weren't introduced formally to each other but Yoon-hee left an impression to Yong-ha. Her wit definitely stood out as she was able to reproduce a book word per word, with nothing amiss, transcribing it in merely 30 minutes. Yong-ha is one smart guy but a naughty schemer.  He easily gets bored so he sought to ease his boredom by doing things he fancies.  That is to meddle and just do things for the sake of fun.  I find him charming nonetheless.
Next to be introduced was Lee Sun-Joon. An intelligent man who run his own mind, confident and proud not only because he happens to be a son of a prominent minister.  He actually have a very strong persona and he is principled. Yoon-hee met him while taking the Civil Service Examination and mistakingly took Sun-Joon for another examiner. Perplexed by the situation, Yoon-hee eventually found her way out and end up escaping from Sun-Joon much to her amusement.  But they are destined to meet again as they stumble upon each other during the final examination.  Sun-Joon and Yoon-Hee's angle actually tickles my heart and I find them cute together.  I guess we'll have more of their interactions later.
On the other hand, I have to admit I love Moon Jae-Shin among all the leads. I like his disheveled look.  Not to mention, he's the classic knight-in-shining-armor. Or is it better to say just a knight since he looks kind of poor. But he's good looking! Enough said. I like some tough, bad-guy! He definitely brought the vibe on.  He made his presence felt.
I'm so watching this now!!
I have to say this, as I continue to watch this series, I am taken by how beautiful the visuals are and the musical score is just fantastic. Right on cue! I'm loving how it makes a scene move. That's how powerful the music is here. It is woven so neatly between scenes. Love.
This is it for now but I'd be back to do a review for this series.