Before I immerse myself totally in all the current series, let me take my final bow to SUNGKYUNKWAN SCANDAL. I'm not going to recap each episode BUT I will summarize two lessons.
Here, LESSONS are used to denote an episode. It's a very befitting title for every chapter in this series.  Personally, I just don't want to be entertained when I watch a series, I want to learn.  And surely enough SKKS delivers it and I'm giving full credits to that.  It may look like the setting is that of old times but what transpired is still very timely.  I think history really has its own way of reflecting life and it's up to us to repeat or learn from it.
This series had a very beautiful premise and the lessons are great in parts. Though the ending left with a not-so-good aftertaste, I still thank you SKKS, just giving us Moon Jae Shin is enough. Show, PASS!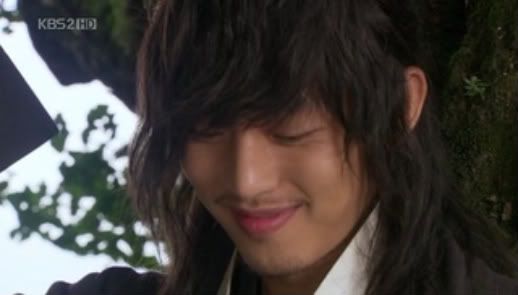 I truly enjoyed this series, though I was expecting a better turn out for the characters, individually, than I have seen. I won't continue on with the rave. Instead, I'd rather view this show with much love as I really enjoyed the lessons learned and the sweet romance that ensued. Be it with Yoon-hee & Sun Joon, Yoon-hee & Jae Shin or even with Jae Shin & Yong Ha!! 🙂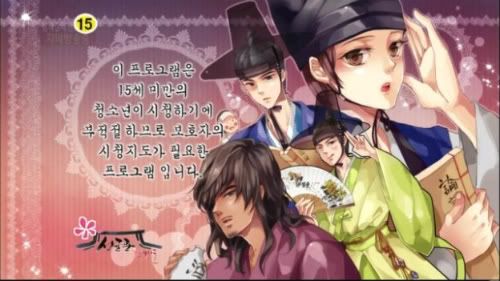 LESSON 1 : Jalgeum Quartet's Friendship
They didn't like each other as friends would. No, they weren't even close to begin with. But what I love with this four is their individualism and respect for each other. Each have their own identity and they differ in so many ways. But I guess, opposites do attract and eventually they form the best friendship of the dynasty.
Sun Joon is the most upright person. Someone who won't break the rules instead follow them earnestly. A boring person, really. But then he met Yoon-hee and for the first time, he met a friend. Atlast, we can see him smile and be unearthed. He was so way below there!
This awesome foursome was formed actually because of YOON-HEE. She solidified the friendship. The boys always seem to care about her, what's BEST for her.  Unbeknowst to them they are becoming as ONE.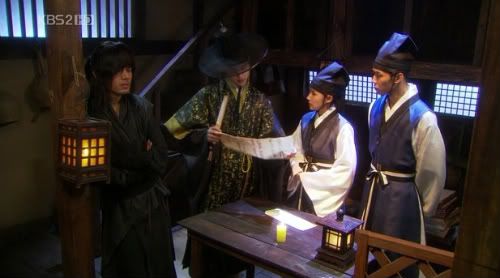 Take Jae Shin in particular. He was so used to being alone, sitting in his beloved tree looking at the people. Wandering around as he tried to avenge the death of his brother. When he met Yoon Hee, he wasn't alone anymore. He started to care for someone, not just for love but as a friend. He's the type who would stick with you, who would fight for you to the end, who would protect you even if it means sacrificing his own life. The ultimate hero and friend.
Yong-ha is very loyal. It may look like he was an ally of In soo at first. This is because he used to be a schemer and a spectator. He does not usually get involved. But then he became part of the quartet and learned to stand by for a friend. He's now involving himself and even became true to his own identity as a tradesman's son, not a part of a noble family. I love that he's very cheerful and he lets his friends see reality, in a way.
Yoon-hee is a very lovable character who made two men fall for her. She's a walking genius and a very enthusiastic woman. She has her own mind and speaks it out loud with fear and determination. She brought about change and open up a new side to the three men here. She's always been the focal point of the quartet. She moves them in more ways. That's why I can't believe that she ends up as a professor in Sungkyunkwan as a MALE?!? Come on S! That's you Show. I was so invested on woman empowerment here! Why can't she teach as a woman? I thought this show is bringing about a NEWER Joseon with having equality to all. So why the pretense still?
Enough of that, Yoon hee is courageous enough to fight for her friends too. And for her, it was the first time in her life that someone stood by her and taught her to be tougher, facing life with a new found strength. She values her friends and willing to go all out for them. Such a great leader of the pack.
When you have these kinds of friends, who would need plenty more? The Jalgeum quartet really made Sungkyunkwan an exciting school. Seeing the four of them in class, I would definitely just swoon! Kidding aside, their friendship is not only to agree with each other and say yes and stick with them. They often contradict each other and let them see the other side, which I love. I like that they've shown two sides in a situation and eventually worked around it. I'd rather have a friend tell me what's wrong rather than agree with me in the wrong side.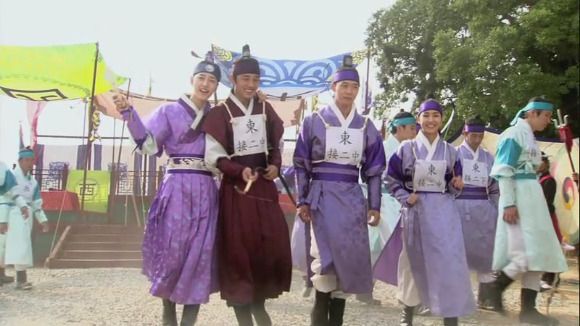 The Jalgeum quartet is such a delight when together, but individually great! How I wish the epilogue was able to make a stronger impact to these wonderful characters.
LESSON 2: Love
Sun Joon: "Did you say it would all end once we leave Sungkyunkwan? There's no such thing as the end. Because, I'll just start over again and again. Everyday."
To be honest, I was really in love with Jae Shin beside that I'm such a second-lead-guy-supporter, by heart. But then Episode 17 made me see Sun Joon! He had me there. It was too late though, but I totally giggled like a school girl in that episode. My weak heart overcome ME again.
Maybe it has to do with this line: "I will be there. When you grow weary carrying this burden, there beside you I will be. When you regret beginning such a dangerous endeavor, there beside you I will be. When you feel as if you can't go on, and wish to raise your hand in surrender, when you feel frustrated that what's before you is beyond your capabilities, and even if we ultimately come away with nothing, having to face defeat with empty hands, Kim Yoon Hee, by your side, there will always be me."
Top it all with this: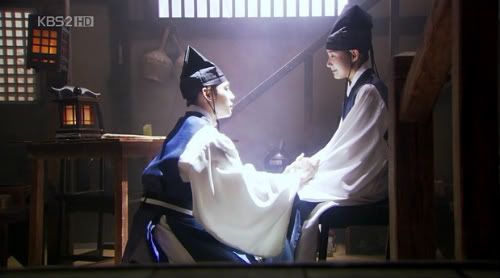 And he totally had me during the library scene where Sun Joon made love letters and inserted them in books. Sun Joon is really better with words! It simply melts my heart.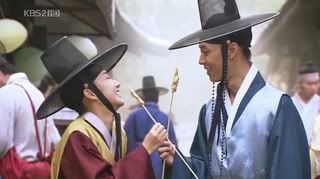 The Sun Joon & Yoon Hee angle is really cute. I like most of their interactions, in fairness. I think once they gave their heart to each other, hiccup boy has nothing left to do but to stop his habit, that is watching Yoon-hee from afar, permanently.
The bromance between Yong-ha and Jae Shin is fun! Yong-ha really likes Jae Shin, I can't blame him. I think ALL of us was really attracted with this guy!  They have been friends for ten years now and knows each other better. Yong-ha's loyalty will always be with Jae Shin and he'd do everything for him. Sweet.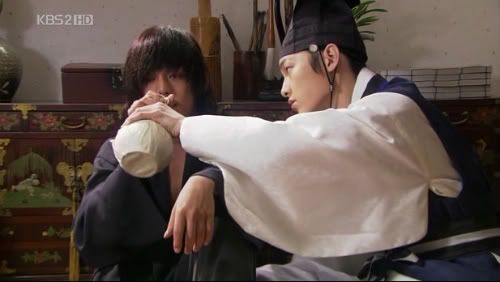 The fangirl in me will start just about now and finish this review. You have been warned.
Jae Shin: "Kim Yoon Shik, have I ever said this before? Thank You."

Yoon-hee: "For what, senior?"

Jae Shin: "For you.. Thank You."
The moment Jae Shin threw that apple to save Yoon-hee from a group of thieves, there was no doubt, Jae Shin had me.
I'm such a sucker for second lead guys. Most often than not, I root for them! Even if it is one of Kdrama rules that second lead guys won't get the girl. I know, we are in for another heartache. Sigh. This is one of Kdrama cliché that I hate. They always make the almost-perfect-second lead guy suffer and be hurt.
But that does not mean we can't enjoy this better half of the triangle. I love every bit of Jae Shin's hiccup moments! Those shy-hidden smile he only has for Yoon-hee and those hurting he experienced behind her. Such a heartbreaking scenario each time I see this kind of emotion from him.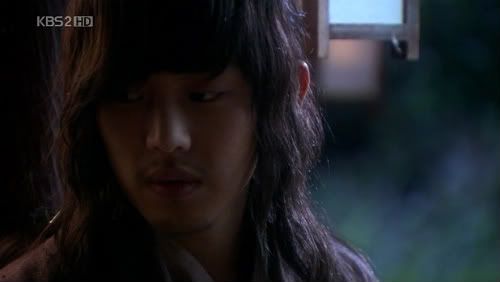 I wish he'd be spared!
Rather than doing what the usual second lead guys would do, Jae Shin did not serve as a hindrance for Yoon hee. Instead he even made way for her. Hard, but I guess this is how he showed his love. Not just loving her from behind but loving her with respect. He did not confuse or hurt Yoon-hee like most of the second lead guys would. He was hurt alone. That's more heartbreaking.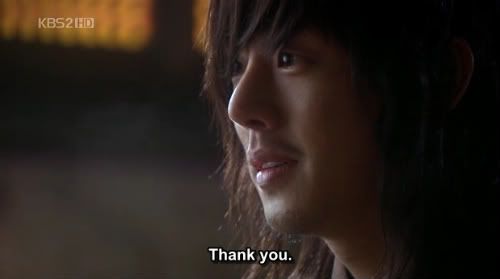 The "letting go" scene in Episode 19 moved me into tears! My heart broke into a million pieces. It was was just merely hearing the word "THANK YOU" that tears kept welling out!
Dude, how dare you make me cry like this?
Okay, letting go is THIS hard! But still, Jae Shin managed to sound so cool, it hurts! *tears*
It was even painful that this part of the triangle is one sided, all Jae Shin. Yoon-hee just saw him as a friend she's thankful to have. Though he was always there for her, it remained that way, from start to finish. I love that despite the hurt, we can still see hiccup boy smile like this!! *drool*

Among all these scenarios, YOO AH IN stood out and showed great versatility. I have to say, I really enjoyed this series mostly because of him. Though the Jalgeum Quartet is enough reason to watch this, Yoo Ah in made it a lot more interesting.
The political aspect of the story is really engaging with all that vigor of wanting CHANGE for a better place to live in. The equality they dream of then can be experienced now, in most countries. This series had great ideas that was presented well but did not materialize well enough. Seeing the "Geum deung Ji Sa" being burned after all they went through looking for it and just having the King's change of mind turned the story around from better to mediocre.
The story had a great foundation but had a rushed ending, IMO. They could have shown more growth in each character since they really had potential. I was a bit disappointed towards the end. It could have been better, really. But then, I had a great time enjoying most parts so I'd still recommend to watch this series. The fun times that was shown will always linger more than anything.