Let's steer clear from Korean dramas for a moment. It's Sunday on my end. I decided to finally watch REMEMBER ME.
I'm not an avid fan of Robert Pattinson, like an uber fangirl. Though I like him since he appeared in Harry Potter and the Goblet of Fire as Cedric Diggory. Moreover, every movie junkie and Twilight addicts out there knows him as Edward Cullen. So, Remember Me is a film where we can see Rob as a normal, not-so-pale-white human being. Well, a normal rebellious son, of Pierce Brosnan, no less.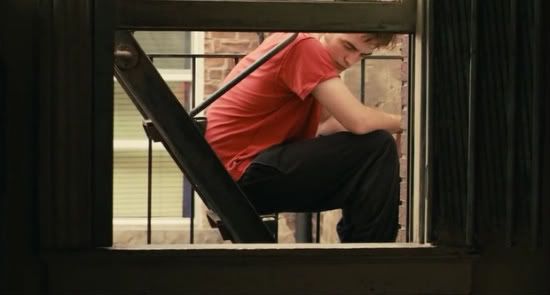 Tyler: "Whatever you do in life, will be insignificant. But it's very important that you do it. Cause, nobody else will."
Tyler Hawkins, is a very sweet brother to his younger sister Caroline. He usually spends time with her after class. But apart from that sweetness, he's someone who loathes his father. Charles is the typical business man who gives importance to his work, spend more time with it than with his children. Tyler thought Charles couldn't even bother thinking about his children's life or love them. Little did he know, they were also sharing the same pain.
Tyler is a student in New York University and has a part time job at a library. One night, he was involved in a gang fight together with his friend Aidan. Tyler was beaten off by his senses and even made matters worse by fighting against Neil, the policeman, making him end up inside a prison. As usual, his father bailed him out of jail.
When Tyler met with his father, with bruises and beaten up face, we can all picture the kind of relationship they harbor all this time. Distant. This causes Tyler to rebel and be away from the social class that he's actually in. He is a wanderer, no direction in life and just values the memories of his brother, Michael.
Michael influenced Tyler more than anyone could and had a huge impact in his life. Tyler often go to the coffee shop where he used to hang out with his brother and just writes his thoughts away.
Then Tyler met Ally Craig. Who happens to be the only daughter of Mr. Policeman, Neil. In actuality, Aidan set up for Tyler to date Ally with thoughts of revenge. But of course, love overcome that. Tyler and Ally were the right fit! Two very different personality but with the same quirkiness. Well, the same mind set, deep and unique. They seem to belong in one world. As they get to know each other they both learned their past. Troubled and scarred.
They started dating. When Ally had a fight with Neil, she decided to live with Tyler. Things are getting serious that Tyler introduced Ally to Charles. They had dinner the night of Caroline's exhibition. Tyler was really hoping that his father would show his support by visiting Caroline's photo exhibit but business got in the way. This is one thing that Tyler cannot tolerate further. Having love Caroline, he wants her to feel their father's love and support. But Charles failed them. They got into a heated argument when Tyler came storming in his father's office. Drenched in sweat, he poured in his disappointment. But Charles only made him feel more angered.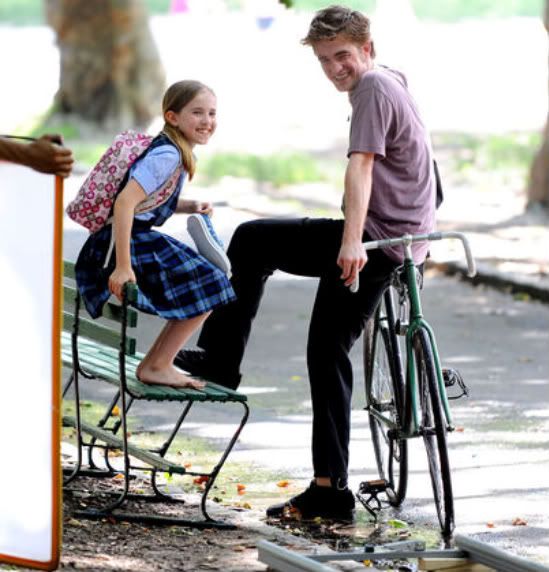 Good thing though, the father-son relationship suddenly took a turn.
Caroline attended a slumber party but experienced trauma instead. Her classmates teased her to the point of cutting her hair off. Tyler was pissed, badly. He even made a commotion inside the school's property. Instead of getting his father angry, Charles was even happy that Tyler protected and fought for Caroline. This time around. Charles started to make time for his children.
Happy times before the storm.
The moment September 11, 2001 flashed, I just knew. World Trade Center.
OMG.
The Hawkins family has finally decided to be together and yet that dreaded day had to come. Sadness.
Everyone knows exactly what happened that day. While waiting for Charles to come in the office, Tyler fidgeted on his father's computer. A slideshow was shown with all the pictures of Michael, Tyler and Caroline. His father has kept that in his possession all this time. He thought that his father do not love them but he's working hard just to provide for them. It may not be enough since Tyler values time spent rather than material things. But its nice to know that Charles love his children enough, his own way. And Tyler was able to realize that, just in time.

MY THOUGHTS:
This is really a different way of presenting Robert Pattinson. He was actually a tease here! My favorite part of the movie, and the one scene that made me watch this was when Tyler was waiting for his father and he smoked inside 'coz he mistook a decor for an ashtray!
Dude, that was cute! LOL.
Anyway, I thought this film was a breakthrough performance for Rob. But it isn't. It was the usual romantic film, having a troubled lead guy who fell for a woman and turned his lifeless world around. I wasn't moved by this film BUT I was caught off guard during the first scene. Heh, not a fan of such violence.
The end part was kind of predictable and yet brought sadness still. Who would forget what happened during 9/11, right? So the feeling that it brought at the end was kind of, heavy. Though it showed that the movie title, REMEMBER ME, was to denote Tyler's memories as shown by Aidan's tattoo and the bond that ensued between Caroline and Charles. Then Ally finally had the courage to ride from the subway again. That's to show the impact Tyler had in her. That no matter the place, what will happen will happen.
Overall, if you are a fan of Rob, watch this. Though most parts, I'm still reminded of Edward Cullen. Especially during those scenes inside his apartment. Or whenever he has those narratives, that sounds poetic in my ear. I also love hearing Rob's non-British accent voice! You can also see a different side of Rob, trying to pitch in some fun. It worked, for me atleast!
The story is typical and predictable. But I had fun watching Rob play Tyler and those scenes with Caroline. What a sweet brother! And you can spend an hour or so swooning over this guy. Fair enough.