(Scroll down for the poll)
Granted, we're still a month away from the end of the year but I don't think it's too premature to round up our favorite kisses from 2010.
Anyone who's watched Asian Dramas should be used to couples who've supposedly been through all kinds of hell finally getting that one moment where they get to show their passion for each other but when they finally kiss, it's like BLAH. Their lips barely meet, they stay in the same position for what feels like hours and the worst one is when you then see a tear roll down the heroine's cheek. COME ON! The only way that tear is believable is if it comes from disappointment!
But the drama lords are finally joining the 21st century and some dramas have shown us what it's like when two lovers finally meet and all that passion explodes. In order to compile this list, I watched hours and hours of videos, scouring youtube to find kisses worthy of this list. Yeah, hard work but someone has to do it.
1) Coffee House
Regardless of if you were on Team Eun Young or Team Seung Yeon, all viewers of this drama had to admit that those kisses were hot.  How often does a girl make the first move in a kdrama? Yes, it might have taken a bit of liquid courage but when Jin Soo asked for a present and Eun Young responded by charging at him and pushing him against that phone booth, I had to scream. Then there was lip movement, head movement and eyes filled with emotion. The best kdrama kiss of 2010, if you ask me.[It was the best GIFT a guy could ever have for a birthday! What a blessed Jin Soo or Kang Ji Hwan. The 20 NG's were well worth it! Not only it was the best kiss, but the most unforgettable and heartfelt kiss EVER! It was really the reaction of Jin Soo after the kiss that will linger in my mind for a very long time.. -leila]
Then it couldn't end there. Jin Soo the dumb ass decided to show Eun Young one minute of complete sincerity by kissing her with every ounce of his being. There was ruffling of  hair,  parted lips, a slight breast grab, loads of head movement and my jaw on the floor.[oh the line "One minute is longer than 10 years.." followed by the SPRINT and the kiss.. literally breathtaking!! -leila]
Then we had the final kiss. All issues had been resolved and both had agreed to be together "for thirty books."  So we had arms wrapped around each other, loads of head movement (Kang Ji Hwan, I have my eye on you) and total sweetness. My only problem is that the drama director chose to pan out of that kiss just as it was getting good. What's wrong with you, you damn fun killer?!
2)Personal Taste
"Game over." Truthfully, I haven't watched this drama so perhaps I really can't judge the kisses based on context. But hot is hot. And those kisses were hot. "Game Over" was hot, the ice rink kiss was hot, the bed scene was hot. DAMN. Can someone pour a bucket of cold water on me right now? When Lee Min Ho was cast in BOF, I recognized his sex appeal and expected him to "bring it" in that drama. But perhaps he had to hold back because it was a teen drama but now that he was playing an adult, he kissed like adults do and he gets a thumb up from me. Here's to wishing for more and more kisses in City Hunter. I believe he's supposed to be a playboy in this drama so my fantasy is he'll be kissing someone in every single episode (much like Kimura Takuya did in One Million Stars Falling From The Stars). And no, I'm not a pervert but I think Lee Min Ho is sexy. That's not a crime, is it? [It is a crime!! Thousands of fans had died because of the hotness. Thank goodness Min ho serves as a cure as well. I have to agree that Lee Min Ho is sexy. But if you all wish for a kiss scene in every episode, you might as well give me a medication or I'll have severe heart attack everytime! -leila]
3)Prosecutor Princess
Goodbye, goodbye my princess… To be honest, the kisses really didn't do it for me. But I still think they were hot because of their level of intensity. At least, we had characters that acted like they knew how to spell lust and the stuff down below was working right. The kisses were hard and emotional and even if they were a bit stuck in the same position for too long while sucking each other like vacuum cleaners, it was still much better than the lip presses kdramas have forced me to endure in the past. And for that, they get a thumbs up. [The first kiss scene that Prosecutor Yoon saw was better than what transpired during the "alarm clock" reveal scene, IMO.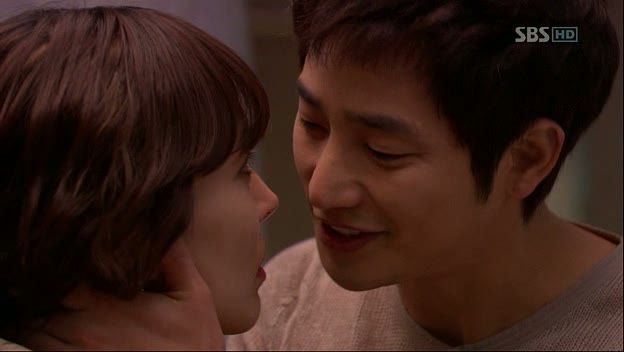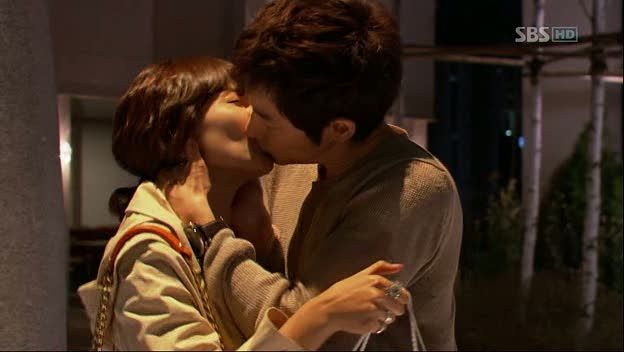 It must be In Woo's smile and his approach that got me! Heh. I think after seeing the "Game Over Kiss" in Personal Taste, it was really the end of lip press. Hurray for movements and feelings!! -leila]
4)Bad Guy
This is a drama I've seen even less than Personal Taste but those kisses on youtube (with different pairings, no less) have earned it a place on this list. I don't care about a bad ending or some killers or whatever. All I care about is some cougar-loving in the elevator done the right way. And do I care that it was just her imagination? NOPE.
5)Woman Who Still Wants To Marry
Since I already mentioned cougar-loving, how could I leave this out? Kim Bum is cute as a button and the dream of every 30-something year old cougar on the hunt. Well, if not all, as least the one in this drama. Their kisses started off tame but as the series continued and their relationship matured, they became quite sweet. They weren't particularly hot but there was a nice, cute vibe to them.
I did watch other dramas in 2010 but their kisses just didn't work for me:
Birth Of The Rich
I'm probably one of the few people who didn't think this drama sucked balls. I enjoyed the main couple but boy did they give us the usual kdrama kisses. Boy and Girl, you like each other. When you kiss, don't act like you don't have blood running through your veins, okay?
Oh My Lady
Their episode 6 kiss wasn't bad, to be honest. Not that we got to see much of it since he stuck his lips on hers and they panned out to a view of the back of his head but I liked the angle of his head. Then in the final episode, they had one of those kdrama kisses where the couple stays in one position while the camera goes round and round and round. Em, director, you've got it all wrong – the camera stays still while the couple moves. Better luck next time.
Wish Upon A Star
You know one of those kisses where the guy grabs her face and kisses her while her arms are stuck to her body like she's scared of touching him? Yes, this is one of those. I understand that kdrama heroines like to act virginal but if you're kissing the man you've had a crush on for five years, please participate fully.
My Girlfriend Is A Gumiho
I'm probably one of the three kdrama fans who hasn't watched this drama but a kiss is a kiss and theirs didn't make it. Two sets of lips meet, no head movement, barely any lip action, camera pans out. The End. No thanks. [That was brief! Haha! I love the first kiss! Though it was simple, no movements. But, it was Dae Woong's sincerity and his pronouncement that Mi-ho is finally his girlfriend that made the kiss sweet. I'm soo easy to please! Besides, Seung Gi enjoyed it! Just LOOK..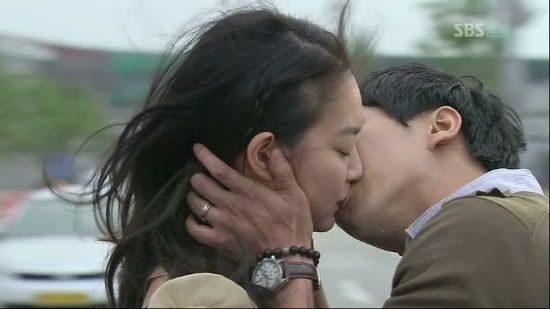 Though the second one blinded us with the exchange of beads. And yet the intensity that ensued and Dae Woong's love made it more endearing. I think it was the tear fall that didn't do it for you, clock. Haha! But Dae Woong had to cry! -leila]
Dr. Champ
I'm still on episode 13 but the kiss I've seen so far has been far from impressive. A man who's been in love since episode 1 and a girl who's not sure of her feelings yet. Well, I guess the lameness of the kiss can be explained by the girl's feelings but boy was it the typical lip press. I hope all subsequent kisses are an improvement.
Now, I understand that a kiss isn't only about the physical act. It's often about what it represents in a drama and seeing two characters who've been through a lot of obstacles, denial and pain, finally succumbing to their feelings as they kiss – even if it's two lips stuck in the same position for 20 seconds – can be satisfying to the audience. But if you're like me, you want more – especially when characters in Disney cartoon movies manage to show more passion. So I'm glad that some dramas delivered this year.
But I'm not done yet. We still have one more drama to talk about.
Disgrace Of The Year
Not a kdrama but damn, what happened in Hotaru no Hikari 2? Probably the worst kiss I've ever had the misfortune of watching throughout my Asian drama viewing life.
Hot guy +  Hot girl + 3 years of pent up emotions = dud. All involved should be embarrassed.
Hotaru dear, if that was a kiss from your dream, you might need new dreams.
***
Now my question to anyone reading this article is: What was your favorite kdrama kiss of 2010?
Stay tuned for goodange's other take on the kisses of 2010 🙂  I'm looking forward to it.