Finally tomorrow, November 29, Episode 6 of Mary Stayed Out All Night will air!! I know lots of M3 fans are waiting for it. While there was a delay, I took the opportunity to catch up and watch Episodes 3 to 5.

We start where we left off. Mae-ri is now working for Jung in as a Personal Assistant. Doing practically, NOTHING. Yes, she's getting paid seating around the office, getting autographs on the side, going home early and hating her boss. Perfect.
Mae-ri went home. Her Dad gets a bit suspicious with Mary's relationship with meow. She let's Dad in to a drama-like story of how she met Mu Gyul describing it as "Love like a car-crash".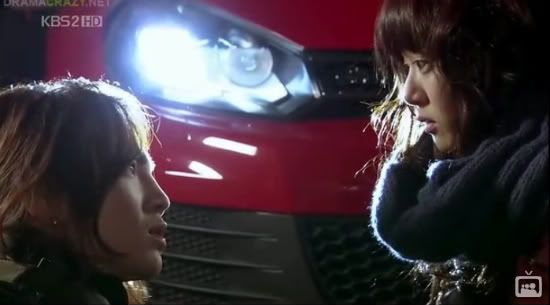 Not to mention, Mu Gyul likes her for the Harry-Potter like scar she has. Dad, if that isn't an obvious clue already..
As scheduled, Mae-ri went to see Mu-gyul in his new apartment. Like a dog, or more like Puss in boots (Shrek), Mae-ri begged adoringly for her to live in MG's apartment. It's not working. Despite of that, Mae-ri helped MG to gather things to decorate his new abode.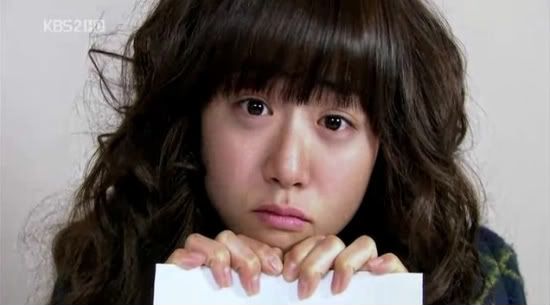 Since her curfew is still around 10 PM, Mae-ri joined for the housewarming party. For the first time, Mae-ri met Mu-gyul's mother who she thought was meow's girlfriend. MG calls his mother by her name, KAM SO YOUNG. They are very close! It has something to do with the age gap. So-young had Mu-gyul at a very young age of 17. The mother and son does not live together anymore but they are in constant communication.
I'm beginning to like Mu-gyul more and more now. He's such a sweet son!
Moving on. Mae-ri badly got drunk. It's already way pass her curfew. So, meow drove her home. On the way, his car broke down and he had no choice but to piggyback her. Dad was waiting outside when he saw MG carrying Mae-ri. Worried, he scold Mu-gyul and asked if something had happened and how far MG had gone through with Mae-ri. To convince dad that nothing happened, MG stared straight in dad's eyes, like so..

When Mu-gyul went home, we get a glimpse how Mae-ri affects him now. Their connection is getting more palpable. First, he mentioned to So-young one of Mae-ri's phrase when it comes to LOYALTY. And now, Mae-ri inspires Mu-gyul in his music. The kind that conveys honesty. He stayed up all night composing.
But before we go further in this tandem, Episode 3 revealed Mu-gyul's past, Seo-jun. I honestly felt goose bumps when Seo-jun called MG on the phone! I mean, it was really such a sad scene. She must have loved him so much and might still do. Kudos to the actress for making me connect and feel this. The conversation felt awkward but we can still see the care they have for each other even as friends. Maybe the sadness comes from the thought of missing someone dear to us and not having that person anymore.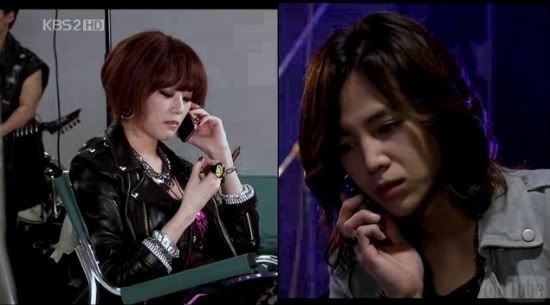 Eventually Jung In found out that Mae-ri and Mu-gyul are married. The scenario was very awkward and I was really reminded of Antique Bakery!! What better way to end an episode but with a reveal..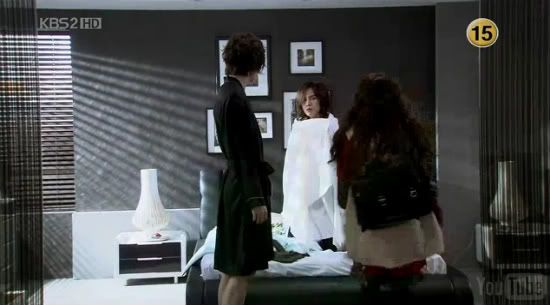 The triangle is on as Episode 4 starts. Jung-in is very much interested with Mu-gyul's music and wants to recruit him. But the situation with Mae-ri makes it difficult. I love that Mu-gyul is fully aboard on Mae-ri's side now. Whether it's out of pity or he really is concern for Mae-ri already. Either way, Mae-ri is relieved that at current state, they were able to get rid of Jung-in.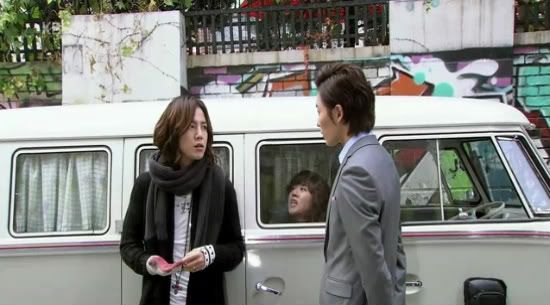 Though Jung-in is not really the main problem. Dad is on stalking mode again. He badly wants Mu-gyul out of his daughter's life. Apparently, Mu-gyul is a hindrance with the marriage deal he had with Jung-in's father. Meow and Mae-ri escaped riding a bike. Successfully they left dad and went home. I had to mention, the mitten scene is love!!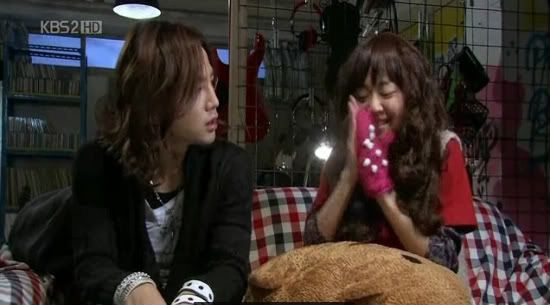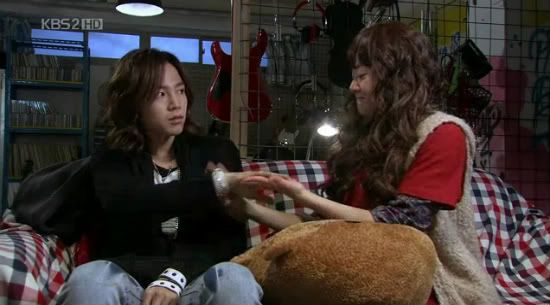 Jung-in is having trouble with his business. His up coming drama is about to be postponed causing delay in schedule. Add to that, his dad threatened him that if he does not get Mae-ri at the end of 100 days, he will pull out his investments. Pressure is on the rise. So, Jung-in had no choice but to make his move pronto. Lucky for him, Mae-ri's dad is helping him out voluntarily.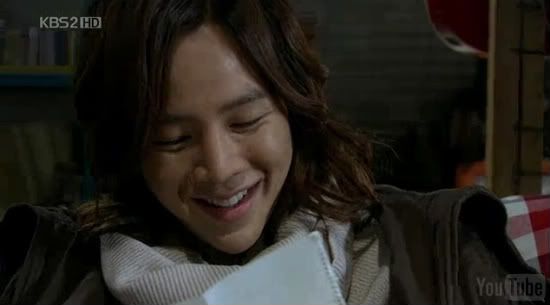 On the other hand, meow is alone at home. Smiling to himself while he reads Mae-ri's composition of their so called love-story. He retorts at first but deep inside, surely he did like it! Dude, don't try escaping now!
Meow received a call who he thought was Mae-ri. But it was his band mates inviting him for a drink to celebrate Seo-jun's birthday. The night turned out off because Seo-jun got drunk and was even caught by a gang on street. Good thing Mu-gyul was there. And like a knight, he saved her.
Looks like Seo-jun is still in love with meow. I even think that the song "My Precious" was composed for her. The first version, that is. Or maybe not! Hehe! But it seems that a year ago, they did share something special that Seo-jun can't move on from. She hasn't removed the guitar pick and used it as a necklace. And the way she hugged him is so telling.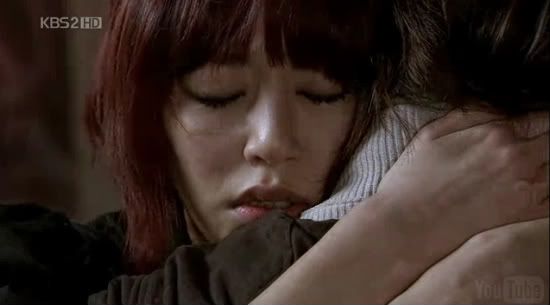 I think I'm kind of intrigued by this angle. I hope that Seo-jun won't be a typical second lead girl who would force herself to get back with Mu-gyul or something of that sort. She doesn't look like someone who'd be a man stealer. Though she'd most likely to fight for her love. If in case that is where this angle will lead, I just hope I won't dislike her persona while doing so.
You know, I like how the story is in right now. We are not just seeing Mu-gyul and Mae-ri but an even distribution of Mu-gyul with Seo-jun and Jung-in with Mae-ri. Moreover, I like that at this episode, we don't get the usual vibe of hating the second leads as they may threaten to destroy the OTP. Is it too early for me to say this? I just feel like one end just need to finish (Seo-jun & Mu-gyul) and another should be stopped from beginning (Mae-ri & Jung-in). While the blossoming love should be nurtured! I simply love Mu-gyul with Mae-ri more.
Again, we caught Mu-gyul thinking about Mae-ri early in the morning! Even though Seo-jun is sleeping inside his apartment. Like it! *giggles* Just an insert, Jang Geun-suk is uber cute in this series!! I think he really pulled of this hair pretty well!! I like it much!!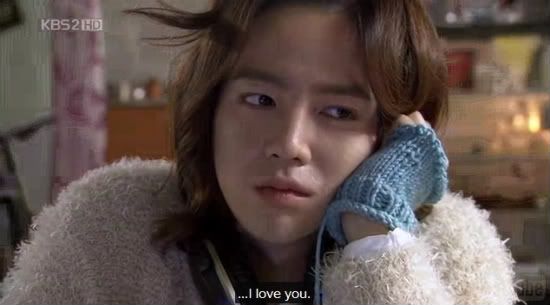 After sending Seo-jun home, Mu-gyul had to encounter Jung-in and Mae-ri as they came early morning. Jung-in is laying his cards for Mu-gyul to see and even threatened him of his marriage being fake. Oh the needed tension! It does not move meow that much, though a bit agitated. Jung-in is taking his lead and even decided to take Mae-ri for lunch everyday now. Not only Jung-in but Mr. Jung Seok is doing his part as well. He's becoming a doting future father-in-law now buying Mae-ri all a girl could wish for. Or so he thinks.
Mae-ri's dad met up with Mu-gyul to persuade him and leave his daughter. Frustrated, dad invited Mu-gyul for a drink. Dad kept on pouring out his grudges even thinking of dieting! To no avail, Mu-gyul did not accept Dad's offer to leave Mae-ri. Dad was too drunk now and Mu-gyul sent him home. I think its becoming a habit that Mu-gyul sends off drunk people! Good thing Jung-in was around to help him. So both carried dad as he merrily said that he has two son-in-law. Heh.
For Mae-ri, she feels like she's causing more trouble and keep making Mu-gyul have a hard time. Meow is pissed because of the situation he let himself into. It's getting complicated since Jung-in steps in. And dad has been meddling on the side. Poor meow.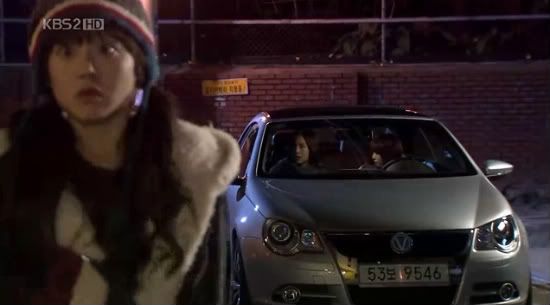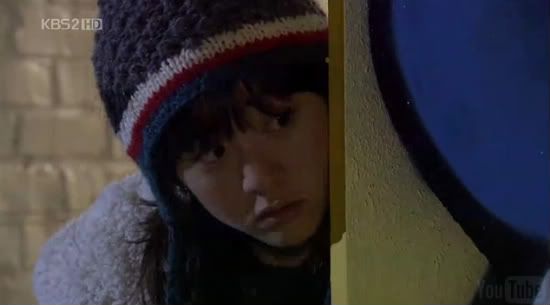 I like the jealousy that ensued when Mae-ri saw Mu-gyul with Seo-jun. I feel for her. She's been doing her part. But I can't blame Mu-gyul since they are not really committed and he's not doing anything wrong either. It's just nice to have this feelings being felt by the OTP. Since this is the start of something more to come! You know, after the jealousy comes sweetness..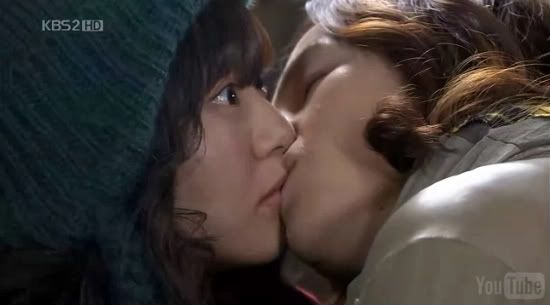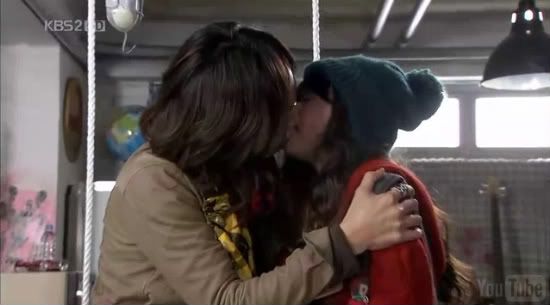 Thank goodness, I don't even have to wait for too long! Mu-gyul made his presence felt. We are in for something better after this! I hope..
MY THOUGHTS:
We know the meaning of the kiss. It may just be Mu-gyul's way of convincing Jung-in and stop him from being suspicious. But we also know that Jung-in isn't that stupid. It might be convincing. I personally think this will be just one of those scenarios Meow will keep on thinking later and will hunt his senses.
I'm curious about the angle of Jung-in's father and Mae-ri's mother. I was beginning to think Mae-ri is Mr. Jung Seok's daughter and Jung-in is just adopted! Haha! Crazy thoughts running about! Or he simply wants Mae-ri's genes for his future grandchildren since he was in love with Mae-ri's mother.
Also, I like Seo-jun. I'm intrigued by her since she hasn't shown much. I like to get some more background between her and Mu-gyul.
Well, I'm enjoying this drama. I'm loving the music too! Though it's not the kind of series that I'd be occupied thinking what might happen next. But I'm still excited how this show will let its story flow. Besides, I wouldn't mind just seeing Mu-gyul with Mae-ri the whole hour. So, hopefully the long wait will be worth it.