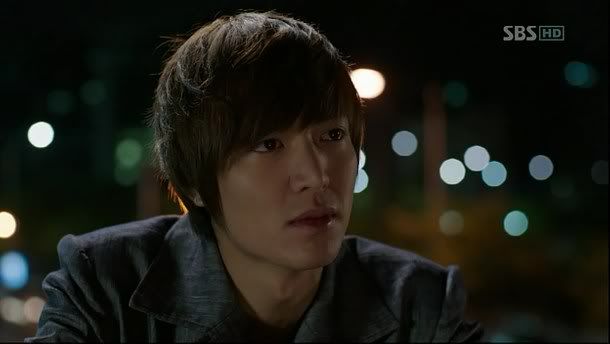 I love me some Lee Min Ho and this is surely a treat for me!! I'm anticipating his come back project since I last saw him in PERSONAL TASTE. He has entered a new genre adding another facet on his ever growing image. I'm happy his getting great reviews, left and right. As an avid follower, I'm uber proud of him ♥ And with all honesty, I can just watch him knit all day and I'd be a content camper! LOL. So please bear with me because I'm even a more crazy fangirl with Min Ho around!
Without further ado, let me start. What do I really think of the first SIX episodes of CITY HUNTER??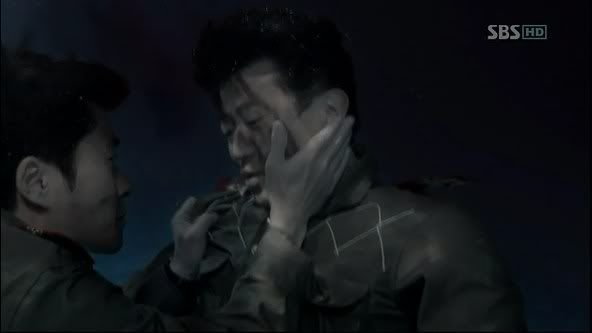 I know what I've gotten myself into. It's an action packed drama. But I never thought that I'd see killing after killing in just a span of 10 minutes!! Aigoo.. I'm not really into violence much. But it lead to something soo touching. Like a Rose-and-Jack scene in Titanic! I was moved during the scene where Jin Pyo let go of his friend, Mu Yeol underwater and gave him a farewell salute. Okay drama, if this is what you are about amidst the violence then I'm in for the heart.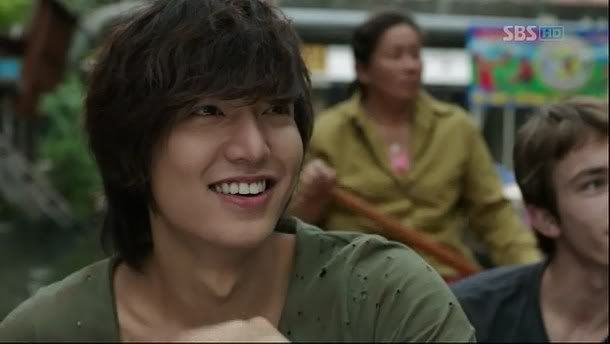 After long last, the saving grace of this drama and the reason I'm watching it came to view. Years have past and Lee Yoon Sung has grown up to be such.. a fine man oozing with hotness. And the first order of the day? He saved a fellow Korean being attacked by Thai bandits. I think this is the contrast between Yoon Sung and Jin Pyo. The latter has lost his love for his country and everything about it while he raised someone whose heart is purely for Koreans still unbeknowst to him. This is really exciting!
But then, there's a twist of fate. Our man is going to lose heart (but not entirely of course). He was able to know everything about his father after having an encounter with Thai bandits that attacked their home. He was able to witness his beloved die, the woman who took care of him like a mother. He's motivated by revenge now, like Jin Pyo. I'll surely miss his youthful exuberance as he lets it vanished along with change. Shoot, what an unfortunate event that turned his world upside down. Or should I say back to what his life really is??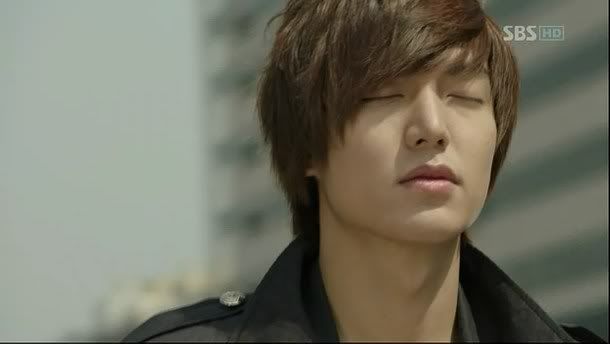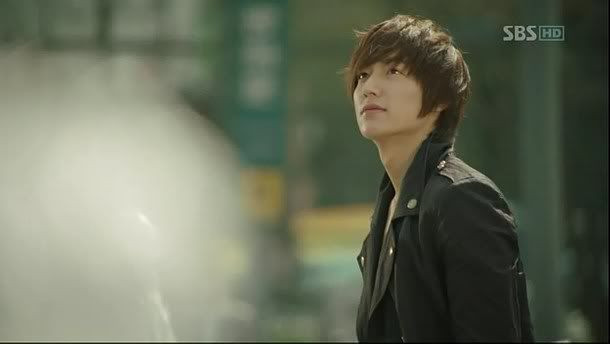 Another seven years have passed and we now see Yoon Sung in full gear to complete his mission — Attack of the big five. He's back in Seoul working at the Blue House, under the President of South Korea. Well, that isn't his job, there's more to him than just being the "bodyguard" or the "doctor", or whatever his second identity is. Because we know his hidden agenda.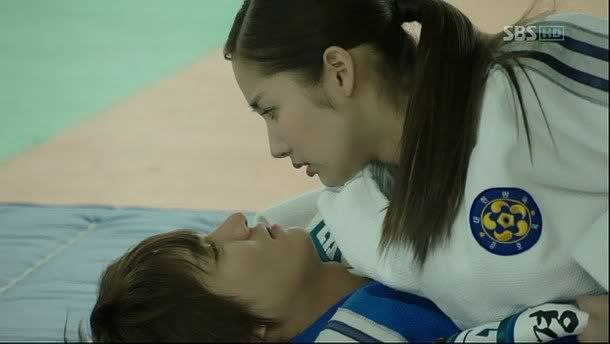 Yoon Sung meets Kim Nana, finally in person. She somehow looks familiar because she already saw her in picture. Nana is the daughter of Shik Joong, the one Yoon Sung saved from the bandits back in Thailand. They both happened to be working at the Blue House. Though they've met couple of times before that. And since we are looking at the OTP (One True Pairing) they are bound to be together in most parts. So we need them working together. To help us with that, they even signed a contract and currently living in the same roof. Want to ask for more interactions??
The most talked about kiss scene was shown in Episode 2. I was prepared for it because write-ups are just screaming that it was a hot kiss. But watching it, I'd say thanks to the camera spinning around, I didn't even understand what's hot in there. It was a simple kiss. Hello!! I guess writers are referring to Lee Min HOT?? Everything he does seems like it.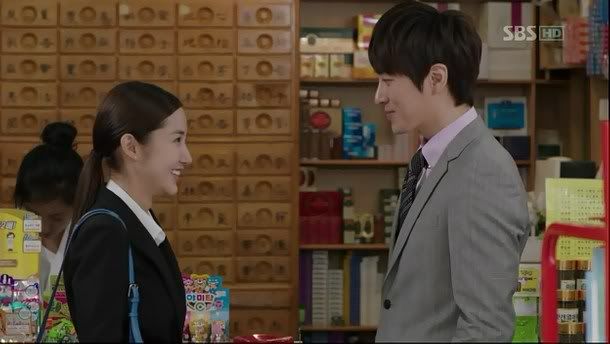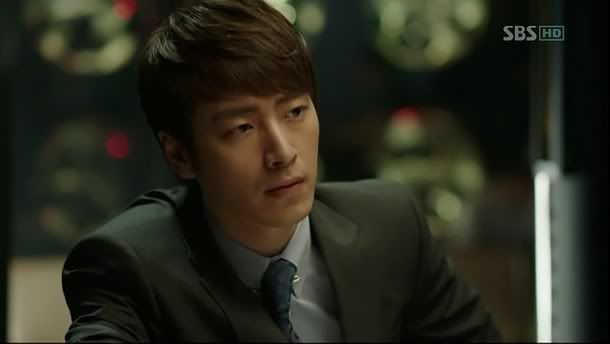 Lately I'm in a very bad place: Second Lead Guy territory. And I think I'm also in that place here, amidst Min Ho. Simply because I want Min ho for myself. Heh. Kidding aside, I have a major crush on Lee Joon-hyuk ever since I am Legend. We sure know the fate of Second lead guys, especially here that secrets can definitely harm the heart. But then I'm on it. So I'm enjoying the happiness now more than the hurt later.
Drama is really showing a lot of heart. I'm actually loving Nana's character. Her personality is actually very admirable. We know that problems abound and she has bigger problems she's taking care of and yet she has that optimistic view point. That makes her stronger instead of looking at the glass half empty. I think this quality of Nana is making Yoon Sung fall for her. She's tough and unyielding in her own way. I say, YEHEY FOR GIRL POWER!!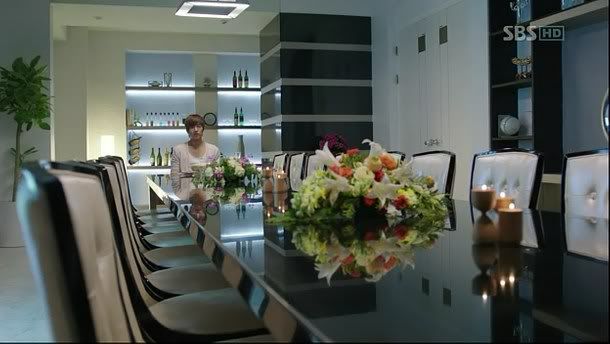 One more thing. I love Yoon Sung's contrast with Nana that I felt when he was eating alone in this big, long dining table all by himself. Then after eating he looked at his surroundings only to be reminded of Nana's home where her wall was filled with her height measurement that she has fond memories of. And yet with Yoon Sung, despite of the expensive interior decorations, it felt so empty. The connection is so moving. With that scenario, I think CITY HUNTER is showing its heart, subtle but right on target. I'm becoming more and more in love with this drama.
Just another commercial. Min Ho is the hottest guy who ever used a spoon as a weapon! Dude, SPOON?!? The coolest gadget in City Hunter.. I guess a fork will just make the enemy bleed ? That would be totally gross! I mean blood in the kitchen..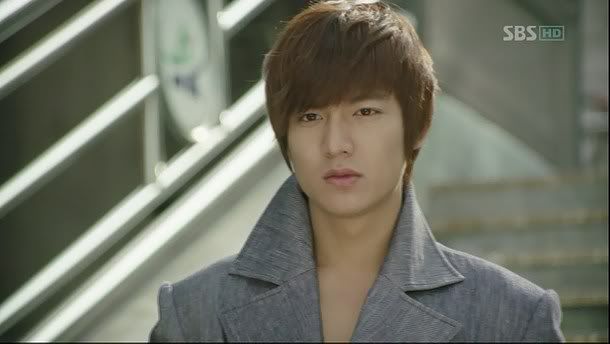 Looks like CH did steer clear from the original manga. Not that I know much about it, I just read gists of it. But I'm taking the drama as it is presented. And so far I'm loving it. The tone makes me want to continue on, thankfully not just watching Min Ho keeps me here. It helps a lot when Min Ho is involved in projects worthy of him. We shouldn't keep on wasting actors the likes of him, right? Besides, City Hunter looks like a drama that has potential. I just hope it keeps on getting better until the very end.
Yoon Sung's double life serves for us to see two sides of him. And I love that despite of his mission – attack of the Big Five, he's humane, kind-hearted. I mean, who wants to just kill with very wrong motives? I know that drama has presented us that Yoon Sung is doing Jin Pyo's whim to avenge his father. But I love that he's so unlike Jin Pyo despite of his upbringing. Yoon Sung is not cold hearted who will easily shoot someone without a blink. He has proven that his heart is not that kind.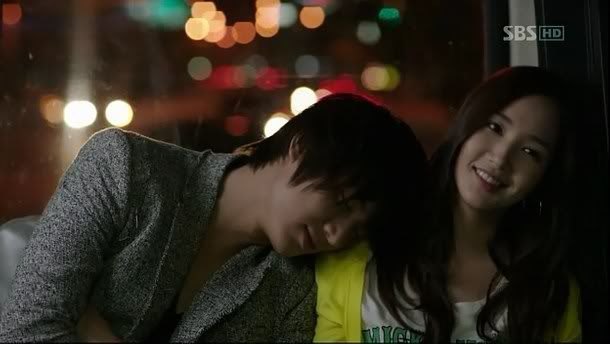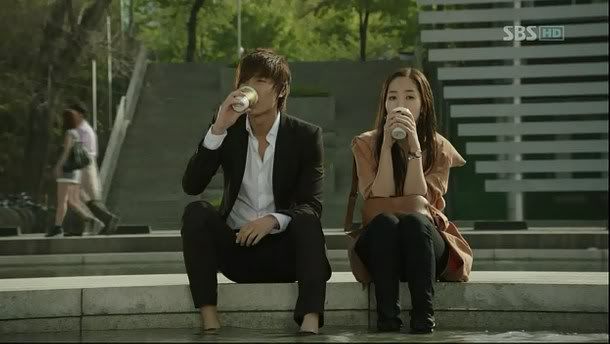 Also I love that he's at home with Nana. Like being with her makes his crooked world straight. Amidst the chaos, the killings, the plans, Yoon Sung has someone to come home to. Their is a budding romance I don't mind watching. In fairness, they are fun together. And if Nana makes Yoon Sung's life feels like the one he wants to live after he's done with his mission, all the more I wish them to be happy. Nana is Yoon Sung's sweet coffee after a tiring day at work. Who wouldn't love to have that?
BTW, I'm loving the instrumentals, it sets the mood of the scene so well!! Thumbs up!!
The story so far is very interesting. I love Yoon Sung's intention not to kill but somehow put justice where it should be served. Surely those villains will get what they deserve. I don't want to see more violence that will cause death. So I hope Jin Pyo will also learn from Yoon Sung and see a different light. I guess Jin Pyo needs a "Nana" too, to have his heart back.
The OTP:
I have to admit, I have this certain immunity when it comes to Min Ho's leading lady. But I'm not numb, I can feel when there's romance and chemistry. Which Min ho does so well, he can really blend with just about any woman. That's good, instead of complaining that he acts badly. With City Hunter, my heart is well protected but I'm happy that Yoon Sung and Nana can bring a smile in my heart and watching them feels good. I'm done being a jealous fangirl when it comes to Min Ho. I'm all about enjoying him as an actor because he's bound to be paired with women, anyway. And since I know Min ho is not the flirty type, my MINSUN heart is very much safe.. Hah! Gotta announce that 😀
Anyway, you know that in dramas I love subtle hints more than those blunt display of affection. Not that I'm against it or that I don't want it. Just that I feel more giddy when sweet gestures are done at the leads back, unbeknownst to her. Because once revealed or realized, it makes love even sweeter, IMO. So I'm loving Yoon Sung's unspoken likeness to Nana and how he's protecting her at her back. Moreover, jealous guys are the best thing in this world, you know! Especially with Min Ho around!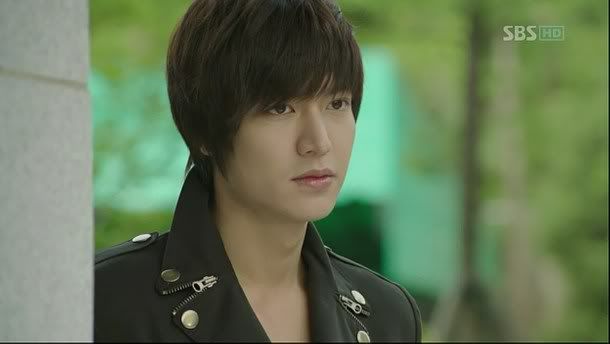 LEE MIN HO:
How much has he changed?! He has improved tremendously! He can now make me feel him even more without saying a word, simply just looking in his eyes tells a lot. The action movie-star moves?! Graciously manly! Good thing his training paid off looking at him do most of his stunts. He's smooth, like a natural in this. And he's soo stunningly handsome even when covered with mud!
I'm just in utter awe of Min Ho here. Because he's totally the coolest James-Bond-kinda-guy. I mean, he's sleek doing all those actions scenes, almost like a pro even. But this is my bias heart speaking. Don't listen much.
I'm simply proud of my Oppa ♥ I know he'll just keep on improving. Surely he'll surprise me even more as the series progress. Just wishing CH will be more successful than his previous works.
And drama, please don't make the ending feel like a waste of the whole! JEBAL!!!