I've seen a part of this movie some time ago. I was actually looking for it, but failed since I didn't know the title. However, the search is finally over! Alas, I was able to watch it in full.
I love this movie the first time I've watched it in television. That love was solidified since I was able to watch it entirely now. Kim Jung Eun just nailed this for me. I love her heart that makes her connect with the viewers. It is in her heart where her beauty lies. Her character in the story is much like Kang Tae Young in Lovers in Paris. Typical role, but then the way the story is woven can make anyone relate to it.
Kim Hyun Ju is a 29 year old ordinary working class woman. She was all ready to meet her boyfriend for a date after work. At the back of her mind, she's thinking that after Seven years, he'd propose marriage already. Hyun Ju was anxious, so as her friends about the proposal. Little did she know, disappointment was already lurking around.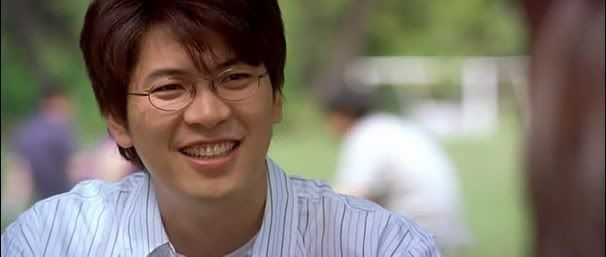 Hyun Ju met Kim So Hoon back in college. Both talked and I guess So Hoon loved that Hyun Ju wasn't afraid to look so deglamorized. Yup, what a statement to make having a running nose freely flowing infront of a guy. It worked, because they've been together eversince.
But then So Hoon is a guy, by that I mean his eyes moves faster than his heart. So pretty girls are not left unnoticed. He was out with Hyun Ju when he decided to buy stuff for her inside a high end department store. While there, he met actress Eun Da Young inside the elevator. We all know what elevators are best known for. Two people can be trapped and boom, they are bound to stay there until it's fixed. Such is the case here. Da Young almost mistook So Hoon as a pervert trying to make a move on her. But then he was just trying to reach out for a.. cockroach. You see, So Hoon works at a pest control Company. He wasn't bit attracted to Da Young as she is with him during that time.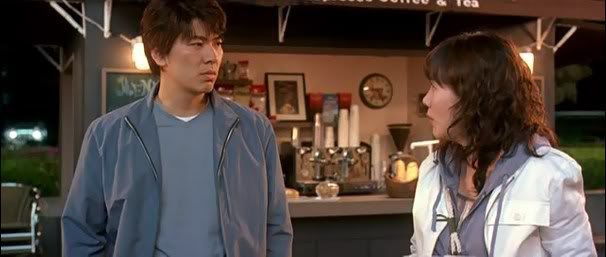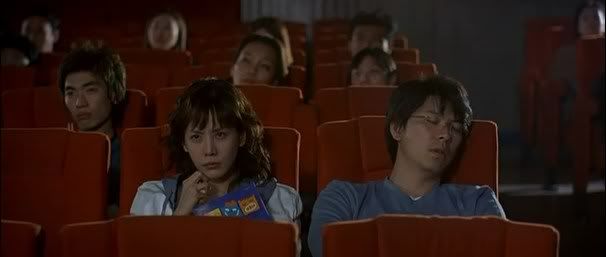 Hyun Ju was still waiting for So Hoon's return and stayed although every store around her are already closed. What a girl! On the other hand, So Hoon already went home forgetting he was with Hyun Ju. Good thing uncle led him to think he forgot something. Aigoo, what a guy! They really do fit each other.. Their seventh anniversary was spent inside the movie house while So Hoon sleeps. So much for the proposal, it was meant to be placed in the back burner.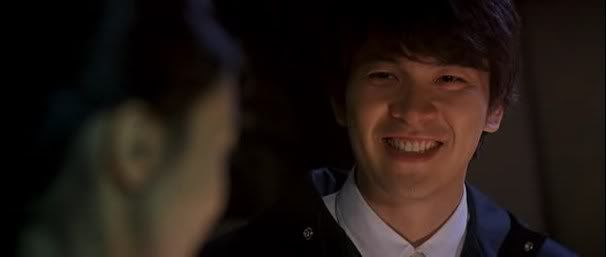 Moving on, Da Young's house looks so clean and crisp that she wants to make sure that there are no pests inside. So she call So Hoon's team for an inspection. No rats where found but surely Da Young looks very happy having So Hoon by her side, making her smile. Though the guy is clearly into rats.. if you know what I mean.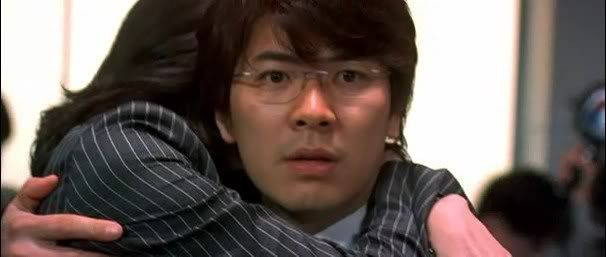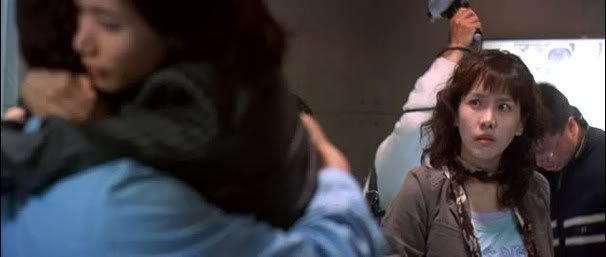 Since Da Young is part of the Entertainment industry, rumors spread that she's dating So Hoon. Of course, Hyun Ju read about it in the newspapers and was pissed. But our Rat buster was even more pissed when paparazzi's started to swarm his office, prying about his relationship with the actress. Da Young came just in time before reporters go berserk. Though it created a venue for more misunderstanding, especially when Hyun Ju decided to visit So Hoon's office the same day too. To her surprise, when the box of cockroach was broken, So Hoon lifted Da Young in his arms because she's the damsel in distress. Hyun Ju left while Da Young enjoys the warmth embrace of her Prince.
Hyun Ju confronts So Hoon about Da Young. She's a typical girlfriend and its easy to sympathize with what she was feeling. Hyun Ju told her boyfriend not to do the commercial, though he insists since they need extra money. So Hoon started to reason with her, telling that it's impossible for an actress to fall for a nice guy like him. Though I have to say myself that its a wrong reason. Hearing that from him made me think that he should have told Hyun Ju the other way around. But then again, me thinks that what kind of guy wouldn't fall for a pretty actress? So I guess what he said was a more feasible line. And woman have this innate instinct, So Hyun Ju smelled instantly that Da Young is possible to fall for her namja chinggu. So spot on girl!
That said, surely guys know when girls acts this way. So Hoon reassured himself to Hyun Ju and said that he's going to worry more about what concerns her more than anyone. Smooth dude..
Hyun Ju is out to protect his man. So she went out of her way and decided to raid Da Young that just led the Suyu-ri Five a free trip to the Police station. The fun hasn't stopped there since Hyun Ju can't simply be stopped. So their next destination was a fashion show. This scene simply astounded me! I never expected this kind of scenario from Kim Jung Eun herself having known how conservative she is for real.
It really deserved a jaw drop from So Hoon and her friends.. That's a great way to show your boyfriend what he'll lose.. So right ON sistah!! AJA!
Hyun Ju really turned herself as a show stopper because she fell on the stage and was completely soaked in the pool. And her boyfriend, well he was strucked when he saw Da Young on the ramp and forgot (yet again) that her girlfriend needs her.
It's time for the commercial shoot. The Suyu-ri Five decided to be extra's and rode the roller coaster until the Director was pleased. After riding the roller coaster to the nth time, they all decided to dine out. But it was put off because So Hoon saw cockroach droppings spread at the table linen. Eeeeewww. Totally gross especially when the hostess ate it.
Moving on, they all decided to go to Hyun Ju's place to have drinks. We see how jealous Hyun Ju is, looking at the way So Hoon showed concern towards Da Young. Everyone had a great time, except Hyun Ju. So she went out and had cigarette. Da Young came up to say she like Hyun Ju because she's warm and nice. When Hyun Ju was about to confront Da Young about her boyfriend, So Hoon showed up and grabbed her stick. And to make matter worse, he gave Da Young a drink even opening it for her, in front of her girlfriend no less! But that seemed to be not enough, Hyun Ju saw the two kiss at the balcony of her own home. Darn it!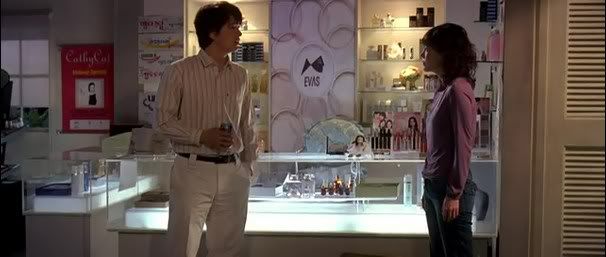 So it lead to a fight. This is the kind of bickering that destroys most relationship. Especially the type where both wavelengths don't meet. Though I have to say that this type also serves as a wake up call. Sometimes we have to be called for our actions and mistakes. So Hoon had a point and it meant not to harm Hyun Ju because he simply wants a woman who is independent and not just someone who waits. But then, Hyun Ju's senses are not with her, so the intent wasn't clear since she was clouded by jealousy.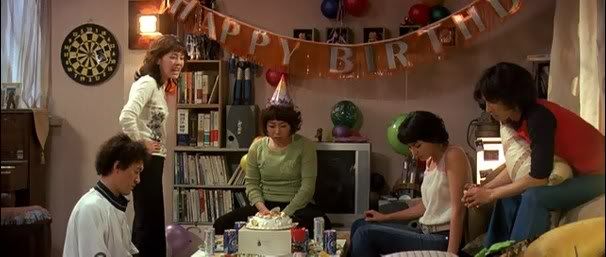 Now lets take a break with the heart and focused on another great angle in this film – the friendship. I love the Suyu-ri Five because they know each other so well. And they have a solid relationship. We all go through this kind of situation where we fight with our friends that can lead to misunderstanding or a strained relationship. When we go down that road where we are hurting, we tend to say things that can wound a person we love. But I liked that this same situation only lead towards a stronger friendship, towards self awareness and self discovery making each of them a better person. That's a really good lesson to learn.
Then we go back to matter of the heart. As far as I can see, Hyun Ju is a tough woman and her friends cannot penetrate her as much as how So Hoon can. So when it comes to alarm, So Hoon is the only one who can make Hyun Ju realize her mistakes and make her to believe in herself. Even if it meant him leaving.
This is such a good time out in a relationship. People needs space and find ground to get to know ones self. I love that we have montage of Hyun Ju taking on a self discovery path leading her to become a better version of herself.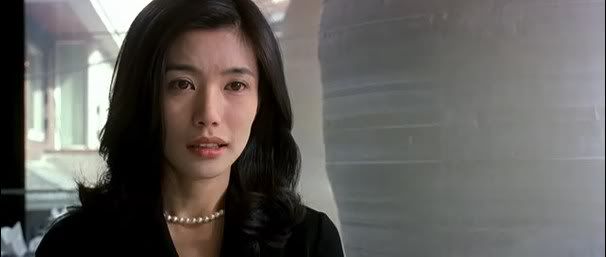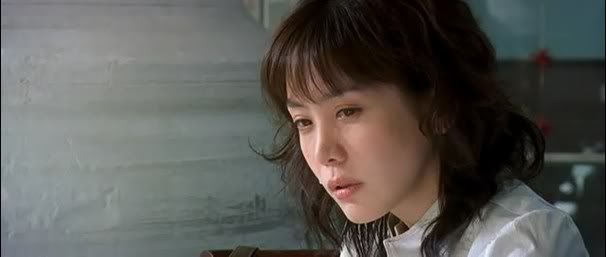 One of my favorite scene is when Hyun Ju had a conversation with Da Young. Hyun Ju asked for the last time for Da Young to leave So Hoon because she really loves him. She explained how deep it was. But Da Young is clearly not giving in. So the two girls decided to leave things to So Hoon. Who he choose will be final. And if it isn't Hyun Ju, she assured Da Young that she'd leave them two alone.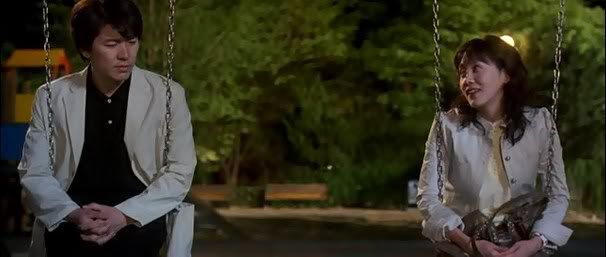 Then we have the couple swing scene. I love what Hyun Ju said here and I quote: "I didn't know what believe in yourself meant, but now I do.. I want to start over.. I want no pity.. I want to fight and win.. the thing is now I can do without you. So don't feel burdened." Nice one! Though it pains her to say it, she was able to still. Though she walked out crying and hurting, she stood her ground and decided for herself. I think this very same attitude is what drawn So Hoon to love Hyun Ju. She's always been tough yet vulnerable. She just forgot it because she became dependent on him.
It's D-Day. Hyun Ju was on her way going to a place where I assume is her favorite place with So Hoon. On the other hand, Da Young is waiting for So Hoon to arrive at her place. So who would he choose?? The doorbell rang, lo and behold! So Hoon arrived and was now face to face with.. Da Young. And here goes my favorite dialogue in this film.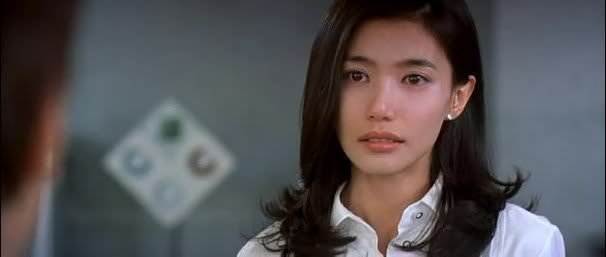 So Hoon: You know you're prettiest when you smile. Now I will give that smile back to you.

Da Young: So Hoon ssi, did you ever hesitate because of me? Even once?

So Hoon: No, I was scared..

Da Young : Of Hyun Ju..?

So Hoon: No. Of losing her..
*splat*
My heart melted into a puddle of goo. That's it, Hyun Ju is the ONE!! loveit!!
That's only a warm up. This show is soooo much better now that we are moving towards the end part. This one that I'd narrate tops my favorite scene in this film. So commence leila as a fangirl..
It's raining pretty hard and Hyun Ju stands infront of a store, soaking wet. Her friends waits inside the car, agonizing for their friend's sacrifice. As much as they want to pull Hyun Ju out of the rain, they are powerless to do so. So, on they wait along with her.. Bong Man threw in a word of wisdom: "To Love is to Wait..". Aww. What better thing to say in this kind of scenario but THAT!
Since Rat Buster slash Amnesia boy was already home (AGAIN!), Uncle led the way for him to remember Hyun Ju. We really have to thank Ajusshi for all the reminders.. Moving on.. Cue in the song Just You..
Hyun Ju was looking around, waiting for her man to arrive. People continue to pass her by as well as time and yet no So Hoon sightings.. Few more minutes later.. there he was!! He came running towards Hyun Ju's direction. Her friends were ecstatic and I'm with them.. Such a moving scenario this one was.. and the music just drove me into tears..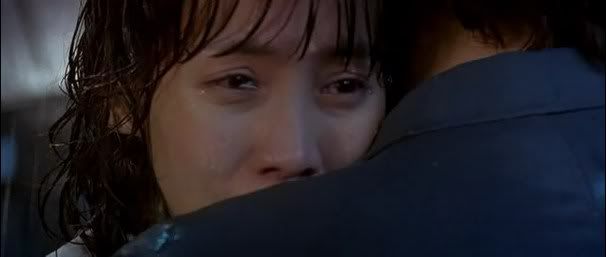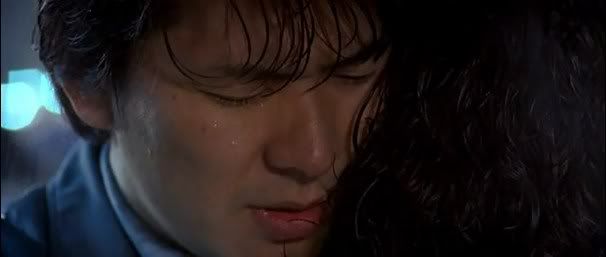 So Hoon: You're such a fool! Why did you wait for me? You're all soaked..

Hyun Ju (in tears upon seeing him): 'Cause I knew you were coming..
Awwww. Daebak!! This won me over to love this film. Simple yet heart tugging! Just hit the strings, it felt sooo good.
As icing on this wonderful cake, So Hoon drove Hyun Ju to see their home. It's the house of her father that he is renovating as a surprise for their 7th anniversary. Aw. He was preparing for a surprise afterall! And who would refuse when So Hoon smoothly proposed to her right then!?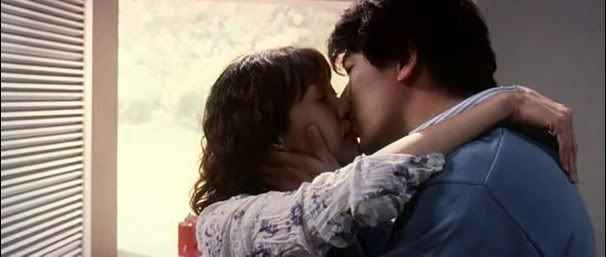 What a fulfillment of a girl's dream this film turn out to be! 
Personal thoughts:
The first time I saw this, I was literally in tears as the credit rolls. This is just my type because it was done just the way I want it. Sometimes a film is really about a matter of taste because this film may not resonate to everyone.
How to Keep My Love has a very ordinary plot. We have two individual who has spent 7 years together. Trials surely will come, in just about any relationship. I guess this film showed us a love that is worth fighting for, a love that can withstand problems because both chose to be together. Surely they can easily break up and So Hoon can choose a better option. But then the heart really choose to beat for only one. That love will realize the person one wants to be with.
What made this film extraordinary is that it was able to show growth in Hyun Ju's character as a woman. I love that So Hoon helped her bring out the best in her. I think that's what made this film special to me. I believe that in a relationship, there are two independent people making each other become the best. Both should benefit and grow, together and as an individual still. It's good that they've showed that one has to get to know oneself, find her ground before she becomes engaged in a relationship. Like, be complete in your own shell, love yourself first. Then when we get pass that, the right guy will see you as you and love you for it.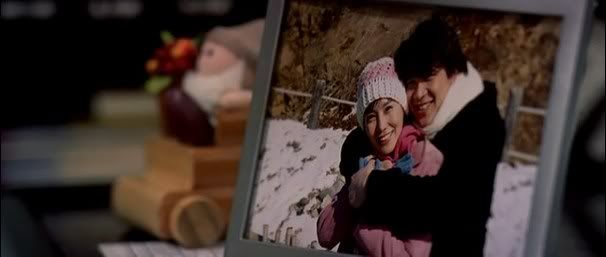 I can't believe I'm writing this thoughts! Haha. But there's truth in what I'm saying, not that I'm an expert or something. As I conclude, since we are on the topic anyways.. I leave you with words from my icon, Ku Hye Sun: "My ideal is someone who would truly support and understand the woman. Someone who would love the person for herself — the bare essence.."