I'm back with the highlights for City Hunter. I feel like a runner who is way behind the pack trying to catch up.. very hard. Hope to reach it just in time.
This recap will actually be snippets of scenes that I truly love in Episode 17 and Episode 18. Surely most of you have already seen it. So I'd just be commenting on some highlights and characters that I love in this drama. It's again sharing of my personal thoughts to you. So I hope you won't find it confusing 🙂
Week 9 focused on Target #4: Chun Jae Man. He is the worse among the Big Five, coz he doesn't have a soul.. at all. Killing for him is like taking a sip of water, easing him with his burdens. With the Creepy man following his every order, things got easy for him to handle. He now has the true copy of the Black book that conceals the Sweep Mission that happened in 1983. Not only that, he's completely assured that he got Jin Pyo in his own hands as well.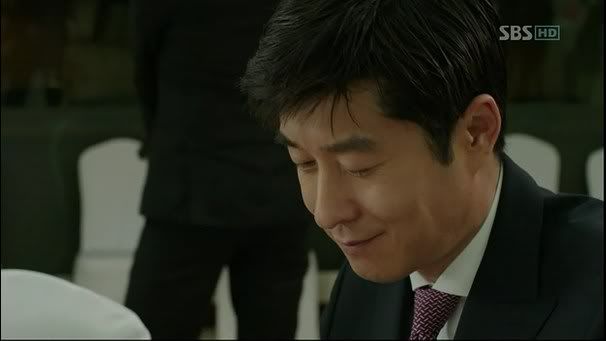 What's the best way to have a reunion? Have all characters attend a Presidential Luncheon. Imagine, eating together with all those people in one room. How suffocating must that be? It's interesting how Drama handled that scene! Well, scaring everyone in the room while Jin Pyo happily eats his steak can sum up this series actually.. if we are going to look in his perspective of course. It's Jin Pyo's forte to scare off people around him, he is that mighty and high..
Love is indeed the Achilles' heel of this show, or I mean the characters that's in it. Yup, even Jin Pyo! I'd like to think he's in love with Yoon Sung's mother, just like Target #5, the President. Kyung Hee's lovelife would have been the seed of all this, even without the Sweep Mission. But anyway, everyone already knows that the President is Yoon Sung's biological father. That angle I don't find necessary at all, because I was so invested on Mu Yeol being Yoon Sung's motivation for revenge. But I guess Drama wants to let us know that the Father & Son theme is one of its pilar that they have to make it uber hard for Yoon Sung to complete his mission.
The handkerchief is such a valuable prop. Looks like Kyung Hee makes the embroidery and gives it to very special person in her life. Everyone has it now: Nana, Yoon Sung and even the President has the same. He has kept in all this time! The love they've shared must have been special, though he kept it hidden as he climb towards the Presidential seat. Moreover, the secret of Yoon Sung's biological father was concealed by Chairman Chun. He knows the truth and even used it to blackmail the President.
The OTP love angle has totally taken the backseat in Episode 17.. It's actually kinda frustrating to hear Yoon Sung say to Nana to forget him and yet he himself cannot, or should I say won't do it either. Like he's trying to pull out Nana in his life and yet he's still staying with her. You make a woman feel confused, dude! I know that it's for her sake. I mean that's the exact same thing Spiderman told Mary Jane, if you know what I mean. Surely Nana knows and understand the danger she's letting herself into. But I guess, Yoon Sung is just preparing Nana for the worse, even if it hasn't happened yet. Now I totally understand why happiness seems so far fetched in this show.
Besides Yoon Sung, you know my heart also beats for Prosecutor Young Ju. He's indeed the most righteous man in the face of the City Hunter dramaland. I will root for him, until the very end. He knows what he's fighting for and very much determined to do the right thing amidst a chaotic and dangerous world he's living in. There are only few people like him who trusts the law and passionate enough to uphold it. I thought he's going to lose his job and not be the one who will reveal the biggest secret in the government. I'm happy that even the President himself adds wood into Young Ju's fire and made sure to keep it ignited. I want Young Ju to succeed!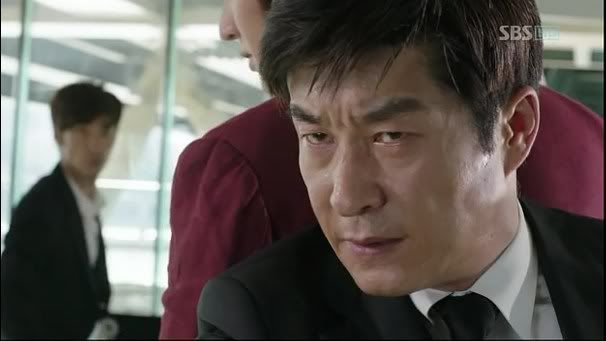 The last scene of Episode 17 is another epic among all the cliffhangers of this series. I have special attachment between Jin Pyo and Yoon Sung's relationship. As hard as it is on the surface, knowing how Jin Pyo raised Yoon Sung, it's inner core is love. I know for a fact that they'd still die for each other, that they'd protect each other no matter what. It's so touching to see them in the middle of the gang, like its them against the world.. And both will be defending until their very last breathe. How awesome is that!?! I know both are different in so many ways, they are not even blood related, but they have the strongest bond in this series, even the strongest love, they own it.
Going back to the OTP.. I've described their relationship like that of coffee.. you know, that thing that you have after a tiring day at work.. the thing you come home to to relax and comfort yourself.. With coffee in your hand, it's warm and can easily drive away tension.. Well, that's what coffee does for me that I can relate to with the OTP..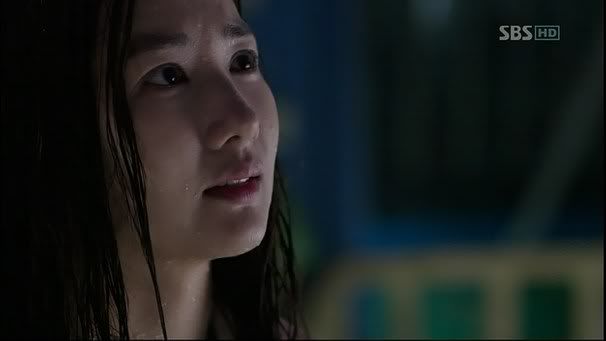 I love how bold Nana is, she's always been a tough a girl, never a damsel in distress.. It's nice to hear from her that she'd never leave Yoon Sung alone and that she's willing to wait for him.. If Yoon Sung is the guy you'd wait for, surely it will be worth it.. So good decision on her part to not let him go. Nobody wants to be alone, even Yoon Sung dreams of a life after his mission. And i'd be glad if Nana is in it.. So relieved that we come to this point after all the nagging Yoon Sung did, hurting Nana just to try to get rid of her. Nana stood her ground and that's why she deserves the guy..
Since Chairman Chun is the worse, his downfall was the best! How sweet it is that he falls in the hands of Jin Pyo and be manipulated when he thought he had the upper hand.. But the cherry on top of that cake is still.. Yoon Sung!! He bought Chairman Chun's company for just a dime! Daebak! The workers of Chairman Chun's company won't suffer any lose instead they were able to receive their benefits. Loveit much.
Happiness just didn't end there since the culprit hasn't been caught like the other Big Five. Just when Chairman Chun was about to get in a plane out of the country, our City Hunter took him away. And as always, he brought him to Prosecutor Young Ju just like the rest, with military tags hanging around his neck.
Just when I thought this episode already ended, Young Ju went after City Hunter and chased him on his own. There was a brief race until Young Ju cornered City Hunter's car. Young Ju went out of his car while pointing a gun towards City Hunter.. as he moved closer, City Hunter's reflex suddenly grabbed it and now pointed the hand gun towards Young Ju!!
OMG!! How I love that Young Ju and City Hunter finally was face to face.. Young Ju, confidently inched closer towards City Hunter and swiftly removed the mask. It was no surprise to our Prosecutor that the man behind the mask is indeed who he thought it is.. Yoon Sung!
Personal Thoughts:
I know Daddy Jin Pyo have gone overboard and couldn't stop himself with his revenge.. as bad as it has turn out.. But honestly I feel his emotional torment having to fight for a brother's death.. his relationship with Mu Yeol is so powerful that he'd risk his life for it..
On the OTP front.. it has wind down.. I totally understand why it isn't the main focus, which i actually learned to accept.. this story is about Yoon Sung and Jin Pyo's battle as well as Young Ju's passion for law.. So I guess having the OTP as a side dish isn't bad at all..
Anyhow, having to watch Lee Min Ho fight the bad guys and look uber hot doing so makes me a happy camper! LOL 🙂 But that aside, City Hunter surely knows how to tug my heartstrings.. it never fails to push my emotional button.. I know how violent drama is, but its aim is so noble, you just want the characters to succeed in their battle..
Watch out for our finale!! msclockwatcher will do the recaps and I'd be with her as we conclude this epic series.. So see YOU then 🙂