In the surface, here we have a guy who is.. flawed from head to toe. On the other hand, we have a woman who is.. flawed from head to toe as well! What a combination!!
Ji Sung is surely not a Prince here.. His character, Ji Heon, is more like a useless, incompetent, neat freak, the most childish Kdramaland has ever had for a lead. No wonder Eun Seol is such a toughie, because Ji Heon badly needs a knock on the head, or even more.. Goodluck with CHANGE!
Before we go further, I hope you had a great time reading Choufy's first impression and review of PTB. This is another collaboration I have with a fellow CK lady. Let's have a good time with this one! 🙂
Episodes 3 and 4:
Since our Boss was kicked out of his house, he needs a place to stay for the night. With no other choice, Eun Seol offered her house as his refuge. Ji Heon was already spouting thanks and praises to Eun Seol when he noticed something.. the shoe. That stopped him and prompted him to think of the Ttong Meori he was badly looking for. I know Ji Heon is childish, but I'm glad he is not stupid! So when he looked at Eun Seol's foot, Cinderella has been caught! I love that we have a reveal this early and that the leads themselves discovered it.
Just when things are heating up, Eun Seol's bestie arrived and whipped Ji Heon's butt! Haha! But things just keep on getting worse. Eun Seol tried to apologize and explain herself more but Ji Heon's trust for her was suddenly tainted. Good thing, the night isn't over! Even with just few days in working for Ji Heon, she already learnt of his weakness.. he is afraid of the dark cats! So Eun Seol quickly went outside and arrived just in time before Ji Heon almost died of fright. He is really a man-child at its finest.
The next day, Dad met up with Eun Seol and ordered her to take good care of his Son. She's not just a secretary now, more like a Personal Assistant.
Just a Flashback: Na Yoon was waiting for Ji Heon to arrive in the airport. He didn't show up, not until Na Yoon was about to board the gate. She was able to glance back though and saw Ji Heon. But he suddenly received a phone call that stopped him from running towards Na Yoon.. he looked tormented.. I assume he received a call regarding his brother's death.. So love slipped by at that moment..
In any workplace, gossip spreads like wildfire. Even faster now since everyone is glued to their computers. Eun Seol and Ji Heon were having their usual banters when the insecure/envious Secretaries overheard their talk. Rumors spread and Eun Seol's job was again put on the line. Scary how people can talk behind your back! What's even worse is those people does not even know you, the real you. And since that's the case, she's forced to resign.
Knowing Eun Seol, she's not one who simply go without a fight. I really love this woman! So, what's her way of fighting back?? She went up the mountains and visited her Father. The ambiance is the perfect place to vent out her anger and frustrations in life, and Dad willingly served as her punching bag.. well, sort of! lol
While Eun Seol meditate at the mountains, our Boss was back in his lair and had time to reflect himself.. that only lead him to think about his Secretary. I really don't believe in "Out of Sight, Out of Mind".. I believe that "distance only makes the heart grow fonder.." It is true in this case.. Ji Heon suddenly remembered how he was able to sleep at Eun Seol's place, having received her massage.. His daydreaming was suddenly interrupted when Dad barged in his room! Hah! So much for being a lovesick puppy..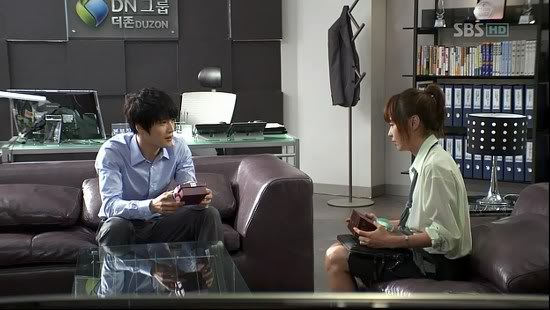 Eun Seol is back for work the next day.. assuming it's her last, she went around giving gifts. Yes, even to those pesky Secretaries! But I'm so happy that her gift served them a lesson. Eun Seol is really feisty! No wonder Moo Won is totally smitten by her. That turned everything around. Eun Seol is suddenly on a roll for her so-called last day because Dad suddenly had a change of heart and chose not to linger with the past. Add to that, Eun Seol has been saved not just by her Boss but by Moo Won as well. Meaning, she's not going to lose her job after all. Eun Seol's charm is really paving her way!
Dad Cha announced his successor, Ji Heon. Of course Sister-in-law objects saying Ji Heon's negative image and incompetence to handle the company can surely cause their stocks to plunge downwards. But Dad isn't going to huddle and stayed firm asking for other Board of Directors for support. Our Boss is in for a lot of pressure, as his Dad risk his own position just to prove his worth. Sacrifice can never be this sweet!
So what to do NOW? Our Boss is definitely swimming in dangerous waters.
Moo Won: Honestly, you are not interested anyway and I am. They made an unintentional conclusion to the company's future. If he wants you to be the heir.. also he ignored the fact that there will be so many people against that decision.

Ji Heon: That's right. I don't have a least bit of interest in the company. But I also would never entrust it to you. Do you know why? You look like you will commit tax fraud and have secret funds written AAAALLLLLLL over your face!
ROFLMAO. Ji Heon = 2. Moo Won = 1
Aww. Bromance! It's the sweetest thing 😀
There's another interesting battle presented to us. And that's between Director Cha and his Sister-in-law. The latter is fighting hard so that her very own Son can inherit the company. She's a classic character to spice things up. She has her own battle to win and tugging her Son with her.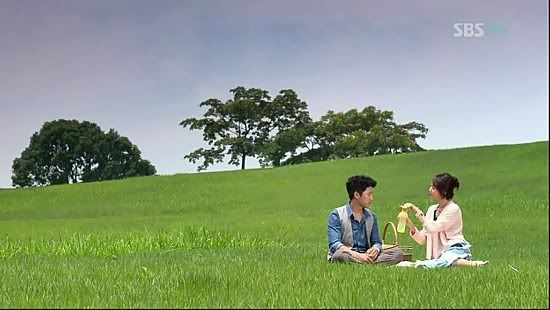 There was a romance from Ji Heon's past, something that I think serves as one of his hindrance for growth. Though seeing him with Na Yoon now, it makes me wonder even more what happened to them. Is it too painful that Ji Heon is having a difficult time moving on? He's trying to act indifferent like things didn't matter anymore. That's why Na Yoon cried. Just a sideline and a question to Na Yoon.. who cries in the comfort room while looking at your face in a mirror? How ridiculous is that! Hahaha. Though I think her Mum has a lot to do with that fetish..
Ji Heon is trying to do his obligations by learning more about their company. His first assignment was to visit their chain of Amusement Park. And you know what that place is! Not just a common date place, but a place where memories are cherished. More on that later. Since we are in a bromance here, basing on point system, we shall continue what Choufy started.
Moo Won: Let me borrow No Eun Seol ssi. She owes me something also.

Ji Heon: Why are you borrowing her? She's useless, don't borrow her.

Moo Won: It would be okay to borrow her then. For you she's useless, but not for me. Why? You can't be without her?

*War glance*
Daebak! Ji Heon = 2. Moo Won = 2
Looks like Moo Won is slowly advancing.. especially when it comes to Eun Seol. They both had a great time with all the rides! As an added bonus, we got to enjoy Jaejoong Moo Won.. ohh fan service, why do we love thee?
Later that night, Eun Seol had trouble sleeping and was simply looking at Moo Won's suit, hanging brightly. She's inlike and confused. Good thing though, her best friend is there to ground her again. On the other hand, our Boss is having a hard time sleeping as well. Even at night, his thoughts wanders and only think of Eun Seol. Poor boy..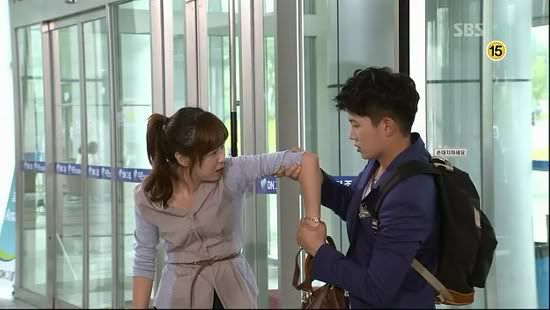 Eun Seol's sincerity is really driving Ji Heon crazy more than he already is. I like this actually because he's becoming a better boss, atleast towards her. I like that paparazzi scene! Ji Heon can be that kind of man after all. Heh. Well he's starting to discover his new found feelings for Eun Seol at this stage. Though at this point, a part of me is glad that Eun Seol is not reciprocating the same! Haha! I want Ji Heon to suffer, just a bit..
Triangles is the best when we have Ji Heon as part of it! Oh sorry, we should include Na Yoon in the mix.. totally forgot that we have a quadlove here! Sorry. I watched that scene at the resto where Moo Won and Eun Seol was badly interrupted by Ji Heon. And it cracked me up big time having Na Yoon in the same scene but she was totally ignored. Talk about a flower vase, or more like the trees inside that restaurant. Poor girl. But that scene can totally describe the love square in PTB. Ji Heon is really wary of Eun Seol being close to Moo Won, his archnemesis, and his cousin at that.. it seems like both guys are there to battle it all out for our Eun Seol! And Na Yoon, well she's more than just a flower vase, right? So hope to stick around and find out MORE..
The company presentation of Ji Heon is drawing near. He has failed at first and was disappointed with himself, yet again. But our Secretary isn't going to give up just yet! She tried to find a solution to help Ji Heon fight and manage his condition. What could help him present to the Board Members smoothly? Liquid courage surely paved the way. When Eun Seol and Ji Heon went out for a drink, Ji Heon confessed about his brain being penetrated by a rock. Sure, she did not understand anything and it lead her to do research. Because of that, she was able to find a way to help her Boss!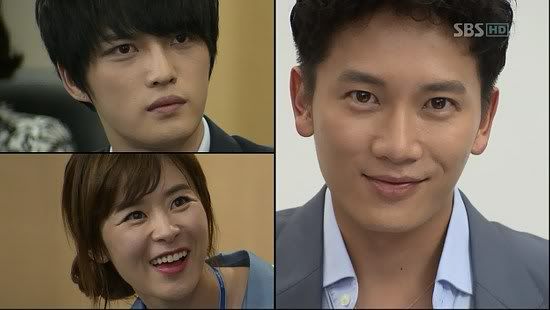 On the day of the presentation, Eun Seol barged in just in time and surprised everyone! The answer to the problem, video conference! Technology saved the day *happiness*
Personal Thoughts:
Kdramaland female leads are having more spunk and attitude that everyone can just root for! Gone are the damsel in distress and I'm loving how strong a character Eun Seol is.. she's far from being perfect.. nothing to really be proud of externally (achievements etc.).. but once you open her book, you can see a woman that's living her life to make it better. It's always refreshing when a woman just speaks her mind, without shame but with lots of heart.. Eun Seol's character surely has a lot of room for growth but she already has her own mark. I'm loving her!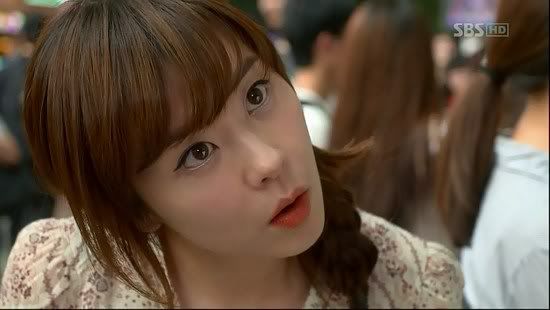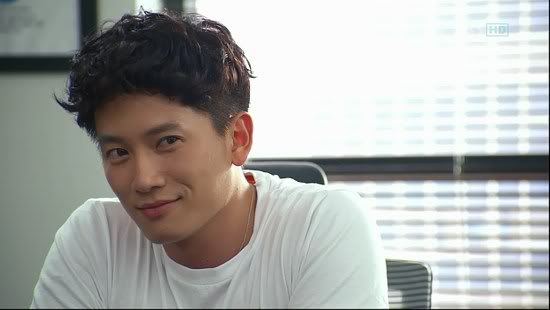 That aside.. what the heck is Ji Sung's character here? LOL. Aigoo, the hair.. the style.. the attitude.. (Sorry, Choufy!! hahaha) I totally can't wait for him to be that dashing debonair, sweet prince again.. His so called "disorder" better be managed, drama.. PRONTO!
I feel like I'm watching The Devil Wears Prada at times. The difference is Ji Sung is unlike Meryl Streep.. actually he's the exact opposite.. and he's even worse! LOL. But within that childish persona is a man whose love life twisted who he is. I'm actually intrigued by Ji Heon's personality, it is conflicted.. in large part due to his disorder. He badly needs to be man enough to be worthy of his company and the people working in it. But more than proving himself to others, he needs to know how to control himself better. I'm happy that he knows his disorder and trying to manage it & learn things about it.
I'm trying to warm up with the OTP. My favorite scene so far has to be in Episode 2 where Ji Heon was being followed by Eun Seol. He was totally dissing her but she was still walking behind him. When he suddenly noticed Eun Seol was no longer following him, he became agitated and went looking for her! I love it 😀
Moving on. I think the reason why Ji Heon's secretary does not last long enough because he is difficult to handle. I think only Eun Seol has enough patience to stick around. Though the truth behind that is she badly needs a job. But that aside I think Eun Seol's heart is tough so she'd be able to handle someone like Ji Heon. Actually, she's beginning to influence him already just like what happened during the time when Ji Heon was practicing for his speech. You know what they say, behind a man's success is a woman. So I think, Eun Seol fits in that.
I have to say, the family in this series is the craziest. No wonder it's successor, Ji Heon is also beyond crazy! LOL. His bloodline is so rich in personality, it totally runs in their veins! And the Sister-in-law, goodness.. what to say? Dramatic much? I just hope Moo Won is far from that bloodline.. But scratch all that, this family is sooo lovable underneath it all!! Haha!! You can just see that money hasn't taken away who they are and remained grounded. Tough exterior but truly has a soft spot that only love from a family brings. *bows to Granny love*
Ji Heon and his relationship with Dad is far from close but not totally apart. I like that Dad is trying to understand his Son, no matter how difficult it is. He believes in him and encourages him on the side still.. Thanks to Granny! I just love Grandmother's in dramas.. they bring realness and unconditional love..
In Hee Na Yoon is.. just the usual second lead. I can't believe Wang Ji Hye has taken a role similar to In Hee!! *furious* The difference is, Na Yoon is a child, not a woman.. well okay, just barely.. But watching her more here, there's a chance my heart will warm up to her.. *crossing fingers* I'm really starting to see a different side of Wang Ji Hye.. okay, she deserves a chance..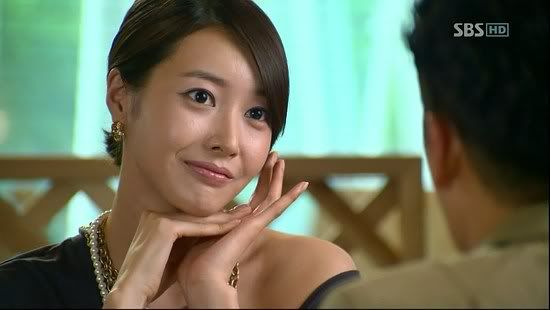 Choufy's amazing recap will be up next! So, stick around for more of couch kimchi's craziest tandem! 😀