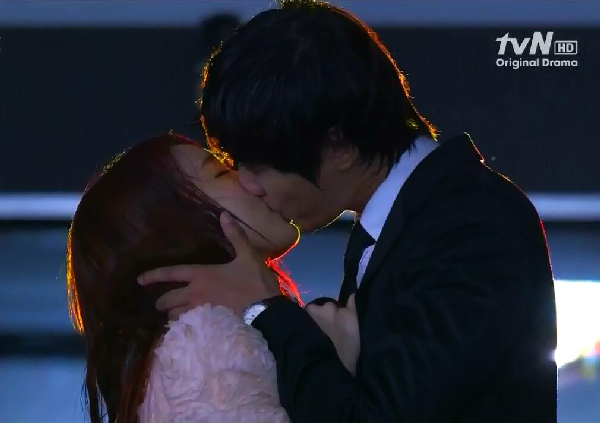 Wow. Just wow. tvN is knocking it out of the park this year and for me, completely blowing MBC, SBS and KBS outta the water. They've put out a couple of mind-blowing dramas – 2 of which are now on my all time best drama list. (yes, I have a list – somewhere on my desk) I already wrote about Shut Up: Flower Boy Band and why it was such a great drama. I now wish to give my thoughts on the perfection that is Queen InHyun's Man – which advanced to first place. There were so many blogs that recapped QIHM, each of them smitten. I sat and watched as new blogs jumped on board each week. I read the frenzy going on over at Soompi. I spent hours finding new information, new pictures and new reviews being posted. I logged onto the official Facebook page to see messages left from all over  – Australia, Taiwan, Japan, Britain, USA, Philippines and many others. I watched the fan-led petition for a DVD. (which tvN wasn't going to do originally) and read the joy when they announced they WOULD release a DVD. (not sure if it will have English subs yet but I'm hoping)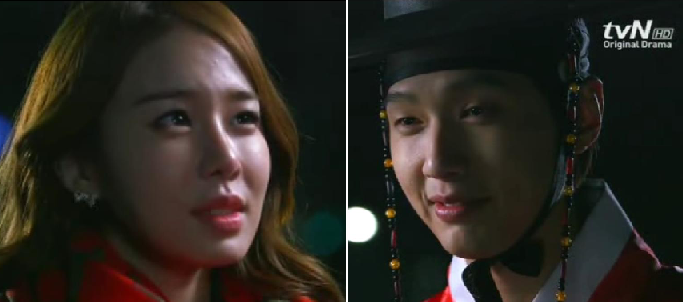 I then tried to think of how I could explain this to a viewer who had not yet seen any of it? Hmmm…another time- travel drama? Yes. But it's the most beautiful, heart-warming/wrenching love stories I've ever seen. It has nothing to do with re-incarnation. (THANK GOD) It's all about Boong-Do. A male character written in such a way that every single woman who watched this drama is in love. He's wonderful. He's sweetly, innocently, adorably wonderful. And so friggin smart, it's scary. He's not a cold, tantrum throwing man. He's not a vain, drinking, jealous, man. He's not a whiner, he's not full of angst, he's not emotionally detached. He's analytical, he's a thinker, he's calm and cautious…yet he's warm and caring. He also has a surprisingly gentle, witty sense of humor. Boong-Do is played by Ji Hyun Woo. (A Thousand Kisses, Mr Idol)



It begins with assassins trying to kill him off. Because he's trying to protect the disposed Queen InHyun. So we have another historical drama with two sides fighting for power in the court. (insert historical information regarding QIH and Lady Jang here – LOL) His ex-servant Yoon Wol played by Jin Ye-sol (49 Days) who appears to be in love with him gives him a talisman that she got from monks at a temple. This will protect him. During the scuffle with the assassins, it looks like Boong-Do will lose as he has only a book between him and death. A BOOK! (that's it, I'm officially a goner) Just as the sword gets closer, Boong-Do suddenly vanishes. And appears in 2012. On a movie set. Where they're filming a movie about Lady Jang and QIH. (HAHA) He meets our leading lady who is also adorable. She is played by Yoo In Na (Secret Garden, Best Love) in her first leading role. But not annoying! And not ditzy! And not clueless or stupid or whiny! Hye Jee is also smart. She's trying her best to break into show biz. She was offered the lead role of QIH in this movie (we find out later it might have been because of her past relationship with the lead actor who is trying to woo her back) The second male lead character is Han Dong Min played by Kim Jin Woo (Twelve Men in a Year, Can't Lose) This guy IS a tantrum thrower. (but strangely with a good sense of humor albeit full of himself)



We go through the whole "where am I and how did I get here" while Hee Jin slowly weaves her magic on Boong-Do. (and us – I was loving this girl right from the get go) I mean, come on! She flips the ex-boyfriend the bird! Who doesn't wanna do that? This is where this time-travel drama differs from others: Boong-Do pulls out his talisman and reads the words written on it. WOOSH, he's transported back to Joseon. Ahhhh! So he can travel back and forth at will! Interesting twist. I like that he's a tiny bit in control. As opposed to just throwing him into modern-day with no way back until he solves some big mystery. There is also no awkward, stupid scenes of him being shocked or disgruntled by things he sees or hears in this modern world. Not our smart Boong-Do. He just calmly and quietly observes. And learns.



I said he was smart. What's the first things he asks Hee Jin to do for him? Help him find a book. (yes, he figures out doors, cars, phones, toilets, showers, elevators, clothes all fairly quickly) Most of those things aren't shown but the writer gave the audience some credit for being intelligent. Instead of bumbling around like an idiot or relying on Hee Jin to teach him, he takes the initiative and learns things on his own. He did have trouble with seatbelts. Which gave us our first swoony, chemistry-laden, sparks-flying-all-over-the-place moment between out OTP. But the next time, he shows her calmly that he can do it himself. (yea, you basically only have to show this guy how to do something once) It's hilarious that Hee Jin thinks he's a "playa" which couldn't be farther from the truth.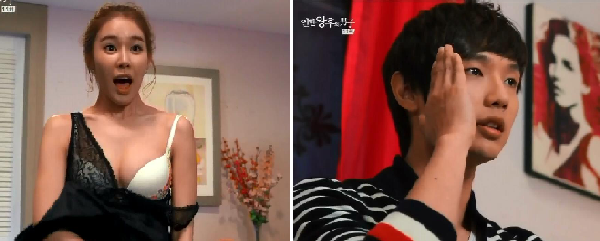 Reading the posts of viewers, I realized there were two camps. Those who loved the Joseon story and Boong-Do being there. And those who loved seeing our OTP together and wanted him in modern-day. I was split on that one for a while. The Joseon story was interesting without being full of angst or terror. We do find out Boong-Do's entire family was murdered (including a pregnant wife) but he himself was let off by the King. There are the normal baddies on the court who are trying to get rid of him and also the trusty side-kick who keeps his house in order while he's off in 2012. (LOL) Don't feel bad or think you're missing the appeal of this drama if you fast-forward through the Joseon scenes. I know some viewers who did the first time around but they eventually went back to watch those. So it's okay! HOW you watch this one isn't as important as that you DO watch it. And I mean that with all my heart.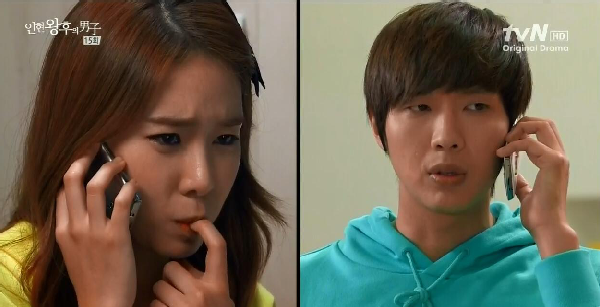 The moments between our OTP in 2012 are what is so special. Full of lovely conversation (very calm, gentle, sweet on his side and quick, snappy, humorous on her side) Once Hee Jin gets past the whole "you traveled through time 300 years?" bit, she helps him learn what happens to the beloved, disposed Queen he's trying to protect. But when he attempts to use the talisman to travel back to his own time, Hee Jin panics for the first time. And kisses him. WOOT for bold, forward leading ladies! One of the best parts of their time together is that she's constantly trying to find a new reason/way/trick to kiss him. (pretty sure he's aware she's trying to pull his leg but he goes along…I said he's not stupid) *hee* Smart girl too. I loved Hee Jin more than any leading lady I've ever seen. And Boong-Do? We need him cloned immediately. There are hundreds of women on Soompi who want one. Plus Twitter. Plus Facebook. Plus every blog I read. HAHAHA! This writer managed to create two charming characters that everyone who watched fell in love with. Absolute genius.



Though several trips back and forth, meals together, questions from her manager (who is hilarious – played by Ga Deuk Hi) gift giving (he gives her a car), more kisses (one in a library!), some undressing scenes (where he adorably hides his eyes then tells her he's leaving since he's seen everything) we have them alone and her refusing to give him the talisman so he can leave. Not that he wants to at this point. Major kissing happens and a morning after where we are left to guess what happened. The kiss was breath-taking so it coulda gone either way. Eventually we learn the talisman was given with a warning: not to use it for selfish reasons.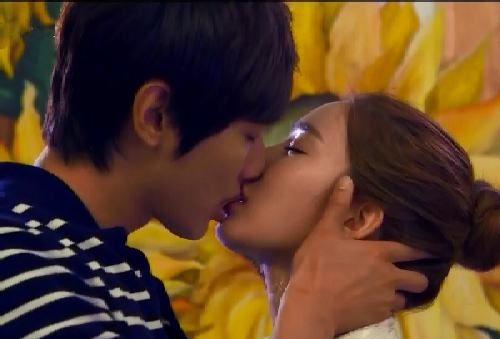 There are a few changes made in history because of Boong-Do's meddling and a few moments of panic (for me) when the talisman is ripped and things are reset back. (they all lose their memory of Boong-Do except for Hee Jin) We end up learning the lesson of the talisman the hard way – they are separated suddenly. And the talisman doesn't appear to be working anymore. Which means Boong-Do is stuck in Joseon. He can't travel to Hee Jin in 2012. He also can't continue his old life, everyone in Joseon thinks he's dead. And he doesn't want to continue his old life – he's fallen in love with Hee Jin.


I cried my eyes out during those scenes. He suddenly vanishes while they're out on a date at a park. She waits for him, going back to that park to sit for hours. When he finally manages to make it to her,  it's only for a few seconds before he is whisked back to Joseon for what we believe is the final time. GAAAHHHH! Giant, gasping sobs flew from my mouth. But as I wrote in my review of SU: FBB, I need not have worried. The writing for this drama has been tight, cohesive, flowing so smoothly so there was no reason to believe I'd be let down. And I was right, the writer never let me down. Not once. FYI – the writer for this drama is Song Jae-jeong (Coffee House) and the director is Kim Byung-Soo (Vampire Prosecutor) Incredible team.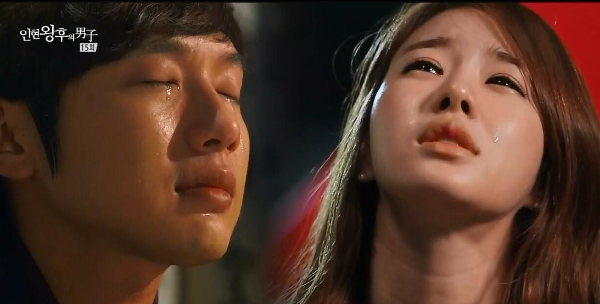 Boong-Do attempting suicide also didn't seem horribly out of character.  (to me) He was left to wander Joseon alone. Without any friends or family, without any hope for the future. For an intelligent young scholar, this must be extremely painful. He's promised the King he will never appear in Joseon again. So when he's captured, there is nothing he can do or say without putting the King or newly restored Queen in jeopardy. And the ache for Hee Jin has taken over his very soul, he left a letter for her that broke my heart. I believe when he is willing to take his own life is when the "magic" begins.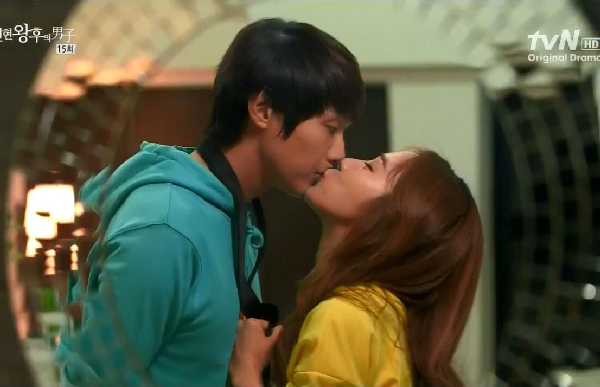 Did I mention all the phones in this drama? The second time they meet, Hee Jin drops her phone and Boong-Do picks it up. He memorizes her phone number after seeing it once. He learns how to use a pay phone and calls her. Her manager hides her phone from her so he can't reach her. When he's about to return to Joseon thinking she forgot him, he finds her in a phone booth. (another truly, lovely scene) They spend a rainy evening together in that phone booth. Hee Jin buys couple phones and programs herself in as "the worlds most beautiful woman". Lots and lots of phones and phone usage in this drama. So I wasn't angry, shocked or surprised that the phones turn out to be the vehicle for him to return to her a final time. For good.



The end scene again had embarrassing sobs escaping from my throat. The calm, quiet way he announces his return to her (and her equally calm reaction to seeing him again after a year) made me love Boong-Do even more. The longing in their eyes took my breath away. I know some have said the ending was lame – the phone replacing the talisman was ridiculous. But for me (and thousand of other viewers) I have a feeling HOW he was saved didn't matter so much as that he did get saved. Because she called him. In the end, she called him. Simple. Lovely. Wonderful. Romantic. This was a love story. Trust me, you want to see this drama. You NEED to see this drama. tvN is introducing a whole new ball game in dramas.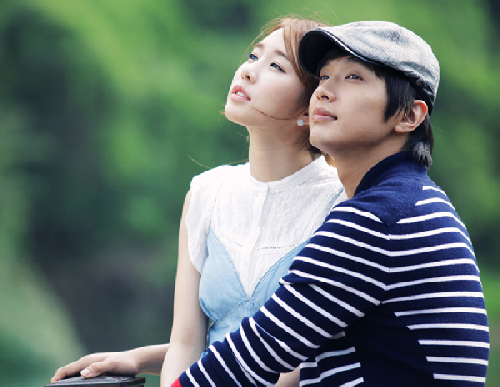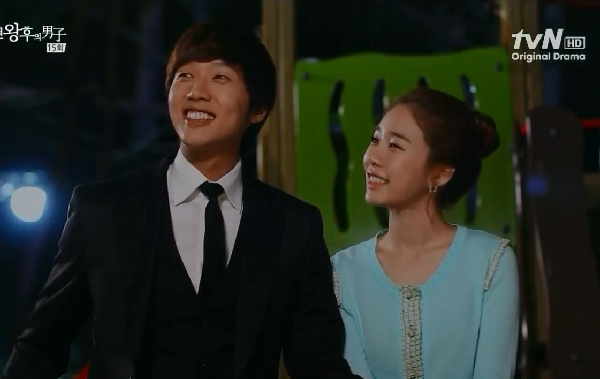 My final thought is:  lets play a game.  Let's name things that WERE NOT in this drama.  I'll start –
1) No self-sacrificing break up. "I'm doing this because I love you!" Hate that more than anything.
2) No bitchy, snotty ex-girlfriend. Oh, thank GOD.
3) …
.
.