We have received a couple of requests to extend the deadline for our Giveaway Contest, and considering we haven't received many entries, we are pushing the submission due date to November 2nd. That is three more weeks for the lot of you to spike your creative juices and submit your art work for the contest 🙂
Submissions can be emailed at giveaway.couchkimchi@hotmail.com, but please read the CONTEST RULES carefully before sending your entry. Go here for CONTEST RULES.
Below's a reminder of your motivation 😉
.
1ST PRIZE WINNER: CNBLUE's 3rd mini album Ear Fun: Special Limited Edition (Jung Yonghwa Version)
I'm so excited because I just got this prize in the mail today (check out the pics!), and I'm surprised by the size of the total package: 11.5″ x .875″ x 8.5″ (29.21 cm x 2.22 cm x 21.59 cm).
I've had to rein in any temptation to break the plastic wrap sealing the contents, but I'm keeping it pristine for our first prize winner. Please, whoever wins, send us pics of the contents because curiosity has me overwhelmed.
This prize is supposed to have a CD, a 20-minute making DVD (this might be REGION 3), a 140-page photobook, and an 18-page photo booklet of Yonghwa. For certain, the package also comes with two wallet size 2-sided photos of the CNBLUE band members.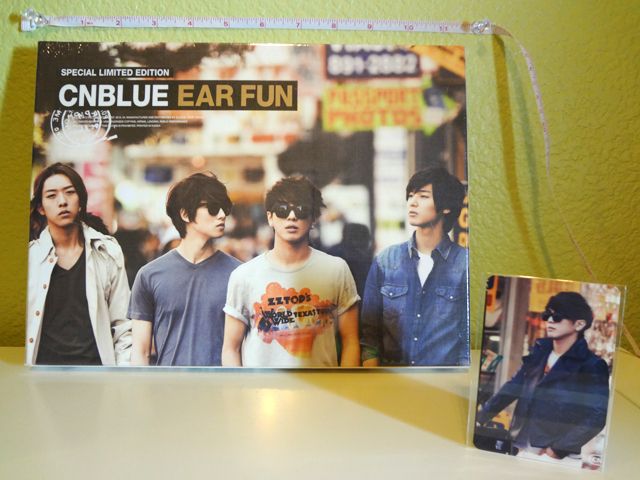 .
2ND PRIZE WINNER: Yellow Happy Heart T-Shirt by NII
I received the shirt a couple of weeks ago, but because it's folded and sealed, I couldn't take a proper picture. As mentioned, the shirt is freesize (but the tag does indicate a medium). As mentioned before, the Happy Heart collection has been modeled by JYJ, particularly by Yoochun on Rooftop Prince.
If you don't plan to enter the contest but would like to get the shirt (either in yellow or white), please visit To February. The online store sells Kdrama and Kpop merchandise and fashion, but they also specialize in Asian fashion 🙂 Their inventory has greatly improved since they started in 2009, but most of their items remain affordable.
.
Okay, CK readers. I hope the extension and the prizes motivate the lot of you! JOIN! 🙂
.
.