What to do when the heart chose to beat for someone else??
I'm in for another major heartbreak as it becomes more clear now who Miss 402 might choose. Well if love will open up more possibilities for Dok Mi, I'm all in. Even if it means her happiness is not who I want her to be with.. a drama can hurt this good you know.
Episode 9 & 10:
We finally bid goodbye to Miss 402's flower boy next door. Tae Joon looked dreary and left without even looking back. Seo Young felt her first love finally ended. It's really a gloomy scene as each one felt each other's pain. Dok Mi urged Enrique to console Seo Young but he chose not to since he thinks Seo Young doesn't need anyone at the moment.
But isn't it the best time to be with someone? When we feel badly hurt, we at least need that one person to ease the pain. I think this is the message Dok Mi is trying to convey to Enrique, but he felt it was too painful for him to handle. Moreover, he's also in need of that one person — but Dok Mi also can't be that. Sadly, she does not have the courage to just express it.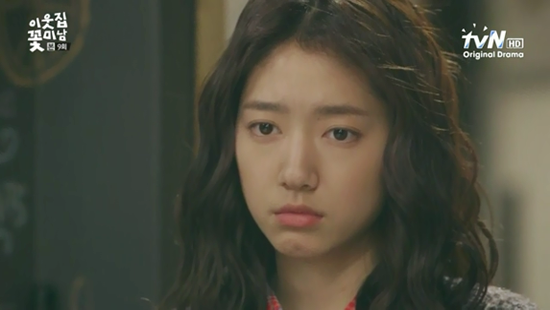 Watanabe's cooking class Lesson 2 is about cheese fondue this time. Everyone felt Enrique's absence especially Dok Mi. She did not expect he'd arrive, so when he did his presence made her miss him more. Shoot, it really felt that way. Jin Rak even noticed it. *sigh* Anyhow, the best thing to pair with cheese is wine. They all shared bottles of it, while Enrique announced he's going back to Spain. Because of this the head of security decided to treat everyone to a karaoke. We are in for that infamous noraebang scene!
I don't want to care much about Do Hwi. I'm more concerned that she's involved with Jin Rak's past somehow, since she knows about Jae Won. Having that in mind, I'm praying Jin Rak will completely ignore her still. Moving on, Enrique was looking for Jae Won hyung and caught him with Do Hwi in a very awkward moment – a supposed kiss scene. But the truth is, Jin Rak was covering his mouth. Protect that dude!! Jebal. This moment agitated Enrique that caused the tension, thinking of Dok Mi. The battle is again ignited.
What now? The boys decided for a throw down, using the mic and their voice as weapons. Haha. The sing-off reminded me of a bad group performance at the American Idol.. you know, the part where they made mistakes and tried to salvage themselves while out performing the other by making their voice loud singing non-lyrical sounds. LOL. Terrible, but damn cute how Enrique and Jin Rak did just that.
Dok Mi is really drunk. Good thing Jin Rak is a gentleman, helping her on the way as she stumbles. This ship is kinda sinking more now. It breaks my heart to write this. He continues to walk her home and they have this conversation about their neighborhood, a common thing they share. But sadly, Jin Rak hasn't made his own mark in Dok Mi. When they finally reached the fourth, Jin Rak begun to pound my broken heart into powder. I love how he's bolder now, and made the sweetest confession out of the post-it he made.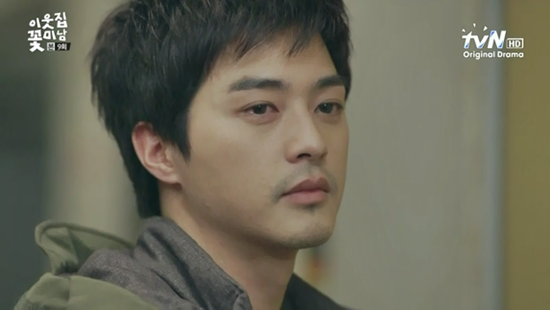 "I hate winter. In the spring, summer and autumn your window is always open.. so there's a fragrance that comes from your room. Really, there's an herb scent. And at night I can smell the aroma of fresh rice and the breeze that comes from the fluttering of your curtains. And on rainy days you reach your hand outside and touch that falling rain. I feel that you are right beside me. I just.. want to be by your side for a very long time. Then I will be able to leave a mark, like that hat. Wouldn't at least, a small part of me remain here? You just have to stay as you are, for a long time."
Crush my heart more.. why don't you.. Jin Rak, you are so near yet oh so far..
It pains me to hear Jin Rak's confession,, his sincerity is really so touching and so sweet. Jin Rak, there's a big difference when you voluntarily just put on your jacket to a woman who feels cold and asking first before doing so, dude! You've been waiting for her for such a long time. YOU ARE THE GUY! You should have started a long time ago.. you are hurting now because of this. The blame is on you, sweetie.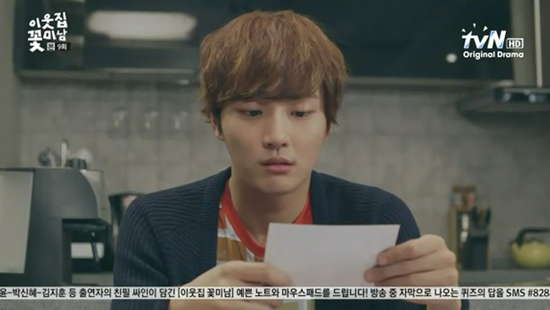 On the other side of the neighborhood, Enrique started to make his parting gift for Dok Mi. It is made out of photos and places he wants Dok Mi to discover. He's really finding ways to better help Dok Mi explore her surroundings. He's doing more than just leave a mark, and sadly that's all Jin Rak will ever be for Dok Mi. Just a mark on her wall, I mean life.
Enrique also said he'd be leaving soon to all who works for his latest game. The employees willingly allowed that he leave since there are just minor changes that they can handle without him. Poor Enrique, he's finding a reason to stay and yet no one seems to care and stop him.
Do Hwi made a plan to get rid of Dok Mi. She organized a surprise party and invited everyone. Smells so fishy and awful. Since the boys are together, they watched the video invite. While eating at Watanabe's workplace, Enrique taught Jin Rak some tips on how to woo Dok Mi. He even added that Jin Rak hyung should dress up like Tae Joon.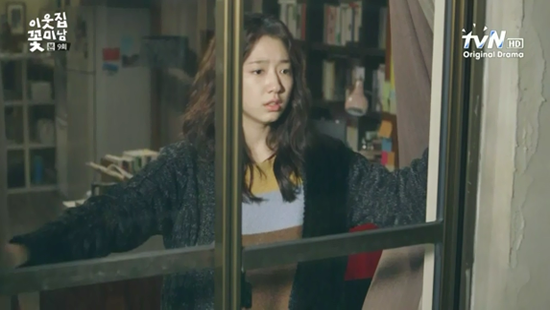 It is the day of the party. Jin Rak did his daily routine of putting a post-it note on Dok Mi's milk carton while Enrique waits for her to open her window to bid her farewell. But Dok Mi was tired and didn't bother to get her milk, leaving Enrique's gift by the door too. It was already too late when Dok Mi saw Enrique's letter. When she opened her window, he was already gone. Ouch. Dok Mi, why do you make me feel this scene sooo much? As Enrique leaves and thinks of Dok Mi, a montage of their memories was shown making me feel like.. love has finally been realized now.
Jin Rak prepares himself for the party and put on a suit to look like Tae Joon. Dear, why are you trying to be someone else you are not!?! Aigoo, mistake after another. Do you think that's the way to win a woman's heart??? Aish. To break my irritated mind, good thing the editor suddenly called and demanded that both webtoon master see her ASAP. She discussed the viewer's ratings that is dismal. Jin Rak does not seem to care and worried more about missing the party as the time nears five.
Dok Mi followed Enrique's advice that she attend a party with friends. And since Jin Rak's note told her he'd meet her at five, she took heed and went to Do Hwi's apartment. Why do I smell trouble? As Dok Mi enters the room, she was greeted by Do Hwi while a man gets into view. Omo! It's their HS Teacher! That's a harsh surprise.
Enrique decides not to get on board the plane back to Spain. His stalker fan mentioned about Jin Rak's plagiarism that triggered him to stay. Add to that, Seo Young told him that Do Hwi is planning something at the party to get rid of Dok Mi. All this made him worry about Dok Mi's welfare, and that she's surrounded by untrustworthy people. He hurriedly went back at the apartment.
Back to Do Hwi's place, everyone asked Dok Mi questions making her feel uneasy. She really can't stand people that are naturally cruel and insensitive. So with a heavy heart, she walks away. The room started to get blurry as Dok Mi faints. Good thing, Enrique arrived to catch her. But wait.. it wasn't really Enrique but Jin Rak!?! OMG!! She wished it was Enrique?? Darn it.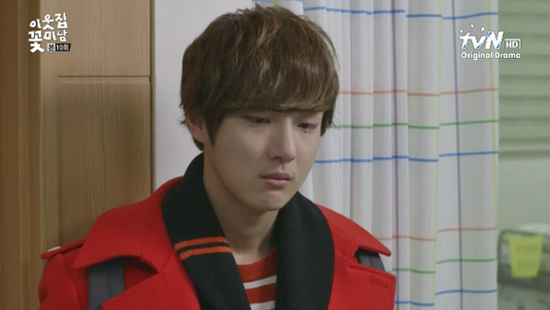 Enrique finally arrived but he was too late since Jin Rak already left with Dok Mi. They went straight to the hospital and Enrique is left to confront a distraught Do Hwi. At the hospital, Dok Mi opened up about her HS days, telling Jin Rak about the rumors and how people can be so cruel, so hateful and can easily discriminate the weak. It's a sad reality. Enrique overheard the conversation, and can totally relate to it as a tear falls on his cheek. Hmmm, the invisible connection they have…
Jin Rak can't relate himself to that, though he tried to sympathize by telling her his own experience. Sadly, it's not even close. Dok Mi thought Enrique already left, but he was there and paid the hospital bills. Jin Rak you are losing more points.. Anyway, Enrique confronted Jin Rak. As both shout and release their anger, they didn't notice Dok Mi already left them. heh. The boys won't simply allow each other to have Dok Mi. The battle is heating up. May the best man win.
When Enrique saw Dok Mi at the street, they begun to talk about the HS Teacher. I love whenever both of them converse because they learn a lot when they talk. It's like an exchange of experience and learning that enrich each other just by listening. You know, we need to hear certain things to let us understand more. I love that both always have this kind of moments where they see the real problem — the hurt and the fear. They may hear things they don't want, but they badly need it at the same time. Especially Dok Mi.. she badly needs to hear him in times she can't face her situation. Enrique seemed to be a strong force she's trying so hard to block.
And she's failing,
What to do? Well, she goes to the most familiar route for her — leave. She first went to see Enrique and paid back the hospital bill. While Dok Mi listens to Enrique whine about noodles, Jin Rak received the most depressing news ever, Dok Mi is moving out of the fourth. Heart, how will you mend? That's heartbreak number one. Moving on to number two, well before it totally breaks that is, Dok Mi decided to leave Enrique. I think if she stays longer, she'd cling to him more than she ever would want. Number three goes to, Enrique. Not only because Dok Mi is leaving him, but more so because he heard that Dok Mi invited Jin Rak to an art gallery featuring his favorite artist, Van Gogh. In his mind, Dok Mi chose Jin Rak.
What a cute scene really. Dok Mi even beats Jin Rak asking him on a date first. Though I'm feeling that's only her way of making a beautiful mark on Jin Rak that leads to his heart ache. *sigh* Show, WHY HURT ME THIS WAY??
On day of Dok Mi and Jin Rak's gallery date, Enrique got into an accident. He has a stalker who is trying to kill him. but why? Who is this ahjumma?? Before Enrique became unconscious, he saw Dok Mi coming to his side.. Suddenly it dawned to him that he has finally fallen in love..
for real this time..
Personal Thoughts:
I think I understand more now why Dok mi chose to lock herself and try so hard to not let anyone in. She's afraid that if she get too close with someone, she freely gives that person the key to hurt her — just like what Do Hwi did. When we give our full trust to a person, and we are betrayed it shutters the foundation built in that relationship. Dok Mi is careful because she's becoming vulnerable when it comes to Enrique, and that's becoming obvious every episode. Hence, without even realizing, she already opened her door to him..
She now feels the empty spot whenever Enrique is not around.
It really is a heartbreaking week for me, for Jin Rak. Enrique totally swept me away this time and with that I surrender my ship. *sigh*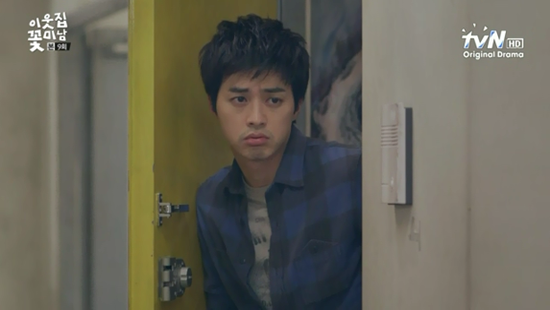 In my first recap I have already mentioned the difference between Jin Rak and Enrique when it comes to Dok Mi. It becomes more evident now, and that there's a huge gap in between.
It's nice that Dok Mi starts opening herself to Jin Rak nowadays, because she's at her comfort zone with him. The love Jin Rak has for Miss 402 is the kind that requires her to just remain as she is. He already accepted that side of Dok Mi. He's naturally a sweet guy, very sincere with his love, he won't even force Dok Mi to do something she doesn't want. What an ideal guy to have but Dok Mi remains stagnant with him, no growth. For three long years, the whole town knows how much he likes Dok Mi, but she remained clueless until recently. It frustrates me how this angle ends. Waiting for someone is already hard, and a heartbreak cause by it is even harder.
On the other hand Enrique's love for her brings out her best side, the side that enjoys life despite her problems. That side of Dok Mi somehow vanished ever since the betrayal of Do Hwi. The rumor was just too big for her to handle as a HS student. That aside, Dok Mi is still a strong woman who was able to get past that hurdle, despite of shutting herself from the world. Enrique helped Dok Mi open up herself again, he was her needed push to get her out of that apartment. Even if she has to hear his annoying chattering voice. But that alarm worked wonders. I love that the transition is slow but surely changed Dok Mi still. Hearing words of truth from him is what she needed the most. Nobody seemed to do that for her, until he came around. She even allowed Enrique to come into her life, even if she forced herself to. That leap of faith, pushed her to be on the other side. I hope Enrique will be the person to just stay with her, amidst everything.
Anyway, I hate the BTS of this show! Because Shin Hye and Ji Hoon's chemistry really is off the charts.. that I keep thinking maybe.. However the story says otherwise. And when we begin to focus on the story, it makes total sense that it really is Enrique who made Dok Mi's heart and world alive. Even without the preview for Episode 11, its clear that this week we are heading towards the OTP road. I can wholeheartedly say, I'm on this ride though my Jin Rak heart is broken.
That said, I love how love is defined in this drama. It's not the "love-at-first-sight" kind nor the type we often see in most Kdramas nowadays. Love begun with mutual understanding, knowing who the person is and learning to accept it, flaws and all. The connection Dok Mi had with Enrique at first outlined their love for each other that led to change in their lives. Though Dok Mi is torturing herself, trying to convince she's not in love and thinks otherwise, her stubborn heart involuntarily still beats for that one person she thinks she'd never feel alone again.
What is relatable in this set-up is the fact that at the end of a tiring day, we all need someone who we can go home to, forgetting the worries of the world. That one person we can share our life with. How nice to finally have that person. Well at least Dok Mi and Enrique already did.
Until next time!!