Once in a while, a love story moves me to tears just thinking about it. I have a feeling the parents story in Gu Family Book will be one of those. From now on, whenever I see butterflies or bags of peaches – I'll start tearing up and no one around me will have a clue why. The only people who would understand are YOU guys. *sniff*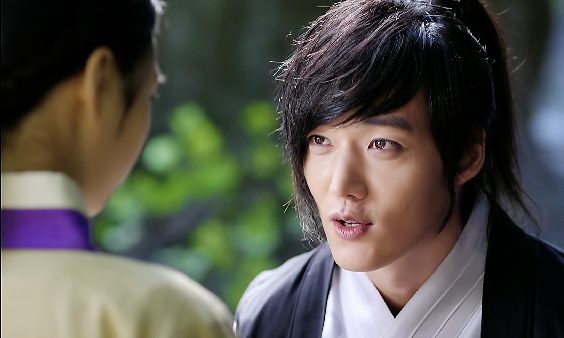 I didn't read any of the synopsis or character descriptions for this one so I really went into it a bit blind. I heard vague references to "gumiho's" and "sageuk" which didn't really stir much in me beyond knowing there would probably be torture scenes. I didn't understand (and still don't) much about what the story will entail. I just know that after watching the first two episodes, I love Wol-Ryung more than any other fantasy creature I've ever encountered. (Yes – step off, Edward)


Wol-Ryung (Choi Jin Hyeok) is a delightful, sweet gumiho – not what I was expecting. I was sure there would be some reference to him eating…human livers? Nope, not at all. I also thought all the villagers would be aware of him and live in fear? Nope, wrong about that too. He's lives alone in a cave, a guardian spirit to the mountains he inhabits. He's innocently curious about the humans who live down that mountain, probably having no clue that humans can be horrible. Not only to him but to each other.


He encounters this cruelty first hand when he sees a young woman being tied to a tree and left there for 3 days. He fights against his instinct to rescue her. He fights with his monk friend, who warns him against interfering in human matters. He goes about his business until this very woman wanders into his forest one day and he catches her before she falls. She is Seo-Hwa (Lee Yeon Hee) and he is immediately smitten.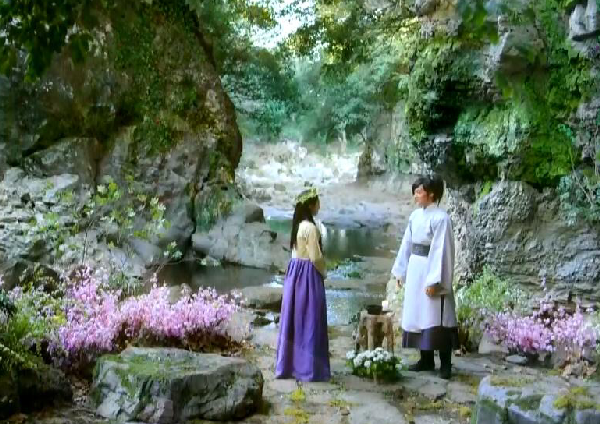 He brings her to his cave and attempts to make her happy. Food? Will it be rabbit or peaches? When she chooses peaches, he climbs trees to bring her as many as his bag can hold. When he sees her smelling flowers? He brings her arm fulls of flowers. When he sees a slight smile on her face while she's watching butterflies? He traps hundreds in a bag and unleashes them in front of her. He asks her to marry him and they have a beautiful ceremony right there  in the forest. There appears to be nothing he won't do for her. He even finds out what happened to the rest of her family and lies so that she won't be hurt.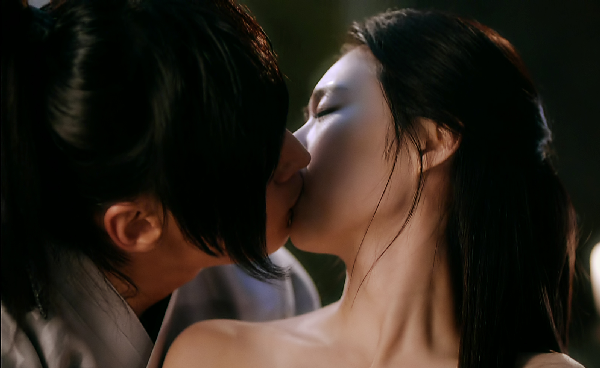 Which makes her betrayal of him all the more heartbreaking. When soldiers find her and she discovers he is a …monster of some sort, she is naturally frightened out of her mind. When she's told her family is dead and realizes he lied to her – she's not given enough time to think about it before she willingly leads hunters to his mountain. Does it sound like I'm making excuses for her? Yes, I probably am. Because the look on her face when he is stabbed tells me she's sorry. She finally understood he meant her no harm. And he loved her.


Wol-Ryung disappears in a puff of sparkling lights and Seo-Hwa falls to her knees, crying. She later discovers she is pregnant and seems terrified she will give birth to a monster. Her shock and tears after giving birth to a normal baby also tells me she will live the rest of her life, heartbroken and regretful. Missing this mountain spirit who saved her and brought happiness into her life for a short time. I don't know what happened to either of them, we're not given any definitive answers. (Yet)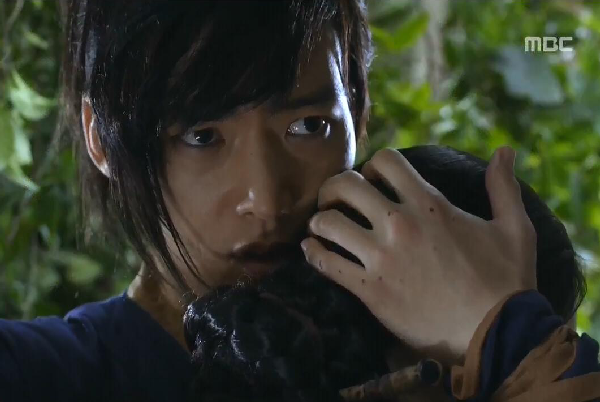 Next week begins the story of that baby and everyone will move on. I, however, will be stuck on that mountain with this lovely couple for a while longer. I could very easily have watched much more of their story, my heart was captured. Beautiful story, gorgeous cinematography, and lovely chemistry between these two actors. If you want to watch a quick, romantic love story but don't wish to get embroiled in a whole 24-episode, action saguek – don't miss the first two episodes of Gu Family Book. Just make sure you have tissues.
If anyone needs me, I'll be in Moonlight Garden – eating peaches.