I decided not to do a detailed recap for this week since nothing really happened – we're going around in circles. We did learn one new thing but I believe it might be a red herring thrown out there to make us think Jae Hee is Tae Sang's little brother. I'll just give a quick summary and add my thoughts.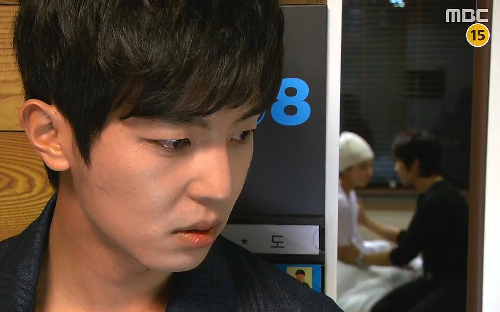 Mi Do wakes up in the hospital and reaches for Tae Sang's hand. Jae Hee isn't happy, Mi Do's Dad isn't happy and Mi Do's Mom yells at Jae Hee for interfering in the relationship between Tae Sang and Mi Do. Jae Hee attempts to trigger Mi Do's memory but Mi Do begs Tae Sang to not let "that person" visit her anymore. So the only one she doesn't remember is Jae Hee? LMAO,  how obvious that she's lying.
Jae Hee, Mi Joon and Mi Do's friend advertise for public help, asking if anyone saw the accident. They find a witness who says he saw a black or dark grey car driving away. Mi Do discovers she can't walk. (and everyone at Soompi celebrates) Chang Hee writes a letter to Tae Sang that Jae Hee is not his real brother and hides it behind a picture frame.

Mi Do messes with both Tae Sang and Chang Hee – asking leading questions. Jae Hee accuses Tae Sang of having something to do with the accident. (Whoa, this little…he sure has some nerve) Chang Hee admits to Tae Sang that he did run her over and Tae Sang is heartbroken and angry. (You can see the crazy in Chang Hee's eyes) Jae Hee meets with Sung Joo who finally tells him about her suspicions that Chairman Chang Ji Min's son is Tae Min. I don't know why this was revealed to a person who could care less. Jae Hee has zero interest in Tae Sang, his background, or his possible family.
Sung Joo visits Mi Do and when Tae Sang walks her out, she accuses him of causing Mi Do's accident too – which Mi Do's Dad happens to overhear. (Of course) Tae Sang takes Mi Do home. Chang Hee discovers Bong Goo has embezzled company funds from Golden Tree and threatens to tell Tae Sang. So we add yet another ungrateful, greedy person to the list. It's really overkill, writer-Nim.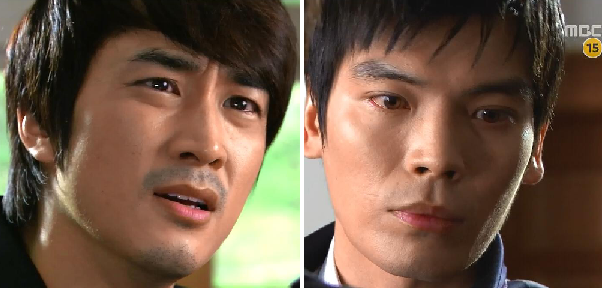 Tae Sang takes Mi Do, Mi Joon and her friend to stay at the resort. Chang Hee threatens Mi Do again, she falls down a mountain side in the rain. Tae Sang finds her and suspects her memory has come back. Jae Hee learns Mi Do is faking her amnesia. Mi Do's temporary paralysis ends and she can walk but hides it from everyone except for Jae Hee. She secretly meets him again. (much to my disgust)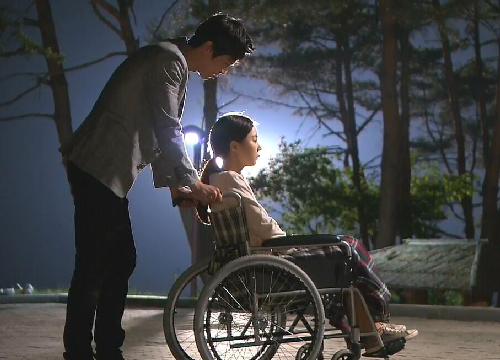 Chang Hee tells Tae Sang if anything happens to him, he left a letter. He thinks the police will be coming for him soon.  Sung Joo buys the bookstore but for what purpose, I don't know. If she kicks Mi Do and her entire family out onto the street, I'm all for it. Ahahaha.
Tae Sang discovers Mi Do is lying and can walk by watching CCTV footage. He confronts her, she cries and begs him not to hurt Jae Hee or her family – she will stay with him even though she loves someone else. Tae Sang tells her to just go be with the man she loves. The look in his eyes shows his disappointment and/or disgust that she would believe he's this type of man.
Jae Hee blows the investment deal with Tae Min. Bong Goo borrows money from Yong Kab to replace what he stole from Golden Tree. He fights with Chang Hee and Chang Hee falls to his death. Tae Sang finds him, lying in a puddle of blood.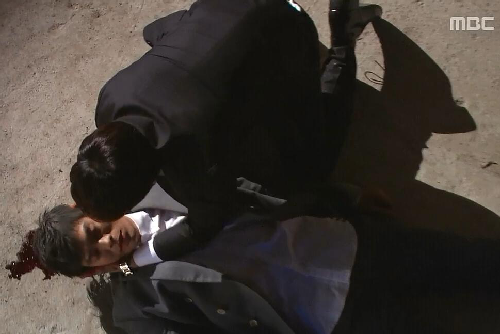 Thoughts:
There are hints that Jae Hee might be Tae Sang's brother but I don't think so. The picture Jae Hee saw in Tae Min's bedroom was the same young child as the one in the picture Sung Joo has. (Not to mention that the actor playing him is listed as "Tae Min" in all the cast lists) But I've been wrong before so who knows! If that's the way it turns out, I'll be extremely disappointed.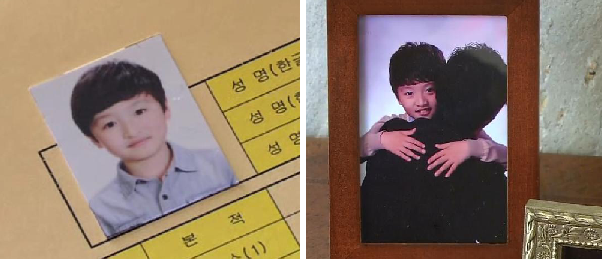 The whole amnesia plot was a fake but I guess we can all be glad it only lasted through this week. Mi Do was lying to everyone however, the temporary paralysis of her legs was real. She just chose to hide it when she got feeling back into her legs and could walk again. Why, I don't know. I don't quite understand where the writer is going. I think the whole drama has been about grinding Tae Sang into the dirt as much as possible but I don't understand why. This certainly doesn't show anything about what happens When A Man Loves unless we're supposed to believe he's stupid and blind.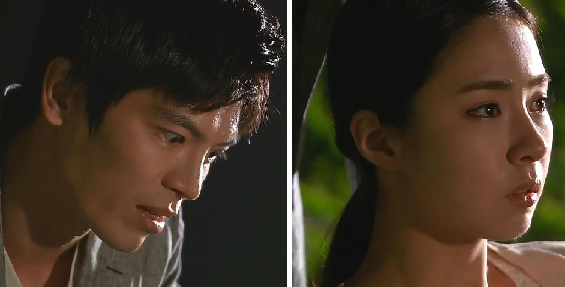 There have been comments at Soompi about not understanding why Tae Sang loves Mi Do since there is nothing lovable about her at all. I could go into the whole "love is blind" thing but I don't believe that about Tae Sang. He's pretty smart even if he's naive about women and relationships. I think he fell in love with her from the moment he saw her fighting his thugs in defense of her family – it reminded him of himself. From that moment forward, he believed she had the same kind, warm heart he does but Mi Do is nothing like him. I think he finally realized this in this weeks episode, much to everyone's relief.
If the writing this week was meant to build sympathy for Mi Do and/or Jae Hee, it failed miserably. The amount of hatred for both these characters is off the charts and the myriad number of ways posters at Soompi have come up with killing both of them is hilarious. They are more hated than even the creepy pink-haired gangster who is a cold blooded murderer! So there is zero sympathy for either character.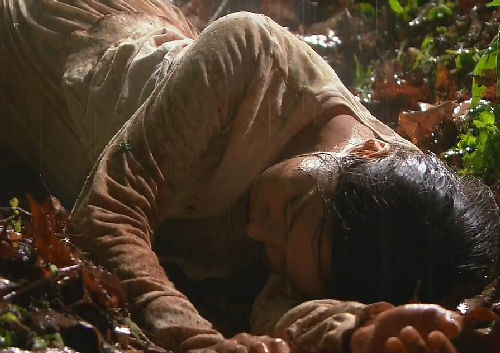 Chang Hee dying completes the vision of Tae Sang being completely alone – without anyone who cares about him or anyone who will believe him. Every single person in this drama has been out "to get" Tae Sang (yes, even Sung Joo, who says she loves him) Without Chang Hee, Tae Sang is screwed. He will probably be accused of murdering Chang Hee and the attempted murder of Mi Do. Plus there is still the issue of what happened to his Mom's lover and the police have been sniffing around him regarding that issue. So it's not a stretch to think he's going to end up being blamed for all of those crimes.
I feel like it's too much – too many mis-understandings and too much hated/blame is being dumped on Tae Sang. The best "revenge" type dramas have a bit of back & forth which makes things more interesting but there has been none of that here. I also feel like the writer has no idea where to go and since I heard the script for EP 16 was only finished this week, that confirms my feeling. With only 4 episodes left, it doesn't seem there is any way out for Tae Sang. I no longer care what happens to any of the other characters at all, I only care what happens to Tae Sang.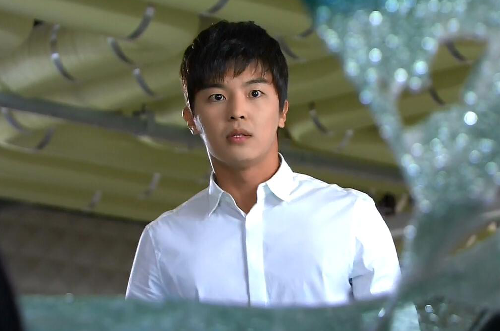 If anyone were to ask me in the future if this drama was any good or if they should give it a try? My answer will be it's extremely frustrating (not in an entertaining way) and the OTP does not involve the lead actor.  Plus there is not one single redeemable, likable character in this whole drama beyond Tae Sang, they are all horribly selfish, disgusting people. I'm going to hang on until the end though, I've come too far to drop it. So see you next week!