Whoa, this drama has completely taken over my life. I've watched each episode several times and find myself thinking about certain scenes over and over. It's fascinating – some actions by the characters can be construed many different ways so things are left open to interpretation. Did the writer intend for that to happen? If so, he's brilliant! (I did read this screenplay won an award or something)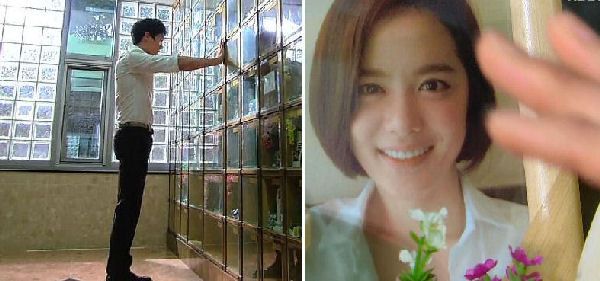 And the actors are all brilliant, playing characters ambiguously and leaving the audience with tiny clues to decide just who these people are. Or leaving the audience with NO clues and it's up to us to decide what the expressions on their faces mean. Is this character evil? Or is he protecting a loved one? I wasn't intending to recap this drama but I can't shut my brain down. (LOL) So let's discuss what happened this past week and you can let me know what you think.
We know the ending last week showed Min Hyuk offering Do Hoon a watch along with some files that implicate a high-ranking official of corruption. He mentioned to his assistant that there were 5 parole members deciding if Yoo Jung will be released – 2 are for it and 2 are against with Do Hoon the deciding vote. Did he offer a huge case in return for Do Hoon to vote no? Did Do Hoon accept that deal? Or did he vote to keep Yoo Jung in prison to protect her from Min Hyuk's revenge? Hmmmm…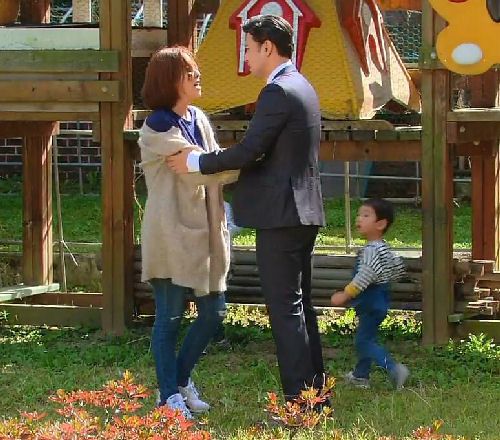 When Yoo Jung is released, Do Hoon is there to pick her up. He takes her to the orphanage San was supposedly placed in and forces her to read a death certificate showing San died of sepsis. There is no mention of San being taken from her following accusations of abuse. She doesn't believe San is dead and runs out into the playground to search. *sobs* Do Hoon tells her he's dead and takes her to a river, telling her his mother spread San's ashes there.
He then takes her to her family shop where his mother is waiting. She tries to force Yoo Jung to accept San is dead and she should quickly move on. Do Hoon drags his mother out and tells her to leave. She continues her attempt to force her precious son from Yoo Jung by telling him he needs to come to his senses. This woman is horrible – no ambiguity here. She goes home to find her husband upset that Yoo Jung put San in an orphanage. What?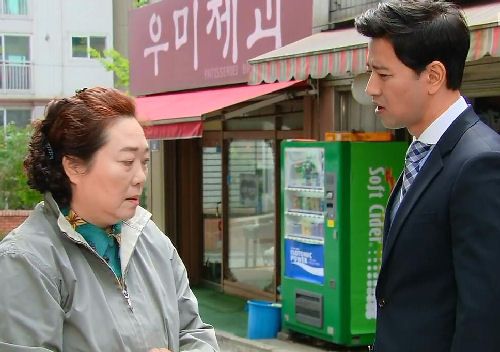 He says Yoo Jung should have told him if she needed money, how could she send that young child off like that? Do Hoon's mother looks guilty as hell so I'm guessing father is being lied to as well. What on earth did this horrible woman do with San? And does Do Hoon know what she did? Did he possibly agree to San being adopted and then lying to everyone OR did he do it to protect his son from Min Hyuk? Another possibility is he didn't want anyone to find out his connection to a jail-bird in order to protect his career. WHERE IS SAN?
Min Hyuk sits in his car outside her shop with his assistant who tells him after she visited the orphanage where her child was, she hasn't come out. Ah, so Min Hyuk knows San was placed in an orphanage…does he know the child is supposedly dead? He wonders if he's obsessing, it's not like doing this will bring Ji Hee back. He then wonders if there is still something left to take from her. Did HE take San? He follows her to a grocery store and watches as she drops things. He helps her pick them up but she's so devastated that she doesn't even look at him or notice him at all. He watches as she lights candles on a cake for San and falls to the ground sobbing. This is really hard to watch.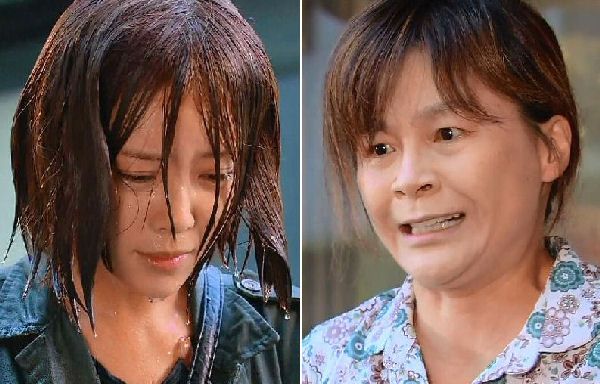 When she returns, Do Hoon angrily tells her to let him know where she is – does she know how worried he was that something had happened to her? She assures him she's fine now and he should concentrate on punishing the bad people for her and San. I have no idea what she means by this! We then see Do Hoon arriving at Min Hyuk's office with a search warrant. Before Min Hyuk can hand over a file full of information about Yoo Jung, Do Hoon's boss calls and tells him to cancel the search and get out. Min Hyuk implies it's a shame as he really wanted to see Do Hoon's reaction to the file.
Back at the office, Do Hoon is reprimanded by his boss who then gets a phone call and tells whoever it is that he took care of it. (Min Hyuk's family has the prosecutor's office in their pocket?) Min Hyuk visits Do Hoon to ask where Yoo Jung is and reminds Do Hoon that HE is the one who denied her parole. Ah, so Do Hoon accepted Min Hyuk's proposal and voted against her parole. Scumbag. These two men hate each other but I sure would like to hear the true reasons behind the hatred.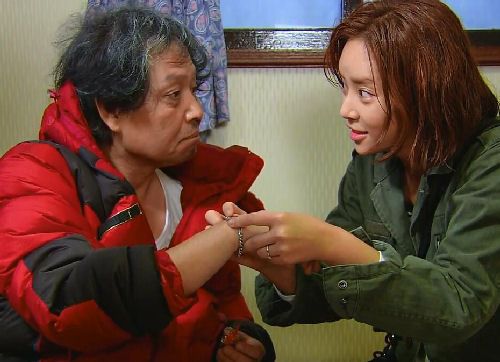 Yoo Jung searches for and find a job. She also visits Ji Hee's mom to again apologize on her knees but gets a bucket of water on her head and is shoved to the ground. Ji Hee's mom also sends back everything Min Hyuk has sent her – turning down the house he wanted to buy for her, money and expensive gifts.
Do Hoon gets Yoo Jung's father an ID bracelet in case he wanders off. He then tries to force himself on Yoo Jung, stopping when he sees the burn scar on her shoulder. She assures him she's fine and tells him she got a job. It's obvious his guilt is eating him alive, he keeps apologizing until she tells him to stop. At home, his mother harps on him to stop seeing Yoo Jung. They fight because he keeps defending Yoo Jung so mom pulls out the tears. UGH, so annoying.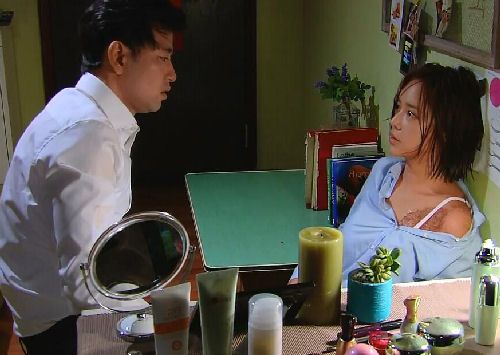 The job Yoo Jung got finds out about her criminal record and fires her. Min Hyuk hires her to work a big party his family company is having and also invites Do Hoon. When Do Hoon sees Yoo Jung, he drags her outside. She figures out he's uncomfortable with her there and leaves. This self-sacrificing crap needs to stop SOON. It appears Min Hyuk made sure both of them would be at the party but to what end? Min Hyuk is called away before he can listen to Se Yeon's confession of love which leaves her in tears. Do Hoon comforts her, giving her his handkerchief .
Thugs arrive to throw Yoo Jung out of her home but Min Hyuk stops them. She recognizes him and asks why he's doing this? He tells her he is the owner of the building and she has one week to get out. He then yells at her that compared to what she took from his, this building is nothing. After he leaves, it finally dawns on Yoo Jung who he is and why he's been hounding her – although I'm not sure she knows the exact relationship between Min Hyuk and the dead woman.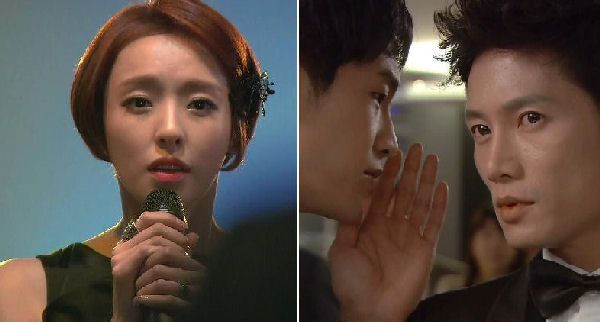 Se Yeon tells Min Hyuk the wedding is off and throws a tantrum by destroying one of her paintings. But the next day, she shows up with a contract and forces him to buy her the biggest, most expensive engagement ring. Is she bi-polar? Min Hyuk argues with his father, claiming Se Yeon is a childhood friend. Umm, no – she's your worst enemy and will end up trying to destroy you. Pabo.
Since Yoo Jung was thrown out of her home, she takes her mentally ill father to Do Hoon's parents house where her ex-mother-in-law yells at her for coming to their house since they no longer have any type of relationship. She also yells at her to stop calling her mother-in-law and snorts angrily when she calls the dad father-in-law. What a piece of work this one is, I yell at my screen every time her ugly face pops up.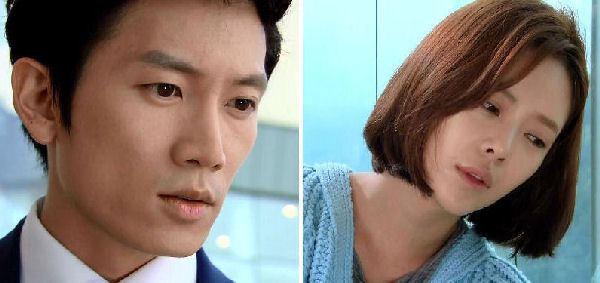 Yoo Jung gets a job at one of Min Hyuk's family hotels and he suddenly sees her everywhere. Ahahaha! These scenes are both kind of creepy but kind of cute and the background music that plays when he bends over trying to see her face implies there is something else happening inside his head. He sees her sitting on the stairs, lost in thought and just watches her.
Yoo Jung learns her father needs an operation to reduce swelling of blood vessels in his brain and pawns the ring Min Hyuk threw at her in episode 1. She is then caught and taken to Min Hyuk's stepmother. The ring was designed by her for Se Yeon and she demands to know it came to be in Yoo Jung's possession. Min Hyuk arrives to drag her out, telling his stepmother that he gave the ring to Yoo Jung. He then berates Yoo Jung for selling someone else's belongings and tells her he will meet her at the police station.

She rushes out after him and throws herself at his feet, holding onto his leg and crying. When he asks if she's embarrassed, she says no – she doesn't think she's paid enough for what she did to that person. He angrily tells her not to mention that person so casually. Se Yeon walks up with Do Hoon (UGH) and Min Hyuk sees this as an opportunity to mess with all of them so he invites everyone to have a drink. He does enjoy making everyone uncomfortable, doesn't he? *hehehehe*
He tells them Yoo Jung is an employee who does whatever he asks of her, which infuriates Do Hoon and makes Se Yeon jealous. (Seriously? Get over it) Se Yeon even follows Yoo Jung to the bathroom to make sure she knows Min Hyuk is marrying her. Yoo Jung tells her Min Hyuk is just a kind boss who is paying for her father's operation and Se Yeon tells her as long as she knows her place. Really, she and Do Hoon belong together – his mom would LOVE this self-centered waste-of-space.

Do Hoon and Min Hyuk argue about Yoo Jung with Do Hoon saying she's a normal woman who has paid for her crime. Se Yeon walks up just in time to hear this (That's just greattttt) Do Hoon acts all holier-than-thou and seems disgusted that Min Hyuk uses his money/position to use people. Really? REALLY? And how are you any different? I'm so confused. (LOL)
Se Yeon figures out that Yoo Jung is the woman who hit Ji Hee and takes her turn to belittle Min Hyuk's feelings. She acts like he has no right to be upset that the love of his life died, he should forget Ji Hee and love her RIGHT NOW. I'm positive she also believed Ji Hee was beneath her and finds it appalling that Min Hyuk could have liked someone "like that". She threatens him that he better shape up or she won't marry him. (Again?) Whatever, princess.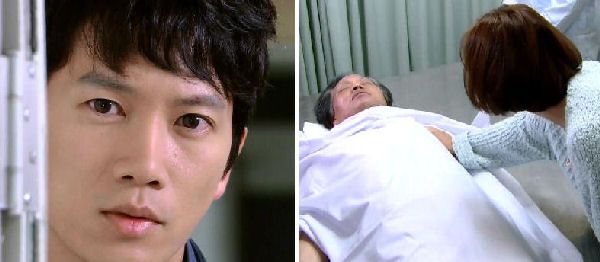 Yoo Joon discovers her father is missing and passes out fliers after reporting him missing. Do Hoon helps her search for him and finds him, only to discover this mentally ill father knows perfectly well that Do Hoon is the one who was driving that night and blamed it all on his daughter. Uh, oh – I got really scared for him then. Do Hoon drives off with him but of course, we don't see where they go.
Yoo Jung gets a phone call that her father has been found just as Min Hyuk arrives. Even though he finds this "so annoying", he pushes her into his car and drives her to her father. (How did he end up so far away?) Her father is dead. Min Hyuk watches as she breaks down, sobbing hysterically over her father's body. *sobs* I don't know how much more I can watch of this woman losing the people she loves – this is horrible. I noticed her father is no longer wearing the ID bracelet.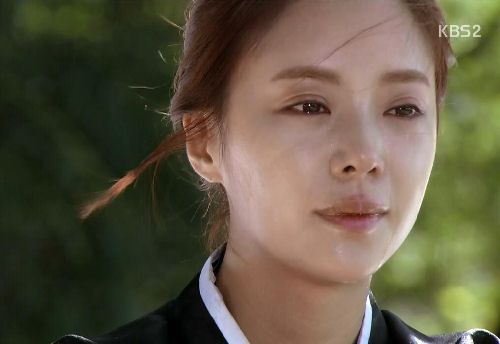 It's interesting that Min Hyuk shows up at her father's funeral (although he doesn't go inside) while Do Hoon doesn't. This jerk doesn't even bother to show up until the 4th day and his loser family doesn't show up at all. When he finally shows up, he offers Yoo Jung money. *sigh* The break up scene that follows is one of the best I've ever seen. She leaves both the money and the ring he gave her and tells him she knows he's doing things for her out of guilt so she wants to end things now.
Do Hoon is under investigation for trying to build a case against a politician after receiving information illegally. (from Min Hyuk?) He quits the prosecutor's office for a nice, cushy job with the company owned by Min Hyuk's family. So he's now straight into the lion's den. I'm also guessing he'll begin seeing a lot more of Se Yeon which makes me want to vomit. *snicker snort*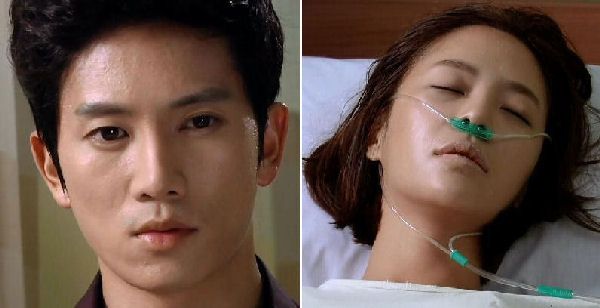 I guess Yoo Jung disappears inside her house for days after this because Min Hyuk tells his assistant to find her. He then changes his mind and goes to look for her himself. He finds her inside the locked building he now owns – she is passed out on the floor. He calls her "substitute driver" like he did in the beginning and tries to shake her awake but ends up taking her to a hospital. He then silently (and with a strange look on his face) watches her before he says she can't die – he hasn't given her permission to die yet.  O_o
Thoughts:
I am equally creeped out and intrigued by Min Hyuk. What is he up to now? Is he done with his revenge – having seen that both her son and her father were taken from her? Did he have anything to do with either of those? Or is he piling up evidence against Do Hoon to make Yoo Joon even more miserable once she realizes Do Hoon was involved? I'm 100% addicted to this one and feel like we've all turned into mini-detectives trying to solve every little thing that happens!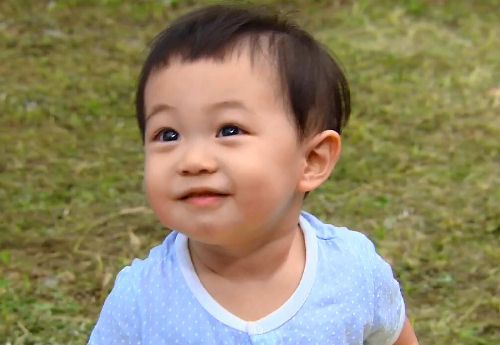 I went back/forth on Do Hoon a bit … until the incident with her father. I truly believe he took her father out in the middle of nowhere and dumped him knowing he wouldn't make it back. (which makes him a complete monster) I initially thought Do Hoon might be trying to protect Yoo Jung from whatever revenge Min Hyuk wanted to take and was positive he didn't have anything to do with what happened to San. But then he accepted that bribe which blew my mind. (LOL) Now I'm not so sure – is he really that evil? I laugh when he appears all self-righteous considering he accepted a bribe to keep his girlfriend in jail with his son and never acknowledged either of them.
Then there is his mother. It's so obvious to me she did something with San and is lying to both her husband and Yoo Jung. I don't know if Do Hoon was also involved or if he only found out after the fact. Not that it really matters – it makes him a coward. It's the same with the hit & run, it doesn't matter if he didn't hit Ji Hee – he still left an injured woman laying out in the road and didn't call for help. But is he the worm I think he is? Arrrggghhhh!
I can't wait for this weeks episodes and feel anxious that we don't have a preview yet. (LOL) Let's discuss! I love reading everyone's opinions, idea and thoughts because you guys always point out things I'm missing or haven't thought about yet. This one really is making my brain hurt. Ahahaha.