Another tense week! This writer may be a rookie but she definitely knows what she's doing.  I learned the writer for the synopsis is Choi Ho Chul and the main script writer is Yoo Bo Ra. (thanks so much, @cynkdf!) The dialogue is refreshingly clear and sensible, which is amazing. I love each episode more than the previous, which is rare for me in K-drama watching.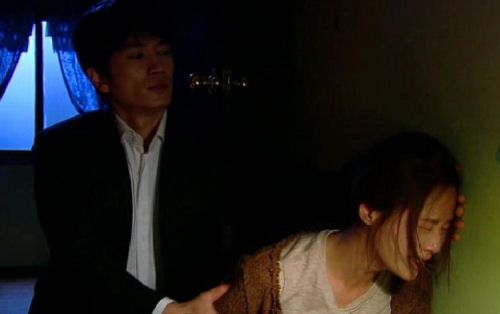 Min Hyuk goes searching for Yoo Jung at the bakery. He runs inside, calling "Substitute" and then calls out her full name. He hears a noise. He opens a bedroom door to see her sitting on the floor, banging her head repeatedly against the wall. He puts his hand between her head and the wall but she sobs harder. He pulls her into his arms and just holds her while she cries out.
Do Hoon meanwhile, goes to see Se Yeon. She offers to make tea since it appears he's upset about something but he grabs her hand and put his head against her shoulder. He cries. Pfffttttt – Dude, she's not gonna be happy to find out that you're NOT crying about her. These two make me sick. (LOL) It's disgusting hearing him cry because you know he's only crying for himself.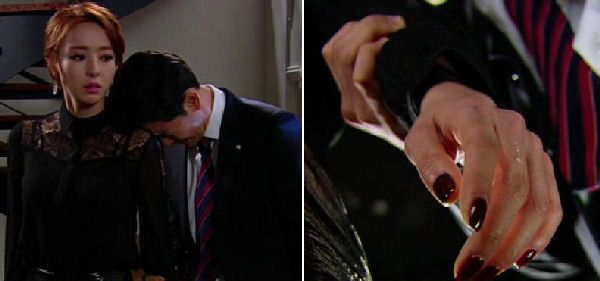 Min Hyuk holds Yoo Jung tightly until she finally calms down. He gets up to leave, changes his mind and sits down on the floor across from her. He asks why she always comes into his building to cry. She apologizes – she knows she's not the only one that loses loved ones. She understands how disgusting she is to him now. He says he used his hatred towards her to withstand it all.
Do Hoon is telling Se Yeon that he came up to where he is because he gave up a lot (WHAT? AHAHA!) but there is always someone on top of him and the person who sacrificed for him is now in his way. Se Yeon tries to say she's given up a lot too and the world isn't fair. (OMG, these two with the whining – me, me, me!) She encourages him not to give up.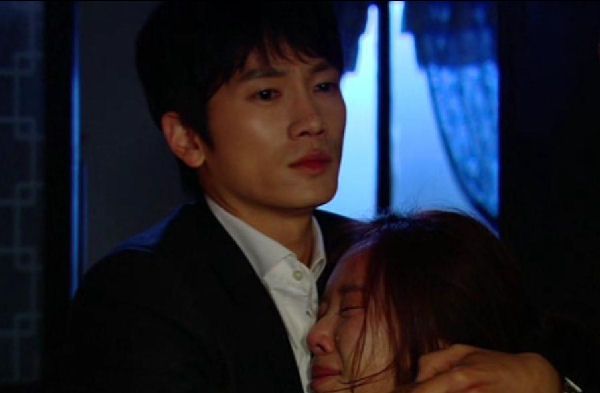 Min Hyuk watches Yoo Jung at work but leaves to visit another restaurant. Yoo Jung talks her friend into switching shifts with her, she has something she needs to do. Min Hyuk makes Gwang Soo turn the car around because he's worried. (Awww!) She's already gone when he returns and her friend doesn't know where she went. Yoo Jung visits the center that issued her Dad's ID bracelet and learns Do Hoon had his name listed as her Father's guardian.
Yoo Jung goes to see Do Hoon and he has her thrown out! Min Hyuk searches for Yoo Jung but Gangter Unnie yells at him to leave Yoo Jung alone. When Do Hoon comes out, he doesn't see Yoo Jung. He gets into his car and starts to drive away but Yoo Jung jumps in front of his car and stands there in the rain. With cars behind him honking, he has no choice but to let her in.

She asks about the ID bracelet and he admits it, saying her Father got into his car but then jumped back out while he was stopped. She again knows he's lying and calls him on it. He screams so what if he threw her Dad out? He yells it was her fault, her greed because she didn't want to send her Father to a nursing home. She yells at him to stop the car but he doesn't so she grabs the wheel. The car flies all over the road until it finally stops.
He yells at her, is she trying to cause an accident? (Oh, the irony) She asks if he got rid of San because he was sick of him too? He thinks she's gone crazy. She gets out of the car and yanks him out as well. She wants him to kneel down, in the rain and beg forgiveness from San and her Father. He asks if she will disappear if he does? She slaps him.

He yells that she's holding on to him and it's disgusting. He should have left her the day she said she would go to jail for him. She slaps him again, harder. *jumps up and down, cheering* She tells him she will make him rip his heart out with regret, starting now – he should watch. Wherever he goes, whatever he does – she will be there to remind him of San and her Father. WOOT! He drives away.
Min Hyuk arrives home to find Yoo Jung on his front steps, soaking wet and waiting for him. Inside, he gives her a hot drink and questions why she's there? He asks if it's Do Hoon and reminds her she protected Do Hoon as if she would die in his place. She tells him there is something she must receive for those people she lost and asks to remain by his side.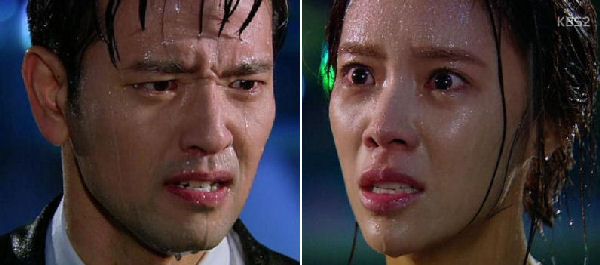 Do Hoon broods in his office, remembering San and her Father. He tells himself he will not regret. (HA, wanna bet?) Min Hyuk asks if she wants to take everything from Do Hoon? She asks if taking things satisfied him? She needs him around because he makes Do Hoon nervous and he'll keep her from weakening. He calls Gwang Soo to investigate what Do Hoon did to her.
Min Hyuk invites Do Hoon to his house on the pretext of business but asks him what he did to Yoo Jung to make her so angry? He then tells Do Hoon he knows he was also there that day and asks Gwang Soo (in front of Do Hoon) if the black box video has been restored yet. Gwang Soo tells him soon. Do Hoon looks shaken. Min Hyuk asks if he's informed Se Yeon of his past with Yoo Jung?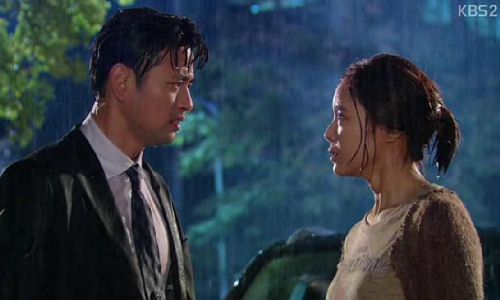 Min Hyuk brings Yoo Jung to a board meeting and introduces her as his partner. Do Hoon and Se Yeon look on in shock. As she walks out, Se Yeon demands to know why Yoo Jung is still here? Do Hoon walks up and asks Yoo Jung if she's using Min Hyuk to get a promotion? (OMG, slap him again!) Instead she calmly asks if he didn't do the same thing? AHAHAHA!
Min Hyuk implies to Se Yeon that she doesn't know what kind of man Do Hoon is. As they reach the car, he forces Yoo Jung into the back seat with him while Do Hoon and Se Yeon watch. He tells Yoo Jung to come work at his house again the next day. Do Hoon tells Se Yeon if seeing that woman bothers her, he can split them up. (Oh, really? Good luck with that.)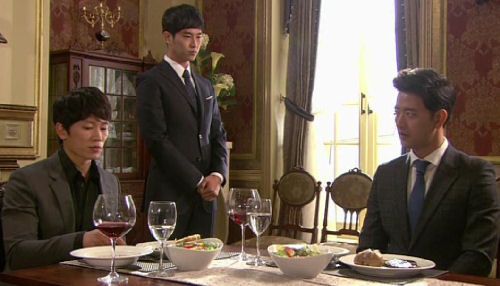 Min Hyuk learns the hotel stocks are down and learns someone leaked information about Chairman Jo being ill. He learns from Gwang Min that his Father went to Germany for surgery. He's furious and yells at Gwang Min for not telling him. He instructs Gwang Min to start purchasing hotel stock quickly and to report everything to him.
Se Yeon bitches to Do Hoon that Min Hyuk's obsession with Yoo Jung reminds her of his obsession with that dead woman, Ji Hee. (God, she's horrible) Do Hoon confesses that the woman he was involved with was Yoo Jung. Se Yeon's pissed and feels like the 3 of them have made a fool out of her since they all knew. She storms out. Whatever – go paint something.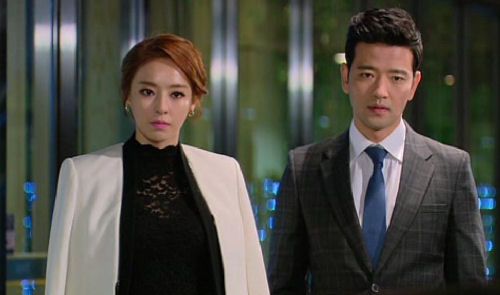 Gwang Soo informs Min Hyuk about Hye Jin, the prisoner who reported San's abuse. He also tells him Yoo Jung got CCTV footage of the day her Father disappeared. He orders Gwang Soo to find Hye Jin and bring him the CCTV footage. (YES! YES!) Gwang Soo brings Yoo Jung to Min Hyuk's house, Se Yeon is there. Yoo Jung says she has a debt to pay to Min Hyuk AND a debt to collect from Do Hoon. Se Yeon says remain by Min Hyuk's side – because taking out a slug isn't even work.
Do Hoon tells Min Hyuk the only way to come up with cash quickly is to sell the restaurants. Since Se Yeon and the board own more shares than Min Hyuk does, they can do that. Se Yeon turns up at Do Hoon's office asking if he still cares for Yoo Jung? She gets close enough to him to see the pores on his face and tells him to split up Min Hyuk and Yoo Jung. I do kinda love that she's totally using him.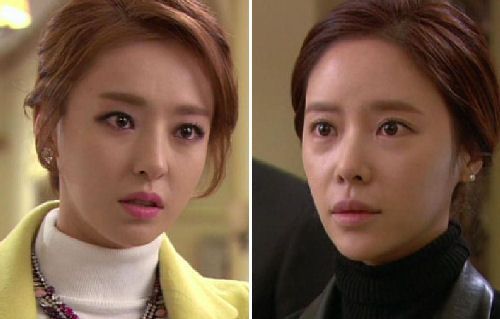 Min Hyuk storms into a board meeting insisting they don't have the right to sell but Do Hoon tells him he shouldn't be there – since he was dismissed, he has no right to attend internal meetings. Min Hyuk grabs Do Hoon but gets thrown out, while Se Yeon watches and smirks.
Min Hyuk meets with Se Yeon and asks her what happened? She throws in his face that he said they weren't friends anymore. He wants her to liquidate her stock and invest. She refuses and tells him to send Yoo Jung far away. She insults his Mother and he tells her never to mention his Mother again.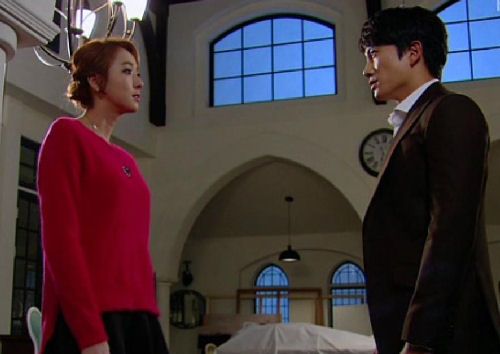 He calls to meet with Jae Ha (the slime ball he hit) but Do Hoon is sitting there too. Do Hoon says they're friends, he's been networking. Do Hoon says even if the restaurants get sold, he'll make sure all the employees keep their jobs – and to please pass that message on to Yoo Jung. (Seriously, flames are shooting out of my ears) Min Hyuk seeks out Yoo Jung.
She's at the restaurant experimenting with sauces. Do Hoon arrives but then hides quickly when he hears the door. Min Hyuk tells her if the board decides to sell, they'll both get fired. Ever optimistic, she says they don't know that yet. She tells him to try the sauce. He stares at her and tells her not to smile at him like that – she'll just end up leaving him too, right? (Awww!) She tells him she won't leave his side until he makes her. He comes closer and closer – and leans down to kiss her.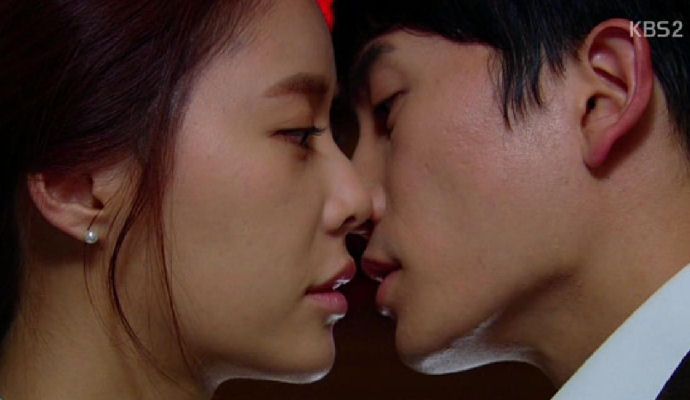 Do Hoon is watching this but ends up leaving so he doesn't see that Yoo Jung turns her head away from Min Hyuk's kiss. She's not ready for that, 팀장님! (Boss) He reaches behind her, sticks his finger is the sauce she made and tries it. (OMO, smexy) He says it's not bad. He gets a phone call, tells Yoo Jung to wait for Gwang Soo to pick her up and leaves.
At home, Min Hyuk meets with Gwang Min who tells him the board decided to sell the restaurants. Min Hyuk asks about using them as collateral to raise money but Gwang Min isn't optimistic. Do Hoon tells Se Yeon he made it harder for Min Hyuk but Se Yeon thinks he's still holding on to something…Yes, we know what (who) he's holding on to. *kekeke*

Min Hyuk watches Yoo Jung sing for a customer to celebrate a birthday. Gwang Soo tells him Happy Birthday and touches his heart as his gift. (LOL) Min Hyuk tells Yoo Jung that Do Hoon is threatening the restaurants so she needs to help him with investors and help him get back what is his. Gwang Soo informs him the black box tapes have been restored.
Do Hoon rushes to the security offices (who called him?) and finds Min Hyuk there. HA! Min Hyuk plays the tape – it clearly shows Do Hoon was driving. Do Hoon admits to being there that night but smugly says this tape doesn't show the accident so it's not evidence. Min Hyuk replies if it's not evidence, why did Do Hoon try so desperately to erase it? Do Hoon gives a tiny smile. *shivers* CREEPY! Min Hyuk is now 100% convinced Do Hoon is the culprit.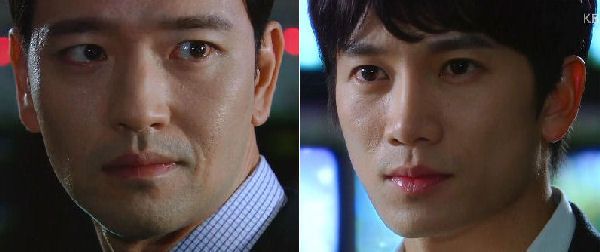 Do Hoon immediately confronts Yoo Jung at the restaurant. She told Min Hyuk, right? He snarks that Yoo Jung won't be able to implicate him. Yoo Jung tells him to protect his position, until she drags him down. *hee* Min Hyuk visits the Prosecutors office and the guy tells him nothing can be done unless they have new evidence. He figures out Min Hyuk is talking about Do Hoon.
Yoo Jung tells Min Hyuk even if she wasn't driving, she was in the car that night so his anger towards her is justified. She's not afraid of anything he asks of her, she's more afraid of smiling at life and forgetting what happened. *sniff* Min Hyuk stands up Se Yeon for wedding photos. *snicker*

Min Hyuk makes Yoo Jung sing Happy Birthday to him while Gwang Soo (adorably) takes photos. Se Yeon arrives, throws her present for Min Hyuk on a table and insults both for being childish. UGH, go away! Yoo Jung is surprised to learn it's really Min Hyuk's birthday. Se Yeon informs Do Hoon that Min Hyuk is meeting with a specific investor the next day.
They arrive at the investors house and Do Hoon is there as part of the legal team. Yoo Jung serves some appetizers and talks about her Dad's bakery – while looking straight at Do Hoon. She shows warmth and sincerity which angers Do Hoon. He snaps at her that this isn't any of her business. The investor believes the rumors that Chairman Jo is ill and decides not to invest. Yoo Jung thanks Do Hoon for letting her be disappointed in him.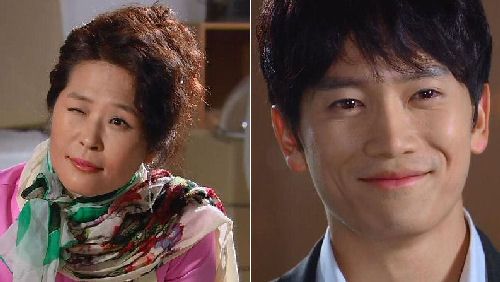 Cute scene of Yoo Jung's Unnies singing to Min Hyuk and feeding Gwang Soo. Min Hyuk calls his step-mother to find out how Chairman Jo is. The next day, Yoo Jung drops off a box of the sauces she made at the investors house. (Smart girl) Min Hyuk discovers Do Hoon had Hye Jin released for vocational training right after she reported Yoo Jung for child abuse. He also sees photos of Do Hoon picking up Yoo Jung's Dad.
Se Yeon plays around with Do Hoon some more, he gets angry and almost kisses her. She tells him if he drags Yoo Jung away from Min Hyuk – she might sleep with him. *vomit* Min Hyuk confronts Do Hoon, asking why he helped the woman who accused Yoo Jung of child abuse? Flashback to little San being taken from Yoo Jung. As Do Hoon walks out, Min Hyuk also brings up Yoo Jung's Dad.

Do Hoon visits his parents, his Mom acts suspicious and won't let him pick up her purse. As she goes to make food for him, Do Hoon stares at her purse. (Ruh oh – will he find San first?) Min Hyuk finds out Chairman Jo is doing fine and will be home soon. He also learns they got the investment. *fist pump* Se Yeon plans a party for Min Hyuk's birthday and hires Yoo Jung as the waitress. This backfires on her as she sees with her own eyes how Min Hyuk feels about Yoo Jung.
She angrily tells Do Hoon that she thought she could have Min Hyuk once Ji Hee died. (What?) She knows he's in love with Yoo Jung. She throws her wine glass. Min Hyuk finds Yoo Jung and drives her home. She thanks him and they stare at each other. *squeals* He goes around to her side of the car and kisses her. She tries turning her head away, she fights him and punches his shoulders…he finally stops and she jumps up to get out of the car.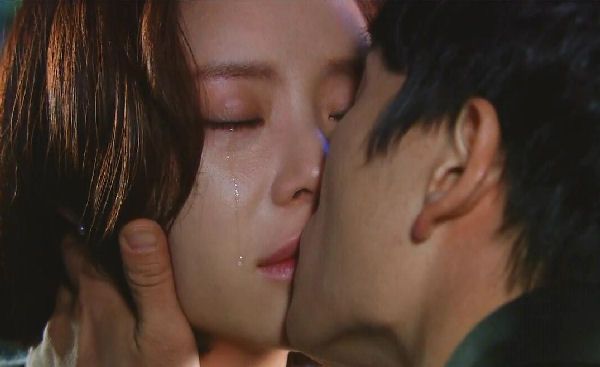 He sits her back down. He slowly gets on one knee, gently touches her face and softly kisses her again. She closes her eyes as tears stream down her face.
Thoughts:
An incredible week, so much happened but we still have things to do. (LOL) Min Hyuk is convinced Do Hoon was driving but what good is that without concrete evidence? He also suspects Do Hoon of foul play regarding Yoo Jung's Dad AND the child abuse story. He needs to start unraveling those threads and quickly. I'm afraid Do Hoon might find San first and use him against Yoo Jung somehow.

It's pretty obvious Do Hoon's Mom is up to something and I think it's all about San – she knows where he is. Has she been going to see him? UGH, I hope not. Maybe she just went to send money to someone to care for him. I'm guessing it won't be long and Do Hoon will be snooping in her purse.
I was under the impression Chairman Jo told Gwang Min to prepare to bury Do Hoon. Did I miss something? Gwang Min hasn't done a thing towards Do Hoon, in fact – he told Min Hyuk that Do Hoon was still an important part of K-group! I'm confused, is Gwang Min not following Chairman Jo's orders? Or is he waiting for Chairman Jo to return first?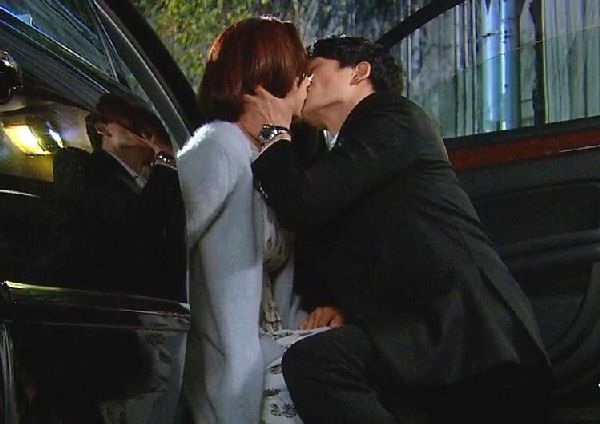 Yoo Jung can no longer have any doubt about what Min Hyuk is feeling towards her but I'm sure she's confused. This is the man who swore to hate her, who couldn't stand the sight of her…suddenly kissing her? I'll bet she has zero romantic thoughts in her head right now – she's concentrating on doing a great job at the restaurant and pulling Do Hoon down from his perch.
I have strong suspicions that Se Yeon intended to harm Ji Hee but she died before Se Yeon could carry out her plan. She seems the type who will destroy ANY woman getting attention from Min Hyuk. And this makes me very afraid for Yoo Jung. Which of this evil pair will attempt to kill Yoo Jung? Can't wait for next week to find out!