I can't believe its the end! This drama is definitely the best thing I've seen this year and I'm kinda upset it's almost over. However, I'm also very curious to see how this rookie-writer decides to wrap things up. I'm crossing my fingers that the wonderful story will continue right to the last moment.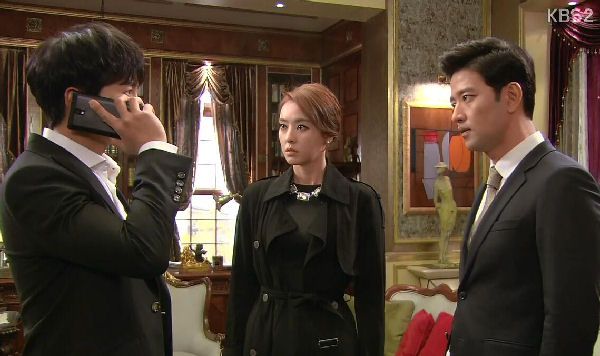 We left off with Do Hoon threatening Min Hyuk and Yoo Jung listening to those threats over the phone. Do Hoon says he will destroy K-group and Shin Hwa both. He's confident Min Hyuk will choose K-group, after all – does Min Hyuk really believe he is different from Do Hoon? He calls Yoo Jung again, asking what she's going to do? Min Hyuk uses his own phone to call Yoo Jung and asks if she trusts him? He calmly tells her no matter what Do Hoon says, to go ahead and do whatever she needs to do. She squares her shoulders and marches into the courthouse. YAY!
Min Hyuk tells Do Hoon they're different and then tells Se Yeon that he's meeting her Father to cancel the wedding. She cries and walks out. Do Hoon starts to follow her but Min Hyuk grabs his arm, telling him it's not bad enough he used Yoo Jung but now he's using Se Yeon? Do Hoon tells him he will regret his decision and whatever happens to Se Yeon is Min Hyuk's fault. Course it is, you never accept responsibility for anything in your life. Do Hoon reminds him he is K-groups successor and if Do Hoon goes down, he's dragging Min Hyuk with him.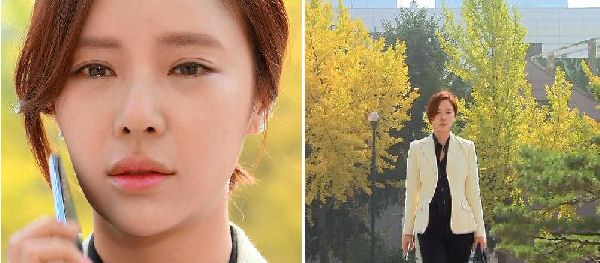 Yoo Jung meets Min Hyuk at the park. He asks if she's okay, she replies yes and asks if he's okay? He hugs her and tells her about breaking the engagement. She has nothing to worry about, she just needs to stay by his side. Do Hoon meets with a new prosecutor and turns over documents pertaining to K-group and Shin Hwa Group.
At home, Yoo Jung's roommate turns off the news before she can hear it – about K-group being in trouble. Yoo Jung turns it on and sees Do Hoon giving a press conference. Min Hyuk rushes to the hospital to find out his Father stopped the news about the engagement. Chairman Jo is angry, yelling for him to stop talking about "that girl". They watch Do Hoon's press conference.


Min Hyuk leaves and is swarmed by the press. He goes directly to Do Hoon's office but is told he didn't come in to work today. He yells at the staff to prepare for a press conference in reply to the accusations. He tells Gwang Soo they need to go meet his brother, they can't leave it like this. Do Hoon leaves his press conference, Yoo Jung jumps into his car with him. He reminds her he said he wasn't going down alone – he's dragging Min Hyuk with him. He taunts her to try making him stop. She tells him to meet her the next day for a cross-examination and he tells her to get out.
She goes home with Min Hyuk following her. When she turns around, he tries to hide and then waves his fingers at her from behind the wall, before peeking his head out. (LOL) They smile at each other but he can tell by her face that she's really worried. He tells her to say that everything will be all right. He holds her tightly and pats her back in comfort.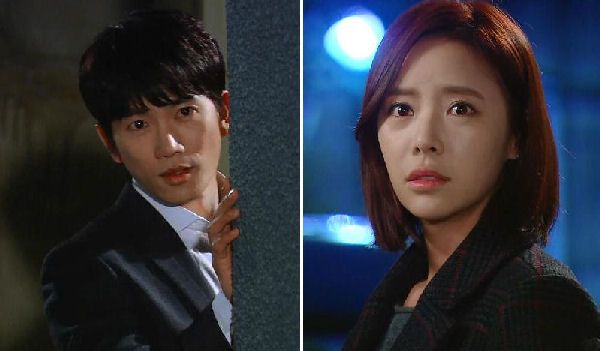 Se Yeon is cleaning her house and picking up pictures of herself with Do Hoon when he arrives, asking what happened. She also has a bloody lip and tells him her Father did it. He wants to stop and asks her to go away with him. HA! He hugs her but she thanks him – because of him, she is marrying Min Hyuk. Do Hoon is shocked and releases her. She smiles at him. Why has no one figured out Ms. crazy-pants yet and called her on her crap?
Step-Mom orders Min Hyuk to tell Chairman Jo he will do the wedding. Min Hyuk argues didn't his Dad leave his Mom for her? She corrects him. No, his Mom is the one who brought her into this house. (WUT?) His Mom was not happy and wanted to leave so she asked Step-Mom to take care of them for her. Oh, great – dump some last-minute guilt on him. *sigh*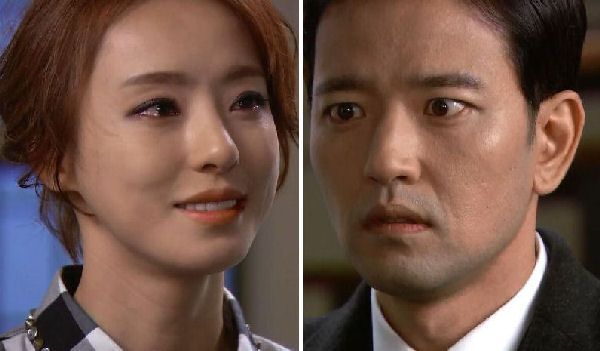 Gwang Soo shows up to escort Yoo Jung to court. In his statement, Do Hoon says he picked up her Father but he disappeared. Yoo Jung brings up the ID bracelet – that Do Hoon put it on her Father, he couldn't take it off himself and the bracelet disappeared. Do Hoon tries to say Yoo Jung was at a club, drinking. She counters that her Father was lucid that day.
Do Hoon tells her she's wasting her time but she intends to keep going until he admits what he did. She leaves. The Prosecutor appears and tells Do Hoon he warned him that Min Hyuk isn't such an easy person. Do Hoon says Min Hyuk is the one who did wrong, not him. (Oh, okay) He tells Do Hoon he will be in charge of the re-investigation of the hit & run. HA!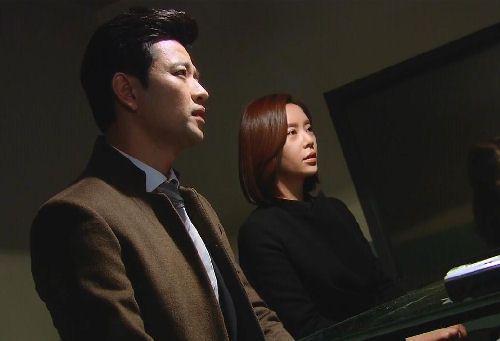 Do Hoon hears a news report that Min Hyuk is accusing him of embezzling 65 million from K-group. He meets with Min Hyuk saying he's not worried, he has nothing to lose anyway. He says again that Min Hyuk should go down with him. Min Hyuk just smiles at him, which seems to infuriate Do Hoon more. He admits he was the one driving when Ji Hee was killed – Min Hyuk stops smiling. He asks if Min Hyuk wants to record him or should he say it again? (OMO, he's truly evil) Min Hyuk says he had hoped for Yoo Jung's sake that Do Hoon wasn't such a worthless human being.
Chairman Jo tries to get out of bed to stop Min Hyuk from destroying the company. He tells Min Hyuk that they need Assemblyman Shin (Se Yeon's Father) and then proceeds to dump MORE guilt on him about his Mom. *pulling out hair* On top of that, Step-Mom drags Yoo Jung to the house again to guilt her into letting Min Hyuk go. Yoo Jung begs her to take care of Min Hyuk and leaves. No! No, no, no, no! She calls Min Hyuk to meet her at her Father's grave the next day. *throws things*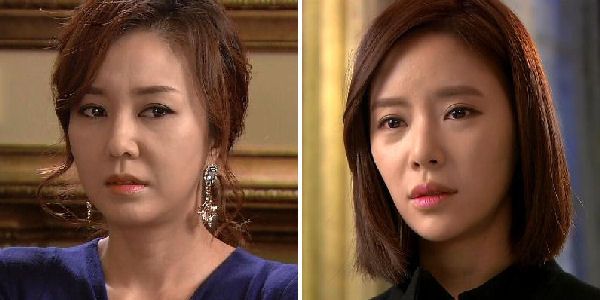 She talks about not being with her Father when he died, she regrets that it happened because of the person she loved. She tells him he can't abandon his Father but he insists she not say another word. *yanks out handfuls of hair* Why with this noble sacrifice crap now? She doesn't want to live being sorry to others anymore. Min Hyuk yells out his own annoyance. (LOL – I so totally agree)
Do Hoon arrives at Min Hyuk's office. Min Hyuk pulls out the files and recordings and orders Gwang Soo to destroy them. Wait…WHAT? He's giving up? Just like that? Do Hoon smiles and then …laughs this horrible creepy laugh. *chills* When Yoo Jung goes out, Min Hyuk is there. He asks her to play with him, just for today. *sigh* Here comes the good-bye scene.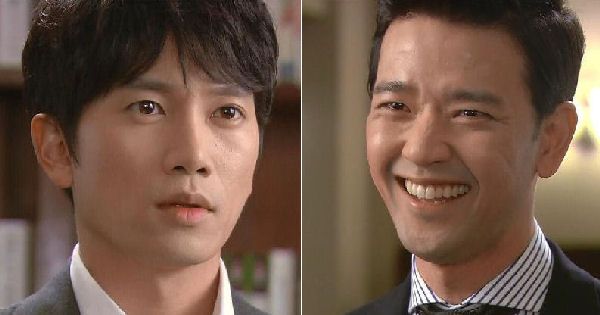 They drive out to a countryside temple. She prays but tells him it's a secret – what she prayed for. They travel to an open market and buy food, holding hands. She cooks and feeds him. He doesn't want to leave, she agrees they should stay until tomorrow. He kisses her, somehow they end up in the bedroom. He undoes the buttons on her shirt and kisses the scar on her shoulder.
They sit up in bed, Yoo Jung reading from a book out loud. He wants her to keep reading, she tells him to read the rest after she leaves. She cuddles up next to him, he closes his eyes. When he opens them again, it's morning and she's gone. *sniff* He reads from the book but it's Yoo Jung's voice we hear: "A human being, without a person to love, cannot live". He breaks down into sobs, crying.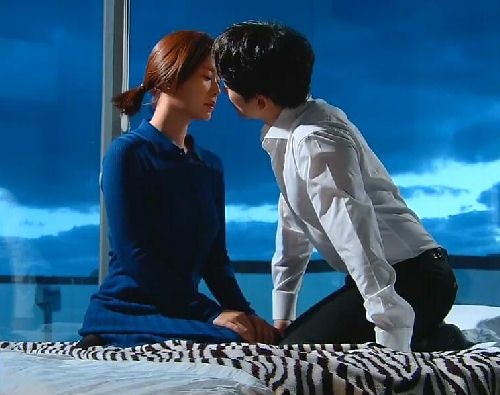 Se Yeon is waiting for Min Hyuk at the wedding studio again. When he doesn't show up, she starts throwing things but he finally walks in. UGH! The press are gathered outside Do Hoon's parents restaurant, asking about the 65 million he embezzled. Do Hoon is waiting for Se Yeon when she gets home, she thanks him for making Min Hyuk and "that woman" break up. Do Hoon asks if she's satisfied and she says she has to possess Min Hyuk, just once. HA! That won't happen, trust me babe.
Yoo Jung quits her job and sees a newspaper photo of Min Hyuk's engagement as she passes a stand. She goes to Do Hoon's parents restaurant. His Dad tries to get her to go outside to talk but she refuses. His Mom starts badgering her to leave when Yoo Jung brings up her Father and the fact that Do Hoon abandoned him. His Mom accuses her of making things up. Yoo Jung cries, calling her "Ajummoni" instead of "Mother". His Mom drags her into a hallway.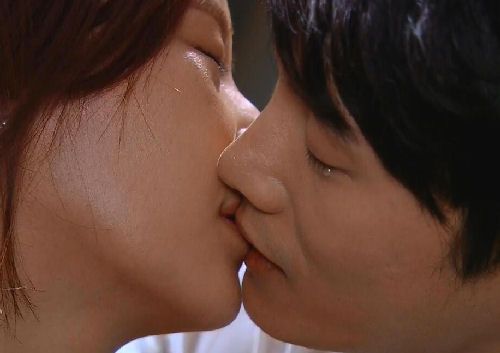 Se Yeon arrives at a hotel room with Min Hyuk, telling him to cancel the honeymoon since she has no intention of going. He asks if she finds this fun? Because he doesn't. She tells him coldly that they didn't get married for fun and asks him to leave so she can change. He tells her to rest and leaves. Ahahaha. This is wedded bliss, I can tell she's so happy now. Pfffttttt.
Yoo Jung yells at Do Hoon's Mom – does she still think Yoo Jung killed someone? Mom calls her grotesque, how dare she come here and cause this ruckus? Mom thinks she's lost her mind when Yoo Jung tries to guess how much time Do Hoon will get for killing someone by a hit & run and for abandoning her Father to die.  They fight with Yoo Jung yelling out the truth about Attorney Ahn Do Hoon. Do Hoon arrives, his Dad chases the reporters outside again.

Yoo Jung throws his Mom to the floor and she suddenly blurts out San's name. She asks Yoo Jung if she wants to see him? Yoo Jung turns to stare at her in disbelief, her face turning pale. Do Hoon also stares in shock. Yoo Jung softly says how dare she speak of San so carelessly? Mom brings out pictures of San. Yoo Jung looks at them and cries while both Do Hoon and his Dad watch.
Mom says she did it for both Yoo Jung and Do Hoon's sake. The child is being brought up well. Yoo Jung asks how she could do such a thing and then screams at her to give San back. She starts hitting Mom, screaming and crying. Do Hoon holds her back while Dad looks mortified. I cannot believe everything these horrible people have done to Yoo Jung.


Yoo Jung goes to see San, he comes out with his adoptive Mother. He kicks a ball towards Yoo Jung and as he runs to get it, Yoo Jung grabs him and hugs him. Adoptive Mom freaks out, takes San's hand and runs. Do Hoon arrives to stop Yoo Jung but she screams and hits him. He says he didn't know, Yoo Jung slaps him – screaming look what he's taken from her! She falls to the ground, sobbing.
At home, Yoo Jung tells her Unnies that San didn't recognize her and cries. They make a plan to find out who signed the death certificate. (Good plan – because that was forgery) Do Hoon comes home to confront his Mom, she tries to explain she met the adoptive mom at the sauna and she couldn't have kids…but Do Hoon cuts her off, yelling. Mom starts berating Do Hoon about how he couldn't raise a child, blah, blah – when the cops show up. AHAHAHA!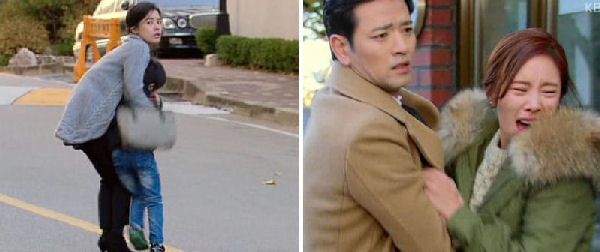 The cops ask about her paying someone to fabricate a death certificate? AHAHA, I'm dancing. She tries to defend herself, saying she did it for the child but the cops aren't interested. They drag her out of the house with Do Hoon's Father begging him to do something. What? So all this time, I've been feeling bad for Dad but he's just as horrible. Pfffffttttt.
Min Hyuk arrives at his office to find Gwang Soo waiting for him, he tells Min Hyuk that Yoo Jung's son is alive. Min Hyuk is shocked. Yoo Jung visits Mom in jail (LMAO) and asks if she thought Yoo Jung would forgive Do Hoon if San was alive? Mom tries making excuses again but Yoo Jung tells her to suffer – watch Do Hoon rot in prison. She tells her to suffer and walks away. *does a victory dance*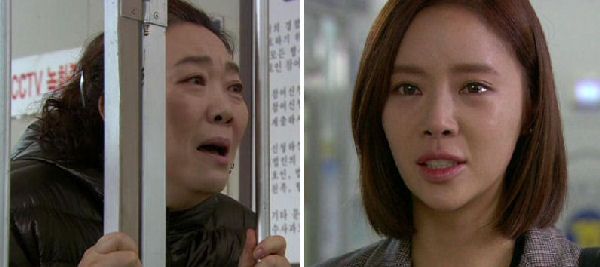 Adoptive Mom begs Yoo Jung not to take San from her. If she had known Yoo Jung was alive, she would have searched for her. (OMG, that cow lied that Yoo Jung was dead too?) She crawls forward on her knees to grab Yoo Jung's hand, pleading and crying. This is so horribly sad! Yoo Jung says she can't give up on San. They hold hands, both crying.
Yoo Jung visits San's bedroom at his adoptive parents and sees photos of him with these people as a family. She asks for the blanket she made – with stars and a moon. Adoptive Mom gives it to her. San arrives home asking who is that Ahjumma? Adoptive Mom and Yoo Jung both start crying. Yoo Jung leaves, telling Adoptive Mom she will see her at the trial.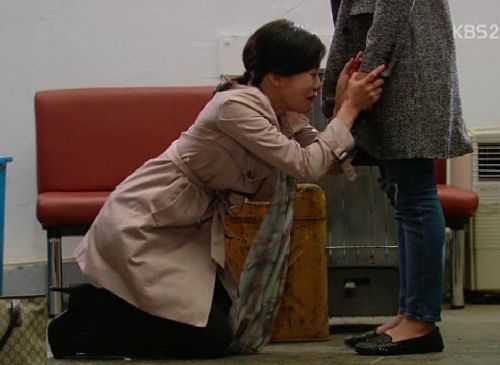 Do Hoon meets her outside. Min Hyuk is sitting in his car watching, when he sees Do Hoon, he drives away. Yoo Jung talks about San, upset that as his Mother – she doesn't even know what he likes or how he grew up. Min Hyuk arrives home to see Se Yeon doing paperwork for the gallery. He tells her she should just go back to painting. They both cry as he hugs her. BLECH
Yoo Jung watches San with his adoptive family at the park. Adoptive Mom brings him over to Yoo Jung, she bends down and smiles. Do Hoon arrives and watches. San asks if "Ahjumma" came again? Yoo Jung tells him she's "Aunt". *sniff* She tells him to go play and drops his hand. He almost crashes his bike into Do Hoon, who catches him. San looks up and says "Thank you, Ahjussi".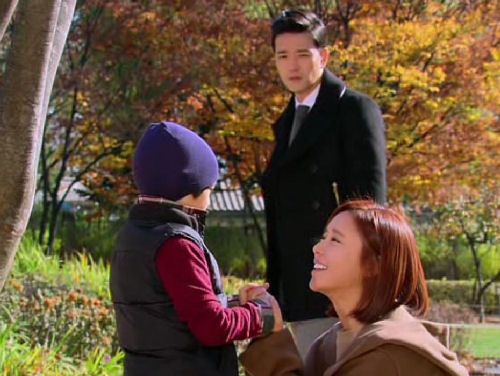 Yoo Jung tells Do Hoon to look closely at what he took from her – look at what's he's missed out on in his life. Do Hoon tears up as Yoo Jung says abandoning a precious thing, look at what has become of them. Do Hoon falls to his knees and breaks down into huge sobs of remorse, telling Yoo Jung he is sorry. *sobs right along with him* She leaves him sobbing on his knees.
Yoo Jung tells Gangster unnie that San being happy is enough, she couldn't take him away – he would feel the pain she felt when he was taken from her. She says Adoptive Mom told her he cried all the time when they first got him and wouldn't eat. *sobs harder* So how could she do that to him again?


Se Yeon tears up the marriage agreement and gives it to Min Hyuk, telling him they should call it quits. Min Hyuk turns over all his shares to her and tells his Father to appoint Gwang Min President. He asks to be assigned to the toughest place in K-group. Gwang Soo gives Yoo Jung the deed to her bakery. She tries to refuse it but Gwang Soo tells her Min Hyuk insisted and he's leaving today.
Yoo Jung races to the airport and rushes around, searching for Min Hyuk. She finally sees him and they stare at one another. As they walk towards each other – they end up walking right by each other? Okay, I'm not understanding this scene at all. Did they just need to see each others faces? Someone better explain. (LOL)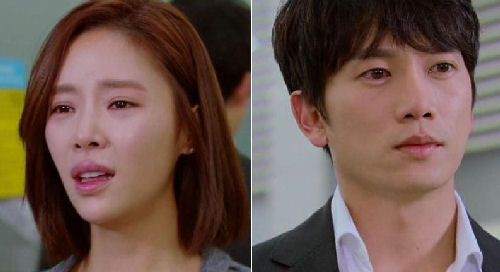 Do Hoon meets up with Se Yeon, she wanted to see him before she leaves. He informs her he's to be indicted, he's the one who killed Ji Hee – not Yoo Jung. Se Yeon tells him no, she's the one who killed Ji Hee. Flashback to Se Yeon meeting with Ji Hee,  (OMO! I KNEW IT!) who tells her she's pregnant. Se Yeon says they will keep the child. She threatened that Chairman Jo would never let her have the baby and told Ji Hee to disappear, forever.
Se Yeon tells Do Hoon she's sorry he was in the wrong place at the wrong time. Do Hoon admits he killed Ji Hee, no one else. She thanks him for never releasing the Shin Foundation files. So …wait, do you mean he protected crazy-pants until the end? Idiot. He walks up the courthouse steps, removes his Bar Association pin and goes inside, turning himself in.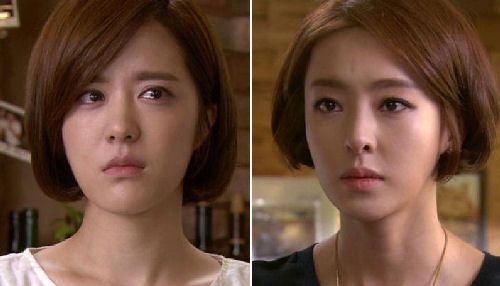 Do Hoon sits in court, admitting to kidnapping Yoo Jung's Father and the hit & run. Flashback to the day it happened – we see Do Hoon getting out to mess with the broken wiper blades as  Gwang Soo passes him. Chairman Jo orders someone on the phone to bring "that child" to him. (Meaning Ji Hee) Ji Hee sees Gwang Soo and runs from him, possibly believing he was sent by Chairman Jo? A truck almost hits her, the same truck that almost hits Do Hoon and Yoo Jung.
The car swerves to avoid hitting the truck and slides across the road – right into Ji Hee. So it was an accident but the fact remains that Do Hoon saw Ji Hee and didn't call for help. Do Hoon is sentenced to prison. Yoo Jung reopens the bakery. Min Hyuk returns and visits Gwang Min is his new, enormous office. Min Joo arrives and escorts Gwang Min out. Min Hyuk asks a smiling Gwang Soo what's going on between those two? Gwang Soo admits they're dating. LOL!

Gwang Soo gets a text message and calls someone to say "Oppa will be there soon" Min Hyuk guesses he's dating now too? LMAO! Step-mom frets to Chairman Jo about the age difference between Min Joo and Gwang Min. (Yea, about that?) Do Hoon gets a postcard from Se Yeon in prison, it's her painting. Okaaay, that's kinda creepy.
Yoo Jung is with her Unnie's at the bakery, Sandra is pregnant. (LOL) Gwang Soo arrives and plays cutesy-fingers with Hae Ri, who he's dating. Sandra goes into labor so they all rush her into a car. When Yoo Jung goes back inside, Min Hyuk is there, eating bread. He didn't come to see her, he only came to find out what she wished for at the temple? (Righttttt) She says it's a secret because once she lets him know everything, it won't be any fun and she knows President likes to have fun.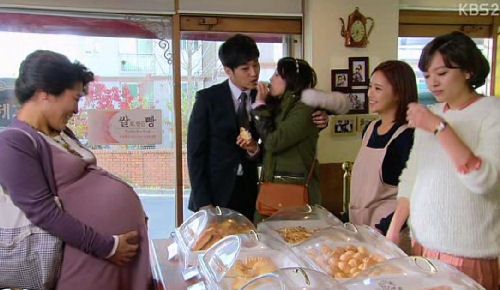 He grabs her, picks her up and sets her down on the table. *squeeeee!* She won't tell him the secret so that President will keep looking for her. He tells her he's not the President anymore so to call him by his name. She does but he makes her call his name over and over. She finally just grabs and kisses him.
Thoughts:
I know some where frustrated with "too much San" in this ending but I loved it and felt like it needed to be dealt with. We all had suspicions that Do Hoon's horrible Mother had done something with San and we were right. So proper closure to that part of Yoo Jung's life was needed. I also admit I was more moved by scenes between Yoo Jung and Adoptive Mom than anything else. It once again shows us what type of person Yoo Jung is and why Min Hyuk was able to discover she's not a person who would leave someone injured on the road. It's why he fell in love with her – because of the kind, selfless, caring person she is.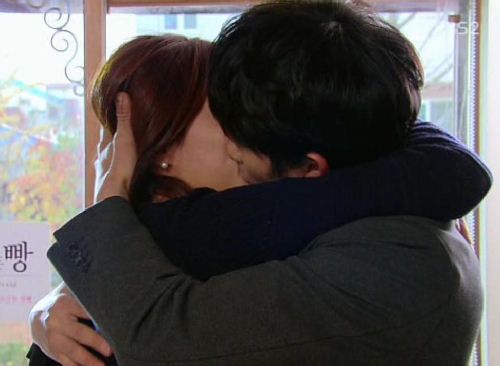 It also made sense to me why she couldn't claim San. She went through that very pain herself when he was taken from her plus she learned how much pain he had been in when he first arrived at his adoptive parents house: he cried and wouldn't eat. She knew, deep in her heart that the same thing would happen again if she removed him from his home. She couldn't do that to him and I applaud her decision. It's too bad more divorced parents don't realize the pain they inflict on children by using them as pawns or fighting over them when what they really need is stability.
I'm a bit perturbed that Se Yeon seemed to get away with everything but I had to remind myself that she never really "got" Min Hyuk. (small consolation) It also angered me that she was able to scare/threaten Ji Hee and Min Hyuk never knew. I am glad Do Hoon realized exactly what he had given up and felt extreme remorse. I'm also glad he admitted to everything in open court and is paying for his crimes. I would have liked his Mom to also be shown in jail but I have to assume when Yoo Jung walked away – that Mom was found guilty and is serving time. Of all the bad people in this drama, she's the one I wanted to smack the most.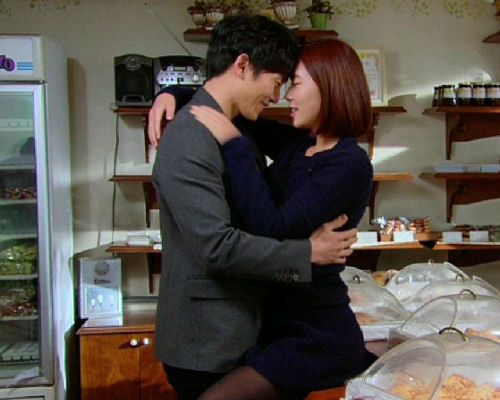 I loved the ending, I loved that Yoo Jung re-opened the bakery. I also loved that Min Hyuk turned over his Presidency to Gwang Min. It was clear, even at the very beginning that Min Hyuk wasn't interested in running K-group so I'm glad he and his family accepted that. And what about that kiss? *kekeke* Amazing! Let me know how you felt about the finale!