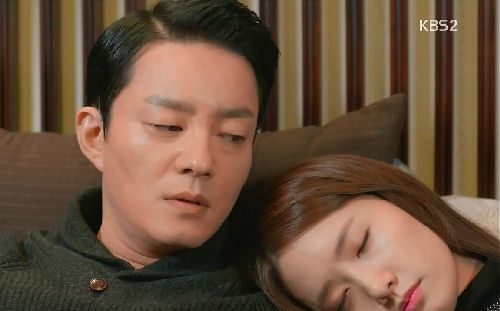 So you already know that I had to be talked into watching this and my reasons for not wanting to watch were fairly lame. I'm back to confess once again how wrong I was. (LOL) We only had one episode this week but it was so much fun! A pivotal episode where both our leads seem to be aware they're falling in love. *squeeee*
Da Jung tries helping our Prime Minister sleep by reading to him but she falls asleep – and plops right onto his shoulder. However, she wakes up when he tries to move her into a comfortable position and accuses him of being a wolf. (LOL) He also doesn't like her using his bathroom, especially when she waltzes out in a bathrobe with wet hair.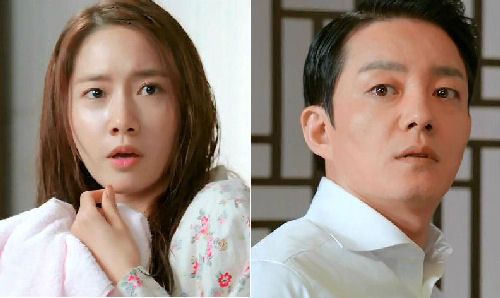 Uncle Jung-Ki plots to have an important cabinet meeting cancelled by bribing other Ministers not to show up. Chief Kang calls Da Jung, asking her to delay Yool until they can gather everyone. So how does she delay him? By attacking him and even pulling his butt to stop him. Ahahaha. The housekeeper catches Da Jung on top of Yool.
It doesn't work, he arrives to discover most of the Ministers are not present for the meeting. Hye-joo tracks down Jung-Ki, being fully aware this is his doing and slaps him – telling him she finds him pitiful. Yea, I just find him a bit disgusting for continuing to hit on another woman when he's married. UGH.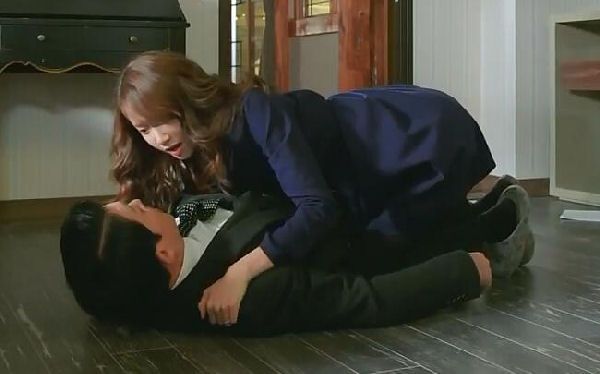 Yool comes home and hears piano sounds, which he follows the his late wife's private room. There he discovers Da Jung playing the piano for Na-Ra and Man-Se. The kids run out, trying to blame Da Jung but it seems to send Yool into a spiral of memories of his late wife. He ends up taking sleeping pills again to help him sleep and passes out in his chair – which is where Da Jung finds him. She panics, and slaps him over and over until he puts his hand up to protect his face. LMAO!
Da Jung finds him lost in thought and invites him out for a drink. They're caught by Scandal News reporters and chased, which leads to Yool grabbing Da Jung's hand as they run. *hee* Chief Kang brings Da Jung a late Christmas present and tries to discourage her from "trying too hard" with Yool and his family. UGH, I already think this guy is up to no good – now he's trying to get in between our OTP? No, just no.


Da Jung offers to read Yool to sleep again but he refuses and finally says something about her "messy" behavior. They argue (cutely) and agree to sleep in separate rooms, she bunks down with Man Se. He tries reading and it works – he falls asleep. *hehehehe* He confronts the Ministers who skipped out on the cabinet meeting and informs them he's moving forward. HA! So that little stunt isn't going to stop his agenda.
Hye-Joo tries to cause problems too by implying Da Jung dragged him out for drinks and the reporters know about it but Yool puts her in her place: it was his decision and what's wrong with a couple having drinks? She snaps at his reference to "couple" and flat-out accuses him of thinking of Da Jung in a special way. And…why is that your concern? Oh, that's right – you've been in love with him for 20 years. MOVE ON!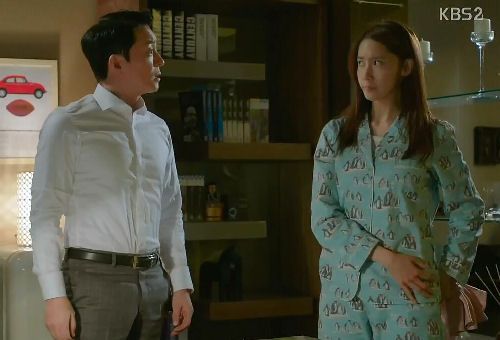 Da Jung discovers Woo-Ri has a Smart Phone and that he has a performance with his band that night. When she asks about the phone, he yells at her to stay out of his business – which is right when Yool walks in. Woo-Ri runs out and Yool confronts Jung-Ki since he's the one who gave Woo-Ri the Smart Phone and warns him. This slime ball! Is he really using the children to help him destroy their Father? Yool rather harshly tells Da Jung to stay out of it, she's not their Mother nor is she his Wife. OUCH!
Da Jung shows up at Woo-Ri's performance to stop him from running away but he also yells at her that she's not his Mother, why is she interfering? He takes off running but Da Jung chases him. Right as she's about to get hit by one of those famous white trucks in Korea – Yool grabs her back and they fall to the ground – staring at each other.



Thoughts –
After watching this episode,  I realized why I think it's the best one yet. Because not only is Yool softening towards Da Jung, he also seems to be realizing how much of an impact she's having on his life and the lives of his children. He's becoming aware of her caring nature, her good intentions and can't take his eyes away from her smile. Da Jung is also suddenly realizing why she's "interfering" so much in his life.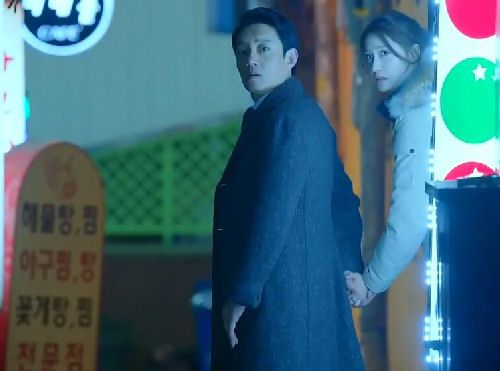 I'm still in shock at how much I love this couple. I'm wondering if Yoona looks so comfortable with Lee Beom Soo because he's older, he's married with children and he's doing a great job of making her feel comfortable. These two just SPARKLE together. Whatever it is, I've never seen Yoona totally killing a performance like this – I fully believe these two characters are in love! Excellent work by both of them.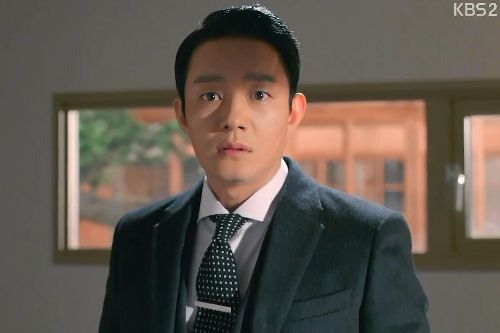 It looks like we might have a kiss coming up next week? But it also appears both Chief Kang and Hye-Joo are going to continue trying to STOP our OTP from falling in love. I can't wait! I'll say it again – if you've been hesitating with this one because of the age gap, I can almost guarantee you'll be rooting strongly for this couple at the end of this episode.