It's another discussion!
This time, it is going to be with a resident author here in CK that needs no further introduction. If you are a fan of Couch Kimchi, you know her by heart. We are nothing without her witty and fun recaps. With that in mind, I can't think of anyone who is going to show us a clear prognosis of the Second Lead Syndrome. She keeps me sane in the world of Korean dramas, or dramaland in general. She knocks me out of dreamland and bring me back to reality. I love her for this.
Honestly, this has been long overdue. But here in CK, it's never too late to share 🙂 Join msclockwatcher and I as we fall in love, wear our thinking caps and take a look at Second lead guys. Why do most viewer prefer to love the man who will never, ever get the girl??
More questions starts.. now!
Leila: What's up?! GOOD MORNING!!
Clock: Good evening to you! 😀
Leila: If you are ready, I'd break the ice. Have you ever shipped for the second lead or you always know from the get go, "This guy won't get the girl." 
Clock: I've definitely shipped the second lead thinking he'll get the girl. An example would be Last Cinderella. At first I thought he was the second lead but shipped him anyway. But then he got more screen time at the beginning so I thought he'd definitely get the girl but then he didn't. 🙁
But there are other times I know he's not getting the girl but still pray for a miracle like I Need Romance. But in most cases, I know he's not getting the girl but still ship him because I like their relationship. An example would be Hana Yori Dango.
Leila: Hana Yori Dango is the original of Boys Over Flowers (BOF) right?? My first Korean drama was Lovers in Paris and Lee Dong Geun was the guy I fell for. I was sad he didn't get the girl but when he turned evil, I took noticed of the main lead. I hate when a second lead starts to do everything just to breakup the OTP.
Clock: Yes, it's the Japanese BOF. I sometimes understand why they make the second lead evil because it generally ends shipper wars and gets everyone to support the lead. But I think in general, Korean dramas are moving away from the evil second leads or maybe I think so because I don't watch as many melodramas these days.
Leila: Yes I'm happy that drama nowadays don't use that anymore. I love when a drama does not use any villains. Just like in Coffee House or in I Need Romance 3, Sunbae really has my heart now..
Clock: Ah, Sunbae. I'm sticking to my guns and refusing to ship him because the INR series is the worst when it comes to making us suffer from SLS (Second Lead Syndroome). I think you've had similar experiences to mine, right? Like the difference between shipping Pil Joo in Greatest Love and Chil Bong in Reply 1994. Do you think you ship based on the characters you're attracted to or because you think they'll end up with the lead female? 
Leila: You know in general Pil Joo and Chil Bong are my ideal type. Let's set aside the actors playing them, having their character will definitely have my heart.
I always notice first the chemistry with the female lead before choosing. Usually I start to ship them when I can see the spark. Like with Chil Bong and Na Jung's ramyeon scene in Episode 4, that's when I took notice of them. Another was when Pil Joo gave that rose during the dating contest.
Clock: And when you shipped them after noticing this spark, did you think that they'd end up with the lead?
Leila: No I have to see more evidence of course. But the difference between shipping Pil Joo and Chil Bong is, I know Pil Joo wouln't end up with Ae Jung, I feel that too with most second leads. Chil Bong is a different story. He just seemed to prove me that he'd be the one breaking the second lead cliche. And we know, I made a mistake there.
Usually second leads are noticeable just like Jin Rak in Flower Boy Next door. But I still fall for second leads because they are just too lovable, and honest, and sweet, and perfect.. and good looking.. *delusional*
Clock: Oh, Jin Rak. He was very obviously a second lead but I couldn't help but prefer him to the lead. I think that was one case where my love for the second lead affected my overall enjoyment of the drama. Although when I really think about it, my lack of love for the lead was the real culprit. Those are different things, I feel. I've definitely fallen for the second lead yet loved the lead couple like in My Girl.
Leila: I love Jin Rak more than Enrique but I know the story will just go with Enrique's arc. Kim Ji Hoon's chemistry with Park Shin Hye is amazing! They look better together. Just that the story presented otherwise.
Clock: I have a Kim Ji Hoon bias but Enrique was a little too hyper for my taste. What I noticed these days is that even if I'm not shipping the second lead, when the main couple starts getting tiresome because they constantly have to do silly things to stretch the romance over 16 or 20 episodes, I suddenly find the second lead more interesting. And that's when I start shipping the second lead male with the second lead female. Has this ever happened to you?
Leila: No, I haven't experienced that. Not until Master's Sun, that is.
Clock: Unlike most people, Kang Woo and Yi Ryung were my main ship in that drama. We mentioned Pil Joo earlier, right? While you were shipping him with Ae Jung, I wanted him to end up with Se Ri. 
Changing gears a little, does having second lead syndrome sour the drama for you? Does what others might think of as a stellar drama become less so when the second lead doesn't end up with the lead?
Leila: I mostly fall for second leads but often accepts the main lead when I have seen their love for the heroine just like what happened in Greatest Love. However, the second lead will always have my heart still. It happens like that, especially now that I'm writing I became more open. Though in Greatest love, the second lead syndrome really left a bad mark! I just love Pil Joo more.
But in Answer Me 1994, accepting what happened to Chil Bong was the hardest but the story in general was so good, it didn't left me with a heavy heart. Having said that, Chil Bong is still a very memorable character in my Korean drama heart.
Clock: I also think the second lead can leave a special mark in your heart because they are often more loving and attentive than the male lead. But I think that dramas are moving away from that a bit. I think there was a time the male lead would torment or hurt the female lead and the second lead would be a shoulder for her to cry on. Someone who'd give her support but since he's a second lead, he can't confess his feelings and by the time he's finally ready to do so, she's in love with the male lead. I think an example of this might be You're Beautiful. Or maybe you can think of another drama that fits the bill?
Leila: Shining Inheritance fits your description! I love Bae Soo Bin there because he is like that! That's why second leads are noticeable because they are the usual "shoulder-to-cry-on" and when they are like that, they remain in the friend zone for the female lead. *sigh* I think when the Male lead torments or bicker with the female lead, its like a way of getting the female lead's attention. Most girls fall for the bad guy persona, then he will change to be better because of the female lead. It seem that most stories in the past have this transition.
That's why now that I'm writing I always hope writers will break the cliche already. I have to agree with you, I noticed that writers are moving in a different direction now.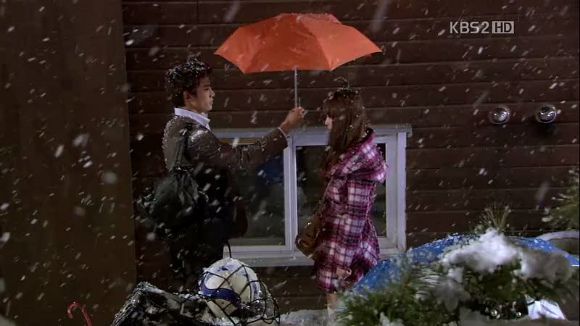 Leila: You know, I thought what I felt for Sam Dong in Dream High was the same with Chil Bong! I thought in Dream High, Jin Gook was the main lead at first. But my stubborn heart just wants Sam Dong.
Clock: Sam Dong versus Chil Bong. With that one, the writer sent Jin Gook away so that Hye Mi and Sam Dong could grow closer. But the opposite happened in Answer Me 1994. Even though Trash and Na Jung were already very close, Chil Bong was the one sent away. The writer simply refused to build up their relationship which can hurt when you're hoping for something else.
Leila: Well Writer Lee stood by her original plan. She really wants Oppa for Na Jung, period. The writer completely made use of the husband mystery just to mislead the viewers but the story is all about Oppa-NaJung and Chil Bong was meant to be on the side. However, the writer made Chil Bong so honest, it felt surreal to have a guy like him. But we hoped, because he hoped. He will always have the heart of viewers who yearns to have a love the way he showed it.
Clock: That's what happens when a character steals your heart – you want what they want. When they cry, you cry. When they laugh, you laugh. That's when you know you've really fallen for a character.
I think these days, we're moving away from ridiculous leads who only start treating the lead well halfway through the drama after acknowledging their love. So it's harder to just support the second lead because he's a nicer person since they are both nice.
Leila:  Reply 1994 fits that description. You know Oppa and Chil Bong are amazing guys! When I look at Oppa, I know that he's genuine and would make an amazing husband. I think watching Reply 1994, Jung Woo's love as Trash is more felt than seen. It was difficult to get on board his side and see his love when I'm already falling hard for Chil Bong. Chil Bong's love is more evident, more profound in a way. The story presented Oppa's love differently and I was blind not to notice it at first. Both of them are amazing! If Na Jung's heart is the type that wavers, I think choosing between them will be a dilemma.
Clock: Spoken like someone with passionate SLS! Since I didn't suffer from the syndrome with this drama, my feelings are different from yours. Regardless, unlike for some of the audience, Na Jung's feelings for Trash weren't a response to his feelings for her. Which is why her love didn't change even when she didn't think she had a chance. It was a different scenario with Heirs. Both guys had their jerk sides but the second lead was very ridiculous yet he had many supporters before he revealed his softer side. What do you make of this? A situation where the second lead is by far the nastier character yet tons of girls have Second Lead Syndrome?
Leila: Kim Woo Bin surely has many supporters so he will be loved in any way! LOL.
Clock: Hahaha. So you think Kim Woo Bin is the reason Young Do has a lot of fans and not the other way around? I think I'm a bit allergic to bad boys so I generally don't like characters that are mean to the lead. Well, unless it's because they are mean to her because they can't deal with their feelings or are running away from them like Han Kang in 49 Days.
Leila: I know that clock!! You resent bad guys just like Ding Li Wei in In Time With You. Han Kang in 49 days is a timid character. Second leads have a gene pool of loving a lead behind their back. Just like Moon Jae Shin in Sungkyunkwans Scandal. Han Kang was always just watching over like that too.
Clock: So in general, while I understand why some viewers love the story of the love of a good woman changing a bad guy, I dislike it because I don't think it's very realistic. But this is common all over the world and not just in Korean dramas. A lot of the audience and lead find the sweet, kind guy boring but are attracted to the other guy because all the bickering and fighting indicate passion. I'm sure this would have happened in In Time With You if the leads' relationship wasn't well established before Li Wei showed up. And even then, Li Wei still had supporters because their relationship was quite passionate. I suppose this explains why the nice guy characters are second leads.
Leila: Here's what I think of the second lead syndrome. The writers make them so lovable, so charming, so perfect that even if they don't end up with the female lead, most viewers have his heart. Like what Yoo Yeon Seok said in an interview, "in general woman really fall for a man who only has his eyes for his woman." All second lead seems to have that persona, right? So who wouldn't fall for that?
Clock: In a world filled with disloyal men, it's no surprise that women fall for a guy with an unwavering heart.
So I think all in all, the second lead can get you if they are the type of character you like and perhaps they reflect the kind of story line you enjoy or the relationship that you want for yourself. So while the spark between the second lead and the male lead might attract you to them, your decision to root for the second lead or lead might be more reflective of the kind of relationship you want and not what the lead wants.
Leila: I think the syndrome will always be present especially when amazing actors play the part of the second lead. They will always have the sympathy of the viewers having the love that most of us wants to experience. Audience tend to put themselves in the story so its natural to feel empathy. One will be on a specific team based on what they want to have. The team you are in reflects the kind of man a viewer loves.
Clock:. Which is why I like the current trend of pairing the second lead with someone else. Even if it's just a hint like in I Hear Your Voice, All About My Romance or Monstar. A character experiencing unrequited love might be memorable but if you're rooting for the second lead, you don't want him to stay miserable.
Leila: Clock I think the writers now wants the second lead to be happy. They are the people who deserves to be happy especially having gone through a heartache. 
In Master's Sun, I know Seo In Guk won't end up with Gong Hyo Jin. And he deserves to be loved! So it was nice to see him love another who loves him dearly. It feels great to see the lead, second or main get the love they deserve in a story.
Clock: Yes, Leila, I also hope we have more stories where the second lead finally finds love and not just at the end with a random no one has seen (like in The Last Scandal Of My Life). I appreciate those because we see that they will move on but I prefer that he or she also gets a nice romantic arc where they find love. And I'm talking about the nice leads. The evil ones deserve loneliness. LOL
Leila: Touche!
Clock: Evil second leads can go and die in a corner but the nice ones are often reflective of the viewer's personal ideal love. So we stop thinking about what the character wants but what we want for her.
Leila: That is so true. The second leads have the exact persona most woman wants. When they share an amazing spark with the female lead, everyone will start to root for them naturally. Just like Lee Ki Woo in Flower Boy Ramyun shop. Isn't he amazing especially when he calls Eun Bi "wifey". Who wouldn't love to hear that??
Clock: I never saw Flower Boy Ramyun shop but I think many people were happy when they ended up together in real life. That kind of ending soothes a shipper's heart!
Leila: Because Lee Ki Woo has the spark with Lee Chung-ah!! It was a very special spark 🙂 Jung Il-woo was the obvious main lead in that story. So it was nice to hear news like that. Another good example is Ji Sung and Lee Bo Young. They really ended up together for real. Though I didn't get to savor their chemistry in Saved The last Dance since Eugune and Ji Sung's chemistry was amazing there.
When we watch a drama, we see a different view. Everyone has their own likings hence the shipper wars. Most viewers are passionate about sharing their opinion. I totally get when they express the kind of love they want to see happen. Isn't it great to see different minds working? Shipper war just becomes ugly when it is personal already. But as long as it is within the story, I love reading the viewers thoughts of possibilities. Kdramas really ignite most minds to think wonderful thoughts. I still believe most have that.
Clock: I think that's one of the great things about reviewing and recapping dramas is that it makes you step back and not only think about what you like, but about what message the writer is trying to convey and gives you the chance to hear what others think.
Leila: Yes, its nice to have a personal space like what we have here at the Couch to do exactly that! I'm loving the community we have, most comments are insightful. The story we recap is more interesting because of the fans who engage and interact with us.

Clock: So what are your final thoughts about second lead characters? I think they are added into the story to create some suspense. When they are evil, they create conflict for the leads. When they are nice, they also create conflict but mainly to prove that the leads have true love for each other because he or she chooses that love over what the second lead is offering.
For the viewers, having second lead syndrome can be painful because we end up sympathizing with them instead of falling for the main OTP's love story. I think a perfect drama is one when you can love both the OTP and the second lead and feel no regret that the second lead doesn't get the girl. But I don't think that's possible if you have SLS. Because even if you think that the leads are perfect for each other, there's still that pang in your heart for the second lead. But perhaps that is the definition of a perfect drama – an ending that brings you joy with just a small whiff of pain for a beloved character.
Leila: I think in general, the story only has one point. The heart choose who to love, despite of whatever character the man has. Sometimes you do question who the female lead choose. I mean, I definitely question it sometimes. But always, I see that the answer is LOVE. When the female lead chooses to love a man, not who we want her to end up with, that's the end game right there. The heart can't be forced. So I think no matter how amazingly perfect a guy is, if the heart does not want him, it will really lead to a heartache.
You know what clock, among ALL the second lead so far, Chil Bong is the most special. I really felt his love and it was the best experience. Even if he has to go through a heartache that is beyond painful, his love for Na jung just made me a happy shipper. Despite the ending.
Clock: And that's the best response to having SLS – respecting the character's decision to follow her heart while you stay true to yours.