In week 5, we discovered (along with Ah Reum) that Chang Min isn't interested in her, he's still very much in love with Jin Hee and he's extremely jealous. (LOL) In week 6, we discovered Ji Hye has a daughter and Dr. Gook just might be the father! We've decided to just discuss our favorite moments.
Join us, as we witness how Chang Min and Jin Hee reminisce the past, realize what they have at the present, and think of possibly starting over again. It's not going to be easy. But we'd be happy to see how Chang Min will become man enough to really commit this time around.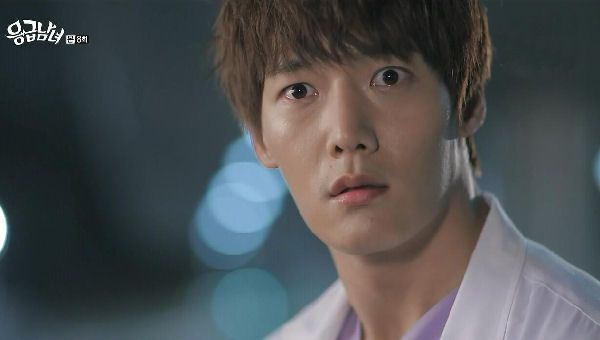 "Where did you go with Dr. Oh Jin Hee earlier?"
Tessieroo: When Chang Min sees Jin Hee returning to the hospital with Dr. Gook, the look on his face was priceless. I wonder if he had any idea he might have this type of reaction or if he was as surprised as I was. *hee* I loved that he followed Dr. Gook, questioning him. 
Leila: This scene just proves that he is still so much in love with Jin Hee! I hate the fact that I love seeing him in this light. LOL. A guy being jealous like this is a gem to be hold!
"What the heck are you doing right now?"
Tessieroo: So…Leila, tell me all about your experiences doing chest compression. *hehehe* I had no idea it could be so erotic. And what was with the 90's slow R&B jams in the background? Chang Min really has a wild imagination. I loved that he thought about grabbing Dr. Gook off of Jin Hee but didn't.
Leila: I have never, in my whole life, imagined that doing chest compression would be like this. What has gotten into the writer's mind?? Or should I say, the heck with Chang Min's mind! LOL. He's way overboard! Chest compression is meant to save someone, not to trigger from thinking otherwise. Even with the fact that you are going to touch a patient's breast. There is a proper place for the hand that has to be maintained, rescuers are not perverts. Aigoo, the effect of jealousy. Period. Imagine Chang Min if he's the husband still, he could have killed Dr. Gook. But with much respect for a senior, this can remain only on his mind.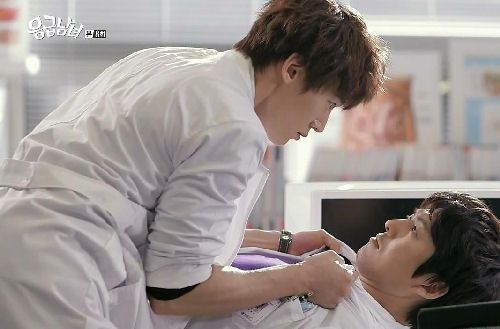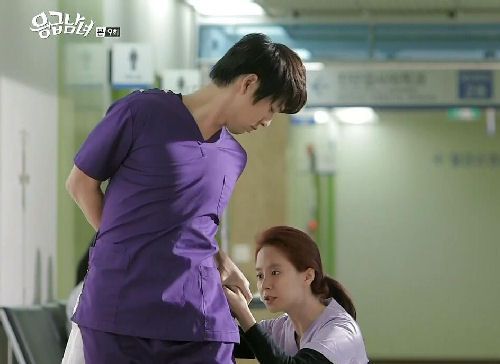 "It looks like you have something on your pants."
Tessieroo: Is Dr. Gook one of those guys that women can't help taking care of? (LOL) There's always a woman touching him, fixing him, or buying him socks. Not that I blame these women – I'd probably be right there in line! He seems fierce, intelligent and very able to handle  medical emergencies but not so much with knowing how to button a shirt.
Leila: He needs a wife to take good care of him. He is a lonesome Doctor who does not have a social life, the women in this series is showing him how it must be to finally have that person to take care of a him. Let's face it, Dr Gook badly needs a partner.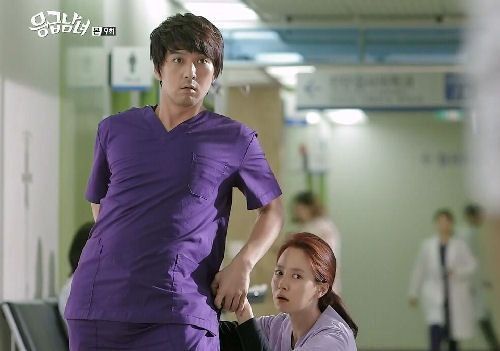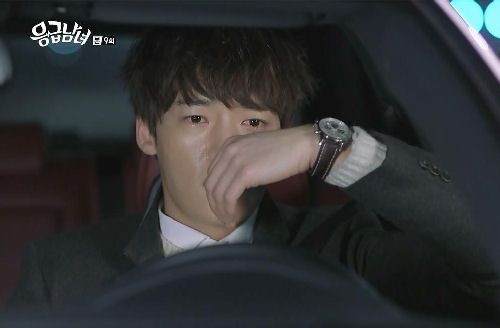 Chang Min's Tears
Tessieroo: I wasn't expecting that at all. I mean, I've already figured out that he still loves her but I guess it never crossed my mind that he might have very deep regrets about the divorce. Watching him tear up in the car, while thinking about Jin Hee was really sad. It makes me more firmly believe that he didn't want the divorce to begin with but he didn't (or couldn't) do anything to stop it.
Leila: I have to agree. I think it was more like respecting Jin Hee's decision to get a divorce. But if it were him, he wouldn't let her go. Even now he hasn't still. If there is someone between Chang Min and Jin Hee who would love to be together again, I feel like he won't even hesitate to do it. However, seeing him now I'm beginning to understand him more. He's not making a move towards Jin Hee not unless she permits him to. It is going to take a while for Jin Hee to open herself again for Chang Min.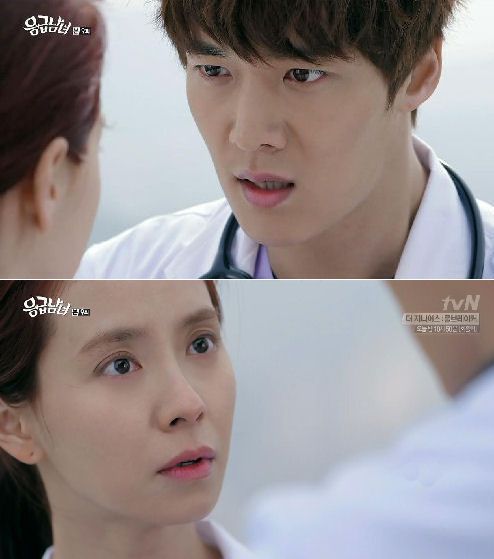 "So why did you jump into his arms but you're getting mad at me?" 
Tessieroo: OMO, I couldn't believe Chang Min's speech on the roof! Without thinking about it or holding back, he let Jin Hee know exactly how he feels. No game playing, no lies and no hiding – he just came right out with it. *squeals* I think Jin Hee had the right reaction though – RUN! (LOL) I don't blame her, who the hell would go back into that horrible mess with his Mother?
Leila: That was really a bold statement. He allowed his feelings to over rule him, and blurted it all out! He couldn't be more obvious.
"If only it wasn't an anatomy class…" 
"If only I didn't have those in my hands at that moment…"
Tessieroo:  So finally we get to see how they met! Chang Min was in medical school and Jin Hee was a dietician working there. We only got to see a couple of very short moment and it wasn't enough to explain how they fell in love but it was cute. It makes me more curious about what happened – did his family drop all financial support once he started dating Jin Hee?
Leila: The meet-cute scene! They are really connected by medicine. I'm loving the flashback. It made my heart happy that it wasn't just a dream, that they really fell deeply in love! It's wonderful to witness. The way it was inserted in their dream, is brilliant! What beautiful memories they had that they get to savor, it was an epitome of a truly sweet dream. Well as they say, the person on your mind is where your heart belongs to. Its a perfect way to show just that.
Awkward Moment In An Elevator 
Tessieroo: I've read several explanations but the only one that makes sense is that Chang Min found himself unexpectedly excited because he was so physically close to Jin Hee. LMAO! I wonder if Jin Hee was aware of it? It's hilarious that the first person he runs into is Ah Reum. I'm thinking seeing her helped bring things back to normal. (Okay, that was a cheap shot) *kekeke*
Leila: The nearness of Jin Hee.. LOL. I always encounter such scenario inside the elevator. Unfortunately, there's no Chang Min to shield me from the crowd! Haha. That aside, you know this week it seemed that scenes are targeted to Chang Min so that he'd realize how much Jin Hee can and still affects him as a man in love with her. I'm so glad where we are at now!
 "I'm kidnapping you" 
Tessieroo: So what do you think Chang Min wanted to talk to Jin Hee about? I'm dying to know! I thought he might confess again but then I hoped it was something more – like a solid promise to not let his Mother treat her like that this time. Maybe he was going to ask how she feels? Or maybe it was something as simple as finally buying her the dinner he owes her. (LOL)
Leila: I didn't think so. Chang Min's main objective is to get Jin Hee away from the hospital, I mean far away from Cheon Soo as possible! LOL. Chang Min won't allow Dr Gook to be close to her anymore. Though, the possibility of him confessing is there. But I will stick to my former conclusion.
First Kiss
Leila: EEEEEeeeeeee!!
For a moment there, I was at a lose for words. And I can't believe I teared seeing that first kiss! It was so.. perfect. You know, medical field in itself is very toxic. It drains all of you. To have someone who can make you smile, just to get rid of that tiredness, it makes a whole lot of difference. Did you see the way Chang Min looked at Jin Hee.. *melts* I have repeated this countless times already. Every single time I did, I still felt the shivers down my spine. It felt real.
BTW, Choi Jin Hyuk just.. dude, best kiss! To say that is even an understatement. I love that they even smiled at the beginning. Ohmaygad. Who can beat this??
Tessieroo: I agree with  everything you just said. That is all. (LMAO)
Stolen Kisses
Tessieroo: I've never been a fan of kisses like this. If the other person is drunk or unconscious, it's a no-go to me. I could lie and say it was awesome because it was Choi Jin Hyuk but even that fact couldn't save this kiss for me. I loved seeing the kiss from his memories but both were awake and participating willingly. (LOL)
Leila: I don't mind whatever kiss Choi Jin Hyuk will do from now on, as long as he does it! I loved looking to his eyes and just be captivated by him.
Tessieroo: You officially have "Hyukitis". I'll inform the other members and have your ID card laminated.
Leila: I don't know there is such a thing? Haha. I'm a full-fledged fan. His eyes.. I love his eyes..