I wasn't sure how to approach the ending of this drama since it's taken me a week to calm down. (LOL) Yes, you can guess this ended badly but being a weekend drama, that's not surprising. What IS surprising is the fact that this drama came from such a beloved writer: Kim Soo-Hyun. (A Thousand Days Promise, Life Is Beautiful) I've read many wonderful things, the most flattering being: her ability to take a sensitive subject and create a moving, understanding dialogue with her audience. I saw this for myself with A Thousand Days Promise, she opened eyes regarding early onset Alzhemier's and how spouses, family, friends and co-workers deal with this. She never sugar-coated it, she never expressed any shame and she was up-front, in-your-face about the horrors it can bring.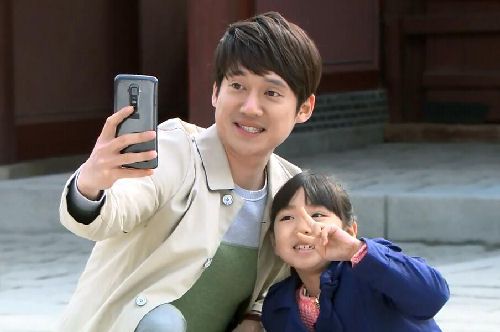 I know she's a fairly modern Korean writer, her female characters are usually tough, independent and extremely intelligent. Exactly what happened with this drama remains a mystery. Is she getting too old? (She's 71) Did she intend to shock viewers for ratings? She's known to abhors these type of cheap tricks so that sounded implausible. She's prickly, opinionated and out-spoken, to the point of sitting in on every script reading with the cast or refusing certain stars for her lead characters. Did she fall ill and someone stepped in to finish the ending? I have no idea but the fact that viewers and fans are coming up with such ideas and expressing such outrage tells me this drama is a huge aberration and does not fit with her body of work. Let's discuss what happened!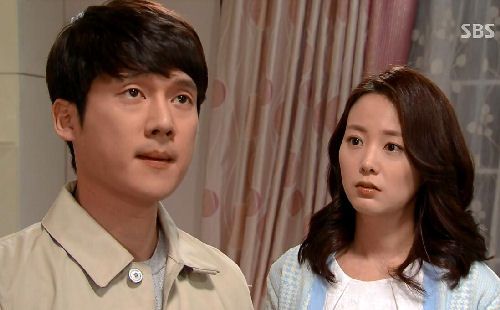 We left off with our leading lady Eun Soo moving to her own place with Seul-Gi who she rescued after learning she had been abused by her step-mother. Her ex-husband, Tae Won helped which threw her cheater-husband, Joon Goo, into fits of jealousy. And there was still the matter of Joon Goo's family demanding she give up all rights to her unborn child since she was determined to divorce him.

Seul-Gi finds out that her Mom is pregnant and tearfully begs Eun Soo to not let this baby grow up like she did – without both parents. But the next few episodes are where things got very strange for me. Not only does Eun Soo allows Seul-Gi to continue to visit her ex-husbands home (where the abuser is still present) but she tells Seul-Gi to "be nice" to Chae Rin. Huh? Be nice to your abuser? The look on this child's face completely mirrored my own – hurt and confused. What Mother would say this?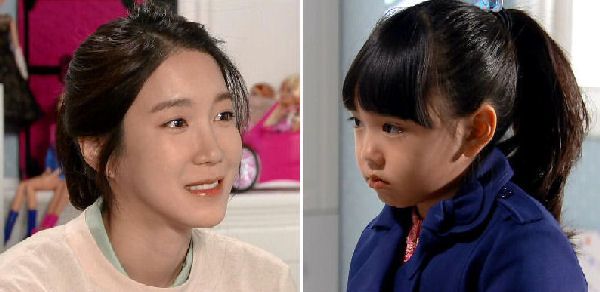 Sure enough, Seul-Gi is cornered by Chae Rin and brow-beaten with questions about her Mom. She learns Eun Soo is divorcing her current husband and has moved into her own place with Seul-Gi. This sends Chae Rin flying off into a tantrum, screaming at her Mother-In-Law for keeping this from her. She accuses the whole family of being in cahoots to get rid of her so Tae Won can re-marry Seul-Gi's Mother and immediately contacts Eun Soo to meet.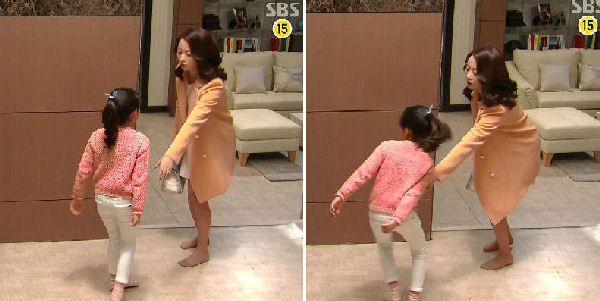 At this meeting, Chae Rin gets drunk, whines and again accuses Eun Soo of trying to steal her husband. She never once apologizes for physically abusing Seul-Gi but instead claims Eun Soo interfered with their relationship plus Seul-Gi lied to her. (Again, huh?) She accepts no responsibility for what she's done. Eun Soo tries to make it clear her divorce has nothing to do with Tae Won but Chae Rin isn't listening.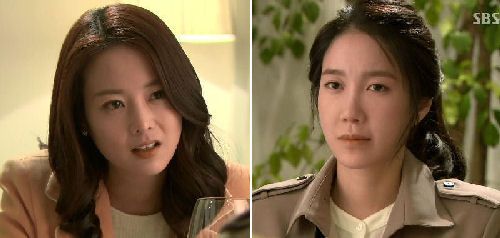 Joon Goo shows up at Eun Soo's house late at night, banging and kicking on her door demanding she let him in. When she does, he runs around checking every single room because he's convinced she's cheating with her ex-husband. Eun Soo calmly reminds him she is not like him (meaning she has some morals and class) calls him a loser and makes him leave. (LOL)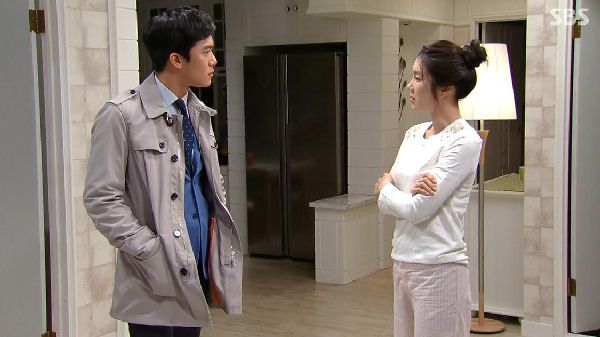 Maybe she's worried that Chae Rin's accusations along with this suspicion from Joon Goo will complicate her divorce because Eun Soo next meets with Tae Won and arrogantly tells him she's not divorcing Joon Goo to get back together with him. He needs to explain this to his new wife and stop blaming everything on her – he should be patient, kind and wait for Chae Rin. WHAT? Is everyone forgetting this woman slapped, hit and shoved Seul-Gi to the ground?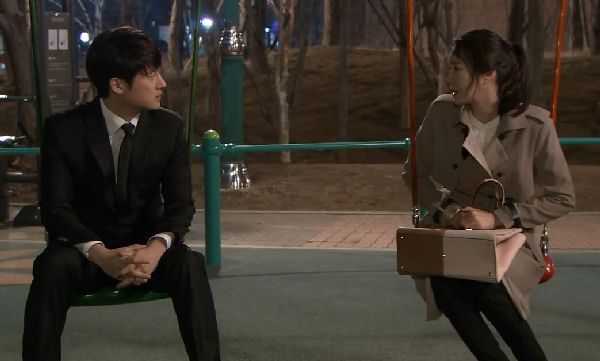 The next episode was clearly designed to explain Chae Rin to viewers and try building sympathy for her. This is nothing new, K-dramas notoriously wait until the end to have villains show remorse, apologize, find God or earn forgiveness in some other way. We learn that Chae Rin's father has been physically abusing both her and her Mother for years and we get to see it first hand. Tae Won arrives to see Chae Rin's Father slap her to the ground and kick her over and over.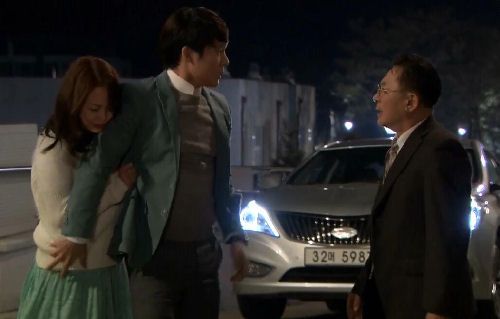 He steps in to protect Chae Rin and angrily confronts his Father-In-Law, threatening if he does anything like this again – Tae Won will expose what type of man he is to the world. The camera pulls back to show us Chae Rin's Mother, sitting in the car with an eye-patch covering one eye. She removes this to reveal a bruised, blackened eye. What he witnessed is enough to change his mind, he brings Chae Rin home. He will not be divorce her but instead, spend the rest of his life protecting her. He does mention counseling but seems to believe she'll get better with love and meditation. *facepalm*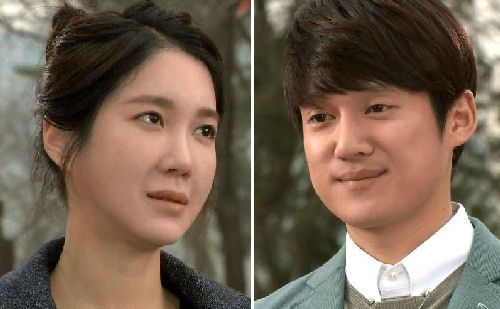 Tae Won meets with Eun Soo one last time to inform her of his decision. He admits he had thoughts of divorcing Chae Rin, getting back together with Eun Soo, raising Seul-Gi and even the unborn child but it's not to be. It turns out Eun Soo had no thoughts along those lines even though it's clear she still loves him – she could never return to his family home or dealing with his Mother. It's fascinating to me that neither of these parents bring up Seul-Gi's well-being or abuse.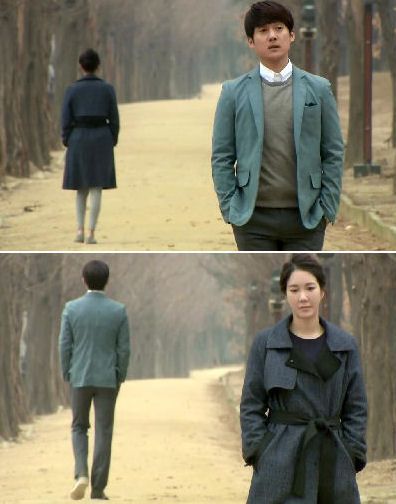 There is a time jump (maybe 5 months?) after which we see Tae Won, Chae Rin and Seul-Gi returning from vacation. Tae Won is affectionate and caring with Chae Rin, Chae Rin is happy, laughing and smiling. She and Seul-Gi now appear to be best buds, walking into the house arm-in-arm. During this time, Joon Goo has continued to harass Eun Soo by showing up at her home demanding she let him see her pregnant belly, sending "thoughtful" text messages and trying to convince her he's changed. She's not interested, her only thoughts are what to do with the baby.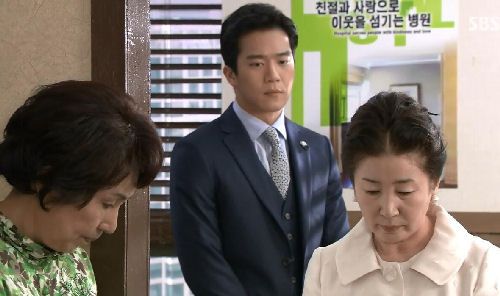 She finally announces her decision: she will send the baby to live with Joon Goo and his family as soon as she gives birth. Sure enough, after delivering the baby – Joon Goo and his Mother show up at the hospital to collect the child. Eun Soo and her Mother stand by and watch while they dress the baby and walk out with the nanny they've hired holding the bundle of joy. Eun Soo does cry but her Mother seems much more devastated by this turn of events. I'm left staring at my screen in shock, with my mouth wide open.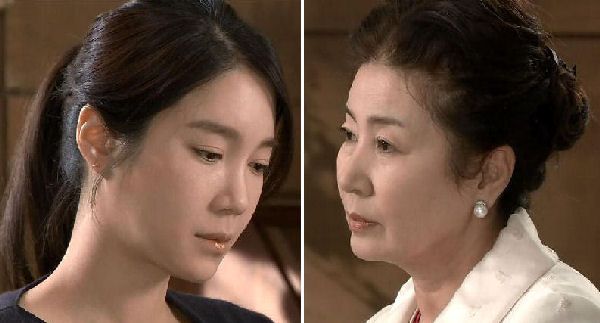 Joon Goo's Mother was self-righteous and cruel in her final conversation with Eun Soo, trying to demand she not go back to her old job or give interviews. She also told Eun Soo she was going to raise this child…as if Eun Soo never existed. When Eun Soo arrives home, she covers her mouth and cries alone in her room. Seul-Gi shows up, excited to see her baby brother – which means she has no idea her Mother wasn't going to keep him?
We don't get to listen to Eun Soo's explanation to Seul-Gi but only see the hug between them when it's over. Is this because even the writer couldn't make this believable to viewers? Or maybe she didn't wish to show how much more Seul-Gi's head is getting screwed up. Her Father, Tae Won tells her she will understand why her Mother made this decision when she gets older. Ummm…no, she's going to be angry as she gets older and realizes Mom didn't even fight for her younger brother. Not to mention that her own Father choose his new wife's well-being over her own.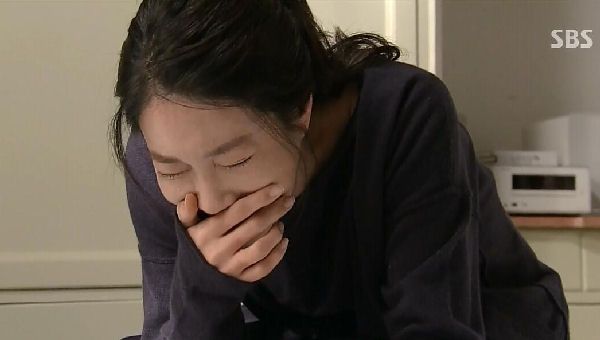 At the end, we see Chae Rin is pregnant and Joon Goo is seeing Da Mi again. Oh, and that 3rd marriage implied in the title? Never happens – she buys a third ring and marries herself. Meh?
Okay, let me first say that I have a tiny bit of understanding about the way custody and parental rights work in Korea but I'm not 100% clear. I know every family has a "registry" which lists all members of said family under the "Hoju" or "Hojuje" (호주제) (male head of family and registry) Each person is defined by his or her relationship to the male head so any children would automatically be added to the male "head of family's" side. In cases of divorce, the wife's name is removed but any children remain on the Father's registry.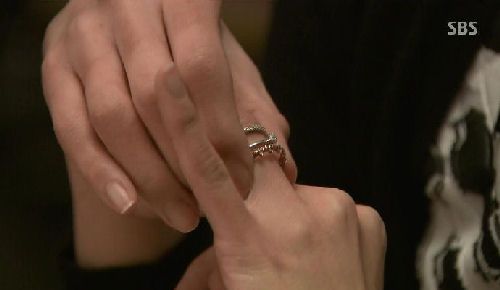 However, these laws changed having been ruled gender-biased or "ordered inequality" based on Confucian teachings in a patriarchal society. Prior to amendments made in 1991, any woman who petitioned for divorce in Korea automatically lost custody of children from that union unless the husband signed a special custody agreement. In other words, what happened in this drama was not based on ANY legal rules currently in place. Joon Goo and his family did not have sole rights to this child legally yet we're left with that impression because of the archaic Hoju system. This is not true and Eun Soo did not legally have to give them the baby.
So why did she? Was it simply a matter of poor vs rich again? His family has the money to fight this in court while Eun Soo doesn't? Or were we supposed to believe this was Eun Soo's "punishment" for daring to divorce in the first place? (maybe even a bit of payback for her abandoning Seul-Gi at the beginning of this drama) The message is confusing, convoluted and disheartening to viewers who have lit up the message boards with their fury and disappointment. Lots of anger over this one!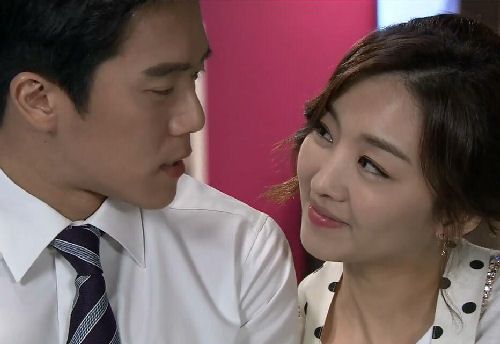 Rape, adultery, and child abuse are okay – as long as the family stays together. The redemption of Chae Rin's character might have worked if we had seen her going to counseling or changing in any way but she still acts like a 5-year-old at the end. Somewhere along the way, the writer forgot about Seul-Gi and focused on Chae Rin. And not only is the cheater still seeing his mistress, he got custody of the baby? Appalling.This might be the first drama I've ever seen where the "bad, evil" characters get everything they want while the "good, honest" characters get shafted. Worst ending I've ever seen.