It's official, the new variety/reality show "Roomate" on SBS is one of my favorites. I know it's not doing well in the ratings and netizens are a bit up in arms over forced love-lines but they seem to be missing the warmest moments in these newly formed relationships. (And no, I'm not just talking about Bom crying) Or are the love-lines the only thing interesting to some viewers? If so, I'm disappointed – there's so much more to this program!
I'll say one thing about the love-lines and then leave it alone. If you take 5 single, attractive women and throw them in a small, confined space 24/7 with 6 single, attractive men – of course the women will discuss the men! DOH! It's actually refreshing for me to see that pretty much all women do this, we get together and talk about the men in our lives – co-workers, friends, or acquaintances.
Who is the most attractive? Who are we most drawn to? Who is sweet or funny or a jerk? It's natural, normal and I'm happy to see celebrity girlfriends are no different from me and my girlfriends. This doesn't mean any dating happens, it's girl-talk. It's more important to note that the close bonds that are forming are not just between the male/female roomies. I think it's a shame so much attention is focused on who might be dating or flirting with whom and the negative but that's just me. 'Nuff said.
(Photo Cr: thepuddang tumblr) 
What I'm loving most about this show is the normal, human side of these celebrities and their ability to adapt quickly to situations (a surprise, since I'm not sure I'd be able to myself). Even the few that I initially thought were fairly shy or closed off are opening up to each other, forming bonds and it's lovely to watch. It's also quite fascinating how we get used to seeing/talking/interacting with the same people on a daily basis and if we don't, we do miss them.

This week it was Seo Kang Joon's turn to narrate, each episode is narrated by a different roommate – which is also fun. He admits to being dazed when he gets recognized, excited about moving into this nice house and getting his own bed, which he couldn't even imagine. (LOL) He says it's not easy living with a new family however, they're all starting to get closer…little by little.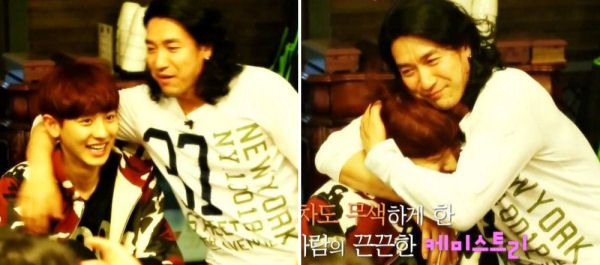 We learn they wake up grumpy, lounge around in sweats and are touched by each others words or actions just like normal people. *shocker* Funny-man Se-ho misses Dong Wook and calls to chat. Chan Yeol goes out to support Sung Woo at a farewell party for work (and bangs his knee coming in – ROFL). He makes hangover soup for Sung Woo the next morning, knowing Sung Woo drank too much. What's cute is, he took the time to research how to make it the night before. Awww.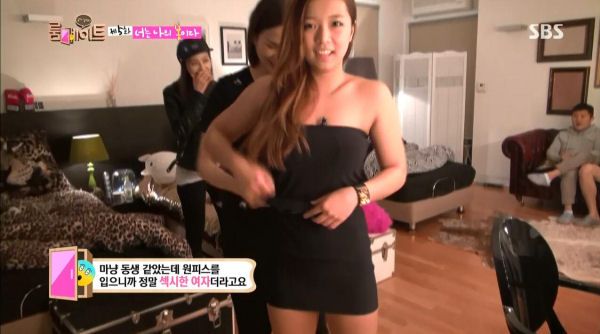 The girls chat, So Ra braids Ga Yeon's hair and then holds an impromptu fashion show. Wow at the transformation in the youngest, Ga Yeon! The girls chat about the men, being lonely and first impressions: So Ra thinks Bom is an angel. This touching moment brings tears to Bom's eyes and mine. I don't know much about any of these celebs but it's obvious Bom has been very hurt in the past. I'm a new fan, she's adorable. And who knew So Ra, the ice-queen from the first episode could move me to tears?

The next day, Min Woo drives So Ra to her radio gig (these people are very busy) and then takes Ga Yeon to work out. The happiness that shines on Ga Yeon's face makes Min Woo smile, which is adorable. He realize he should have brought her to her gym sooner, she's very happy and at home there. But when she kicks his butt, he says he's never going to work out with her again. LMAO! These guys seem to keep forgetting she's a professional fighter, with years of training.

We also see Nana worrying about a bee that's trapped in the house (which scares Chan Yeol, he's afraid of bugs), Sung Woo cleans the entire kitchen and Bom, dancing and conversing with the cameras before heading out to rehearsals. Se-ho orders lunch bags and he and Nama drive 10 hours to deliver them to Dong Wook on the set of "Hotel King". They meet Lee Da Hae, who jokingly comforts Se-ho that it must be hard being Dong Wook's roommate. Dong Wook quickly escorts her away. *snicker* LMAO that Nana falls asleep on the way home, leaving Se-ho alone.
Warning: This song is addictive. (Cr: Uploader)

I really like all of these people, they each bring something different and interesting to the group. I love how energetic and goofy Nana can be, I love how selfless and caring both Sung Woo and Chan Yeol are and I love how insecure Ga Yeon is (being the youngest). I love how they all find a way to express these new feelings of friendship they're feeling – with Soo-hyun even writing individual notes for everyone. They are becoming a family who give each other support and strength and cannot be torn apart. And that's the heartwarming charm of this program. Love, love, love this show.
It looks like next week some of his roomies visit Chan Yeol for an EXO concert. Woot!