I need to clear something up. It seems my recap from last week left the impression that I not only don't support the OTP (still don't) but that I somehow support Hong Joo/Min Woo couple. Nope, don't support them either. (LOL) While I do understand Hong Joo's hurt and anger, marrying someone to exact revenge is a ridiculously bad idea (although I love revenge dramas). And the fact there are children involved makes it even more horrible.
Hong Joo is deeply hurt and needs professional help to deal with her grief. The non-ending arrogance being shown by both Se Young and Seok Hoon does not make them sympathetic characters. Instead of finding Se Young confident, every encounter with Hong Joo shows Se Young being petty and cruel. I'm sorry to fans of the OTP and while I did enjoy them in Stairway To Heaven, I'm not enjoying them here and wish they had chosen a different project for their re-union.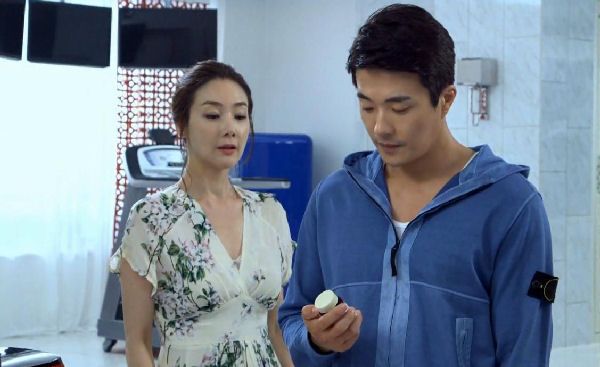 We open with Se Young snatching the bottle of pills out of Seok Hoon's hands and explaining she only takes them for headaches. He's not happy and tells her she doesn't take good care of her body by working herself to death but then turns away to concentrate on work. (LOL)
Se Young tries to ease the mood by telling him she chose to resign as CEO and it had nothing to do with him. Ermmm, honey – you were fired. I do understand she's trying to mitigate his involvement in the board's decision but he knows she's lying so it's a major fail.


Hong Joo and Min Woo return from the honeymoon to a lecture from his Mother: he needs to stop fooling around and she wants them to have a "legitimate" son. Hong Joo announces she's unable to have children. Min Woo lies that he knew but then tells Hong Joo she should have told him.
Se Young's sister, Se-Jin is furious that she paid Han Soo but he hasn't produced Hong-Gyu yet and threatens to sue. She fights with her Father, how could he throw Se Young out and will he do the same if she brings home a poor boy? Her Father informs her it wasn't about the guy being poor, it was because he was married and Se Young broke up his marriage.
Hong Joo gets in trouble for doing housework (LMAO) and is told to get pampered at a spa and to dress better. Wow, no one would have to tell me more than once to spend money – my days would be devoted to shopping. *hee* Hong Joo signs the legal form rejecting all rights to inheritance, saying she intended to anyway. I knew she wasn't a gold-digger.


Se Young and Seok Hoon discuss a new business plan with CEO Jang, who agrees to help with investment. Unbeknownst to them, he's working with Min Woo behind-the-scenes to stop them in their tracks. When asked why he's going to such lengths, Min Woo mentions love. Wait, is he saying it's Hong Joo's love for Seok Hoon? Or his own love for Hong Joo? OR his love for Se Young?
Hong Joo goes shopping but runs into ex-wife, Ji-Sun who invites her to have tea. (No! RUN!) Would anyone agree to have tea with someone who slapped them just last week? Ji-Sun wants custody of her girls and wants Hong Joo's help. She's under the impression Hong Joo wants to be rid of them but she's wrong. Hong Joo loves children and is trying to get closer to them.


Ji-Sun then warns her what type of man Min Woo is, he'll be bored with Hong Joo soon. I don't think this matters much since Hong Joo doesn't love Min Woo. She tells Ji-Sun to go ahead and fight for custody but in the meantime, she'll be good to the children.
Hong-Gyu seems disappointed that his Father has adjusted to a new son-in-law so quickly but his Father says it's over and calls Seok Hoon a heartless man. Hong-Gyu calls that heartless man to meet and then proceeds to tell Seok Hoon that he's angry but that's life. He's more upset the girl he likes is Se Young's sister. Seok Hoon's advice is for Hong-Gyu to do whatever his heart tells him. Yes, lets all live our lives that way no matter who we hurt. *facepalm*

Hong-Gyu spill the beans that Min Woo is the one who released the scandal. What? OMG, this is so ridiculous! *headdesk* I do realize what Hong Joo is doing is wrong and she will eventually come to realize that but having her own brother turn on her is too much.
Armed with this new info, Seok Hoon confronts Min Woo: he knows Min Woo started the rumors. Umm…rumors? AHAHAHA! Yah, boy-toy – how can truth be considered rumors? Min Woo thanks him for Hong Joo and expresses his disbelief that Seok Hoon could have discarded a woman like her. *facepalm* Seok Hoon puts a wad of cash in Min Woo's pocket and tells him to wait while he breaks the rules. The only impression I'm left with is that both these men are losers.
Seok Hoon discusses the business plan with Se Young but tells her not to trust CEO Jang. She's insulted that he seems to think she's nothing since she's not CEO of DongSung anymore. Seriously? Even I know that's not what he meant! The writer is producing some rather idiotic dialogue so be warned. Every character is spouting lines that make little sense.


Hong Joo readies for bed while Min Woo watches her. (OMO, smexy time?) I'm a huge Lee Jung Jin fan so…I'll just be over here fangirling. *hee* I would have sprinted to that spot he patted beside him in bed but Hong Joo looks like she's marching towards a death chamber. He tells her she's sexy and starts to kiss her when oldest daughter Yoon Ah comes into the room.
She crawls in between them, tells Min Woo she had a nightmare and asks him to tuck her in. *kekeke* Okay, that was cute. It would be nice if she were sincere but I have a feeling she's doing it on orders from her Mom. At breakfast, Hong Joo tells Yoon Ah she made curry since she heard Yoon Ah likes it. Yoon Ah immediately rushes to the bathroom to throw up.


Min Woo arrives home and tells Hong Joo he prepared a huge counter-punch for Se Young, he expects both her and Seok Hoon to be knocked down. She's eager for that to happen *more facepalm* but tells Min Woo she's sorry for making him the bad guy since she has no power. He says she's the one who moved his heart to do something. Except you're doing it all wrong and this won't help.
The next day, Se Young is told CEO Jang left and gets an email he was ordered to cancel the deal. On his end, Seok Hoon is told they received a higher bid. He asks if it was Ajin Group? Se Young is furious and heads to Min Woo's office, against Seok Hoon's wishes. I do think it's kind of ironic that she's angry someone "stole" her business idea. *snort* Honey…what if someone stole your family?


She says Min Woo wasn't this nasty before, he counters she wasn't this soft before and gets in her face: is it because of love? (ROFL) Seok Hoon arrives and they all trade nasty barbs. Min Woo tells them both that Hong Joo says hi. Ugh, all of these people are horrible. Seok Hoon and Se Young decide to go on vacation and take off for a camping trip.
Se-Jin gets a text from Han Soo: he found Hong-Gyu. She rushes to the park and hugs him, telling him she'll never let him go. He hugs her back. Hong Joo's Father brings her a homemade plum drink but refuses to come inside – he's just happy to see her face.
Inside, she prepares to drink it with the kids but Yoon Ah knocks the glass jug off the table, spilling it everywhere. She claims it was an accident but both Roy and younger sister Sung Ah call her out on lying. When Mother-In-Law berates Hong Joo for not watching the kids, she walks out of the room. *sigh* Can we just start over? A whole new drama with just Hong Joo and Roy?


Ji-Sun visits her OBG-YN (how is it possible all 3 women go to the same doctor?) to find out if she can have another child. Yes, but it's dangerous. Min Woo stumbles out of a club, drunk, with a woman hanging on his arm. He sees Ji-Sun sitting in her car watching and smiles as she drives off. Okay…two reactions: He's an a-hole and WTF? Was Ji-Sun truly in love with him or does she just want her kids? *screams at the writer* What the hell are you doing?
Min Woo tries to sneak in but Hong Joo flips the light on and shows him the pictures she received of him with various women. She tells him Ji-Sun sent them, he believes Ji-Sun is trying to cause problems. He also insists it was all in the past. Liar – we just saw you with another woman! He does ask her if she married him not knowing he was a player? LOL, true. But he follows that with the idea that he's faithful to Hong Joo now. Pfffttttt.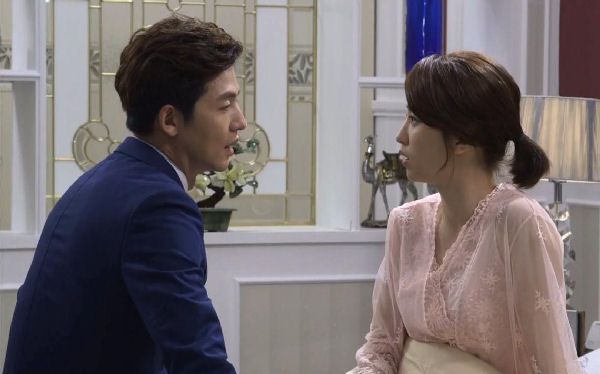 He meets Ji-Sun the next day who claims she's trying to give Hong Joo an immunization against his flirting. She leaves him with a warning that Hong Joo won't remain an angel forever but the only thing he notices is that she changed her perfume.
Min Woo sees Se Young's Father at the golf club and goes to chat with him. The old guy expresses disgust that people have nothing better to do that spread rumors. Min Woo agrees and mentions the 1 million bucks. OMO! No one knows about that yet! The old guy asks if it's true then tries to call someone but before he can, he collapses. Heart attack?


We're later shown the full conversation: Min Woo explained Se Young bought a man for 4 days for 1 million bucks. Course, we all know it's the truth and so does Min Woo. The old guy is taken to the hospital. Se-Jin calls Se Young, who rushes to the hospital. Se-Jin is hysterical so Se Young tells her to be quiet or take it outside. She steps out to cry and then calls Seok Hoon.
When she returns to the room, Min Woo is there. When he tells her he spoke with her Father, she orders him outside. She snarls that he's all smiles to her face but behind her back, he's spreading rumors. AGAIN with the rumor thing! It's not a rumor if it's true!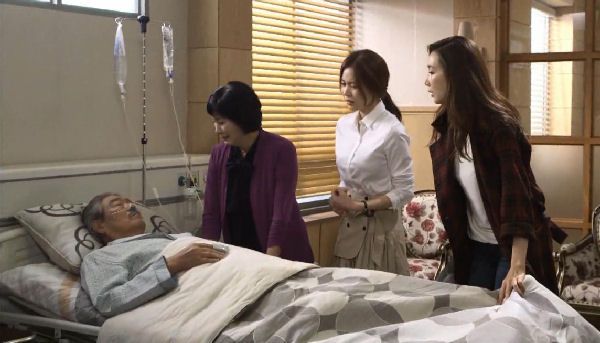 He counters with exactly that, did he make something up out of nowhere? This all started with her "game", doesn't she remember? Ahahaha, it's so true that it's painful. She threatens him, he's finished. Later that night, her Father awakens but is not happy to see her. Barely able to speak, he asks if the 1 million bucks is true? Her eyes widen but she's unable to admit the truth and lowers her head.
He tells her to disappear, he doesn't want to see her. She begs to return to the company but he refuses. She then says she will stop seeing that man, she'll break up with him (I'm calling BS). As she's leaving, she sees Seok Hoon. They hug, she tells him her Father is going to be okay but then drops the we-have-to-break-up bomb. And the reason her Father fainted is because of Min Woo.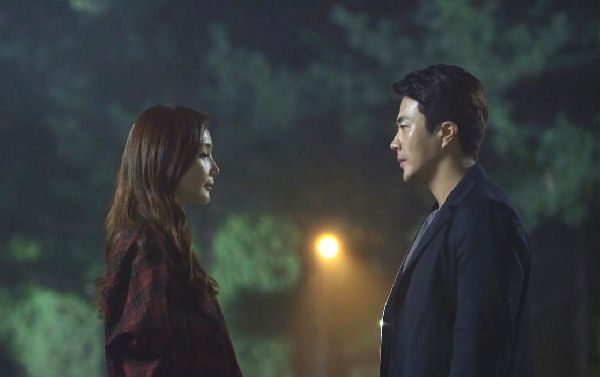 Wow, talk about blaming others and not accepting responsibility! So she's going back to work as CEO in order to fight Min Woo. Seok Hoon tells her he's going to end this fight and get her back. So now both Se Young and Seok Hoon are on the revenge boat too? WTF is going on?
Seok Hoon meets with CEO Jang who tells him he was intrigued by him and knows he would be an asset. Seok Hoon agrees, he will prove his worth. Ah, so he's going to work for this guy now? Se Young decides to use Ji-Sun by promising to help her if she helps flatten Min Woo.
Ji-Sun is a cool character, inviting Se Young to an art showcase – making Se Young come to her this time. And of course, Hong Joo is also expected to attend as the first lady of Ajin. It's basically round #639 of Se Young being snarky to Hong Joo by again implying something about rumors. LMAO that Hong Joo says there's some truth in those rumors.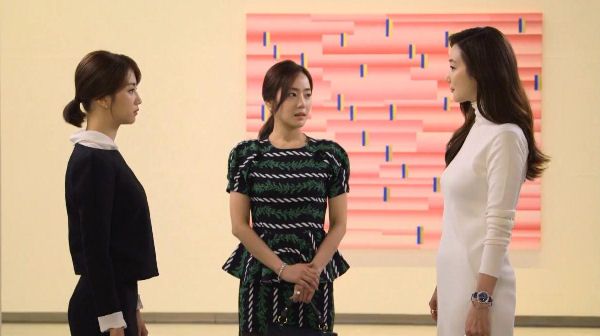 When Ji-Sun says she's heard Se Young is seeing some man, Se Young announces they broke up. My first thought was how infuriating that must be for Hong Joo to hear. Not only did dragon-lady intentionally break up her marriage but it's already over? *snort* Hong Joo probably believes Seok Hoon was just a temporary boy-toy.
Ji-Sun tries to give Hong Joo a gift, thanking her taking care of her girls but Hong Joo refuses. She thinks about calling Seok Hoon once home but the kids interrupt with news that Min Woo will be late. Uh, huh. Ji-Sun meets Min Woo to inform him of Se Young's request for help to destroy him. She says she's not going to do it, she might hate him but he's still her daughters Father. Uh, huh.

When Min Woo arrives home, he gives Hong Joo the gift, lying that it's a company bribe. Her face turns to stone, she knows where it came from. Se Young has a nightmare, seeing Seok Hoon with Hong Joo. ROFL! Okay, that was hilarious – both of these women have had nightmares of him being with the other. Ladies…he's not all that. I could understand if it were Hyun Binnie? *kekeke*
Seok Hoon works on finding dirt on Ajin but CEO Jang tells him he won't find anything since Min Woo is too smart to leave traces. Min Woo arrives right then, not sure if he should be shocked or happy to see Seok Hoon. (LOL) He invites Seok Hoon to Ajin's anniversary party.
Han Soo meets Hong Joo, supposedly because she's Hong-Gyu's sister and he's worried she'll get her heart-broken. Uh, huh. He tells her Min Woo has been spending a lot of time with his ex-wife. She's curious if many married couple try to get back together after divorcing? Hong Joo! NO!


Ajin's anniversary party begins, Se Young arrives alone as does Ji-Sun. Se Young takes delight that this makes Hong Joo uncomfortable and then ironically tells Ji-Sun it's too bad, "that" spot (beside Min Woo) belongs to Ji-Sun. Ermmm…*scratches head* Didn't "that" spot beside Seok Hoon belong to Hong Joo? Oh, I keep forgetting that anything Se Young does is okay but no one else can. *snicker*
Seok Hoon arrives and heads straight for Se Young. Ji-Sun introduces herself and quickly figures out he's the guy Se Young is involved with (does Ji-Sun know he was Hong Joo's husband? I have no idea). They make small talk while Hong Joo watches. Hong Joo later meets Seok Hoon alone and asks if they broke up for good? He asks if she's happy now that he's been ruined? Ahahaha! Well, she might not be but I think a huge percentage of viewers are!
He wants her to be happy, blah, blah, blah. Neither of them are aware Se Young overheard all of this. Wow, is rule #3 still in effect – the one where he's not allowed contact with Hong Joo? (LOL) Ji-Sun drops a hint to Min Woo that she got a hotel room, giving him the room number. Seok Hoon looks for Se Young and Hong Joo sees him walk out. Min Woo watches Hong Joo watching Seok Hoon.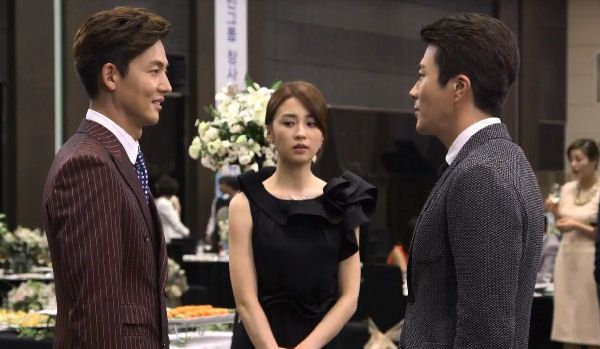 Se Young meets Seok Hoon and they talk outside. She tells him that she sees him with Hong Joo in her dreams. He reassures her he has no feelings for Hong Joo so she shouldn't feel insecure. Once he leaves, Min Woo approaches both with questions about their supposed break-up. Yea, I think everyone has figured out it's not true.
As Seok Hoon is leaving, he threatens Min Woo in front of Hong Joo by saying he will pay him back for the mess he caused. Wait…isn't that what Hong Joo wants to do to Se Young? It's a battle of revenge. He storms out in all his righteous anger. *shakes head* These people are all ridiculous.

Seok Hoon watches from his car when Min Woo walks Hong Joo out, telling her he's attending an after-party for executives. Uh, huh. That would be room #1101, right? *hehehe* Just as she's about to get into the car, she looks up and sees Seok Hoon. They stare at each other.
Thoughts:
Things have come to a stand-still, with no forward movement, which is creating huge speculation about what's going to happen and each characters "secret" motive. Do I believe Seok Hoon staring at Hong Joo means they'll get back together? No, I don't. I actually think he was waiting for her to leave so he can see what Min Woo is up to. Both he and Se Young seem to be firmly on board the revenge train now and I believed him when he said he has no feelings left for Hong Joo.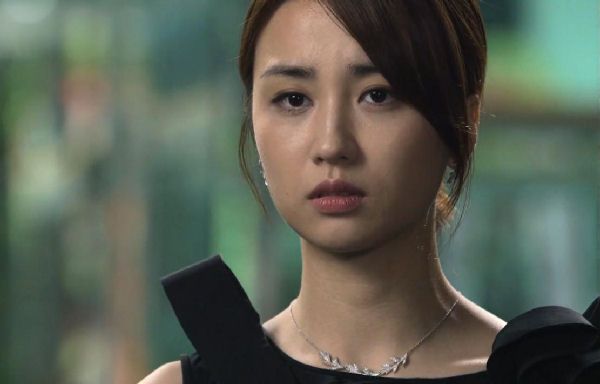 Is Se Young pregnant? Hmm, don't know, don't care. As I've said, nothing will entice me to support this OTP. The continued insistence that they're both innocent and have done nothing wrong flies in the face of civilized society. They show no shame, even when Se Young is confronted by her Father. Yes, she did in fact pay 1 million bucks with the express intent of breaking up Seok Hoon's marriage but that will never be admitted since it goes against the writers "first love" story for the OTP.
Was Min Woo going to Ji-Sun's hotel room? Yes, I think so. In spite of character descriptions or the synopsis telling us Min Woo will change and fall in love with Hong Joo, that's not happening. He's still a playboy, openly cheating. And while he may have shown empathy for Hong Joo, I don't think he's in love with her anymore than she's in love with him. This is going to end badly for both.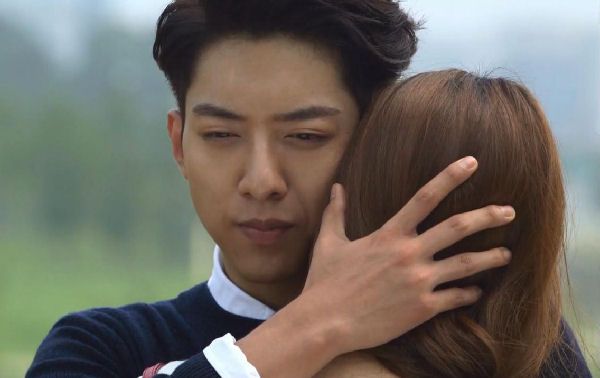 I felt a huge disconnect with most of the characters this week as they spouted dialogue that makes zero sense. Having Hong-Gyu tell his ex-brother-in-law that he "understands cheating can happen" was a slap in the face and turns his character into a joke, with him openly betraying his own flesh and blood. I get that he doesn't agree with his sister's revenge: Yes, Min Woo is dirty and Hong Joo should never have married him. But for Hong-Gyu to pass information that could possibly hurt his sister is ridiculous, he's operating in a vacuum since he doesn't have all the facts.
Everything that was said and done is the writers attempt to continue shoving the OTP down our throats, even if the majority find it distasteful, including the Korean audience. Spending some time at the official forums for this drama was a revelation, they don't like the cheating or attempts to justify it. In fact, they don't like ANY of these characters with the exception of Hong-Gyu. The writer took care of that this week so who do we root for?