I gotta admit this week left me scratching my head. The writer is continuing his attempts to draw our attention away from the original plot, which is about adultery, selfishness and coveting things (or people) that do not belong to us. The absurd, nonsensical dialogue from last week carried over to this week, with the characters sprouting more stuff that just doesn't fit.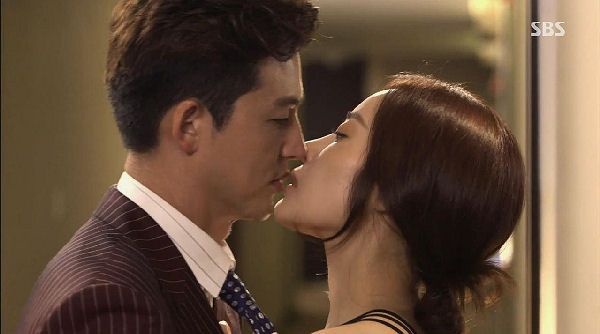 Min Woo goes to Room #1102 but only to tell Ji-Sun that he's having one drink and then leaving. Erm, what's the point, to show he's still a cheating scumbag or an attempt at making Seok Hoon the good guy? Ji-Sun kisses him and pulls him inside the room, closing the door.
Strangely enough, Hong Joo suddenly decides to check up on Min Woo. When he answers the door, the only thing he cares about is Hong Joo is having him tailed. Yes, he's a total bastard and I'm sorry I thought he would change or that he loved Hong Joo. I'm an idiot.


Seok Hoon spends hour pouring over Ajin Group's financial stats, trying to find evidence that Min Woo is hiding illegal workings. That "stare" between him and Hong Joo at last weeks ending meant absolutely nothing, just as I guessed. He finds information about Min Woo's cottage.
Se Young's doctor friend visits, with warnings for Se Young to take her medication and sympathy because she broke up with her "first love". She's full of understanding about how painful this must be. *snort* I do wonder what this woman would say if she had all the facts. Better yet, what if it were her marriage Se Young wanted to test, just to see if she could and for giggles?


Se Young's Father is also suddenly sympathetic to Se Young but knows she's holding a grudge because he forced her to break up with that guy. Things are cold in Hong Joo's new home but I'm beyond screaming at my screen for her to get the hell away from all these disgusting people. She's too naive and there's not a single person worth her time in the whole bunch.
Seok Hoon travels out to the cottage and spots Min Woo walking in with Ji-Sun. Inside, Min Woo tells his ex that things won't go the way she wants, he knows she's trying to seduce him and win back her position. However, he intends to hold onto his marriage with Hong Joo. I knew he was a playboy but is he also supposed to be this wishy-washy? Dude, you're still doing it wrong.


Hong Joo goes to see her Father, taking the herbal medicine her Mother-In-Law bought for him. This actually speaks volumes about what kind of person she is. While all these other characters are meeting old lovers or desperately trying to justify their own cheating, she's visiting her Father. *sings* "One of these things is not like the others…".
Min Woo's Mother asks to meet Se Young to discuss news that Ajin Group and DongSung Group are fighting, she wonders why? Se Young (again) is ambiguous and gives a tiny bit of information designed to make Min Woo the bad guy. She (of course) says nothing about the games she's been playing with people's lives or her own role in all of it. Nope, it's all Min Woo's fault.
She asks about Se Young's Father, her Daughter-In-Law is bringing herbal medicine she purchased. Right then, Hong Joo enters and MIL leaves the two alone for a moment. Hong Joo manages to school Dragon-lady about empathy, something Se Young lacks knowledge of. The scene mirrors an earlier one but it's Se Young who spills tea on her clothing. Hong Joo tells her to just throw it away since she disposes of things and people easily.


Se-Jin prepares food at Hong-Gyu's house for his Father, calling him "Abeonim". These scenes are super cute but again, there are too many people operating in a vacuum, without all the pertinent information. There's no way this man would allow Se Young's sister into his home if he knew who Se Young was and what she had done. This part of the story is being dragged out too long.
When Se-Jin tells Hong-Gyu that her Unni broke up with the guy she was dating, he actually looks sorry. This continues to be infuriating and not believable. Like I said last week, I do understand being against his sister's revenge thing but taking the cheating couple's side is just more stones the writer is throwing in my face. Is it supposed to be a "guy" thing? Ya know, it's okay you cheated on my sister? *wink wink* It's very insulting.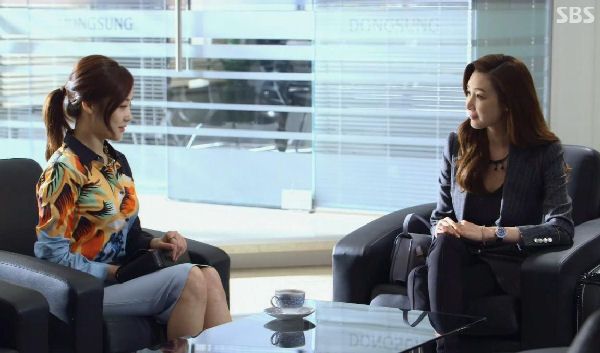 Ji-Sun and Se Young meet to discuss Ji-Sun's failed attempt at shaking Min Woo. How sad that Dragon-lady has learned nothing from her "wave" experiment and supports Ji-Sun's attempts to destroy Hong Joo's second marriage. It's also insulting to listen to these two women calmly discussing this, like it's not a big deal. I know Min Woo is the target but lets not kid ourselves that both of them aren't delighted it will affect Hong Joo.
Hong Joo apologizes to Min Woo at home, she has no right to get angry considering why she married him. She knows what Ji-Sun is up to (no, you really don't) and extracts a promise that it won't happen again because she wants this marriage to work. *silence* When did she change her mind, where we shown how and why? When Min Woo asks why she didn't give Seok Hoon this type of chance, she says Seok Hoon's heart had already left.
Having lunch with Min Woo, Hong Joo is shocked to see Seok Hoon show up with his new boss, CEO Jang. Min Woo invites them to sit together and all goes well until CEO Jang asks Hong Joo about having a baby. Seok Hoon trades insults with Min Woo which eventually makes Hong Joo leave, having had enough of both of them. I'm right there with ya, girl.


The two men threaten each other once she leaves, with Seok Hoon telling Min Woo not to hurt Hong Joo. *sputters* Wait, wut???? Ahahaha, I just can't with this jerk! Min Woo asks if he misses Hong Joo now that he's broken up with Se Young? Seok Hoon punches him. Min Woo then goes out to Hong Joo and asks if she's met Seok Hoon alone? *yanks out hair* Where the hell is this going?
Attorney Choi warns Se Young that Min Woo managed to spark his buddies at the Ministry of Finance to begin a hard-core investigation into DongSung Group. He warns her to stop it at costs. Um, why? If the company is clean, what does she have to be worried about? She makes a series of phone calls but gets no where and suddenly doubles over in pain.
She later meets Seok Hoon and they discuss Min Woo hiding illegal company stuff at his cottage but she doesn't tell him about the up coming investigation. That night, she has another nightmare seeing Seok Hoon with Hong Joo and rushes to his apartment for comfort. LMAO when she sees the wedding ring he kept, which we all saw coming weeks ago.


The next day, an army of investigators from the Ministry Of Finance show up at DongSung Group and carry out those blue boxes full of stuff. *hehehe* Yea, I kinda loved this part but these scenes prove to be worthless since nothing really happens. It does land a blow right when DongSung is about to launch their ice-cream business and they have to pay a fine but that's it.
Upon hearing the news, Seok Hoon rushes to Se Young's office, asking why she didn't tell him. She's not nice, reminding him they broke up and he shouldn't be here. She then demands to know who he's going to protect: her or Hong Joo? OMG, she's such a monster that I can't stand to look at her on my screen. At the same time, I'm laughing at her for asking that question. Feeling insecure? Bwahahaha.
She's all worried about seeing his wedding ring at his house and I'm dying of laughter. He reassures her she's the only one. Did Kwon Sang Woo almost laugh there? LMAO! Maybe he feels the dialogue is utterly ridiculous too, it's cute when actors break out of character for a second!


Se Young's Father calls her to the house and demands an explanation for why Min Woo is targeting DongSung Group. YES, please explain fully, would ya? *snort* No way, she throws blame for everything onto Kang Min Woo. I'm not surprised, arrogant Dragon-lady would rather die than admit she's done anything wrong. OMO, is that how Karma will bite her?
Hong Joo takes the kids (minus evil oldest daughter) to the cottage for the day, just to play. Youngest daughter, Sung Ah finds a hairpin in the sofa and announces her Mom has one just like it (LOL, kids say the darndest things). Hong Joo looks confused…did she really trust Min Woo not to see his ex? How long is the writer going to beat up on this woman? Cuz I've had enough, it's overkill.


Min Woo offers Hong-Gyu a job but he turns him down flat and tells Min Woo to lavish that attention on his sister since she tends to suffer by herself when she's hurt. On his way out, he sees Se-Jin and hides. Se-Jin begs Min Woo to call off the investigation and reconcile with her sister. Seriously, this is being dragged out too long. It's past time for this girl to find out who Hong-Gyu is and what her oldest sister has been up to. Not that it will make any difference since this writer is determined to force this less-than-palatable OTP down our throats.
Hong Joo finds Ji-Sun at her mall and slaps her across the face. *fistpump* Although that was a bad idea, I can't help but appreciate this new Hong Joo and wish she had slapped Dragon-lady even harder back in Hong Kong. Ji-Sun warns her that she'll regret her actions. *sarcasm* Yea, I think we need to dump on Hong Joo some more.
Se Young learns how large the fine is and goes to ask Min Woo to get it lowered. Pffftttt, why he should baffles me as much as why she thinks she has the right to ask him for a favor. After being turned down, she runs into Hong Joo. They throw more nasty remarks at each other but Hong Joo ends it by telling her to take care of her health. ROFL! Was this episode supposed to be this funny?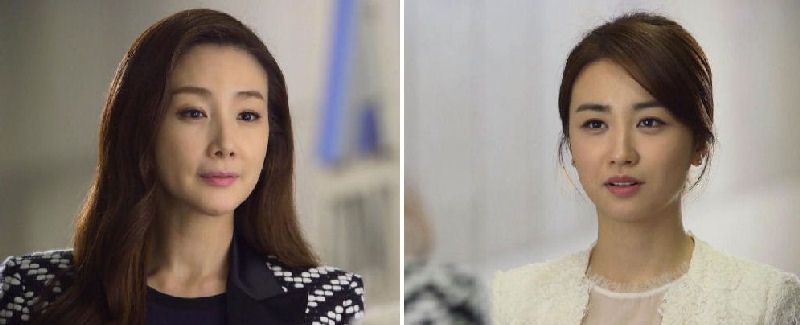 Hong Joo makes it clear to Min Woo she knows he's been seeing Ji-Sun and tells him to not get caught. Huh? Don't get caught by the media or maybe by his Mother? WTF is that supposed to mean or is it more useless dialogue? Seok Hoon meets Ji-Sun to ask for her help in bringing Min Woo down. She's his ex-wife and her mall is part of Ajin Group so why would she help him?
Seok Hoon actually says "I know you divorced because you were unfairly chased out." OH MY GOD, he did not just say that! *facepalm* He asks her about security at the cottage. LOL, is he taking up a new career as a burglar and planning to break in? I'm wondering WTF is going on.
Se Young visits her doctor friend who informs her she has zero time to waste, she must have that surgery to remove the cyst. Se Young says she can't, which prompts doctor friend to ask if the company is more important than her life? Well, doh. Plus it fits if she dies, that's Karma biting her in the ass. But what a lame ending for fans of this Stairway To Heaven couple.


Min Woo arrives home to find his Mother badgering Hong Joo about having a baby again. He lectures Hong Joo inside their bedroom, he didn't like the way she handled that. LOL, we knew all along he's a Momma's boy but this is too much. Hong Joo tells him off and leaves the room.
I loved the scenes between Se Young and little sister Se-Jin but don't anymore. Se Young isn't honest with her and in fact, drills her for information about Hong Joo (which is wrong on so many levels). Se-Jin brings up that Hong-Gyu's ex-brother-in-law used to be really good to his sister but they got divorced. Poor child doesn't have a clue. Se Young sneaks in a question: does Hong-Gyu's sister ever sees her ex-husband? You just nasty.
Ji-Sun gives Min Woo a heads up that Seok Hoon might try to steal financial records from the cottage. She implies Hong Joo is seeing her ex and is the culprit who gave Seok Hoon that information. Ahhh…so she does know that Hong Joo is Seok Hoon's ex-wife! Wow, that was hard to dig out. Writer-Nim isn't making things very clear.


This sends Min Woo rushing to the cottage to retrieve said records with Seok Hoon chasing him. The next part was such fabricated horse manure that I laughed through the entire thing. Seok Hoon cuts Min Woo off, forcing him to stop and demands he hand over the evidence. Okayyy…sure, why not? They fight, Seok Hoon wins and takes the evidence to the one prosecutor Min Woo can't bribe.
The next day, it's all over the media and Min Woo is arrested. Ahahaha, the writer is now making shit up entirely out of thin air. Se Young makes preparations at the company to take a leave of absence (to have the surgery?) and Seok Hoon finds out.
When Min Woo arrives home, his Mother babies him like he's coming home from war and tells him to rest since he suffered so much. In their bedroom, he sees a photo Hong Joo took with the kids at the cottage and asks why she went there. He tells her Seok Hoon turned him in and with that in mind, he asks if she's the one who told Seok Hoon about the cottage? How the hell would she know about hidden records? *blinks* So he's accusing Hong Joo of betraying him.


Min Woo doesn't seem to realize Hong Joo isn't that kind of person but since she married him to get revenge, he's bound to think otherwise. On her end, it's like Hong Joo unleashed a wild dog (with Ji-Sun's help) and now has no power to call it back. Min Woo looks at her with crazy-eyes, asking what he should do now. Hong Joo honey, it's time to get out and get away from these detestable people.
Ji-Sun takes a pregnancy test and it's positive. So is it Min Woo's baby or the first-love from college? I'm gonna guess the first love since she told Se Young her plans with Min Woo were a fail but I could be wrong and she did manage to seduce him. This should be easily solved by DNA testing but we know that makes too much sense. *kekeke*
Hong-Gyu gets a call that his sister is home and arrives to find her suitcase but she left to run an errand. Her Father believes her MIL told her to rest here for a few days but I'm thinking she got out while she could, before Min Woo, his Mother or his evil oldest daughter murder her in her sleep.


Hong Joo's errand is to see Seok Hoon, she asks him to come outside because she has something to tell him. She wants to know if he's the one who had Min Woo arrested (although she already seems to know this) and is he taking revenge for Se Young? She tells him Min Woo thinks she conspired with Seok Hoon. He coldly tells her to solve her husbands problems herself.
Ouch. What a bastard. She tells him she knows she shouldn't be there but she has no one else to talk to. She apologizes and turns to leave when he grabs her arm, calling her name. When she turns back around, he drops her arm, holds out his wedding ring and tells her to throw it away herself.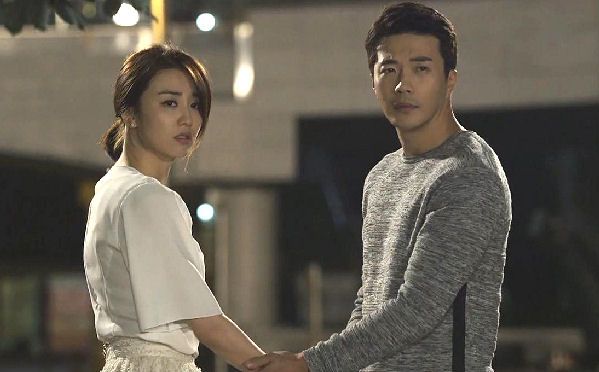 Which is when Dragon-lady pulls up and sees him, holding out his hand to Hong Joo (she can't see the ring). Hong Joo grabs onto his hand and cries, asking how they came to this? Dragon-lady looks upset, which sends me off into fits of giggles. Unbelievable.
Hong Joo falls to her knees and as Dragon-lady watches, Seok Hoon bends over to pat her on the back. Suddenly, Dragon-lady suffers another stabbing pain and accidentally honks the horn. The couple both turn to look while Dragon-lady glares at Seok Hoon.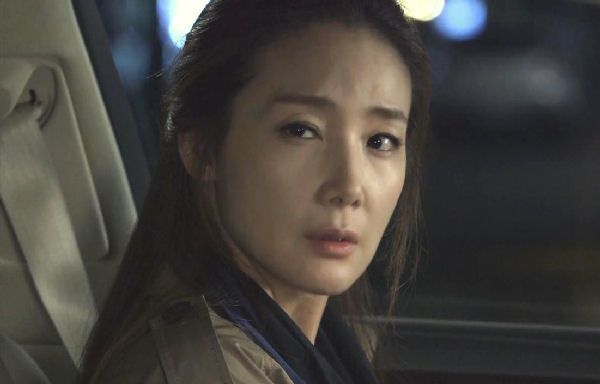 Thoughts:
We've gone so far into crazy that I feel like I'm watching a revenge drama that's turning to crap. The writer continues his cover-up of Dragon-lady's original intentions which keeps the majority of the characters in the dark about what truly happened (which is frustrating). If he kept to the character descriptions, I can't see it because we weren't shown Min Woo "changing and falling in love" with Hong Joo. Was that wrong or did the writer change his mind in his attempt to justify the OTP?
It's also strange to me that most Kdramas of the melo type try to impart some type of message or lesson to the audience but it feels like this one is saying a relationship born out of cheating is a good thing. (LOL) Nonsense. It's sad that Hong Joo finally choose to share her feelings but did it have to be the cheating scumbag ex-husband? Ugh, he's not worth it!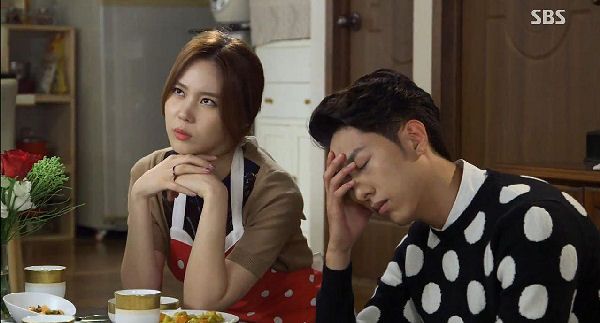 I also firmly believe that any relationship that hurts another human being is not something to pursue. Why would anyone want to hurt a stranger, a close friend or even their own family? As I've heard in Kdramas, don't live your life that way. LMAO.
On the other hand, if this drama isn't going to try teaching any message, that is a good thing and we should all relax and enjoy the insanity. However, if Dragon-lady dies at the end, I know I won't be the only one who feels like I got screwed (again) with this couple. Lets keep our fingers crossed for apologies and redemption. BTW, did I miss Hong Joo's revenge?