I didn't think much of Hong Joo being made the bad guy, it allowed the other characters to shrug off their own responsibility and guilt by claiming it's her fault: she allowed Se Young to destroy her marriage and it made sense within the confines of this story. Then I started thinking maybe the Hong Joo character was the lead. (LOL) Crazy, I know but since the lead female is usually lied to, tricked, slapped, and tortured, that also made sense because Hong Joo was the one suffering these things.
My thoughts before watching this week were more behind the idea that the writer was still struggling in his attempt to make the OTP believable. He not only needed to continue showing that Hong Joo has no one on her side but also to strip her of any gains in order to move things forward.


Apparently that's not working either since her mistreatment continues (even from her own brother) and we now have the added possibility that the cheaters will get some sort of redemption, when they've never accepted responsibility or apologized. In fact, the arrogance is taken to new heights this week which leaves me dumbfounded and appalled.
When Seok Hoon sees that it's Se Young, he starts towards the car but she drives off. He turns and coldly tells Hong Joo to leave, he has nothing more to say to her. The look on Hong Joo's face is painful to see, she's hurt (once again) as she watches him walk away.
Hong Joo goes home, hiding her pain and lies that she met a friend. Hong-Gyu asks how things went at the Prosecutors office, she assures him it's settled and goes to bed. He's disappointed, he wanted to drink with his family like old times. Pffftttt, go play with your girlfriend and stop pretending you give two shits about your sister.

Seok Hoon finds Se Young and asks why she left? She was embarrassed it might appear she was spying. He explains Hong Joo came to talk about Min Woo, who is blaming her for leaking the cottage info. Se Young already knew this was going to happen (since she spoke with Ji-Sun) but feigns concern and they both sigh that there's nothing they can do.
Se Young tells him that Hong Joo didn't believe what he told her about Hong Kong, there are some things a woman can't accept. Yes, and that's exactly what you set out to prove, right? She assures him she's different, she won't push him away. Well, aren't you just special! *sarcasm*
The next day, Min Woo storms into Seok Hoon's office, smirking his surprise that Seok Hoon would use his ex-wife to fight dirty. Seok Hoon laughs, gloating but says Hong Joo didn't sell him out, Ji-Sun did. He smugly advises that Min Woo should have remembered why he divorced Ji-Sun when he saw her. LMAO, his arrogance is unreal, he should consider how he's treated Hong Joo.


Nope, Seok Hoon believes he's the righteous one, spouting holier-than-thou lines about not having time for his ex-wife (the implication being his love with Se Young is pure). While it's true Min Woo is a scumbag, no matter how much Seok Hoon continues to deny it, he cheated on his wife. The difference is Seok Hoon got paid cash money and a better job. (LOL)
Se Young checks into the hospital, her doctor friend Myung Hwa greets her and later runs into Ji-Sun. After confirming Ji-Sun is pregnant, Myung Hwa reminds her she was told the dangers of having another baby, for both the fetus and herself. Ji-Sun is determined, inquiring if bed rest will help but Myung Hwa tells her not to get her hopes up.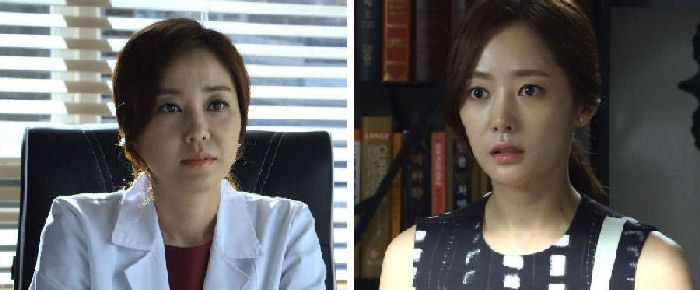 Hong Joo is doing laundry when her Father orders her to go back. He's uncomfortable since she rushed into marriage and tells her again to let things go, be understanding and give in. Wait…don't men throw their wives out if they cheat? Why should women endure? So confusing.
He does tell her if she can't deal, she should come home. Hmmm, it sounds like he's aware of Min Woo's cheating. He won't ask questions or judge her. Awwww, it's so nice to hear someone finally allowing Hong Joo to be human! This poor guy is also a victim of Se Young's selfish game.


Seok Hoon learns Min Woo was released and won't be arrested because (of course) there is always someone else willing to be sent to prison in place of the CEO. He's also informed that Se Young is absent from work. He tries calling but she's pulled the battery out of her phone.
Min Woo confronts Ji-Sun, she's annoyed that Seok Hoon tattled. Min Woo wonders how she knew that guy was Hong Joo's ex-husband? She did her research on the woman who replaced her and tries to worm her way out of it. Min Woo tells her to leave, he doesn't want to see her. Welp, her plan dissolved into air so she does the only thing left and says she's pregnant – with his son.


She's confident it's his and a boy but he says they'll talk after the baby is born when they do a paternity test. Ahaha, her face falls. It's clear it's not Min Woo's baby. Can't they do a Prenatal Paternity test? Yes, they can but that would easily resolve things and makes too much sense.
Se Young wakes up to find Myung Hwa at her side, she has bad news. *sits up* She says the tumor has grown so just removing her ovaries will no longer be sufficient, they also need to remove her uterus. But that might not work since there is a high probability it will spread and she might need chemo. So the tumor is cancer? *facepalm* She asks to be alone and does a facepalm herself.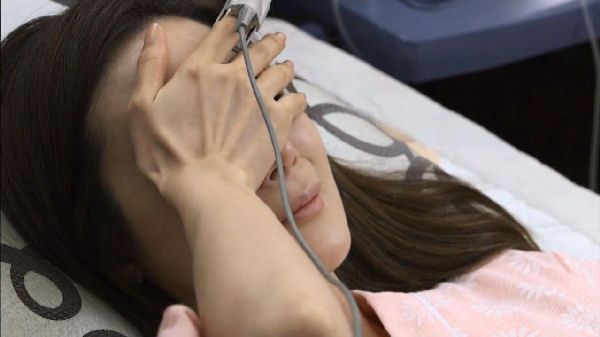 Hong Joo returns to Min Woo's house but Mother-In-Law is nasty and cold. *sigh* Is it just me or does Hong Joo look ridiculously tiny in that huge, over-decorated bedroom? Seok Hoon still can't find Se Young so he goes to question Se-Jin and lies that he needs to see Se Young regarding work. She lets him know Se Young disappears like this all the time, nothing to worry about.
Min Woo shares a glass of wine with Hong Joo to apologize for doubting her but then questions if she has any feelings left for Seok Hoon. She admits she loved him and then wanted him to suffer as much as her hurt her but not anymore. *raises hands* Hallelujah! She then tries to convince Min Woo the person she loves is him but he laughs. Yea, I'm not buying that either.
Myung Hwa yells at Se Young when she wants to check out of the hospital. Se Young gives a long, heartfelt speech about having a breast or uterus removed and how that's not an easy choice for women to make so she needs more time. I wish I could feel sympathy for Dragon-lady but I still only feel loathing when she opens her mouth.


Since telling Min Woo she's pregnant didn't yield the results Ji-Sun wanted, she decides to tell his Mother. Knowing how desperate this woman is for a male heir, she lies that it's Min Woo's baby and announces her belief it's a boy. Ji-Sun begs her ex-MIL to help, she wants to be her daughter-in-law again. *snort* Again: Prenatal Paternity test, people.
Min Woo threatens to cancel Ajin's business dealing unless Seok Hoon is fired. Se-Jin visits Se Young to ask for a job at the main office but it's really so she can call Seok Hoon and let him know her sister is back. He starts to rush over but is stopped by his boss, who informs him of Min Woo's latest attack and offers Seok Hoon a job at their New York headquarters.
He meets Se Young and tells her she looks sick. *buzzer sound* That's the correct answer but no million dollar prize, sorry. They're trying to be cutesy but I'm getting nauseous. Se-Jin is hired to do research so she invites both Hong-Gyu and Han Soo to help. Revolting picnic scene that I fast-forwarded through but I don't think I missed anything, they talked about flying to Brazil.


Oldest daughter Yoon Ah snoops through Hong Joo's things, finds the wedding ring and takes it. She gives it to her Grandmother, who uses it to pick on Hong Joo. It's clear she's trying to drive Hong Joo out so Je-Sin can come back. There's more dick-waving between Min Woo and Seok Hoon. We get it, you're intelligent, virile men but you both cheated on your wives so get over yourselves. Se Young learns Min Woo tried to have Seok Hoon fired and the New York offer.
Ji-Sun does a direct, frontal attack and tells Hong Joo she's pregnant and it's Min Woo's baby. She also implies if Hong Joo sticks around, she could end up raising it, just to be extra insulting. Hong Joo tries to slap her but Ji-Sun stops it and tells Hong Joo to go back to her place. Suddenly, Ji-Sun doubles over in pain. Hong Joo sees blood dripping down her legs.
Ji-Sun loses the baby but you can see the wheels turning in her head when MIL arrives. She blames the entire thing on Hong Joo. MIL is infuriated, calls Hong Joo a tramp and rushes to out to smack her. Oh, the irony. Min Woo tells Hong Joo to go home, he's going to stay with Ji-Sun.


When Se Young doesn't show up for their scheduled departure (to Brazil?) Seok Hoon goes looking for her and finds her coming out of a meeting. She's cold and snarky and pretends surprise that she was supposed to leave with him. She announces she's not going and (by the way) she's done with him.
She's ambiguous as usual and talks in circles, with a smirk on her face. He snaps at her to not play with words (which made me laugh out loud) and demands to know what she means. Finally she says the 4 days in Hong Kong are over now, they should end it. She thanks him, she had a good time with him but it's over. ROFL! He's furious, what is she saying?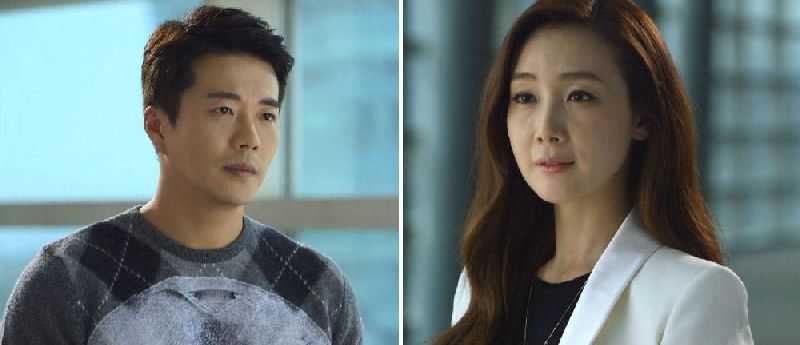 Her next words had me laughing so hard, I teared up. She says if they continue, it will only hurt them as well as all those around them. Is this just now crossing her mind? He was her first love but she's awake now. He only wants to know her true feelings, does she love him? No, not anymore. Ahahaha, it's strangely satisfying to see him in tears. *snark*
He walks aimlessly, shoulders slumped while she sits in her car and sobs. We all know why she's doing this but how awesome would it be if she were really dumping his sorry ass? Wait, am I supposed to be feeling something as she sobs? Cuz…there's just nothing but disgust and amusement.
Hong Joo's MIL throws more insults in her face, she's materialistic. Wow, that's so far from the truth, it's beyond ridiculous. She orders Hong Joo to make seaweed soup for the Grandson she just lost. To top it off, oldest daughter Yoon Ah tells Hong Joo she hates her because she hurt her Mom.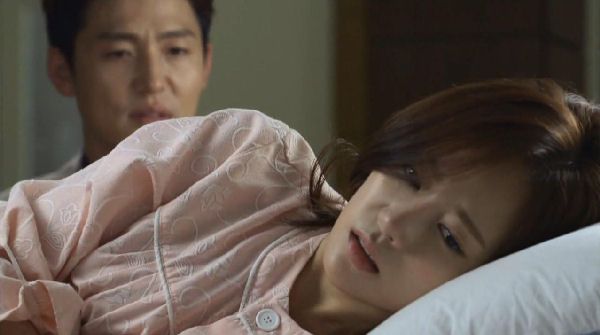 At the hospital, Ji-Sun (suddenly) tells Min Woo she still loves him. *snort* Oh, okay. Min Woo goes home, all tired (he's been working hard again, ya know) and doesn't want to deal with Hong Joo so he'll sleep in the guest room. Raise your hand if you care where he sleeps. Yea, me neither.
Seok Hoon isn't taking the break up well and confronts Se Young, asking if their time together meant nothing? She remains firm so he starts groveling: if there's something she doesn't like, he can change! She reminds him she bought him for 1 million bucks, does she need to pay him another million to get rid of him? Damn it, she admitted it! Where are the reporters when you need them? UGH!


She further breaks his pride by saying he's not worth that much and offers less. *hee* She's not being "respectful" but this IS how their relationship started in Hong Kong. These are the only honest words she speaks. In tears again, he walks away but ends up going to wait at her apartment. Se Young almost has an accident when sudden pains hit and calls for help.
Hong Joo visits Ji-Sun to apologize, she's accepting full responsibility for the miscarriage. *sigh* She admits she's jealous of Ji-Sun because she has 3 beautiful children who are growing up healthy and mysteriously tells her things might turn out the way she wants. On her way out, she runs into a nursing friend and stops to chat but then sees Se Young in hospital clothing.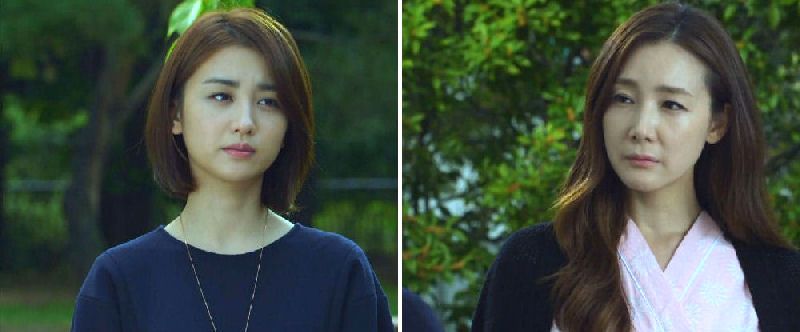 Interesting that the way this drama gets around patient confidentiality: because Hong Joo is a nurse. She follows Se Young outside and asks if Seok Hoon knows she's having surgery? Dragon-lady is rude and bitchy like normal, wondering why she has to explain anything to Hong Joo. She also tells Hong Joo she doesn't want her sticking her nose into her business.
OMG, the irony and bull crap is so thick, I need a shovel.
Hong Joo admits she wanted Se Young in pain but not like this and she's not the type of person to run and tell Seok Hoon. Se Young snaps that she doesn't want her pity but she wouldn't know genuine kindness if it slapped her. Hong Joo sincerely wishes her luck with her surgery and walks away.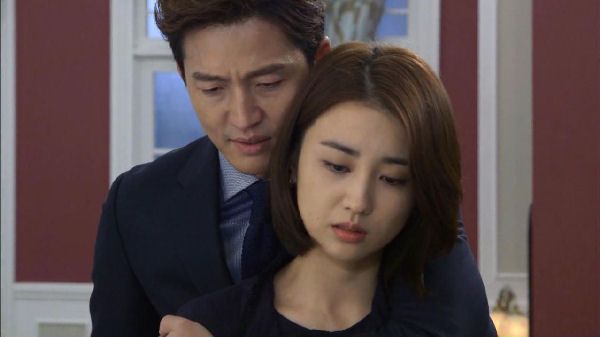 Min Woo finds Hong Joo packed, she already told his Mom who seemed glad they don't have to pay her off. She admits being hurt because of Ji-Sun but thinks she should have rejected his proposal. He grabs ahold of her, begging that she not leave but she wants to be free of all the trouble. I'm so confused, does anyone think Min Woo loved her? Cuz I don't.
Seok Hoon decides to accept the offer in New York but gets sloppy drunk and cries, having hallucinations of Se Young. Hong Joo goes home where her lovely brother yells he warned her not to marry Min Woo so she's a failure twice. His Father tells him to shut it, he told her to come home. So while his sister cries and apologizes, Hong-Gyu throws a tantrum.
The next day, Hong Joo is cleaning when Hong-Gyu yells at her again: if she were going to be miserable, why didn't she just stay? He grabs her arm to drag her out when she finally screams at him to leave her alone. What the hell is wrong with this kid? *blinks* Can't believe I had faith in him.


Hong-Gyu gets drunk, calls Seok Hoon and makes a complete ass of himself by asking Seok Hoon to get back together with his Noona. Wow, that's just…why would he want his sister with this cheating, sorry ass? The thing that comes out of this pathetic talk is Seok Hoon admitting he's the one who started all the trouble. No! Seriously? *rewinds to listen over and over*
He takes Hong-Gyu home, both he and Hong Joo are uncomfortable. Yea, he has no business being there at all and shouldn't even be meeting Hong-Gyu. I do find it telling he's never met with his ex-Father-in-law. Hong Joo wants to talk so they sit outside and she tells him she made horrible choices but it's over with Min Woo. She asks about Se Young, is that over?


When he says yes, she asks if they can eat and talk every now and then? *shakes with fury* He says no, they can't because he's going to work in New York for a year. She wonders if Se Young knows and then bites her lip as he reminds her they broke up. He says he'll see her when he returns, tells her to stay healthy and wishes her luck. Calling his name, she tells him Se Young is in the hospital to have surgery and watches sadly as he takes off running.
He finds Se Young sitting outside, hooked to an IV and asks if her harsh words were to hide this from him? She tries sending him away but he falls to his knees, wanting to stay and bear the pain at her side. She cries, she didn't want anyone to know, most especially him but gives in. This is supposed to be touching but is it wrong that I'm hoping all her hair falls out? (LMAO, sorry) This relationship still makes me ill and I'm not swayed, no matter what happens.
Things go crazy at DongSung Group when some construction companies go bankrupt and news filters to the stock market about money problems. Min Woo decides it's the perfect time to inform reporters how unstable DongSung Group is and plans to buy the affiliate companies.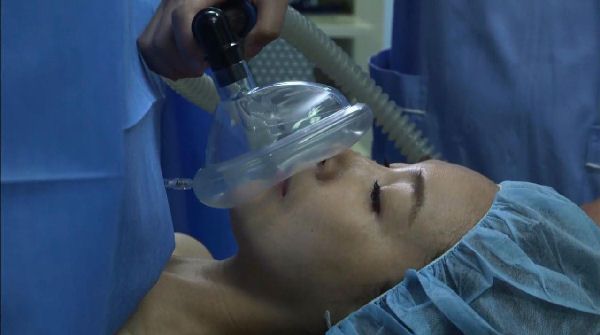 Se Young is readied for surgery, Myung Hwa enters to meet Seok Hoon for the first time. If he had been allowed to talk to her way back when, she would know whose husband her sweet, innocent friend stole from his family. Se Young is taken to surgery just as Se-Jin arrives, she tells Seok Hoon she's late because things are crazy at the company and something about construction companies.
The surgery begins and we're shown flashbacks of times the OTP spent together. Hilariously, two of the four scenes that are shown are of them cheating, Seok Hoon was still married to Hong Joo when those moments occurred! Suddenly something goes wrong, Se Young's blood pressure drops.
Thoughts:
Watching these episodes, I wavered between hysterical laughter and fury. I saw this coming when the writer began pushing the Se Young/Seok Hoon relationship as something "pure" and "true". Min Woo was turned into an obstacle and the OTP became the victims. I'm sure some people bought into that but quite a few didn't. We know exactly how and why everything happened and never once allowed it to be twisted. Not even the possibility of Se Young dying will change that.
The fact that the writer might take it that far tells me it's a complete and utter failure. And it doesn't work since I don't believe death will absolve Se Young of anything. She continues to be arrogant and pompous, a complete spoiled bitch who believes she did nothing wrong and all the wide-eyed, innocent giggles or hysterical sobbing (now that she's ill) do not convince me otherwise.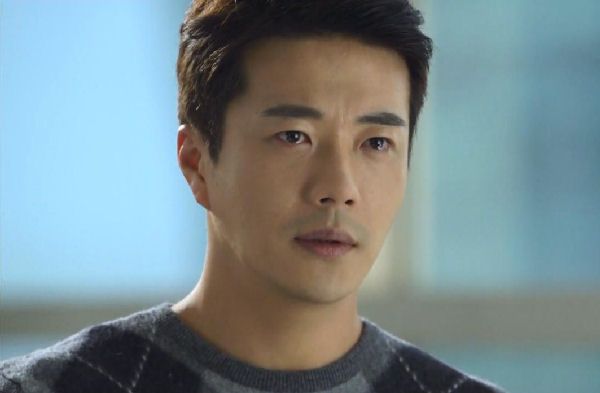 This episode did show me why I've been on Hong Joo's side all along, her genuine words to Se Young made it apparent which one of these ladies has dignity, empathy and class. In spite of her millions and her social position, Se Young will never be half the woman Hong Joo is. And it makes me furious that the writer continues to mock Hong Joo's morals and gentle, kind nature as something of little value.
While I understand young people believing the fairy-tale that love conquers all or being selfish and thinking only of themselves – for the writer to put those words into the mouth of an intelligent, grown-ass man in order to justify this shameful and deplorable relationship is dead wrong. Is Writer-nim really going with the message that there should be no boundaries because "you can't help who you fall in love with?" With only two more episodes, I guess we'll see!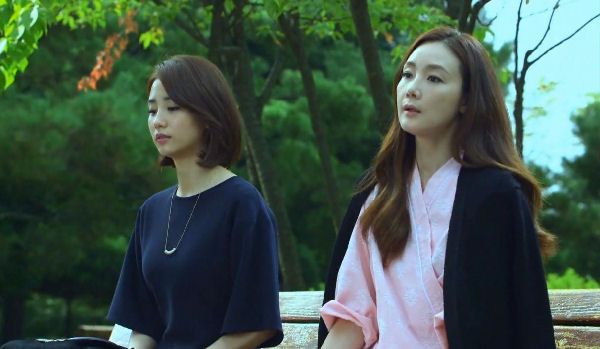 Catch the latest subbed episode at Kdrama.com