This drama was a nightmare, I'm happy it's over. And I don't want to see Choi Ji Woo or Kwon Sang Woo in a drama together – ever again. (LOL) This writer ruined their sweet coupling from Stairway To Heaven by making the pairing in this drama so unlikable that I despised them and hoped they'd fail. The ending was worse than The Woman Who Married Three Times *gasp* and will now take that one's place as the worst drama I've ever seen. Yep, it's all the way at the bottom.


Se Young is given a blood transfusion and bleeding is stopped so things stabilize, Myung-Hwa tells Seok Hoon and Se-Jin that she's going to be fine. At DongSung Group, Young-cheol is given a message that DongSung Construction owes 9.2 million and can't pay. The board realizes this will cause a chain of bankruptcies, they demand he call the CEO of DongSung Construction.
Min Woo is delighted to hear about the bankruptcy, he wants to immediately "shop" the affiliate companies that DongSung will have to sell. Attorney Choi thinks he should wait and Min Woo wonders why no one has been able to reach Se Young yet.
Seok Hoon wonders why Se Young hasn't woken up, Myung Hwa admits her vitals are stable so they'll just have to wait. Hong Joo talks to a nursing friend regarding a baby being born and also asks how Se Young's surgery went? Seok Hoon sits at Se Young's bedside, begging her to wake up so he can spend the rest of his life with her. *fights gag reflex*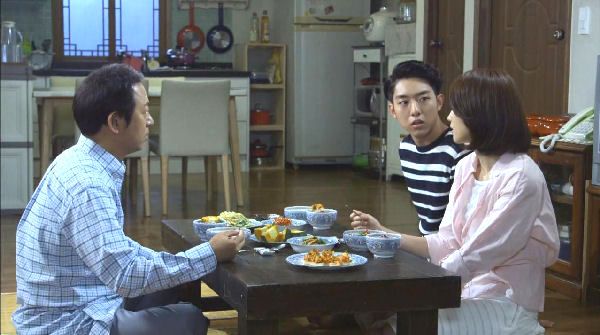 Hong Joo announces she wants to go back to work asap, teasing her Father that they should marry Hong-Gyu off and she can just live at home forever. Hong-Gyu gets angry and snaps that Hong Joo is pathetic, she should have at least gotten an apartment out of that rich family before she left. This stupid kid is angry at the wrong person but then again, he still has no idea what his girlfriends sister did to his sister. I hope he feels like an idiot when/if he finds out.
Min Woo enters his empty bedroom and looks at the freshly ironed shirts Hong Joo left. He flashes back to his proposal, when the only thing Hong Joo wanted was to throw the cheating couple into hell. Yea…that never really happened, did it? Meh, most revenge dramas are lame. Seok Hoon storms into Myung Hwa's office the next day, demanding to know why Se Young isn't awake yet. Zzzzzzzzzz…this is boring as hell.
Seok Hoon talks with Young-cheol about the bankruptcies and is told Ajin Group made secret offers for the affiliate companies. He gives Seok Hoon a letter Se Young penned in case of a company emergency. She asks Seok Hoon to protect DongSung Group and Young-cheol's part gives Seok Hoon the authority to do just that. So he's re-hired.


Min Woo wants to buy 3 affiliates but Attorney Choi warns him they don't have the cash. Min Woo snaps to just follow his decisions and stomps out of the office. Ji-Sun tells MIL that she sent paintings as gifts to those who covered Min Woo's investigation. Min Woo isn't happy to see her, telling her to just look after the kids and leave him alone. Later that night, he unlocks photos of Hong Joo on his phone for Roy, who asks when she's coming back. Awww, I missed Roy! I'd still rather watch a drama about just him and Hong Joo.
Se Young's Father learns about the company trouble and plans to go in. DongSung's board members aren't willing to turn things over to Seok Hoon, citing the reason is his romantic relationship with Se Young. He tries to focus their attention on Ajin Group's hostile take-over when Se Young's Father walks in and hears this. He accepts Seok Hoon, asking him to protect the company and look after Se Young. *snort* Yea, that could happen – the writer says so.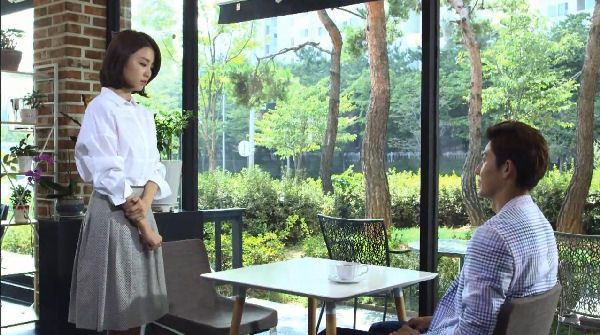 Min Woo has gifts delivered to Hong Joo, who refuses them but she's told he wants to speak with her. She very reluctantly goes to meet him. He has good news, DongSung Group is about to fall and Seok Hoon will fall with it. She doesn't want him to hurt anyone or himself anymore and apologizes for dragging him into this. He wonders if she still has lingering feelings, would she care if he destroyed Seok Hoon anyway? She says that's on him and leaves.
He chases her down and says she has to come back to him so that HE can ask her to leave when he gets tired of her. LMAO, wut? He wants her to take whatever she wants but she reminds him she's not money-crazy. He's offering her another chance because he pities her? Whoa, that's sooo romantic, this guy really knows how to charm the ladies. As she walks away, he grabs her arm.


Hong-Gyu suddenly appears and tells Min Woo to leave his ugly sister alone and go play with his supermodels. Putting his arm around Hong Joo, they walk away while Min Woo fumes. Seok Hoon plans to file a restructuring plan for DongSung Construction and not allow the affiliates to be sold. More boring company stuff as financing comes through which means DongSung Group is saved. Oh, hold me back from celebrating. No, really. I'm so excited.
More disgusting flashbacks, they keep showing us the exact times this couple were cheating! It proves my point: these two were guilty and there's nothing "true" or "blessed" about their relationship. Hong Joo stops by the hospital and sees Seok Hoon sitting outside with a wheelchair bound Se Young, laughing and talking. Strange, I suddenly have tears in my eyes, this is incredibly painful to watch. Se Young looks up and sees Hong Joo walking away.


Later, Myung Hwa stops by to discuss a nurse for Se Young. OMG, Se Young asks for Hong Joo! Han Soo tells Hong-Gyu that Min Woo was screwing his ex-wife but Hong Joo asked him not to tell. See what an ass you are, Hong-Gyu? You should now be able to figure out that your sister is keeping something from you about Seok Hoon and Se Young too – not that you would care.
Hong-Gyu wants to get revenge on Min Woo. HUH? Oh, so it's okay for him to seek revenge – didn't he chew Hong Joo out for wanting revenge against Seok Hoon and Se Young? Ahhh…that was different since it involved his little girlfriend! Pffftttt, these people all suck. Min Woo learns about DongSung's restructuring which means the affiliates won't be sold.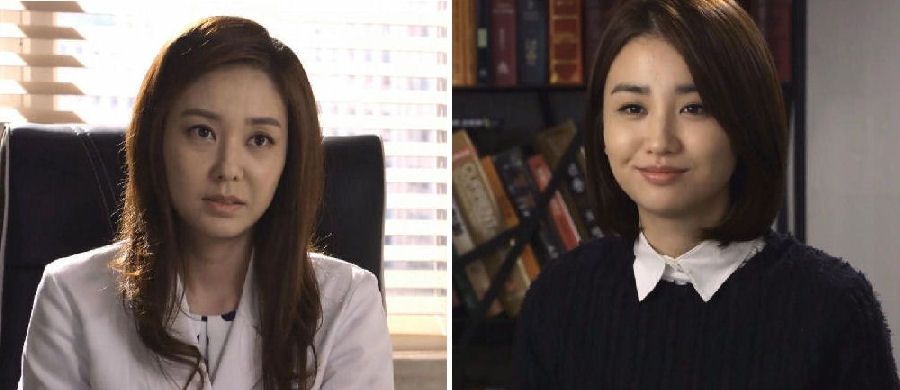 Se Young arrives at her villa to recuperate. Myung Hwa tells Hong Joo about a private nursing job but doesn't tell her who the patient is. Se Young must have told Myung Hwa whose husband she stole because Myung Hwa suddenly looks at Hong Joo with concern. I'm gonna guess Se Young (of course) left out all the details. This is so wrong, how could she do this to Hong Joo?
Han Soo and Hong-Gyu take pictures of Min Woo bribing an official. Min Woo wants this official to refuse the restructuring plan and make DongSung sell the affiliates. However, Min Woo's assistant catches the 2 idiots and grabs the camera before they drive off. Another however is – unbeknownst to Min Woo, Attorney Choi was wearing a wire during the meeting, which he gives to Seok Hoon.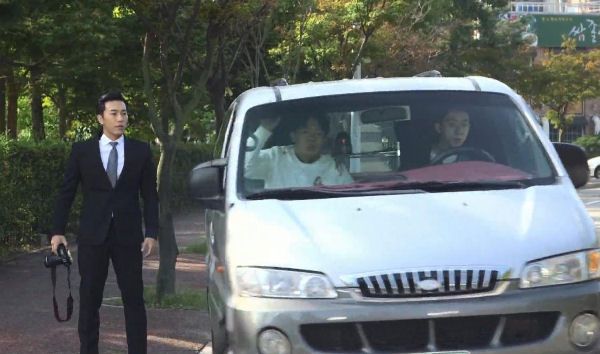 Attorney Choi tells Seok Hoon he hasn't been able to sleep a wink since betraying Se Young, everyone has to live with their own conscience. He also says he was wrong when he told Se Young not to see Seok Hoon and asks him to protect Se Young. *blinks* Oh, I get it – the writer is having all the characters in this drama cheer for the revolting OTP.


Hong Joo is driven to the private villa without a clue, smiling. She sees Se Young walking up and stops smiling. Nooooo, this is not fair! *tears up* When the hell are these people going to leave her alone? Se Young thanks her for coming but Hong Joo tells her she's gone too far and asks the driver to bring her luggage back out. In another obvious play to show Hong Joo who the boss is, the driver looks at Se Young and doesn't do what Hong Joo asked. She goes inside to get her own bag.
Se Young comes inside and arrogantly tells Hong Joo that nurses shouldn't discriminate. It's very clear she just wants to rub Hong Joo's nose in this whole mess one more time. She steps up in Hong Joo's face, sticks her nose in the air and asks if it's impossible for Hong Joo to help her? When Hong Joo looks at her, Se Young smiles smugly and shrugs her shoulders.


OH MY GOD, I truly hope this bitch dies. I didn't before but I do now, she's a horrible, nasty human being. Hong Joo tells her to get someone else and starts to walk out when Se Young doubles over in pain. Just leave her, please! *fumes* Nope, Hong Joo helps her sit down and rushes to get her pain meds. Later, Se Young wakes up on the sofa to see Hong Joo still sitting there. Hong Joo tells her not to over exert herself and to take her meds on time.
Se Young thanks her and then asks if she's the one who told Seok Hoon she was having surgery? Hong Joo apologizes for interfering but Se Young is glad she did. She asks Hong Joo to stay one more day, there's something she has to say. *mumbles some not so nice words* Hong Joo honey, make no mistake – this evil bitch just wants to hurt you some more, she's not done.


She talks to Seok Hoon on the phone and then carries a box outside to give to Hong Joo. It's those stupid, frigging sparkly shoes, Se Young thinks she should return them. Oh, F' OFF, YOU STUPID COW. She knows seeing those shoes would hurt Hong Joo even more! She wants to apologize beginning with Hong Kong but since she's saying this with a smirk on her face, I'm not buying it. Hong Joo refuses her apology. I wouldn't accept it either, what this bitch did was unforgivable.


Her treatment of Hong Joo was inexcusable plus her present attitude still seems pompous, you can tell she's not sorry at all. Se Young admits she wanted to test their love and make it collapse but now she's being punished. (OMO, she fully admitted it!) She;s being punished since she won't be able to have Seok Hoon's children. Wow, she's got some nerve to say that to this woman whose marriage she destroyed ON PURPOSE, since Hong Joo also couldn't have children.
Seok Hoon takes the tape of Min Woo bribing the official to the newspapers. Hong Joo prepares to leave but Se Young tries to delay her. Is she waiting for Seok Hoon to show up? Yep, she is. As she walks Hong Joo out, Seok Hoon pulls up. Se Young tells him she asked for Hong Joo but was too greedy since Hong Joo wants to leave. What the…she just put Hong Joo down and blamed her again. *shakes head* What a piece of work she is, it's never-ending.


Se Young insists Seok Hoon take her to the bus stop since she feels bad. OMO, you stole her husband so you'll make it up to her with a ride? *facepalm* In the car, they're both quiet until Seok Hoon calls her name and asks if she's been well? *tears up* This is so painful that I'm actually crying. He warns her that Min Woo will be facing a bribery scandal, he just thinks she should know.
Before she gets out, she tells him that she doesn't want to meet him or Se Young again. He understands and promises to make sure she's not bothered again. They say goodbye and turn away from each other. So he just leaves her, standing at a bus stop out in the middle of no where and drives off? Then we see Se Young taking a walk, all smiles. I'm so disgusted.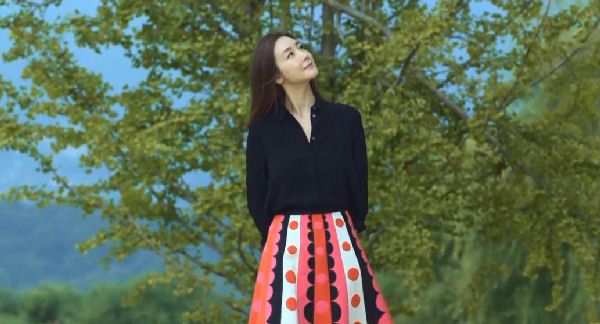 Hong Joo goes to warn Min Woo but since he thinks she's there to get back together with him, she leaves without telling him a thing. *hehehe* When news breaks of Min Woo's bribery, Seok Hoon talks to the board about working with companies with bad morals. No way, is that an inside joke? Attorney Choi gives Min Woo his resignation.
Min Woo's Mom tells him the Ajin board is meeting to discuss his management rights so he should go to Boston with her. He refuses. Seok Hoon shows up to play nurse for Se Young but I'm skipping ahead again since I can't stand seeing either of their faces on my screen. I wonder if that means I won't be able to watch this actress or actor ever again. (LOL)
Hong-Gyu is heading out when his Father teases him about dating. Hong Joo is surprised and asks their Father if he's met the girl? He admits it so Hong Joo asks Hong-Gyu to introduce her. He promises he will but later and leaves. Lets just sweep that quickly under the rug, shall we Writer-nim? All hell will break loose when that rock is overturned and you've conveniently run out of time.
MIL takes Roy with her to Boston, Ji-Sun comes by to take her girls which leaves Min Woo all alone. She tries to tell him to stop drinking and form a new vision for Ajin Group so he can get back to work but he just tells her to leave. Another total waste of time scene showing Hong-Gyu and Se-Jin providing Han Soo with a blind date. *yawns*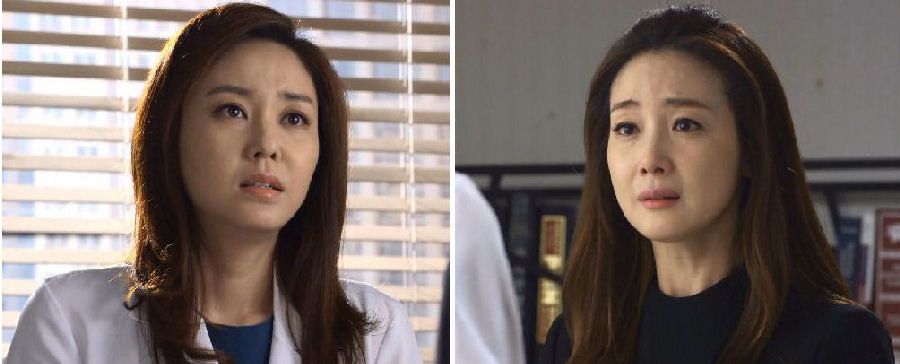 When Se Young goes for a check-up, Myung Hwa has bad news: the cancer has spread. Oh, noes! *snicker* Even though Myung Hwa already told her this could happen, Se Young throws a tantrum and screeches that she won't live her life going in and out of hospitals for chemo. She sits outside on a bench and sobs. Aww, so sad (you all know I'm laughing).
Myung Hwa tells Seok Hoon and asks him to help. He returns to the villa and finds Se Young bent over her puzzle, ignoring him. She screeches at him, feeling sorry for herself. She's good at playing the victim when she doesn't get what she wants. Makes me wonder what she would have done if Seok Hoon had told her to go to hell in Hong Kong – had him thrown in jail for defying her? Most likely.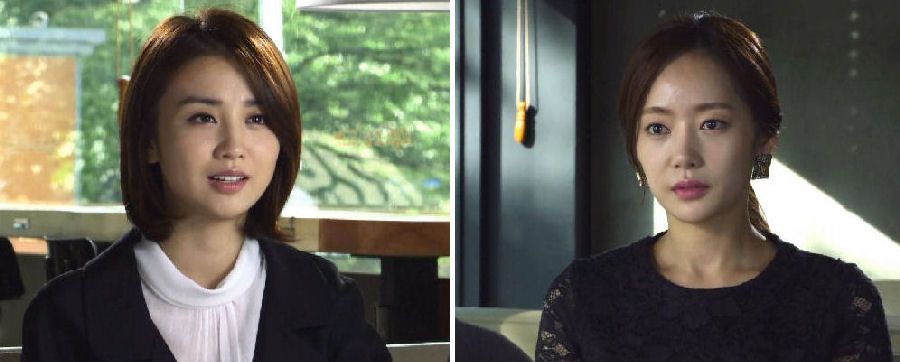 Ji-Sun meets Hong Joo to sincerely thank her for taking good care of her girls. She also drops the news that Min Woo is alone and wallowing in self-pity. Sounds like a perfect match for Se Young. *snark* Seok Hoon hears from Young-cheol that the opening of the new M Hotel in Hong Kong is coming up, Se Young has to attend to dispel the rumor that she's terminally ill. LMAO, another "rumor" that's true?
Hong Joo stops by Min Woo's house trying to get him to stop drinking and move his ass. She mentions how much she's learned by letting it all go and how disappointed Se Young will be if she returns to find her competition fell apart all on his own. At the villa, Seok Hoon tries to pump Se Young up the same way to get her ass out of bed. He wants her to go to Hong Kong with him.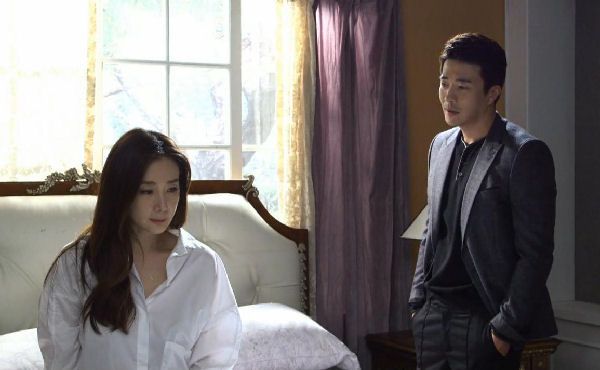 They fight, she storms out and gets into the car, driving off. White truck of doom coming? *prays* Bummer, no such luck. Seok Hoon follows and finds her at a beach. Maybe they'll both walk into the water to drown themselves. *silence* What? I'm allowed to hope! He apologizes, she doesn't have to come to Hong Kong with him. It's another parallel.
She wonders why she has to accept this punishment, what did she do? Seok Hoon tells her not to look for a reason, there isn't one and she agrees, that's why she's angry! Bwwahahaha, I just can't. The arrogance continues and as the poor-me crying starts, I fast-forward again.
Hong Joo is walking home with groceries when she sees Min Woo waiting. He tells her he's going to Hong Kong and asks if she wants to go with? Nope, she doesn't have any good memories of Hong Kong. He wonders if she's not going to meet him again then reminds her that you never know what will happen or who you'll meet. She wishes him well and says goodbye, he watches her go inside. You don't deserve her and neither did Seok Hoon so leave her be!

Seok Hoon leaves too and later smirks when he sees Min Woo is on the same plane. They meet at the hotel in Hong Kong and trade barbs regarding the rumors that Se Young is ill. Suddenly she shows up, all dressed in white. That's it – I'm out.
Thoughts:
The message? If you have enough money and see a good-looking man or woman you want, just buy them! Yes, people can be bought with money! Doesn't matter if they're happily married or how many years they've been married – you too, can be a wave and destroy someone's happiness. Go for it! Be selfish and to hell with morals! You'll end up in Hong Kong, draped in a fabulous white gown!
Worst drama I've ever seen, complete with horrible ending.

I want to express my appreciation to my fellow Temptation watchers, including those who didn't watch but dropped by to read and leave me encouraging messages each week. You're all amazing people and I wish I could buy everyone a round. I can't thank you enough for letting me vent through this whole mess, complete with filthy language and even laughing at my lame jokes. *giantgrouphug*
I promise I'm going to watch a comedy next.