Where are my SoLim shippers!!! Give me an "S"!…Give me an "O"…
*sits back down in embarrassment* Seriously, I'm so sorry that I'm way behind in writing about this couple. It's not that I haven't been watching, (haven't missed a single episode) but the holidays and then work just kicked my arse. When I finally got a chance to sit down and read through some of the comments at Soompi, I was shocked to learn I'd missed a huge controversy. Let's play a game: leave a comment if it made no difference in your decision to continue watching our SoLim couple.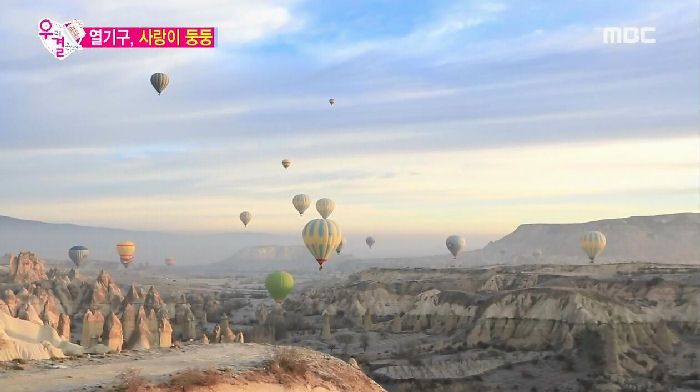 So apparently So Eun gave an interview and stated there was zero chance of any "real" feelings developing between her and Jae Rim because they only see each other once every two weeks for filming and they're too busy to keep in contact when they're not filming. For some reason, this angered Korean netizens to the point that they demanded she be taken off the show or they've started leaving nasty messages about So Eun. *sigh* Really? PEOPLE! Let's get a grip!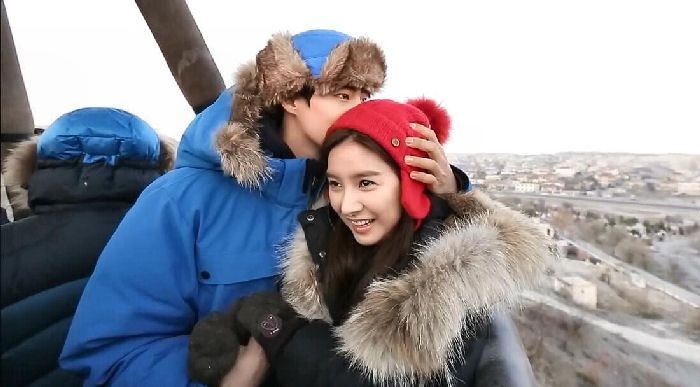 I'm most likely the most delusional fan of this couple in the world because the way I read her statement? She was poking Jae Rim. If he has a prayer of getting any further with this lovely lady, he needs to contact her outside of WGM. *hehehe* There will be no kisses coming from her until he does…or any other more intimate forms of skinship. That's what I'm going with. Call me delusional, call me a sucker of WGM, call me an idiot – don't know, don't care.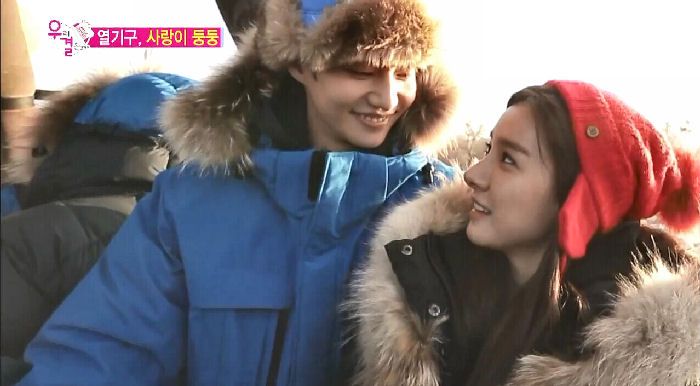 Honestly, I know WGM is a variety show for entertainment purposes and my guess has been that some of these couples don't even like each other. No biggie, I don't care if they end up really dating or not. The reason I remain firmly stuck on the SoLim couple is they're just fun to watch! Jae Rim doesn't pretend to be something he's not: he's a normal, red-blooded man. And So Eun isn't putting on any "OMG, he kissed my head!" crap, pretending shock when he initiates physical contact.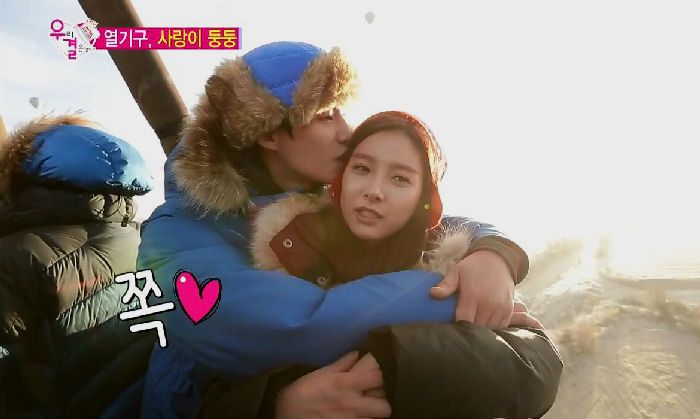 Maybe it's nothing more than a physical attraction but that's okay too. They're both adults so if they choose to just flirt, kiss and have fun without developing into anything permanent, who cares? (LOL) They're both NORMAL, that's all I care about. The idea that a 30-year old man or a 26-year old woman can't touch each other, hold hands or kiss without answering to ME (the viewer) is ridiculous. The love-life or sex-life of these two young people isn't a major concern in my life. Sure, it's fun to read about or watch but it won't make or break my day nor will it have any major impact on my life. So let's just watch and enjoy without digging too deep, shall we?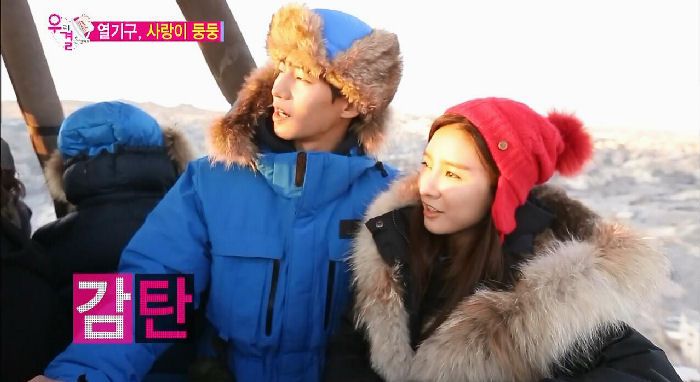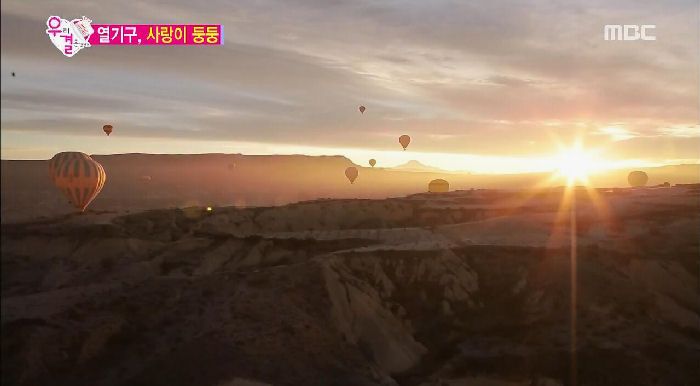 Last weekend was the dreaded (for Jae Rim) balloon ride but it provided us with quite a few more delightful, squee-worthy moments. How beautiful was that Turkish sunrise? Absolutely gorgeous! Even though initially he might not have wanted to go up in a balloon, I have a feeling it's something Jae Rim will remember forever, they both will. How sweet was it when he screamed that he liked her, she mouthed "Me too". THIS is what I'm talking about, you can tell they like each other and are having a lot of fun. If it's nothing more than that, who cares?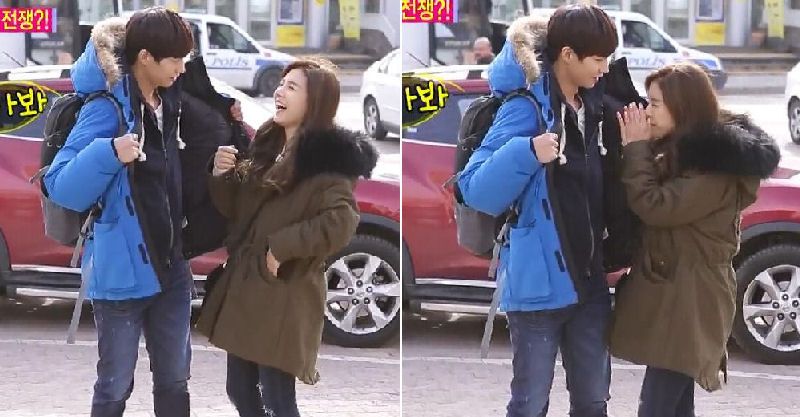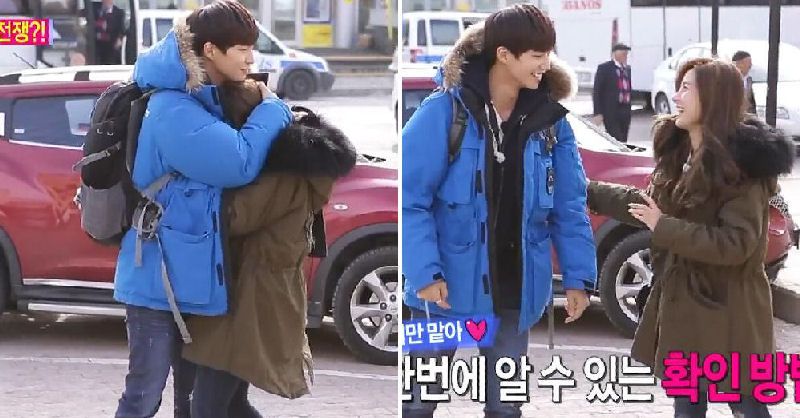 I know others favorite scenes were all the kisses Jae Rim planted on So Eun's hair (will she go bald? LOL) but my favorite was the street scene when she asked if he was wearing the cologne she bought for him. It's SUCH a guy thing to say "Here, smell me" or bring his neck close and then whammo, he wraps his arms around you. LMAO! He's a dork but I love it.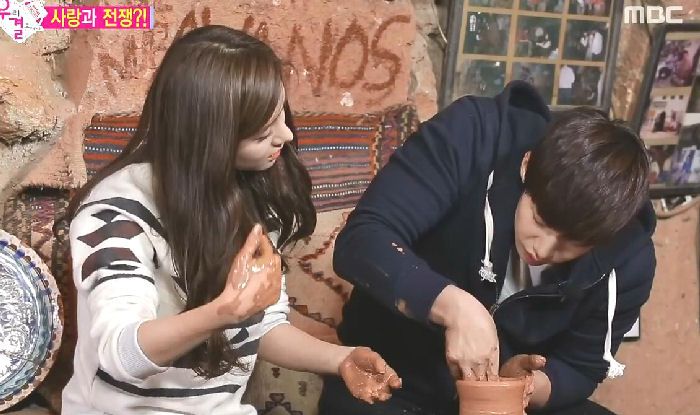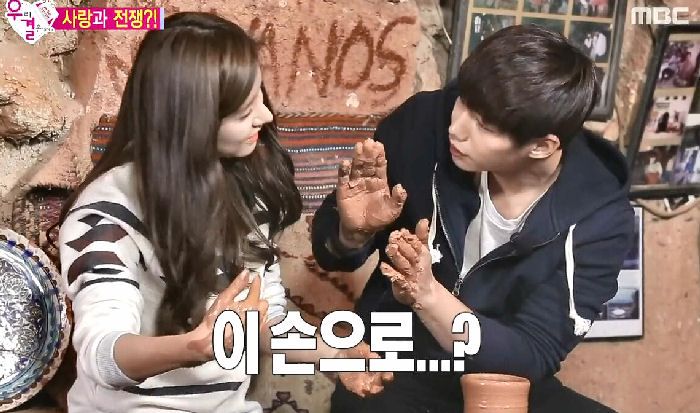 The pottery wheel was hilarious, it's funny how completely absorbed Jae Rim gets in certain things. It was also funny to me that for once, he didn't have his hands (or lips) all over So Eun and she most definitely noticed. Ahahaha. Something tells me that if he were to ignore her for too long, she would be all over him but that's my own personal speculation. "Ghost" parodies are always a failure unless the man is straddling the woman from behind and I doubted that would happen.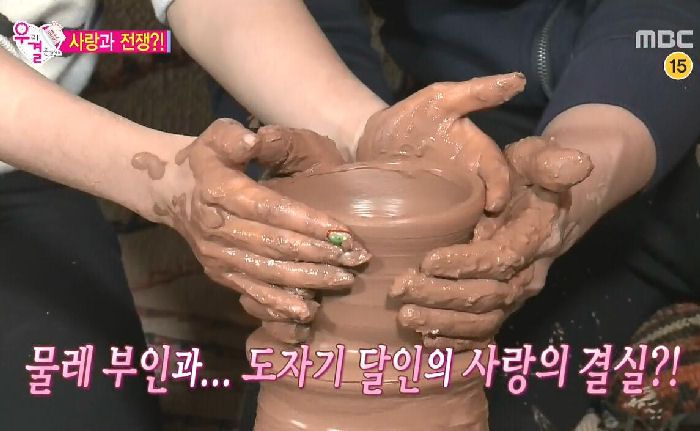 I'm sorry to say the hair-cave grossed me out but it was awesome that So Eun had no problem clipping off a bit of her hair. When Jae Rim pulled her against him, I gasped out loud. OMO, I'm such a pervert. (LOL) Is it true that in order for your hair to grow quickly, you're supposed to think sexy thoughts? That can't be true. With all the K-dramas I watch, I'm always thinking naughty thoughts so my hair should be down to my feet by now. I'm calling BS. *keke*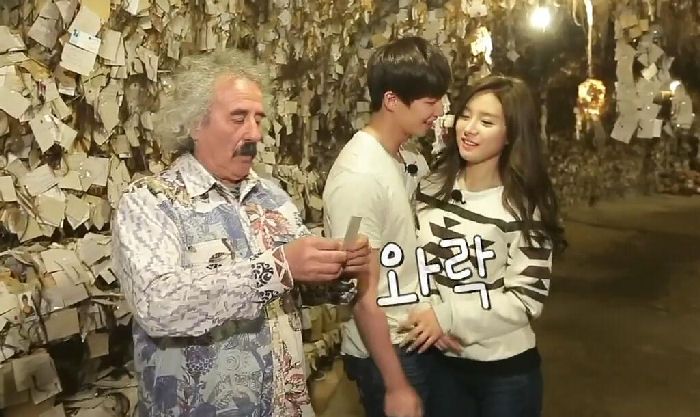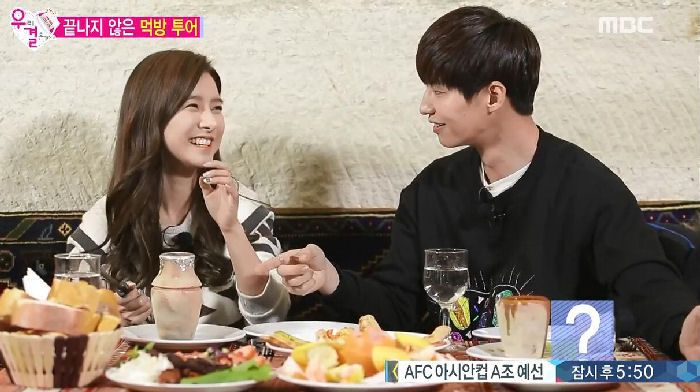 I don't know why it's fun to watch this couple eat, I normally find the dining scenes between couples on this show to be boring. I love the continuation of the "let's play a game" with our SoLim couple and hope they keep that going. LMAO at Jae Rim when he said not even a bird or a mouse would notice when So Eun does aegyo. She's getting better at it though, right? Jae Rim's whining out "Why?" over and over was cuter. I'm terrified for him regarding what her next wish might be, let's all pray that it's not dancing or singing. If he keeps bringing up her failed kimchi stew, she might make him do it again.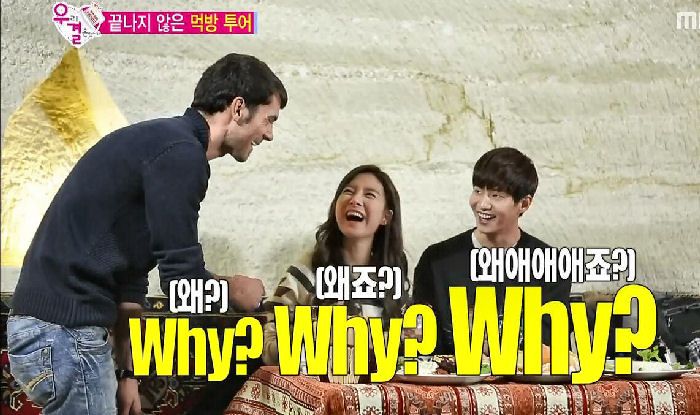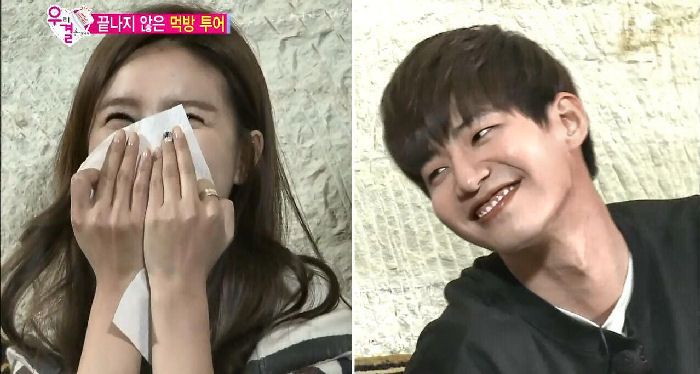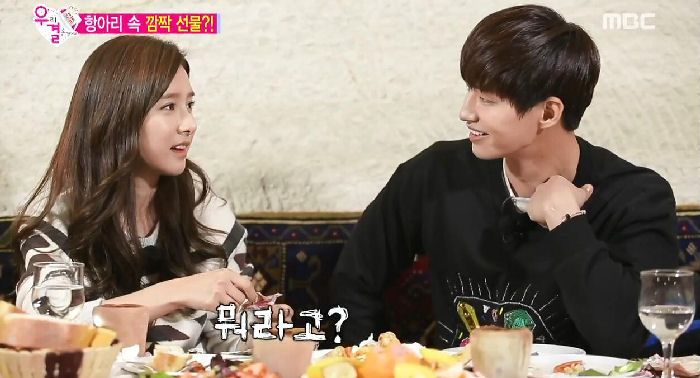 This guy…he's driving all the men out there insane. The way he's constantly thinking of or preparing gifts for So Eun is amazing. Again, I realize it's the show but he did say he's acting like he normally does when he's dating someone. It's funny that he got her birthdate wrong again but he was right that September 11th is a special day. Isn't that the date of their first meeting? Cute.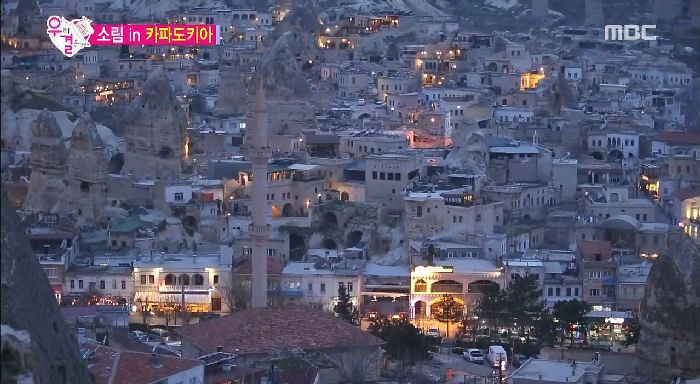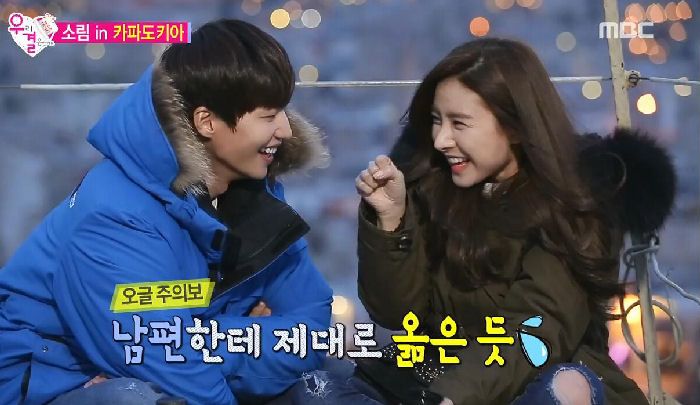 He searched for the best place to see the sunset? I'm such a sucker for romance and I love it when guys do this type of stuff. That view was gorgeous too. I expected him to say So Eun was the best thing that happened to him in 2014 but didn't expect her to say something similar. She's now excellent at giving his cheesy lines right back, I love her. From the preview, I wonder what he said to deserve being put in a head-lock and can't wait to find out. I'm still enjoying watching this couple and wish them both all the best in 2015.
So why am I still watching? Just cuz 나는 그것을 좋아. JO-AH!