This week, Healer was incredibly awesome to watch live but when the subs finally came in, I was disappointed. Of course, there has to be one final stand by the bad guys but for our side to suddenly appear lazy, sleepy and stupid ticked me off. I guess Young-Shin and Jung-Hoo no longer care if the people who killed both their Fathers face justice? The Elder disappeared into the sunset and the only person who seems to mind is Moon-Ho. Oh and Ahjumma – she's still fighting too. I love Ahjumma!

I'm happy Young-Shin finally told Pops Choi she found her birth Mother but it's strange she didn't say who that woman is or explain anything else. Pops Choi asks no questions, it was a very moving scene and I found myself tearing up. The missed phone call from Jung-Hoo was depressing but I loved the thought he had: If you don't ask, I can't answer. *heh* I'm not a big fan of characters who don't TALK to each other.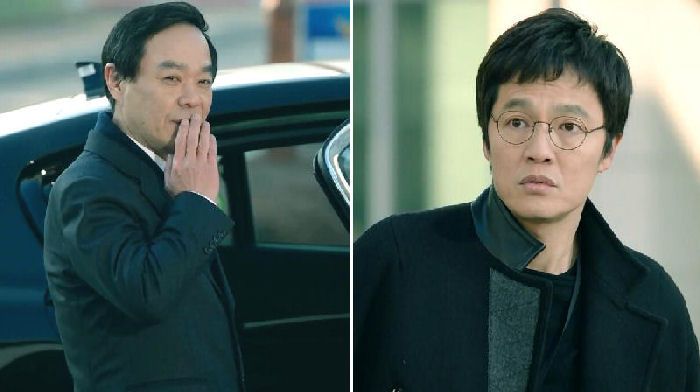 No surprise evil Secretary Oh was released, since we know the people involved are very high up on the food chain. His blatant snub in Detective Yoon's face was hilarious and daring, this guy believes he's invincible and I can't wait for him to find out he's not. Detective Yoon is even more suspicious because of the numerous witness's who all say the same thing: ex-cop Dong Cheul died at the hands of a 20 year-old man, wearing glasses and a cap, who has incredible martial arts skills. It's identical to the murder case of President Hwang, the scumbag pimp, where everything was nicely laid out.

Also convenient that Moon-Sik just happened to not be home when Young-Shin decides to pay a visit to Myung-Hee. No matter, I ended up sobbing like a baby, which is most likely the reaction I was supposed to have. (LOL) I knew the reunion would have me in tears, even if Myung-Hee doesn't know this girl is Ji-An. I loved that she told the complete truth about the photo, naming Gil-Han as her husband. Yea…Moon-Sik keeps leaving that part out. Was this the first time Young-Shin had ever seen her Father's face? We don't know because we didn't hear her full conversation with Moon-Ho last week.

The scene between Jung-Hoo and Secretary Oh in Moon-Sik's office was hilarious, Jung-Hoo knows this guy has OCD (Obsessive Compulsive Disorder) and plays with him by pulling books off the shelves and throwing them onto the floor. I loved that wuri Healer showed zero fear talking to the Elder over the phone but I was kinda hoping he would beat the crap outta Secretary Oh. (LMAO) My violent streak is coming out.

Finally hearing Myung-Hee's story left me…blank. She got a frantic phone call from Moon-Sik to leave because "those guys" were coming so she runs but hides Ji-An under a blanket in an alley. Well, at least we know how they got separated but how exactly did Myung-Hee end up on death's door? Did she run out into traffic and get hit by a car?


The 1992 story is not at all what I thought and I confess to being stunned. We learn the two fathers had been following a story for over a year (I'm guessing it was about the Elder) and take photos of what they believe is slush money being loaded into a truck. They're caught, Gil-Han is beaten to death and dies but when Joon-Seok sees this, he's stopped from rushing out by Moon-Sik – which makes Moon-Sik a hero in that moment? Excuse me while I go vomit.

Joon-Seok did manage to grab one of the cans of paint and he took photos of Gil-Han's dead body. He later goes to the police station to report this murder as well as giving evidence about the contents of the paint can but we have no clue what happened to him after that. The idea that Jung-Hoo or Young-Shin are satisfied with this tiny bit of information about how her Father died is crazy. And it turns out the whole thing was about using cheap materials in construction? LOL, wut? There has to be more, right?

So Moon-Sik was brain-washed: using torture, sleep deprivation and withholding food and water to make him give false testimony and blame his friend. Joon-Seok supposedly got angry and killed Gil-Han over this money. Is it just me or did the story jump around quite a bit, not really giving us any concrete information? I still have no idea how Joon-Seok died, how Myung-Hee was injured or when the Elder approached Moon-Sik. Knowing Myung-Hee does not and has never believed Moon-Sik's story, how on earth did she end up married to him? I want answers, damn it!

The whole cloak and dagger routine to get Joon-Seok's interrogation tape ended up falling flat. Yes, our side got their hands on the tape but what did they do with it? Nothing. Although it's lovely that Young-Shin and Jung-Hoo know the truth, was that truly the only reason they were searching for it? I didn't think so as Jung-Hoo went through all the trouble of exposing Elder's face but then everyone went into zombie mode.

From there, the story dissolved into romance, with Jung-Hoo meeting and greeting Pops Choi. Funny and most definitely cute but where did the suspense and tension go? There was a horrible rumor that there might have been some lasting drug in the incense, which is why Jung-Hoo is suddenly sleepy all the time but why didn't it have any effect on the Elder? Was he holding his breath? Our OTP getting cozy and cute inside the enemies house doe! Did that bother anyone beside me? (LMAO)


I loved Bong-Soo's return. I don't know what it is about Ji Chang Wook playing a rather helpless, dorky, somewhat whiny guy that hits all my buttons but he did this in Empress Ki too and I loved him. Maybe it's because it makes me laugh or maybe it's just that I don't go for the ultra-macho, manly type who's pompous and a bit of a jerk – which is most leading male K-drama characters. I love Bong Soo, he's adorable and it appears everyone else loves him too, his co-workers were delighted to see him.
This was my face after seeing this weeks episodes with subtitles:

Moon-Sik's appearance on Jae Il News was revolting to watch but I can not believe our side just folded up, like it's all over and they've lost. Where did their fight go? URG! We heard the Elder discussing how people disappear and no one questions it, which made me think that's his plan for Moon-Ho. Or is this a test for our Healer, who will he save – the woman he loves or the man who has become like a brother to him? Nothing better happen to Moon-Ho or I'll be majorly upset. His sudden decision to take photos of all his "kids" scared the hell outta me, it was like he was saying goodbye.

I also wonder if it will be Myung-Hee who will finally step forward and call Moon-Sik a liar. I hate having this many questions when we only have 2 episodes left! Am I too nit-picky? As an aficionado of mysteries, I do like a tight story full of intrigue with all questions answered but I've learned that usually doesn't happen with K-dramas. I didn't expect to have so many innuendos or hinted, half-told back stories, I expected solid facts. Could this be why I'm so disappointed this week? Talk me down, people, talk me down!
"I don't understand why no more smexy-times"