I'm not exactly sure what it is about the J-drama formula of mean schoolgirls, older female teachers and younger men that seems to work but I feel like I've seen this particular drama many times before. So what drew me to it? I'm not sure, maybe you guys can help figure that out. (LOL) It can't be simply that Kame is the lead in this one. I mean, his acting leaves a lot to be desired. He's not on the same level as say…Takumi Saito, Hiroshi Tamaki or even Haruma Miura and even though most of these guys are older, it's not by much – only 5 or 6 years, with Haruma being younger.
Could it possibly be that very formula that I mentioned? It's comfortable, it's easy to follow and I kind of know where the story may be headed. Whatever it is, I started Second Love this week and I'm already invested in the characters and can't wait for more.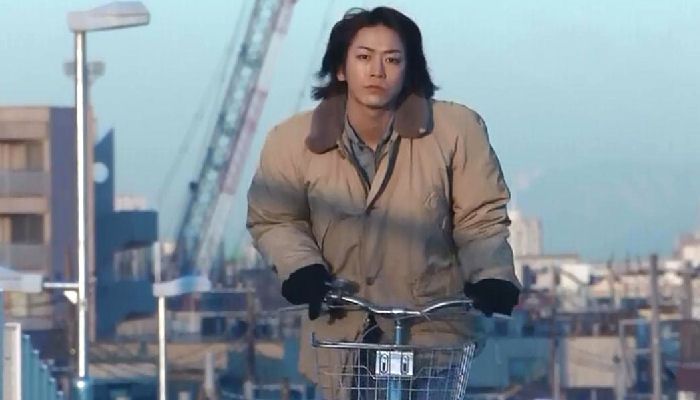 It begins with Kei (Kazuya Kamenashi) being rejected by yet another dance company. He was let go from his previous company when his contract ended and has been auditioning for various companies, even one in Berlin but keeps getting rejected. He's working part-time jobs in the meantime and finds himself depressed, wanting to die because he has talent but no position.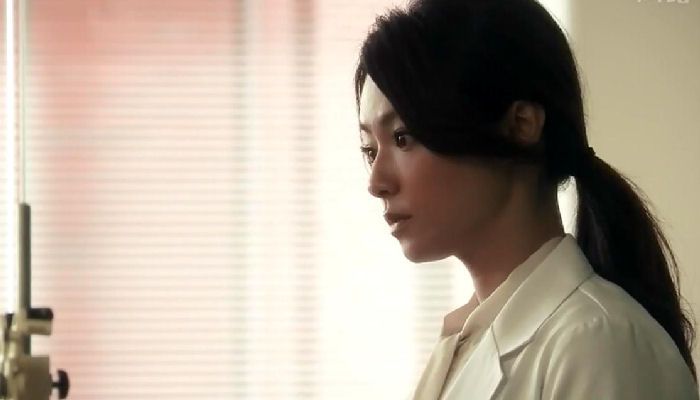 Yui (Kyoko Fukada) in a single high-school teacher in her 30's. She's been having an affair with a fellow teacher who is married with children and feels her life is going nowhere, she has no future. Teaching at an all girls school where the students treat her with contempt, she might have a stable job but there's nothing in her life to be happy about.


Passing by the school one day, Kei sees Yui crossing the bridge that connects the school buildings and watches in fascination as she turns her face towards the sun, pops a piece of candy into her mouth and stretches. He returns the next day to watch her again but this time, is seen by the girls and teachers from the windows. The teachers panic, thinking he's there to molest the girls. They confront him, does he have business at the school? Shaking his head no, he hops on his bike and leaves.


Yui enters her classroom to find the girls riled up over a magazine photo spread she appeared in when she was younger. She was scouted as a model during her second year of high-school but it came to nothing. The girls are snarky (which makes me wanna slap the hell outta all of them) and belittling, Yui is too old to do anything with her life now, according to these little brats. Ugh.
She meets the married guy at their usual hotel that night and then goes home. She lives alone with her Mother, her parents were divorced years ago because her Father had an affair. Well, then it seems even stranger that she would be sleeping with a married man, right? *shakes head*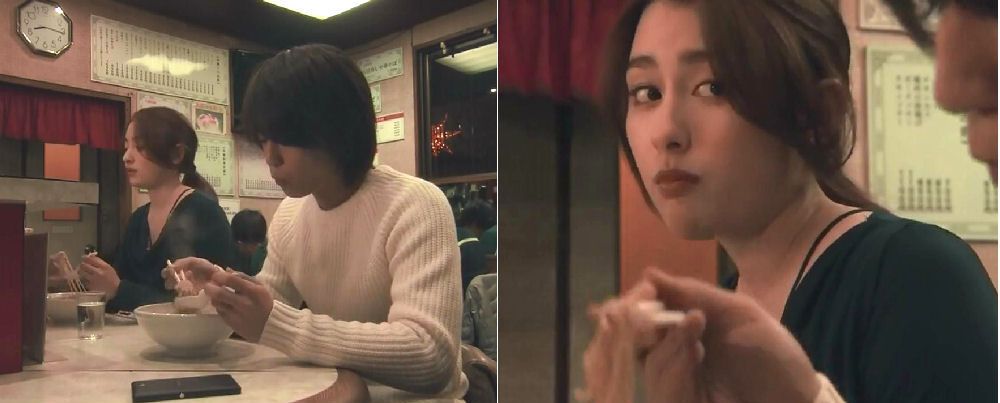 Kei has dinner with his childhood friend and fellow dancer, Ayako, who wishes him luck with hearing good news from Berlin. The way she stares at him, I'm gonna guess she's wanting more than friendship but he doesn't seem interested at all. Alone at home, he decides he wants to change something and writes out a small note.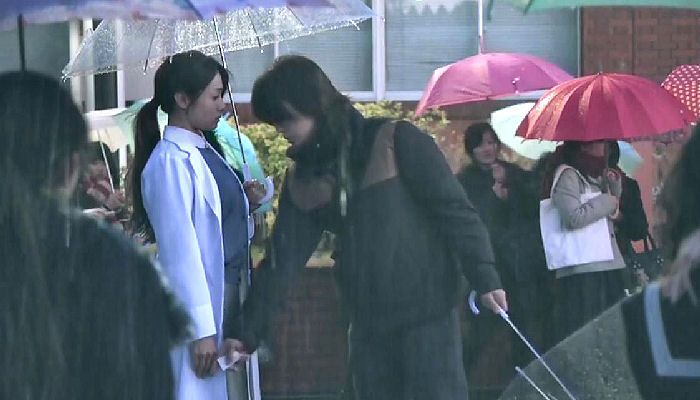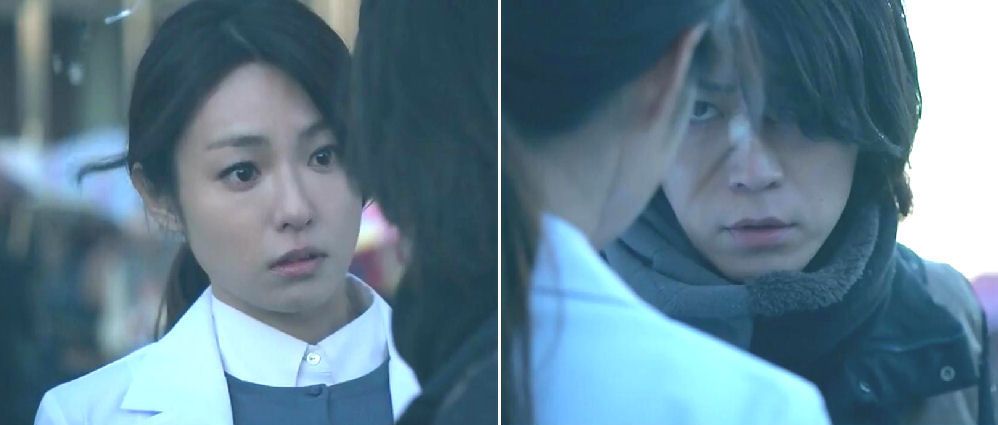 It's raining the next day but he boldly steps forward onto the school grounds as the girls are leaving at the end of the day. The teachers freak out, protecting their precious female students from this possible molester but he strides directly towards Yui. Facing her, he drops his umbrella and reaches down to slip the note into her palm. She quickly places it inside the pocket of her lab coat, which makes him smile before he turns to leave.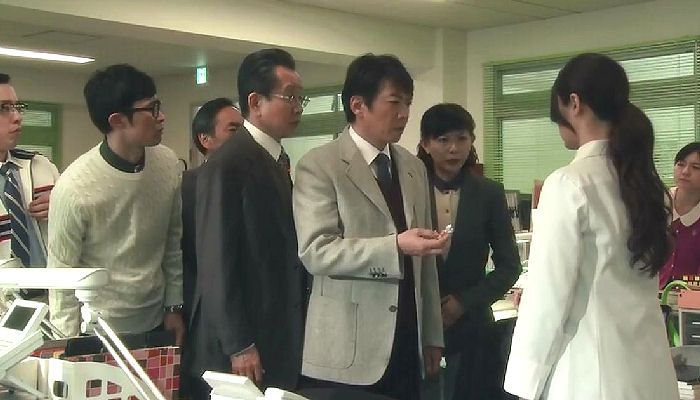 Inside the teachers offices, they're all happy he wasn't after one of the students (LOL) but does Yui know him? She's quick to deny this since the married guy she's sleeping with is all up in her face. He looks old enough to be her Father so I'm sure he's pissed this younger guy approached his weekly bed-mate. When he demands to know what the guy gave her, she reaches into her pocket and pulls out a piece of candy. He's not happy and angrily throws it into the trash. Pffttt, get over yourself! Didya forget you're married?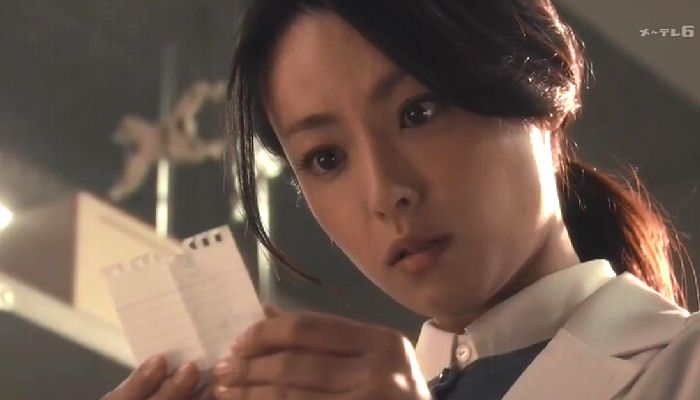 Later,when she's alone, she pulls out the note and reads: it just has Kei's name and phone number. Once home, she looks up his name and discovers he's a famous contemporary dancer, although she isn't sure what a contemporary dancer is. She wonders if he has her confused with someone else? She doesn't call but also doesn't throw out the number.


Ayako tries to talk Kei into working as a teacher at the studio she works at but he refuses. She also gives him a flier for a traveling company that's auditioning backup dancers but he refuses that too, which makes her all snippy. He gets rejected from another company. Standing on a bridge that crosses traffic, he starts to put his foot up, like he's going to jump…when his phone rings. It's Yui.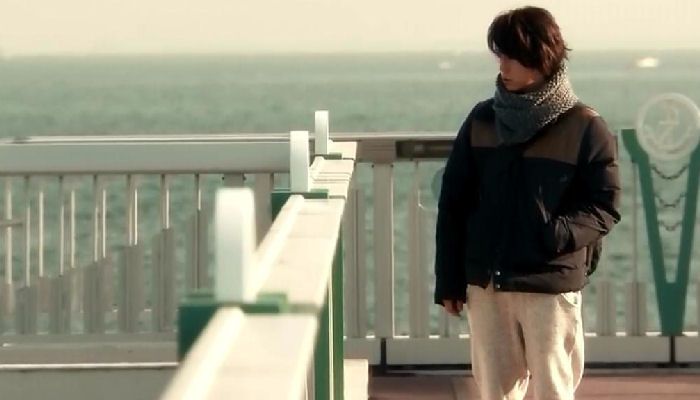 She hangs up when he answers (LOL) but he calls right back. He begs her not to hang up, just tell him where she is. Ahhhh, he probably believes she saved his life, right? *kekeke* Simple. He rushes to her location and grabs her hand, introducing himself. She still wonders if he made some mistake, thinking he knows her?
Nope, he wants her to go out with him. ROFL! Okay, why not – go for it, big guy. She's all "huh?" but he explains he saw her crossing the bridge at school, even mentioning the exact date. She thinks the way he passed her the note was kinda creepy and she doesn't know what kind of person he is. He tells her he's a dancer and smiles when she says she knows that. LMAO, gurllll…you just admitted you looked him up! Rookie mistake.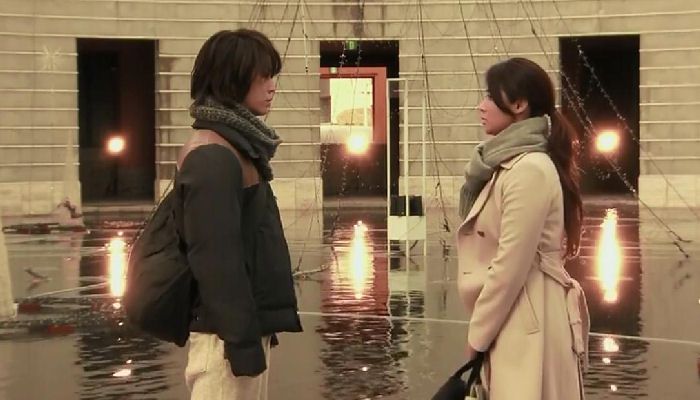 She questions if he's really that guy she saw on the Internet? Removing his coat, scarf and shoes, he dances for her. I gotta admit, I laughed since it's painfully obvious Kame is NOT a contemporary dancer but neither am I. Good time to make a quick run to the kitchen for popcorn. Anyhoo, she's all impressed as she watches but then asks if this is a new form of fraud? Is he after money? Because she doesn't have any and she runs. Ahahaha.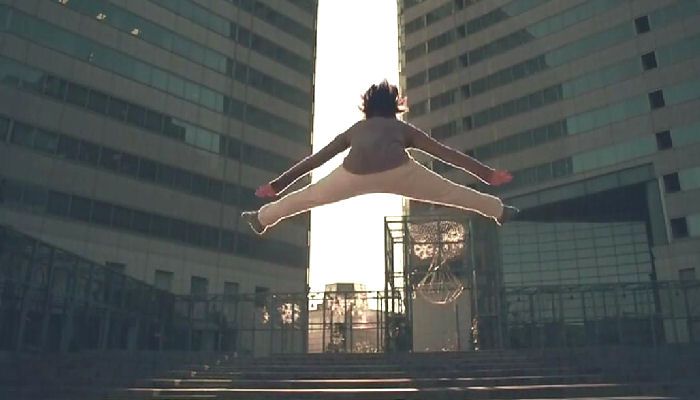 The next day, one of the creepier school-girls overhears Yui making plans with married guy to meet at their usual place. Yui is worried and then tells him she has plans. That night, Kei finally hears from Berlin and it's another rejection, he failed the audition. This is also the exact moment that Yui seems to make some kind of decision. She rushes out of the house, ignoring Mom's questions and rushes to the spot where he danced for her.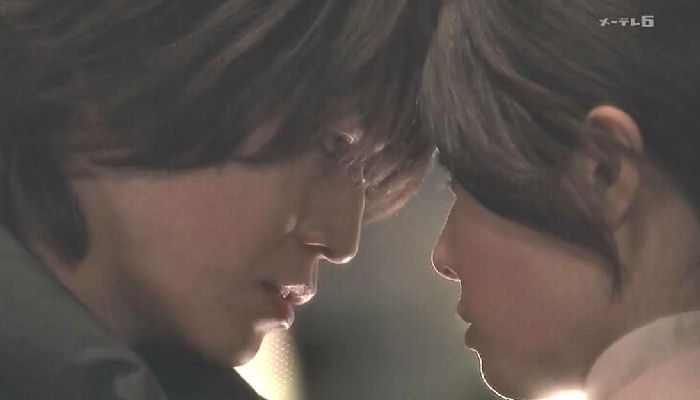 So this is now the second time she's appeared in front of him, both times are when he's finding it painful to continue living. She's angry he didn't pick up his phone, he hugs her, saying he likes her. She doesn't understand (neither do I) why does he like her? She's older, she's just a teacher and she's definitely not a goddess – she doesn't even like herself! Pulling her close, he tells her he wants her to save him. Wait…MEH? (LOL)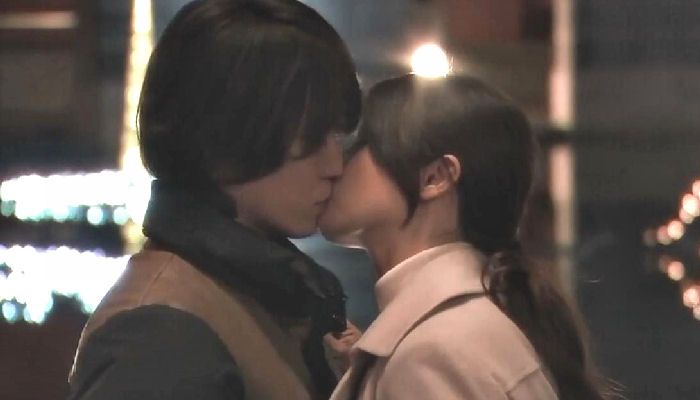 He kisses her, she wants moar. Ahahahaha, get it, girl. He takes her to his place for smexy times. Very early the next morning, he writes a note to drop his key in the box and leaves for his part-time job on the docks. Course he works on the docks, cuz that's what Kame always does. *snort* When Yui wakes up, she checks the time on her phone, dresses quickly and rushes out, leaving her phone behind.
Wondering what the hell she's doing staying all night at a guy's place when she's in her 30's, she rushes all the way to work, stopping to buy new pantyhose. Does life stop when you reach 30? Or are one-night stands a huge no-no when you're 30 and still single? *scratches head* Suddenly remembering Mom, she realizes she left her phone.

Ayako shows up at Kei's workplace and flashes back on the night before, she heard smexy noises coming from inside his apartment. Stalker. Ewww, did she stand outside his place and listen to them? *shivers* It's a no-brainer that she's jealous, why else would she suddenly show up at his job! We learn she's Kei's ex-girlfriend. Great, we have the insane, clingy ex. *sigh* It's a character that needs to die off permanently and never return. I wonder if she'll try to murder Yui, which would make this a horror story? (LOL)
He tells her Berlin bombed, she starts asking pushy questions about why he looks so happy if he got rejected again. Seriously? I'd love it if, just once, someone would tell one of these creepers it's none of her business. Once home, Kei finds Yui's phone on the table.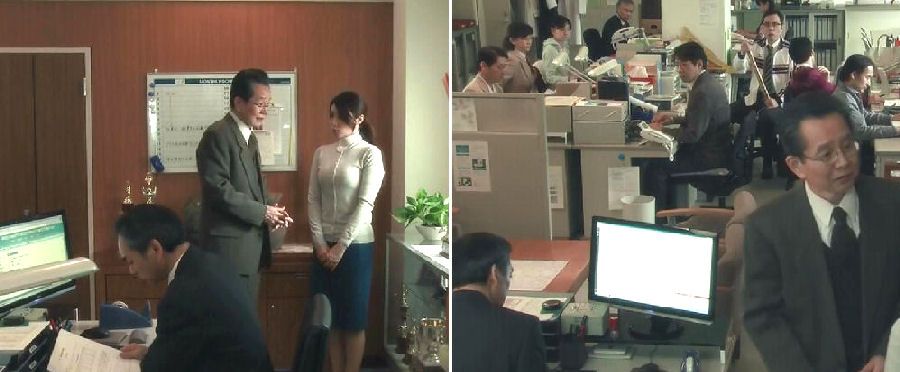 Yui is called aside by the Principle to be told her Mother is very worried so she needs to call. ROFL, Mom even called this guy at home and told him she had no idea where her daughter was all night! Of course, all the other teachers overhear this conversation so they all know she stayed out. It's simply shocking that a single woman over 30 stayed out all night, JUST SHOCKING. I find it strange the way everyone is all up in everyone else's business but I suppose we wouldn't have a story otherwise.

Mom was terrified and happy to hear from Yui, which tells me she's never done this before. Yui explains she was out drinking with a friend and left her phone, Mom offers to go get it for her. OMG, unbelievable. She crosses the bridge and sees Kei on his bike outside the school fence, waving at her. He points to her phone. They try communicating with hands but it's a major fail. The stern look she gives him as she points where to meet is hilarious, he thinks she looks like a policeman. Yea, I can see it.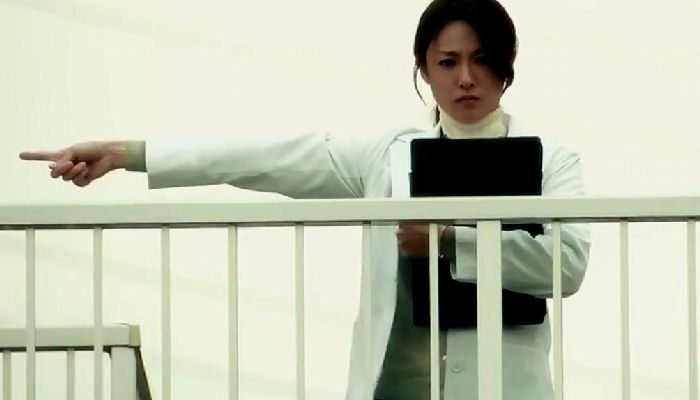 Her students harass her again and I seriously don't understand why she lets these little brats intimidate her like this, unless they're all princess-monsters from rich families? She makes an excuse and leaves to meet Kei by the fence for her phone. At this very moment, the married guy looks out the window from his classroom and sees them. Ruh oh.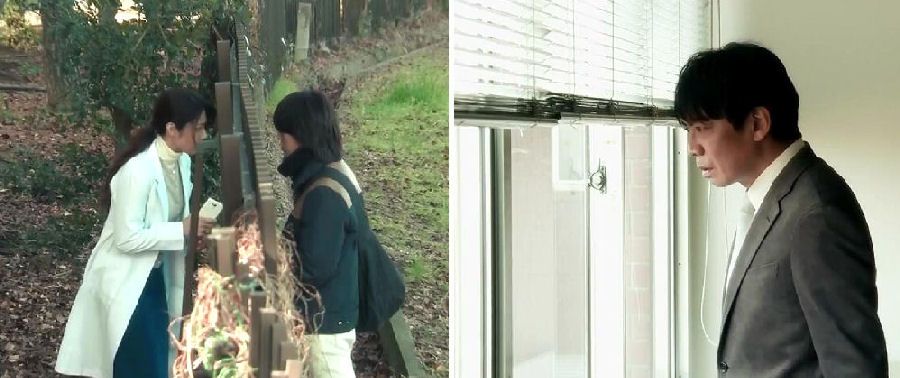 Yui scolds him for coming to the school and tells him not to do it again. He asks to see her that evening but she coldly rejects that too, saying he shouldn't misunderstand. It was just for that one night, she has no plans to see him again. Ouch. Even so, he yells that he'll wait for her at that place. As he turns to leave, we see creeper ex followed him and glares at Yui as she runs back inside the school.
Once she has her phone, married guy immediately texts her to meet him. The place they meet is a small cafe, when the camera pulls back, we see creeper ex followed them and is listening to their conversation. Whoa…this chick IS gonna try to kill Yui, isn't she? Married guy tells Yui that if she meets someone it's okay and she'll have his blessings. He wants her to be happy, just like he wants his wife to be happy. *facepalm*


Kei waits for Yui at their spot but she doesn't show. He sees someone standing outside when he gets home and is excited but it's creeper ex. She brought food, she knew he didn't eat. She suddenly blurts out a question, what's so great about that teacher? Doesn't he know she's having an affair with a much older man? Kei looks at her the same way I am, realizing she's insane but admits he likes Yui. Everyone RUN!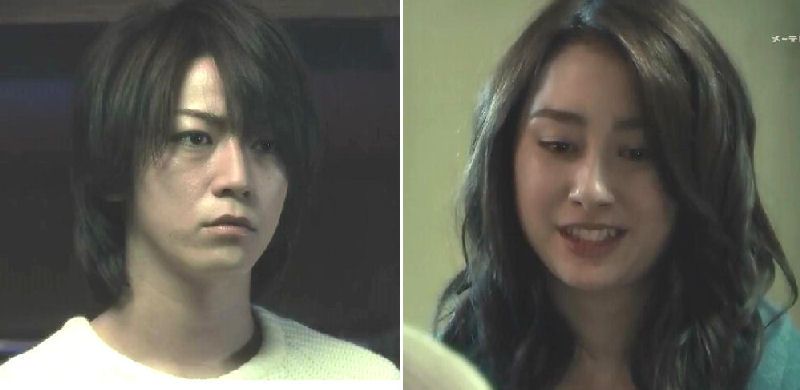 Married guy takes Yui home and Mom sees them in his car. Unaware that he's married, she encourages Yui to invite him inside. OMG, Mom is seriously humiliating. She angrily yells that she's going to bed early because she didn't get any sleep the night before. Yui tries to phone Kei the moment she's alone but he doesn't answer. Girl has zero privacy in her life, either at work or at home.
Kei finally calls, he wants to see her. She can't which makes him wonder if she's alone? Yes, she's home, it's just her and her Mom. He offers to come to her house, she admits it's tough to think of what to say to her Mom to get out of the house. Plus she doesn't want to have to stop and buy fresh pantyhose at a corner store again. LMAO! Yea, no one wants to walk around with their panties in a paper bag…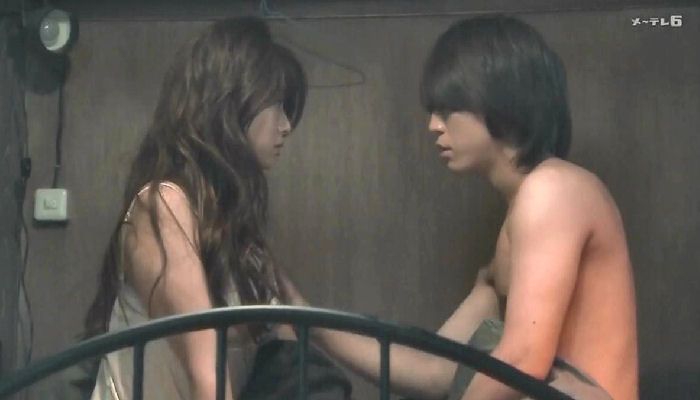 She's already tired of a younger man playing with her, she's in her 30's! (she says this like it's a terminal illness, which depresses me) *sobs* He doesn't care, he wants to see her. She sneaks out of the house but Mom hears the door close. Don't worry, Mom, it's a booty call. *hee* Kei meets her at the train station and grabs her hand, fully admitting he just wants to have sex with her one last time. Welp, guess this drama is over.


They end up in bed again but this time, he flips on the light. Oh, no's, she won't do it with the lights on! She flips them back off. They fight over this for a minute until he tells her he wants to see her clearly and wants her to see him too. Afterwards, they talk about his dancing. She lists all the awards and competitions he's won, she knows this from looking him up. He tells her he was fired from his last company and explains he's a starving artist.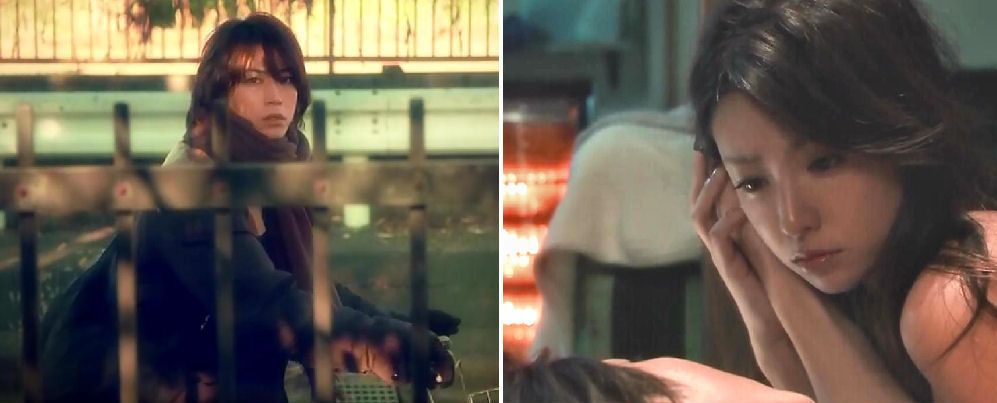 He further explains he wanted to die, which is when he saw her for the first time. Walking her back to the station, in voice-over Yui says she doesn't want it to just end. Standing on the platform, she looks down and sees him walking home. He turns and they stare at each other until the train comes. She sneaks back inside but of course, Mom hears her. Once at school, she's warned by the head mistress to get plenty of sleep so she won't catch a cold. WTF? Everyone in this woman's life acts like they own her!
Mom is even worse than I thought, she meets with married guy and tells him Yui stayed out two nights in a row. She cries, she's afraid her daughter is having an affair. Ermmm, yea. And the creepo is sitting right in front of you.


Yui decides she wants to see Kei again and shows up at his door. He pushes her away, telling her to break up with that other guy she's seeing first.
Thoughts:
From the preview, it looks like married guy, Mom and insane ex are all going to cause problems. Married guy even has the nerve to tell Yui to break up with Kei because it's disgusting. LMAO, pot meet kettle. At least Kei is single.
This is one of those stories that doesn't really need a reason for the main couple to be together, they just are. Or we're supposed to believe that myth that Kei feels something because she "saved" him.
This drama airs once a week, on Fridays and is not being subbed by either DramaFever or Viki. Instead, there's a lone subber on D-Addicts who is providing subs all by his or herself so if you're watching this one too and you get a chance, stop by and thank this person here. This also likely means subs might be sporadic or take longer but that's okay with me. I truly appreciate the effort being made!
Second Love is considered a "scandalous, adult melo-drama" but we'll see.