Clockwatcher: The episode begins with a recap of what's happened. The toon has been retconned but life hasn't. In the real world, its confirmed that the murderer killed the two cyclists on the bridge as well as the lady at the station. We are taken back to the plane bathroom where we witness the killer strangling Yeon Joo's father, demanding to be given a face.
Tessieroo: I'm in shock that this fictional killer actually murdered 3 people in the real world. Did this drama turn into a horror/murder mystery full of violence and we weren't notified?
Clockwatcher: For real. While the flight to New Zealand took close to fifteen years, the flight back to Seoul lasts about a second and he's already back home.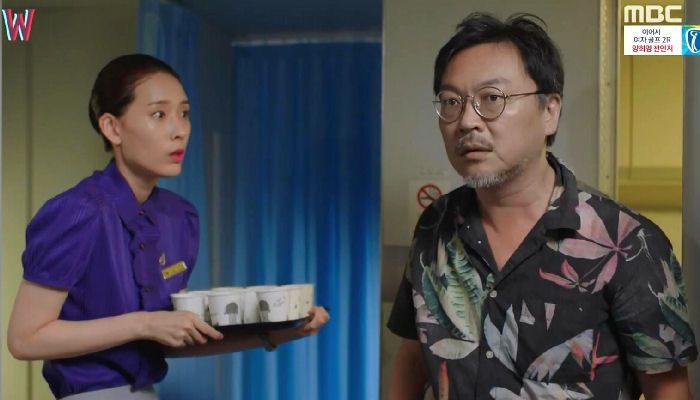 Tessieroo: LMAO! Who knew that New Zealand was on another planet? I felt sorry for Dad, getting accosted in an airplane bathroom. Poor guy, that's just not right.
Clockwatcher: Meanwhile, Soo Bong isn't able to convince Yeon Joo's mother to drive off and she finds her exhausted daughter in the car. She carries her home. And soon after, her ex-husband shows up. He reads the webtoon and learns of the flash drive Chul had asked his daughter to give to him. He retrieves it and finds a letter from Chul, asking him to end it all by giving him a happy ending. It's not for his benefit, but for Yeon Joo, whose life is now in danger.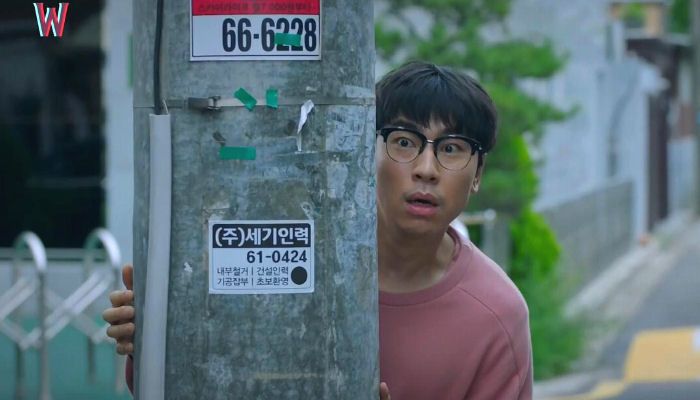 Tessieroo: I loved Soo Bong trying to hide behind a light pole, his screaming gives me life. And I loved Mom too, she's all: "I don't understand what is happening!" Neither do we, Mom.
Clockwatcher:  Yeah. "Your daughter disappeared from the car so run away!" makes no sense. Yeon Joo may have written herself out of the toon but it's impossible to completely scrub herself out of Chul's consciousness and whenever he subconsciously thinks of her, she's dragged into the webtoon. It keeps happening – a week for her, two months for him  – till he's discharged from the hospital. In the original, he picked her up from the bus stop on the day he was discharged. In this version, she's dragged in as he's walking out. She bumps into him after she takes off her wedding band to prepare for surgery and chases after it as it rolls away. Then he leaves with Do Yoon. He's seemingly unaffected but it's difficult for her and she sobs at their last meeting. It's crazy because while he doesn't know her, she vividly remembers him and these brief meetings constantly remind her that they can never be together.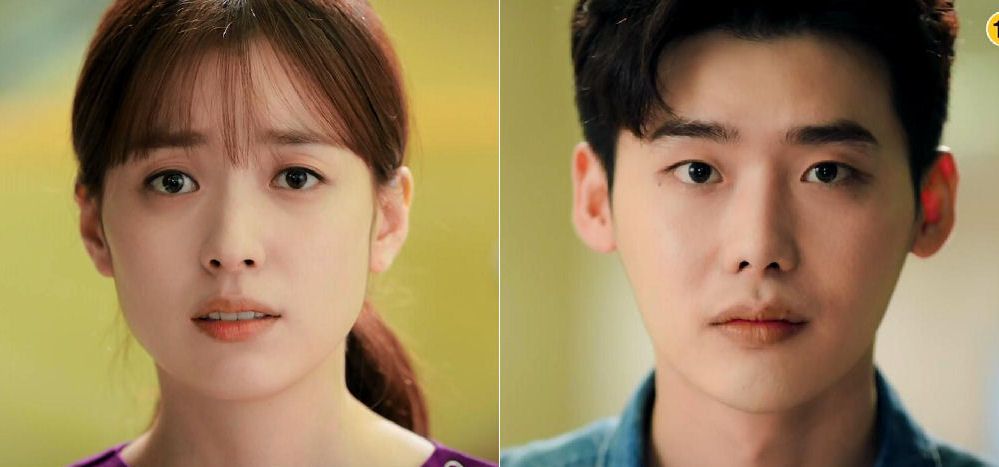 Tessieroo: Chul subconsciously pulling Yeon Joo into the webtoon was so sad to me.
Clockwatcher: It's quite sad because on one hand, he doesn't remember but on the other hand, she knows that she's still in his subconscious because he keeps "calling" her. But only she knows it.
On a lighter note, I love how her prof wondered if he was the reason she was crying. LOL.
Tessieroo: I loved that Professor Park knows she's not really married since she doesn't have a boyfriend AND will remain single forever – as a cat lady. He's ruthless when it comes to Yeon Joo.
Clockwatcher: I love their relationship. Haha. It's okay because she doesn't take it personally. I would probably hate him if his words cut deep. Then we get the flashbacks you love so much. The romance is over and W is back to being the badass webtoon it used to be with Chul catching bad guys that elude the cops.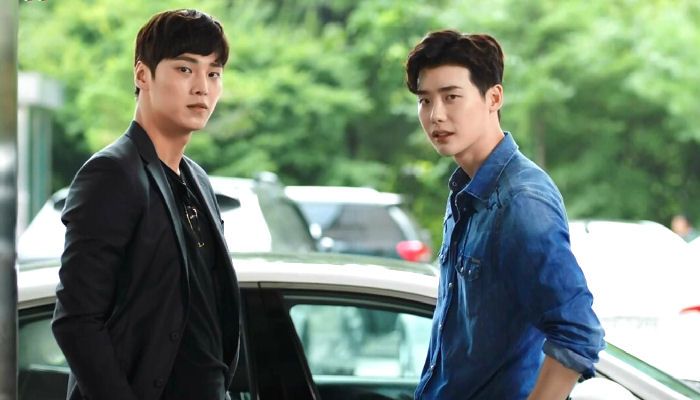 Tessieroo: Anytime hottie Do Yoon is on the screen, I'm happy. 😀 Which reminds me…you're supposed to be reminding me how old Lee Tae Hwan is every time I bring him up. You've been slacking off on that.
Clockwatcher: Well, that's because I'd also be reminding myself that he's a '95-er which just won't do, given that I'm lusting after him myself. By the way, back off my man.
Meanwhile, a frightened Soo Bong returns to work. He's been freaking out, visiting churches and temples, getting amulets for protection. lol. He can gather the other assistants but the good writer thinks they can handle it on their own. He's already planned out the end. He figures that the only way to end the madness is for Chul to find the killer.
Tessieroo: Is it just me or did Soo Bong look better with a bit of scruff? LOL


Clockwatcher: Dear, you're on your own with this Soo Bong lusting.
Tessieroo: He makes me laugh therefore I love him. *hee* This is what Dad should have done a long time ago but then we wouldn't have a story.
Clockwatcher: I still can't believe he had Chul chasing after a phantom killer. He thinks back to Chul's letter and downloads the "W" files he'd given him. He needs to create an identity that's not already in the files, make it believable, give the killer a face and end the webtoon happily so that everyone can move on with their lives.
Tessieroo: Me thinks no matter what he does, his daughter isn't going to be happy. And even though Soo Bong points out there might be "flaws", Dad remains determined to end this.


Clockwatcher: Well, Yeon Joo will only be happy in Chul's arms while Appa can't risk any more strangulations from a fictional killer so he's gotta get rid of him. He gives the killer his own face. He figures it would make sense because Chul would remember seeing him on the rooftop. So he writes a scene where a camera captures the killer's image and the picture is released on the "W" show. Now, everyone knows what Chul's killer looks like.
Tessieroo: It did make sense to me but I was again thinking Dad should have done this a long time ago. The part where they struggled over the knife on the rooftop wasn't in the webtoon though, was it? I don't remember Chul ever discussing that part with any of the characters of the webtoon.
Clockwatcher: I think the only person Chul discussed it with was Yeon Joo's dad. And I don't think it was in the toon, otherwise, everyone would have known that there were two killers that day.
Next is a scene with my favorite character. Professor Fanboy bursts into Yeon Joo's office because W is back! He's ecstatic that the awful Yeon Joo (lol) has now left and the story is back to being great. Yes, Chul will find the killer, marry So Hee and all would be right with the world again. haha. He even thinks it's brilliant that the killer looks like Oh Sung Moo.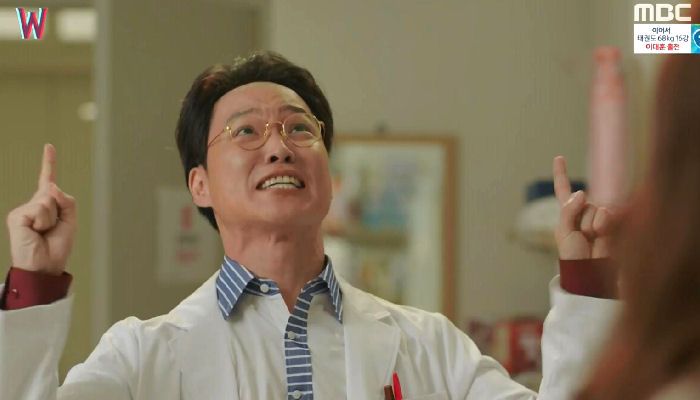 Tessieroo: He's hilarious, comparing Sung Moo to Alfred Hitchcock. Seriously? NOT. His animosity towards Yeon Joo is funny though.
Clockwatcher: Yeon Joo calls Soo Bong to get the deets. He tells her how everything will go down in the next three episodes. The killer will be caught shortly after the broadcast. His name is Han Sang Hoon –  an old shooting teammate of Chul's father's. All the evidence would be found at his house so there'd be no doubt that he's guilty. He would reveal to Chul that he'd run into his arrogant father the night before the murders. He'd been so pissed off that he went to kill him. The rest of his family were simply collateral damage. Things had worked out for him when the prosecutor pinned the crimes on Chul but he hadn't expected him to relentlessly search for him for 10 years. He'd gotten sick of it which was why he stabbed him on the rooftop.
Tessieroo: See how easy that was, to write a plot that makes sense to everyone?
Clockwatcher: But that wouldn't be the end of it. That confession would essentially ruin the good prosecutor's career and he'd be asked to step down. This would so infuriate him that he'd get someone to kill Han then plant a fake suicide letter stating that Chul had paid him to lie and take the rap for his crime. Damn, this man is so pathetic.
Tessieroo: I was really happy the EVIL prosecutor was brought down, I've never completely understood his motive for trying to pin the murders of Chul's family on Chul – was it simply to further his political career? EVIL man.

Clockwatcher:  The writer didn't really give him a good motive. He's a plot device to make our protagonist a hero. His is paint-by-numbers writing without depth, it seems. But the hitman would expose him and Prosecutor Han would go down too. It's a perfect happy ending because both villains would be taken out – the killer will be killed and in poetic justice, the prosecutor will be jailed like he unfairly jailed Chul.
Tessieroo: This is my kind of story, all the EVIL people end up dead or in jail. I'm happy.
Clockwatcher: Yup. And no evil people are redeemed at the end. All that's left is the love line. It's not a sappy story so there won't be wedding bells however, there'll be a hint that in time, those crazy kids will work themselves out and end up together. Aww. I bet you love this. haha.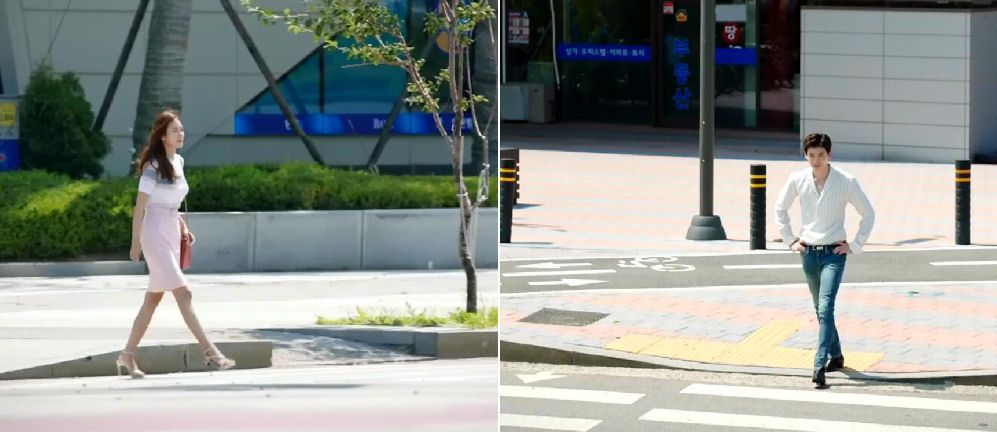 Tessieroo: You should have heard me screaming for a white truck of doom to take out So Hee as she was crossing the street. Why is there never a white truck of doom when you really want one?
Clockwatcher: I half-expected the killer to show up in a truck and mow them down. Haha. Anyway, it's a happy ending for everyone but Yeon Joo who laments that while forgotten in the webtoon, very few people in her world know what she's been through. Such is life, girl. Quit the whining. She regrets never taking a photo with Chul and reveals that she'd cut out memorable scenes from the toon and pasted them on her wall. Is it me or is this really pathetic? lol
Tessieroo: See? He should have pushed her whiny butt off the roof. No, I agree – it's pathetic.
Clockwatcher: She goes back to work but is still in a funk. She picks up the latest copy of W and asks Chul if he's okay. Seok Bum shows up and tries to get her to come out for dinner but she wants to be alone in her depression. Then suddenly, there's an announcement. "All hands on deck!" "All hands on deck!" There's an emergency. There's been a mass shooting and all doctors are needed. She rushes over and we see that she's now in the webtoon hospital.
Tessieroo: She was pulled in again! It's obvious that since Chul is at the hospital, he's thinking about her. Awwwww.


Clockwatcher: It is cute. She learns that there was a mass shooting at W's broadcast station and the unknown killer is still at large. So far, there are 8 dead and 15 injured although they expect to find more bodies.
Tessieroo: She knows for sure when she sees So Hee and hottie Do Yoon rushing by with one of the victims. It was Chul's father-figure friend, Hyun Suk, who was also shot in the abdomen.
Clockwatcher: She's surprised because for starters, why is she back in the toon? And secondly, this isn't part of the plot. There's chaos in the hospital and just as she tries to make sense of it, someone grabs her hand. It's Chul!
Tessieroo:  I gotta admit, this part pulled all my attention. This wasn't part of the storyline Soo Bong told her they were going to write so I was just as confused.
Clockwatcher: Yup, it's deviated again. He drags her to a bleeding female employee. But instead of getting to work, she stares at him in amazement. It's only after he yells at her that she regains her senses and treats the wounded lady.


Tessieroo: I would have yelled at her too.
Clockwatcher: She's gotta get her act together! Saving lives comes before drowning in romantic feelings. He spots the ring she's now wearing on her neck then remembers their last meeting. He apologizes for yelling at her and confesses that the news report wasn't entirely truthful.
Tessieroo: That hopeful look on her face when he said her remembered her made me want to slap her. COME ON! I thought she wanted a happy ending for Chul but it appears she's more obsessed with her own feelings. Am I being too harsh on her?
Clockwatcher: You're not. It's human but she's selfishly obsessed with herself. She didn't really take solace in knowing all the drama will soon be put to rest but instead, was lamenting her lost love. Meanwhile, back in the real world, Soo Bong shows up at his boss's place to find him faceless! As in, Oh Sung Moo's voice has been replaced with the killer's robotic one and his face taken away! He begs him for help but Soo Bong faints from shock. Poor kid.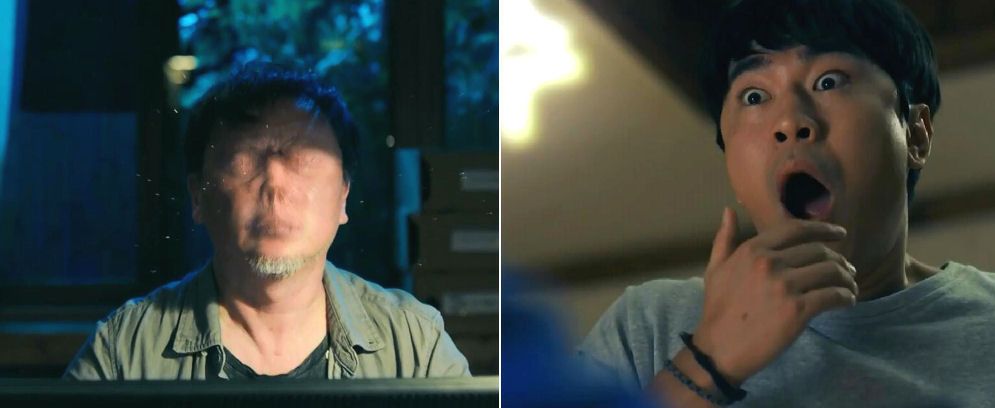 Tessieroo: THE HORROR OF THIS MOMENT! Scared the beejesus outta me, I woulda been right there on the floor with Soo Bong, screaming.
Clockwatcher: I didn't expect this and would have run the hell away. Then we find out what really went down. Killer Han showed up at the broadcast station and shot everyone on set. Then he looked into the camera like the crazy psycho that he is and told Chul that he came to reveal himself like he's been unable to do for ten years. "Catch me if you can, you mofo" is his message in a nutshell. He promises to see him soon then shoots the camera.
Tessieroo: Insane, the fictional murderer has taken Dad's face. Who saw that coming? Anyone?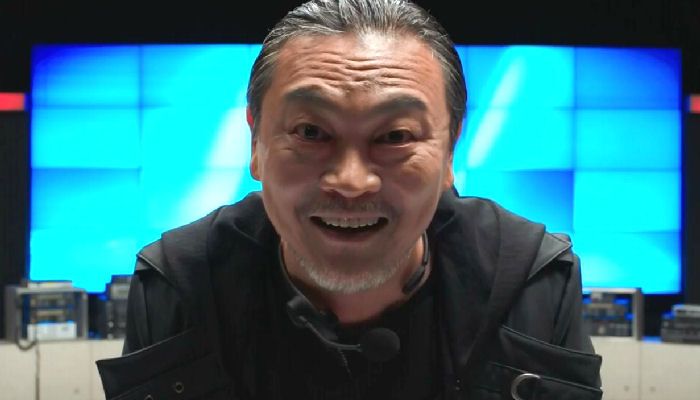 Clockwatcher: Not me. Who would think that the murderer could steal a face? The news also exposes him as the mass murderer and we see him disappear "without context" like he always does. Basically, Oh Sung Moo created a monster that could appear or disappear without any restrictions. I'm now scared this fool will randomly show up next to me!
Tessieroo: If you're waiting for me to say I'll protect you, forget it. Not happening. There is a reason I don't watch horror flicks, it's because I'm a chicken. I guarantee I would be the first person killed in one of those so I would be of no help to you. *kekeke*
Clockwatcher: And I would definitely not get killed in those scary movies because I'm not curious. Nope, I'm not going to investigate that noise coming from behind the door. I will simply do what I always do and run the hell away.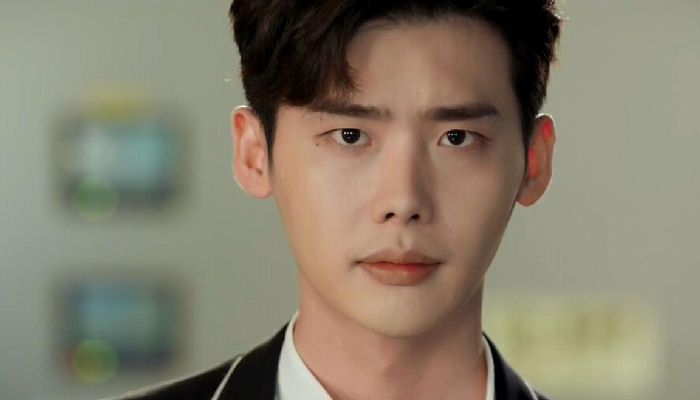 What did you think of this episode? Better than the last?
Tessieroo: Much better! I do wish we would have less of Yeon Joo moping around and feeling sorry for herself but I'll go with it for now. I initially thought she realized the severity of the situation when her Dad was shot but she only seems focused on her own heartbreak and not the possible danger everyone could be in. Even with 3 people killed in the real world, she was all boo-hoo and poor me because the man I love doesn't remember me. The writer really grabbed my attention at the end though.
Clockwatcher: I agree. She saves the best stuff for the last 10 minutes but I'm okay with it. I thought it was brilliant that she made Oh Sung Moo the killer because the actor gets to flex his acting muscles. He's been the killer from the start so why not make him the killer in the end? Except it's not him. And as we try to understand the rules, it seems that one emerging is that there are no doppelgangers. There's only one Yeon Joo or Chul hence, you can't find their doppelgangers in the other's world. So it kind of makes sense that Sung Moo's voice and face can only exist at one time and since both the killer and Sung Moo coexist as seen in the plane bathroom scene, making him in his own image meant giving his face away. I don't know if this even makes sense. LOL
Tessieroo: No, I agree there won't be any cross-over characters that are exactly the same in both worlds. I did think the only time Yeon Joo was pulled in was when Chul was thinking about her but now I'm even questioning that! Chul was able to physically pull both Yeon Joo and Dad into the toon when he was stabbed…does that mean he's the only one who can pull people in? And it also makes sense that since Dad didn't really create any "rules" for the killer, he can come/go without restrictions. It also appears the killer can change things up when he doesn't like the direction the story is going?
Clockwatcher: So far, the killer hasn't been able to pull anyone in or out although he or something else can change the course of the story. He couldn't get back into the toon but he could contact Chul by magic phone. He left the toon via the portal and was the only other character (so far) who didn't get stuck in time when Chul learned he was fictional. So like Chul, he's a main character that has some level of autonomy. But he still needed Sung Moo to give him a face and write him back into the toon. Right now, it appears that Chul, Yeon Joo, Sung Moo and Killer can control certain parts of the story but no single person can control all of it. I just want to know if the killer continued the story. It appeared to happen right after he killed those cyclists. Is there yet another entity that keeps the story going so that he can be stopped? Or does the story keep going because the killer himself isn't done? I can't wait to find out.