Tessieroo: So I might be the only one but I'm SO happy that after she kissed him, Yeon Joo sees the "To be continued" words appear and is transported back to her own world. And it's not that I don't love this OTP, it's more because I think she needs to be aware of the horrible thing that's happened to Appa plus try to figure out a way to fix things. Is it odd that I'm worried about Appa?
Clockwatcher: Of course not! The dude has no face and is under a webtoon psycho's spell.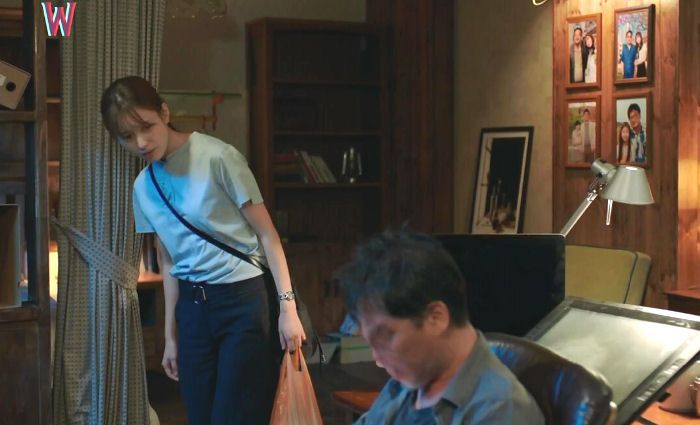 Tessieroo: She finds herself in the on-call room alone and quickly moves to pack up some medical supplies for Chul's injuries. She then heads over to Appa's house, calling for Soo Bong but he's not there. She does find Sung Moo in his office, sitting in his chair facing the window. She approaches but when she sees his face, she screams in horror and runs out – dropping the medical supplies.
Clockwatcher:  I would have fainted in her shoes.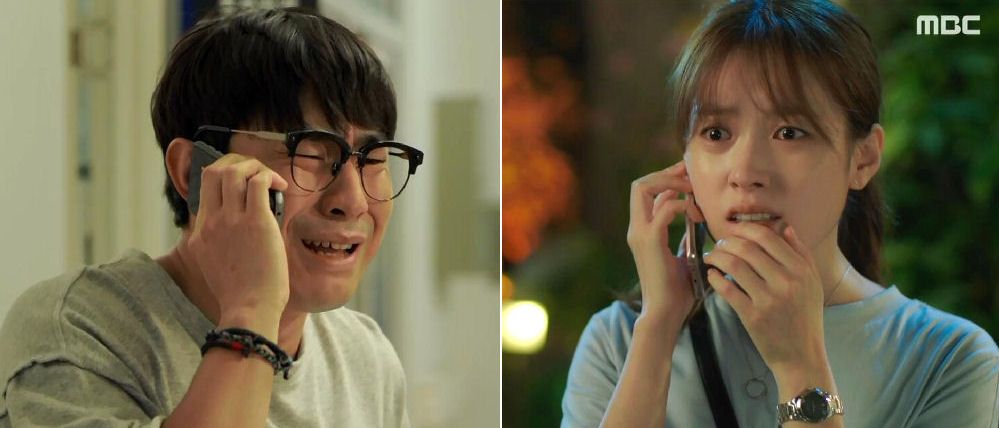 Tessieroo: She runs outside to call Soo Bong, who is at that moment at the hospital looking for her. (LOL) She tells him where she is and asks what the hell happened to Appa? Soo Bong says his face disappeared. He explains when he woke up after fainting, he saw Sung Moo sitting and drawing like a maniac at his drawing tablet. Yeon Joo tells him Chul was shot and might die. See, this is the part I'm not getting – doesn't she seem more concerned about the cartoon character being shot than she does what's happened to her Dad? Am I crazy? Soo Bong screams that SHE might die and Sung Moo is not himself, she needs to get away from that place.
Clockwatcher: Don't you realize that her cartoon lover is the most important person in both worlds?
Tessieroo: Pfffttt, I'm probably old-fashioned but my Appa is the most important person in my world. I loved the way all of Yeon Joo's co-workers gathered around Soo Bong like he's a crazy man. *hee* He hugs Seok Beom and cries that he's terrified. I'm right there with ya, buddy.
Yeon Joo makes her way back inside and tries to quietly grab the drawing tablet when the killer grabs her wrists!
Clockwatcher: Did she really think it would be that easy? They get into a fight but we don't really see much. All we hear are their screams.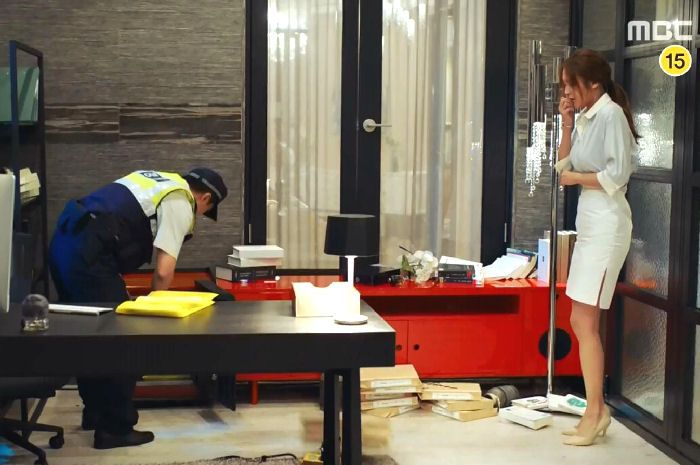 Tessieroo: In Chul's world, the police are searching his apartment and make So Hee open his safe. What the hell is with that cop shoving her around?
Clockwatcher: Yes, so uncool. I can't imagine how all his friends must feel now. The cops are certainly feeling foolish for trusting Chul for so long.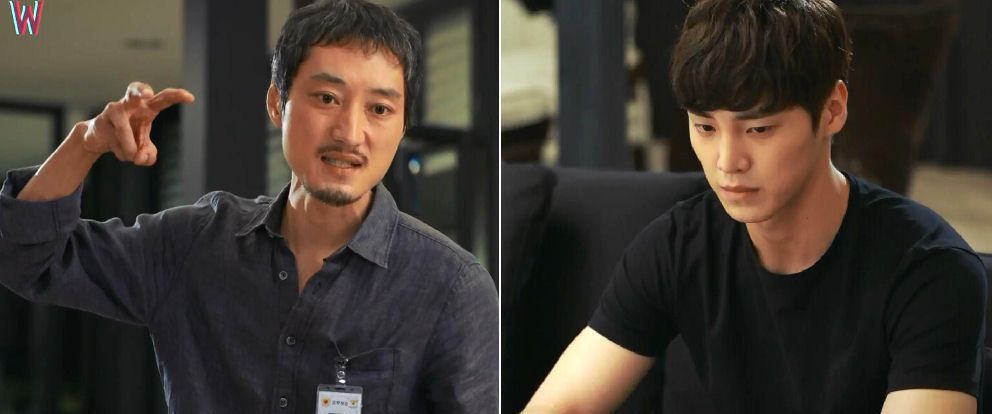 Tessieroo: They tell Hottie Do Yoon that they need to cooperate but are distracted when a notice comes in that Chul's car was spotted. They head out to search the area, ending up at the very hotel where Chul is. Noooooo!
Clockwatcher: They also find the gun he hides under his pillow. I wonder if it'll magically match the bullet found in Mr. Son.


Tessieroo: As they head down the hallway to search rooms, Chul hears them coming and reaches for his gun. But the door to the room he's in suddenly disappears. Okay, that was amazing – I did not see that coming. AND the camera inside the elevator also vanishes. Yeon Joo is at the drawing tablet, quickly erasing and changing things while Appa is locked outside trying to get in.
Clockwatcher: I suppose he was easy to overpower, given he has no eyes but I wonder how he's able to breathe without his nose or mouth? Okay, lemme stop thinking about these pointless things.
Tessieroo: He also doesn't seem to hear anyone in the REAL world. She changes the color of Chul's car and the license plate number and then proceeds to draw in all of the medical supplies, along with a note to Chul on what to do with them. BRILLIANT! But wait…how did she overcome the killer? I should also just stop asking all these silly questions and go with the fantasy.


Clockwatcher: It is brilliant. However, not to harp on this, but I think it's really funny that her priority is not her father who's now faceless and banging on the door but the fictional character in the toon.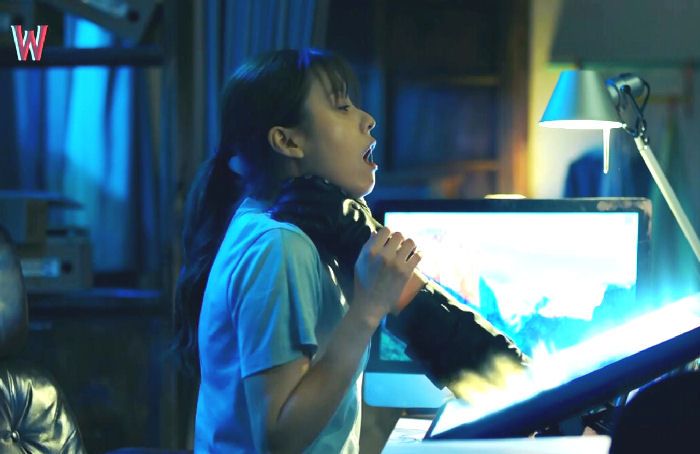 Tessieroo: Suddenly, the screen glows brightly and she hears the killer asking if she's Yeon Joo, when did she get out? OMO, did he know she was inside the webtoon? WUT? My mind is blown. He reaches through the screen and grabs her by the throat, choking her. Barely able to hang on, she finally reaches for the power button on the drawing tablet and shuts it down. The killer is thrown out but at the same time, Sung Moo collapses. So they are "tied" together somehow, body and soul?
Clockwatcher: Yes. But I think it's more like Sung Moo is under his full control. So for now, he's nothing without the killer.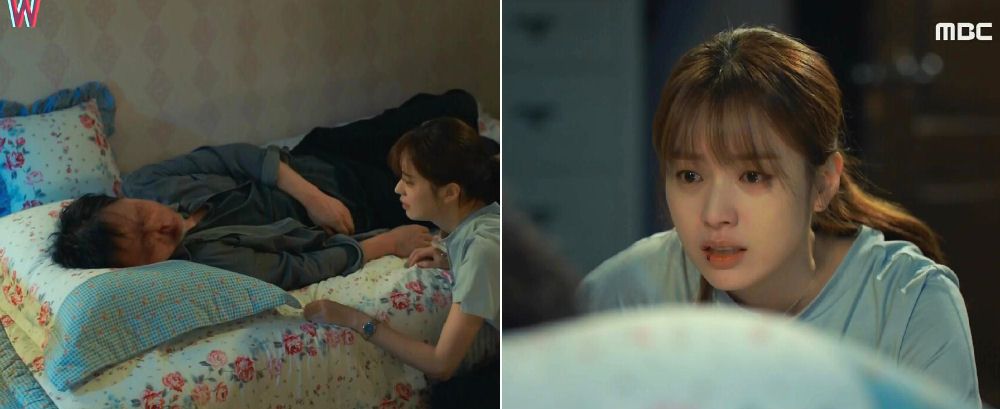 Tessieroo: Soo Bong arrives at the studio with Seok Beom and finds Yeon Joo in her Dad's office. She locked Appa in a bedroom, saying she had no choice. Awwww, I'm more worried for Appa than anyone. *sniff* But this is intriguing…how is the killer going to take over now that he doesn't have Appa to draw for him? I hope it doesn't mean he's going to threaten Yeon Joo somehow.
Clockwatcher: Maybe he's going to try to find a way out of the toon. While in the toon, I think he can only control his own actions but if he wants to control other characters, he needs outside help.
Tessieroo: She and Soo Bong discuss making everything a dream in the webtoon again but they should go back even farther, like back before Chul's family was killed. Ahh, that would mean the killer doesn't exist? I don't think that will work since the killer's character was already created but that's just me. Yeon Joo doesn't know how since she can't turn the drawing tablet back on. As they're discussing this, Seok Beom walks in and Yeon Joo vanishes. *gasp* Who pulled her in this time?
Clockwatcher: I guess the webtoon continues even when the computer isn't on. But whose storyline is it now? The "universe" or whatever entity that took over from Sung Moo initially?


Tessieroo: I also need to keep reminding myself there are no rules. (LOL) Poor Soo Bong is losing his mind but I laughed right along with the guys in this scene.
Clockwatcher: I think we're witnessing the "acceptance" phase now. Instead of being shocked, why not just laugh at the fact that, of course, this crazy shit continues?
Tessieroo: Yeon Joo finds herself inside EVIL Prosecutor Han's office and listens as he discusses her. What the…WUT? He knows who she is and has photos of her! She manages to crawl out but he does see her. He wonders why she was there. Outside, Yeon Joo figures out that Chul might not have pulled her in last time, maybe it was the killer? I seriously thought the killer was unable to pull her in but he must have figured out a way. Or was it the Prosecutor this time? UGH!
Clockwatcher: It could be that the congressman/prosecutor is a main character now. She did appear at the same time he called her name.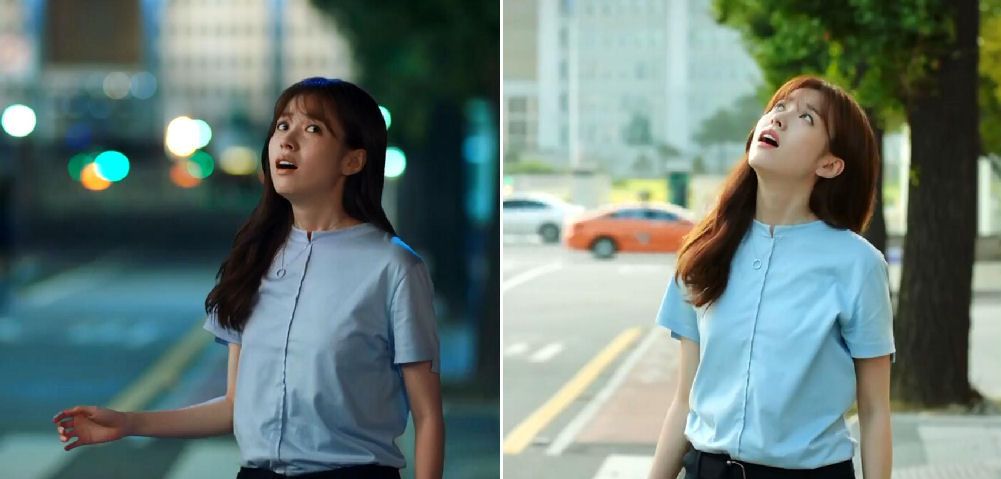 Tessieroo: Suddenly, time fast-forwards in the toon world and a whole month passes by.
Clockwatcher: Which she discovers by entering the same convenience store twice. And both times, she asks about Kang Chul and is told he's a fugitive. However, the second time, the clerk freaks her out by repeating the rumor that he might be dead.
Tessieroo: Yeon Joo goes to the hotel but the door is still missing. In desperation, she heads to Chul's apartment and talks to Hottie Do Yoon. He's wary of her at first but ends up giving her a slip of paper with Chul's location written on it and begs her to convince Chul to turn himself in. Wait, so Hottie Do Yoon knows where Chul is but hasn't told So Hee? Because she still thinks he's dead! Interesting. And awwww at the look on Yeon Joo's face when she's told Chul is alive and has been looking for her.


Clockwatcher: He must be under strict instructions from Chul not to tell So Hee. It's not like she can't be trusted but she probably can't be trusted! Haha. Maybe he thinks that even if she doesn't report him, she'll somehow give it away by acting differently. Meanwhile, Chul's been looking for Yeon Joo so it's okay to tell her where he is. Regardless, I love that Do Yoon is so loyal.
Tessieroo:  She heads to the location and waits until Chul pulls up. LOL, his disguise is a baseball cap?


Clockwatcher: He attempts to have a conversation with her once she gets in his car but she's doesn't say anything till he asks her to because it's been a while since he's talked to someone.
Tessieroo: She thought he was dead, he admits the thorough instructions she wrote out on how to remove the bullet and fix himself up basically saved his life.  YES, she saved his life yet again. *hee* Dude, you are soooo gonna owe this woman. You might have to do more than 10 romantic things.
Clockwatcher: The flashback also reveals that he still has that drowning dream. Although I'm not sure if it is from the first or second suicide.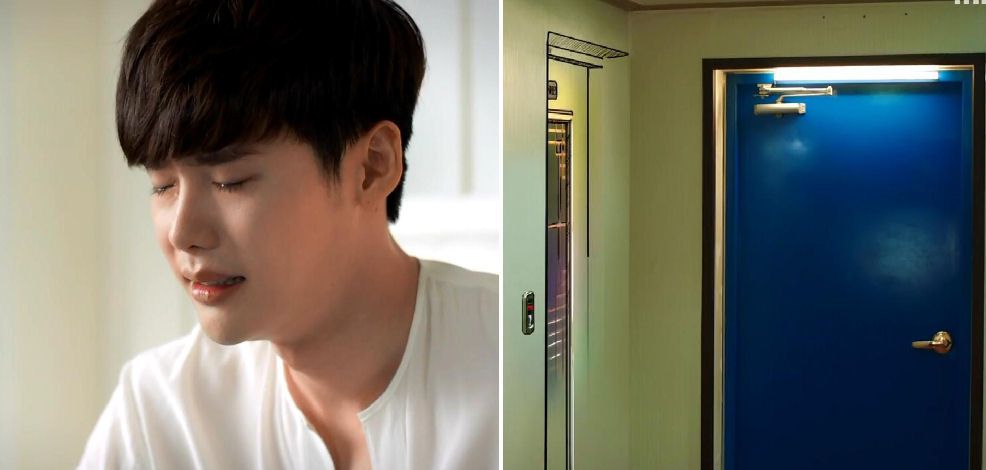 Tessieroo: We see Chul listening to the voice-recording that implies he shot his family and throwing his phone down in anger. When he's ready to leave the room, the door magically appears. SO BIZARRE. Who is the one who drew the door back into place?
Clockwatcher: I guess the thing that keeps the webtoon going when nobody is drawing. But at this point, Chul must know that something is definitely up. Not only do bullets randomly kill people; guns magically appear in his hand and doors disappear. And when he steps out, his car key unlocks a car he doesn't recognize.
Tessieroo: Yes, there's no way this guy doesn't notice all the very strange things happening.
Clockwatcher: Chul goes into hiding but the weirdness gets worse because his arm stars to disappear. I guess he's now becoming a supporting character but what's the damn webtoon going to be? A bromance about the congressman and the killer?
Tessieroo: LMAO, yes – it will be a villain bromance where they compete to see who can do the most horrible things.
Clockwatcher: We get back to the present and Chul hides his disappearing arm from Yeon Joo. He figures that she wasn't able to keep her promise to resolve his issue. Then he tells her that while she was away, he wondered why she was so sure he was innocent. Is it because she's somehow related to the killer, like for example, his daughter? He gives her a pointed look like he knows who she is. But how could he? Does he remember? He asks if her husband is back and suggests that they get some food. He'll feed her and give her a place to stay. Wow, he's suddenly so generous. I wonder why. LOL
Tessieroo: He's acting weird.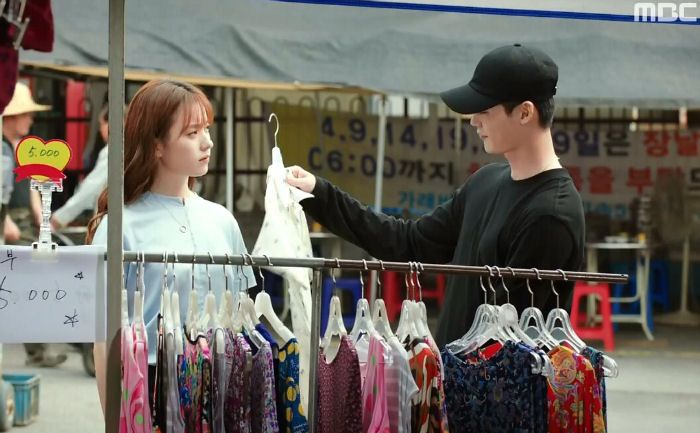 Clockwatcher: Even though he's like #1 on the most wanted list, he takes her shopping in an open air market with only a baseball cap as a disguise. He picks out a $5 dress  – which is all he can afford – and tells her to pay to avoid being seen but somehow, he's able to buy ice cream on his own. LOL
Tessieroo: That made no sense to me either but I've temporarily given up asking questions.
Clockwatcher: Yeon Joo is confused by his behavior. Why is a wanted fugitive idling his life away eating ice cream with her instead of figuring out a way out his mess? He explains that he's been unable to come up with a solution in the past month especially as all roads lead to him spending the rest of his life in prison so he's resigned to a fate of unhappiness. In fact, at that moment, he seems more interested in noting that shopping and ice cream make two. Huh?
Tessieroo: He remembers!


Clockwatcher: They go grocery shopping together then he takes her to his place and prepares to cook for her. Apparently, one month on the run forces a man to learn to cook from YouTube. Then to himself, he confirms that they did four things and his task for the day is almost complete. Ding! Ding! Ding!
Tessieroo: Yah, don't knock those cooking videos on YouTube. I learned how to make spicy rice cakes that way. *Hmmpppffff*
Clockwatcher: I love YouTube. The hair tutorials have been a godsend to me. She asks him what he's talking about and instead of lying like I expected, he comes clean – he wanted to complete her husband's mission. Say what?  No, he doesn't remember her but instead, read volume 34 of W. SAY WHAT!?!?!?!?
Tessieroo: The look on Yeon Joo's face is pure horror. She must be terrified that he'll try to kill himself again if he finds out he's a toon character.
Clockwatcher: Basically, she'd entered "W" with a copy of "W." This is way too meta. It was when she got pulled into the hospital right after the psycho's massacre. She'd left it at the hospital and a doctor had given it to Do Yoon who then gave it to Kang Chul because both their names were in it.  Chul has read it cover to cover several times and asks if he's her husband.
Tessieroo: WOW, that happened unexpectedly.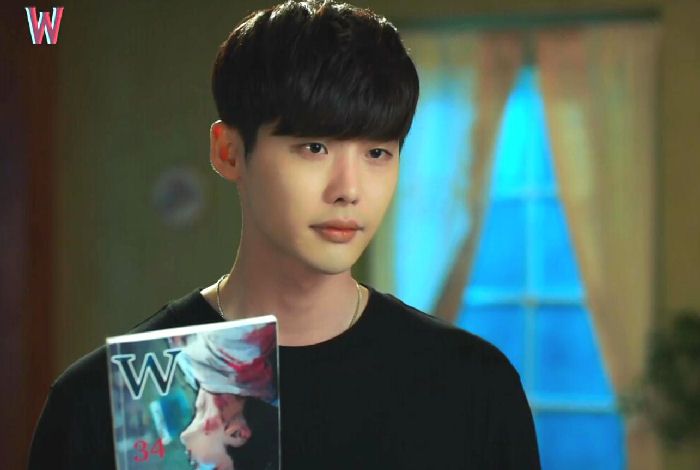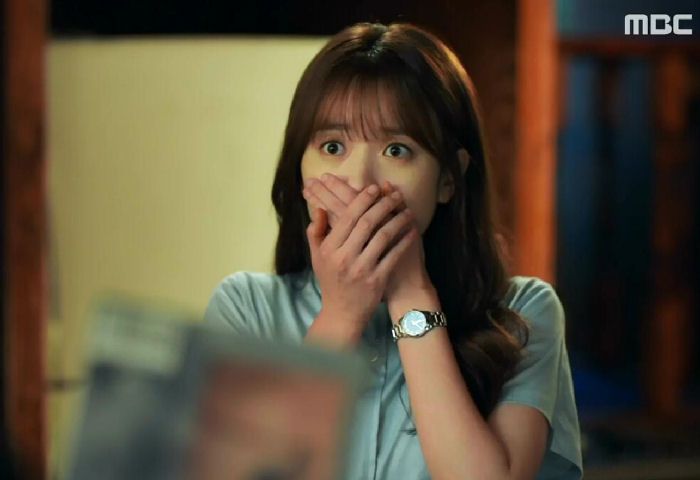 Clockwatcher: Well, the resemblance is striking. Haha. So this time, learning he's a cartoon character didn't end the world. I suppose because so many weird things had already happened that it wasn't so far-fetched?
Tessieroo: Are we literally right back where we were? Another reboot?
Clockwatcher: It's like the Spider-Man franchise. Maybe third time's a charm. "W" in "W" is mind-blowing but I think a little convenient. Or maybe I'm desensitized to the twists because we get one every episode. LOL. But it was a neat, smart way for Chul to learn about their past without reversing the dream.
Tessieroo: True and I don't think Chul is gonna be all suicidal this time. I have no clue where this goes now but I believe your idea that the killer will come back into the real world and maybe kidnap Appa, forcing him to do his bidding again. Things are most likely going to get much worse for Appa, Yeon Joo and Chul.
Clockwatcher: Yup, it should get worse with stakes raised even higher before they all get their happy endings. What do you want from the next episode? I would like to see Yeon Joo care more that her dad no longer has a face but I feel she'll still be all about her Kang Chul boo. I think this is a losing battle so perhaps I should just let it go. Of course, resolving the webtoon madness also resolves the real life one but I feel real life should at least be as strong a motivator.
Tessieroo: I 100% agree, I'm all about saving Appa and shutting down the toon even if it pisses off all the readers. It's ridiculous! People are dying in the real world and her Appa now has no face. Realistically she should care more about that. However, since this is all fantasy and there appears to be no rules, I truly have no clue how they're going to resolve the issue this time around, the killer has become much more aggressive, motivated and daring. I'll be over here in the corner, sucking my thumb until next week.
Clockwatcher: I hope Yeon Joo and Chul put their heads together and come up with a plan to eliminate the "face lifter" (gosh, this joke is lame). Till next week!