Clockwatcher: Finale time! This has been an interesting ride in more ways than one.
Tessieroo: I love that Yeon Joo is all "nonsense" when Chul tries to break up with her. (LOL) She refuses to even think that she's not his family or that both he and Appa will not be by her side forever, even when he explains the happy vs sad ending dilemma. I did kinda wonder how on earth he knows this but it makes perfect sense: if the hero gets a happy ending that means the bad guys get a sad ending and visa-versa. But its too Harry Potterish: one of them has to die before the other can live. Pfffttttt.
Clockwatcher: Also too nonsensical because her father is a real person while Chul isn't. They forced this theme by conflating her father with the fictional character he created.

Tessieroo: Exactly! And why does Chul ask her what type of ending she wants, doesn't he remember that every time they try to do things the way they want, it didn't work? I'm laughing that he thinks they're in charge of the story! It's even more ridiculous that Yeon Joo says she's okay with living out her life (with Appa) inside the webtoon, even if both men have to go to jail for the rest of their lives. She really has no life back in the real world, I guess. She doesn't care if she never sees her Mom, Aunt, friends, co-workers again or cares about her job anymore – her entire being revolves around Chul. Wow.
Clockwatcher: No offense but this character is an embarrassment. But it only makes sense because this is how she's always been. She doesn't care about anything but her "love" (and sometimes her Dad). When last did she actually do any work? She has no real goals or purpose in life. Her character didn't grow or develop.


Tessieroo: Agree. I'm all for romance but not at the expense of your entire life. I prefer a strong, independent female character like Hye Jung (Park Shin Hye) in "Doctors". Chul has her draw an exit and they escape with Appa. In the car, Chul tells Yeon Joo he loves her. Awwwww, sweet. Wait, how did they escape if the place was surrounded? And why am I still asking questions that don't matter? They check into a motel and poor Appa is once again doomed to being tied up in bed, still in his jammies.
Clockwatcher: I know. We left the last episode with them being surrounded, expecting for the walls to get broken down but suddenly, the cops apparently left so that they could walk out and drive away. LOL. This show is hilarious for all the wrong reasons.


Tessieroo: Chul leaves to meet with EVIL Candidate Han and try to save hottie Do Yoon, the thugs bring Do Yoon out and he's essentially exchanged for Chul, who goes inside. When Han asks where the tablet is, Chul throws a USB drive at him that has videos, etc of all of Han's evil deeds on it, threatening to make it public unless Han leaves him alone. As he turns to leave, Han says he's learned this all ends when Chul dies and shoots him in the chest.
Clockwatcher: I bet he's not going to shoot him dead because a fictional bad guy has to spill his guts to give his victim enough time to get away.
Tessieroo: Yep, the bad guy always need to take an extra 1/2 hour to explain why he's a genius. It seems Do Yoon spilled everything to Han, about Chul being the hero and Han being the villain in a webtoon and about there being two different worlds. He also knows that the tablet belongs to the creator of the webtoon, Oh Sung Moo. He now understands how Chul could disappear at will and all the strange things that happened in the last year. And he knows this is the last episode. *gasp*
Clockwatcher: And it didn't affect him one bit! The world didn't stop. He's not worried. It's like no big deal because he's EVIL… or something. Also, Do Yoon knows everything and it's no big deal for him either. They are all taking this in stride. LMAO.


Tessieroo: It's so ridiculous, they all just calmly accept they're toons! Han seems to think if the webtoon ends with Chul dying, he can go into the other world and check things out. LMAO, why does he believe that? He tries to shoot Chul again but a fight breaks out when Chul kicks a chair in his face. With Han knocked out, Chul shoots and fights his way out of the building and escapes in a car – just as Do Yoon and crew pull up.
Clockwatcher: Just as I predicted. LOL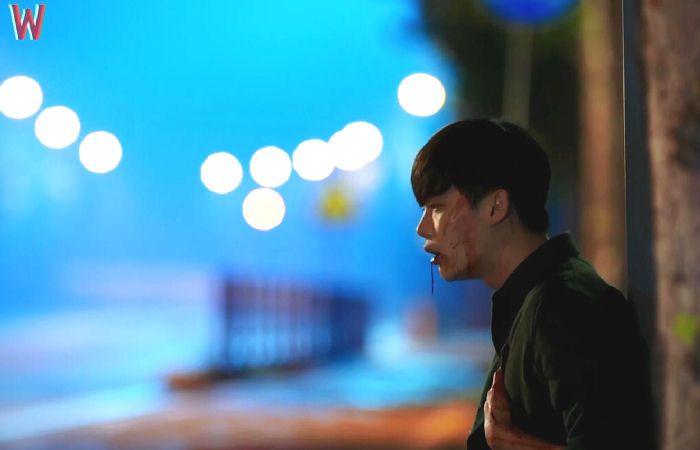 Tessieroo: Hmmm, maybe you're the genius here? *kekeke* Chul, who is badly injured, finally phones Yeon Joo when he runs out of gas. She draws herself a car to go pick him up, leaving Appa in the care of a guy Do Yoon sent to protect them. Chul gets out of his car, sits by a bus stop and after phoning Yeon Joo to let her know exactly where he is, he begins coughing/vomiting up blood. OMO, he's dying!
Clockwatcher: Of course she draws herself a car. She doesn't draw something that will save Chul immediately like, draw him at a hospital, draw an ambulance passing by, draw some medication in his hand or anything. Nope, she's going to draw herself a car to get there.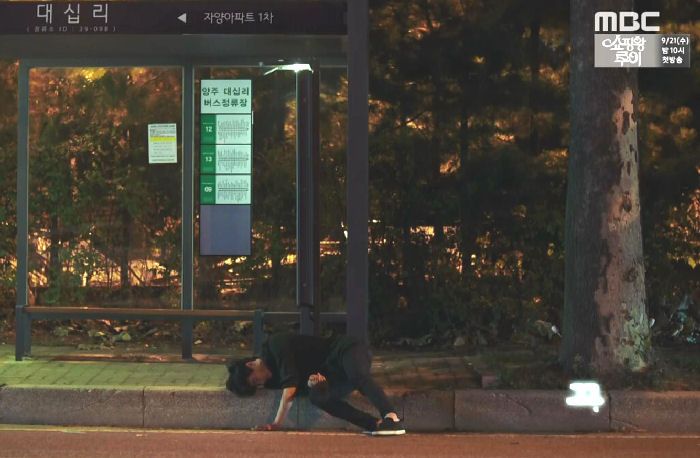 Tessieroo: I was wondering why they didn't draw bullet-proof vests before Chul left to meet Han. *heh* He phones Yeon Joo again, wondering why she's not there yet. *sobs* He tells her the "last episode" won't last long but I believe he's talking about himself – he can't hold on much longer. He drops his phone and slumps over. Nooooooo! Yeon Joo finally shows up but on the opposite side of the street. Hearing her voice, he raises his head but eventually falls over and the words "The End" show up on the screen. I'm literally watching this between my fingers. *sniff*
Clockwatcher: For real? I just kept shaking my head and laughing. This scene was supposed to be emotional and heart-wrenching but I was unaffected because I find their so-called love shallow.


Tessieroo: I think it was Lee Jong Suk's dying acting, he did a great dying scene here – he totally got me. As Yeon Joo darts through traffic towards him, she's stopped by a huge, white truck. (LOL) Suddenly, it's daytime and Chul is gone. She's back in the REAL world! Noooo!
Clockwatcher: The webtoon is over.


Tessieroo: Next, we see Soo Bong arriving at the workshop and as he walks into Appa's office, he notices the tablet on Appa's desk fading out, eventually disappearing completely. He freaks out and rushes to read the next chapter of "W", gasping with an open mouth when he comes to the part of Chul slumping over as Yeon Joo rushed towards him. His facial expressions are gold, I love this character.
Clockwatcher: The best one on this show.



Tessieroo: Soo Bong drives to the bus stop and finds Yeon Joo sitting on the curb and bawling her eyes out. At the same time, we see Professor Park reading the last chapter of "W" that shows Chul dying. He backs away from his desk, obviously angry and frustrated. I feel you, dude. He stomps through the hospital searching for Yeon Joo only to learn she's been admitted and is down in the ER. Approaching her, he hears her sobbing in despair and places his handkerchief in her hand. Awwww!
Clockwatcher: Haha. I told you he cared about her deep down. But folks really go to the ER for any old thing, don't they? Healthcare must be cheap.


Tessieroo: Yes, I was wrong and crazy-dog does care about her, what a sweetie. Poor Soo Bong is also crying as he heads to the motel to find Appa but is told no one fitting that description is there. He sobs as he begs the clerk to help him search the entire motel. Nooooo! Appa didn't show up? At the hospital, Yeon Joo watches as her wedding ring vanishes and cries.
Clockwatcher: Why hasn't Papa returned, though?


Tessieroo: Beats the hell outta me. When Soo Bong returns to the hospital, he's confronted by Professor Park who wants to know if "W" if really over and why Sung Moo would kill off the hero in the last chapter instead of the villain. Soo Bong loses it, screaming and yelling at him to stop and then calmly walks away. AHAHAHAHA! I'm dying.
Clockwatcher: Haha. I guess he's representing those viewers who hate Crazy Dog.
Tessieroo: Or the viewers who are ticked off at the writer? Soo Bong reports to Yeon Joo that Appa is still missing, he doesn't understand what's going on since "W" ended – Appa should have appeared. Yeon Joo rushes to the workshop and searches for the duplicate tablet but Soo Bong reminds her it disappeared when "W" ended, it wasn't real anyway. She drops to her knees, sobbing again. The next day, after driving by the bus stop, Yeon Joo draws a picture of Appa. *blinks* Wait…where did this tablet come from?
Clockwatcher: Maybe this is just a regular tablet.


Tessieroo: Yeon Joo had time to stop at Best Buy to purchase a new one, let's go with that. She and Soo Bong pass out missing person flyers, searching for Appa but have no luck. Life goes on, the public seems to accept the sad ending of "W", with the hero being killed by the villain and dying in front of the woman he loved. Reporters show up to question Sung Moo about the ending but of course, he's not there. But then we see that was NOT the real ending. WUT? LOL!
Clockwatcher: Haha. Apparently, the webtoon can end without publishing the real ending. LOL
Tessieroo: Another rule change that makes zero sense. Nope, whoever wrote that ending got it all wrong. Back in the webtoon, EVIL Candidate Han comes to and is furious that Chul escaped. The guard Do Yoon sent to watch over Appa tells him Appa is highly agitated and he heard Chul got shot. Upon hearing this, Appa demands to talk with Do Yoon and wants to be untied so he can help. He draws a needle in the guard's neck, to knock him out and phones a visibly angry Candidate Han, who is now back in his office.
Clockwatcher: Omo, is Killer Dad in control now?


Tessieroo: Taunting Han for trying to catch him, Appa draws the door locked and a gun in Han's hand. He somehow forces Han to shoot himself in the head and leaves a suicide note along with the USB drive showing all his evil deeds. Welp, that was too easy.
Clockwatcher: And this is how you use a tablet. Instead of drawing a car to drive himself to Han, he quickly took care of business. What I love, though, is that he used the tablet to draw a scene but somehow, this didn't appear in the "W" webtoon. Hahaha.
Tessieroo: Because he's the creator (although that didn't matter a few episodes back) and he's got the real tablet (although duplicates can be used too).
Clockwatcher: This is the toon tablet, right? Cos the real one was destroyed.
Tessieroo: I guess life goes on inside the webtoon even though it's over. He then phones Do Yoon to ask where Yeon Joo is, he wants to see her one last time before he disappears. No, seriously, this writer is really going to kill off Appa? SMDH
Clockwatcher: Because apparently, Appa is now a toon villain.


Tessieroo: He drives to the bus stop and cries upon seeing Yeon Joo, telling her goodbye before he vanishes in a cloud of dust. Yeon Joo also vanishes but Do Yoon finds Chul and they take him to a hospital. In the ambulance, Chul realizes his role as the lead character is finally over. So Hee, who is returning from the U.S., hears over the radio that Candidate Han killed himself and Chul was proven innocent when the USB drive was discovered. She visits him in jail to apologize for doubting him but he's just happy she was strong-willed enough to know she could lead her own life. YES, I agree. *fistpump*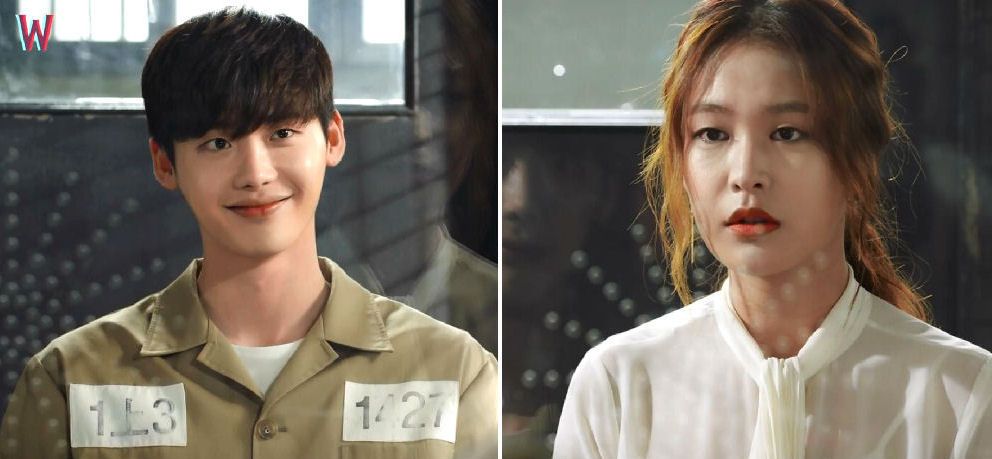 Clockwatcher: Wish we could say the same about Yeon Joo.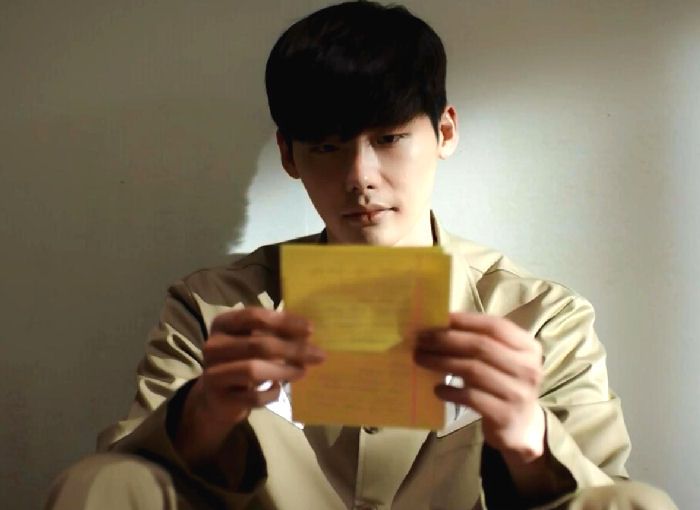 Tessieroo: And if it's all over, why is Chul back in jail? *sigh* It seems as if he's been in jail through most of this drama! Do Yoon tells Chul they can't find any trace of Appa but he left a letter for Chul. In his prison cell, Chul reads that Appa thinks he's already dead so he's leaving on his own. He can't be sure when/if he'll go insane again so he's going to die inside the webtoon and that way, Chul can go into the REAL world and be happy with Yeon Joo. So he's sacrificing himself for his daughter's happiness. And he wants Chul to lie to her that he's still alive, living happily inside the webtoon.
Clockwatcher: This is too stupid for both worlds.


Tessieroo: Ahahaha, we think so much alike on this one. For some strange reason, Chul had to stay in prison for 2 years although only 1 week passes in the REAL world. Yeon Joo passes out in the rain while sitting at the bus stop and wakes up in the hospital with Chul sleeping behind her. She's shocked to see him but when she asks about Appa, Chul doesn't really answer her. Instead, he gives her the photo of himself Appa left for her and she cries. I guess she's supposed to infer from the photo that Appa is dead? SMDH
Clockwatcher: Yeah, she knew once she saw the photo.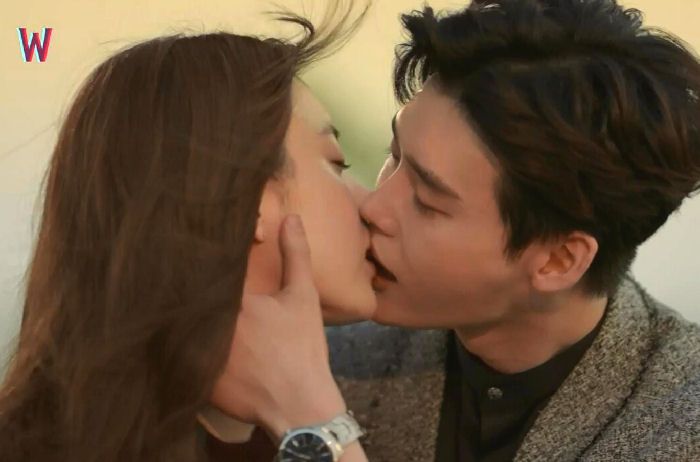 Tessieroo: The last scene shows Chul and Yeon Joo sitting on a bench by the river, talking about the webtoon really ending and they kiss. Their future is unknown but at least they're no longer facing death at every turn. And even if life is boring and ordinary, Chul hopes they're together for the next 50 years.
Thoughts:
Clockwatcher: Bwahahaha. The writer didn't even bother explaining anything. I'm sorry but how did Appa just disappear in a cloud of dust? No one killed him, he's a HUMAN and somehow became a 'toon character because the writer said so. The writer tried to be philosophical about the whole thing but it makes no sense. The man's only crime was writing a freaking webtoon. There's no crime in wanting to kill a character he created. How did a fictional character fight his fate? What made it possible for these fictional characters to break free of their destinies? These characters were able to control themselves once they became aware so why was the father able to force the congressman to kill himself? How in the world did Chul return to the real world? W is over. Portal is closed. He obviously wasn't being summoned when Yeon Joo thought of him. And he lived in the toon world and was no longer a main character. So how did he travel there? This is almost as bad as that makjang drama where a character refused to get treatment because his cancer cells were living things. LOL
Tessieroo: *snickersnort* I'm right there with you but you've asked so many questions…let me remind you, we're out of Advil. My major problem with this drama was Yeon Joo's character, I could NOT relate to her at all. Even knowing it's fantasy-fiction didn't work for me! Let's say Prince #8 from "Scarlet Heart Ryeo" could suddenly transport himself into my life and yes, I'm talking Kang Ha Neul himself – I would still not be willing to give up my father, my family, my friends, my job or my life. Even though his character is close to my perfect guy: he's kind, warm, sweet, generous, smexy-as-hell and funny, I still wouldn't give up my entire life for him, that would never happen. So I couldn't relate to Yeon Joo at all. And it has nothing to do with the actors, I loved all the actors!
Clockwatcher: We often watch dramas where characters go against their families, society and even put their lives at risk for love – and we cheer them on! But this wasn't it. Perhaps they should have made their love worth fighting for.
Can you remember how energized and excited we were when we started this show? I think this drama really started going downhill after Chul's amnesia. At that point, it was plot over character and the writer didn't even bother trying to write it coherently. I think I finally threw in the towel when they started drawing tablets.
Tessieroo: I know, what a let down. For me it was the first time Yeon Joo appeared to care more about a cartoon guy that her real life or her Appa. I couldn't deal with it but forced myself to continue watching, otherwise I would have dropped this around episode 6 or 7. I kept hoping it would improve! I'm putting this one down on my "ridiculous plot" list, I'm so disappointed in this writer. Ah, well – life goes on. It's not the first bad drama I've watched and I'm sure it won't be the last.
It was super fun getting together with you to recap this one, we can't let so much time pass before we do it again!
Clockwatcher: Agreed! The drama was a disappointment but recapping with you certainly was not. Till next time!