In her moment of greatest vulnerability, Min Hyuk takes a weakened Bong Soon back to his home and treats us to the warmest scene yet. Laying beside her on the couch, he opens up to her, declaring his love, and asking for hers in return.  Tearfully, she reveals her true feelings and the depths of her love for him.


This scene exemplifies how less is more, the solemn atmosphere was tinged with such poignant emotion that the impact was moving. Prior to this development Bong Soon ended her relationship with Min Hyuk, a decision brought on by the kidnapping of her best friend, Kyung Shim. Fully aware that Kyung Shim was targeted for the second time by a slippery psychopath, Kim Jang Hyuk, because of her friendship with Bong Soon, she concludes that anyone related to her life is at risk. Bong Soon goes on to face the kidnapper alone, but despite being able to successfully rescue her friend, she was tricked into hurting an innocent person she believed to be the kidnapper and consequently loses her powers. Reinforcements arrive in the form of Min Hyuk and Gook Doo, but ultimately Jang Hyuk disappears into what appears to be a watery grave but he is as resilient as a cockroach and refuses to die.

Their reunion was expected but the execution significant. There is no doubt they grew closer that night. Bong Soon had lost the one thing that set her part, an ability that made Min Hyuk once characterize her as an angel. Initially he was in awe of her strength, but their relationship has long since matured past that. Therefore when he asked for her love, he communicated to a now ordinary Bong Soon that though she has lost her physical strength nothing else has changed. He still wants a life with her, his love remains the same, if not deeper than before. The moment was raw and full of emotion, but the beginning of a theme that characterized the latter part of the episode.


Bong Soon had to learn to move forward, and with the support of her loved ones she was slowly adjusting to being normal. From time to time we saw her sadness as her weakness made her subject to falls or company hazing, but she was making an effort at being happy, which we got a chance to witness in the form of a lovely picnic with Min Hyuk.


Of course Jang Hyuk has a knack for disrupting one's happiness therefore when he reappears he does so in a big way. He sneaks into Bong Soon's work place,  straps her to a bomb and lets Min Hyuk know about it through the company's intercom, inciting panic. When Min Hyuk tracks Bong Soon down, thanks to the gps in her necklace, the situation seems bleak. Jang Hyuk escapes as Min Hyuk fights to break through a chained up door that leads to Bong Soon who is also in chains. With mere seconds left on the bomb, Bong Soon moves from begging Min Hyuk to run for safety and begins to beg for the restoration of her powers to save him.  Light fills the night sky, and the clouds open up to grant her wish. With her immense strength, Bong Soon sends the bomb flying into the night sky and kdrama logic quickly takes over as the bomb explodes and becomes fireworks, fiery fireworks that illuminate the sky as Min Hyuk and Bong Soon reunite below with a warm embrace. Oh the feels! LOL.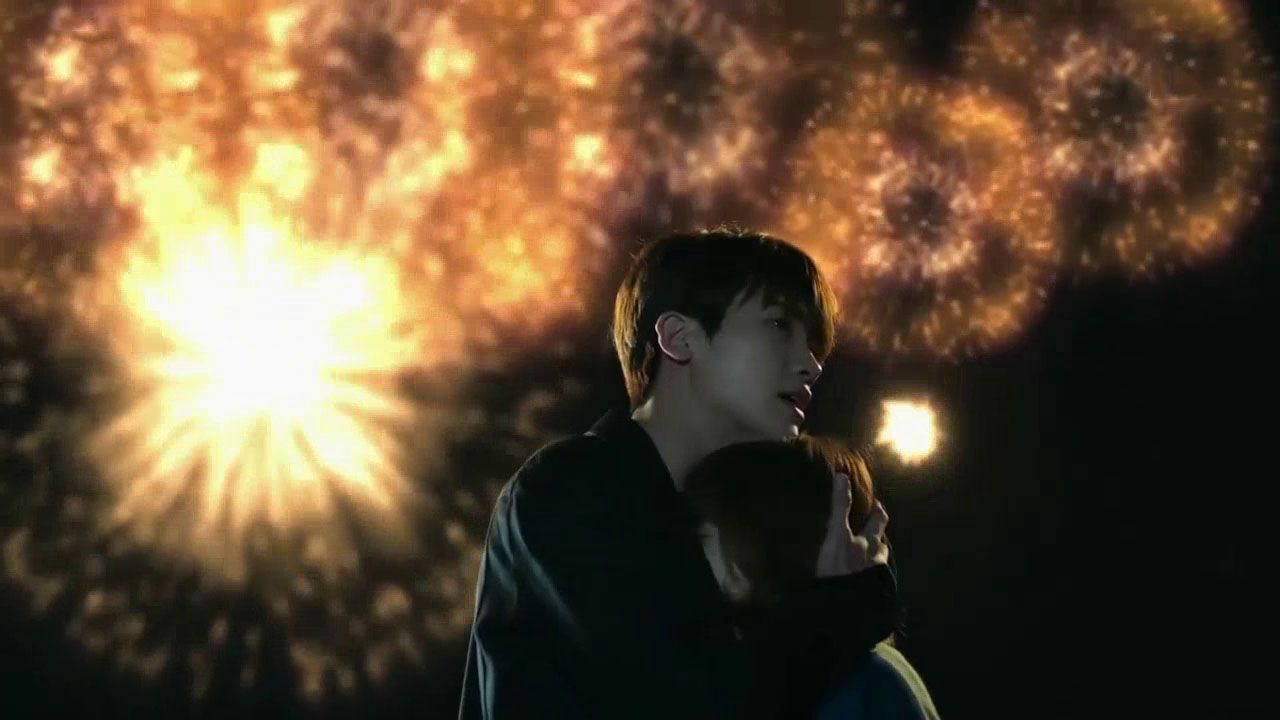 This goes without saying, but I am truly enjoying this drama so it's going to be sad when it ends next week. I bet the return of Bong Soon's strength will be an unpleasant surprise in her final encounter with the local psycho Jang Hyuk, it is curious to see what mind games are left in his arsenal. He might just go the direct route and pull a gun on her. I don't know what the writers have in store for us in the finale, but I am looking forward to it.